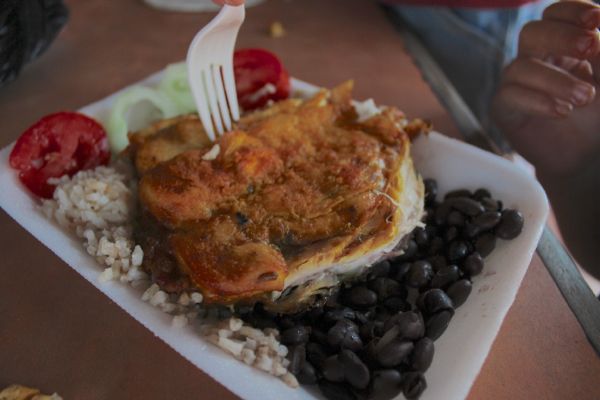 I think it's one of the best parts about traveling. During our 'first rodeo' (driving from the States to Costa Rica in 2007),
we were afraid to eat anywhere but McDonalds, KFC and Taco Bell.  We love eating street food.
Eating street food is a tasty way to immerse yourself in the cul"But won't you get sick?" you may be asking (as I once did).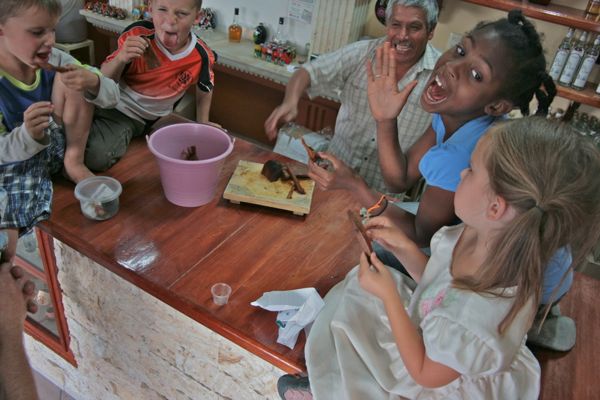 Raise your family. Live your dream. Change the world. Check out the Fantastic Family Friday webinar series here.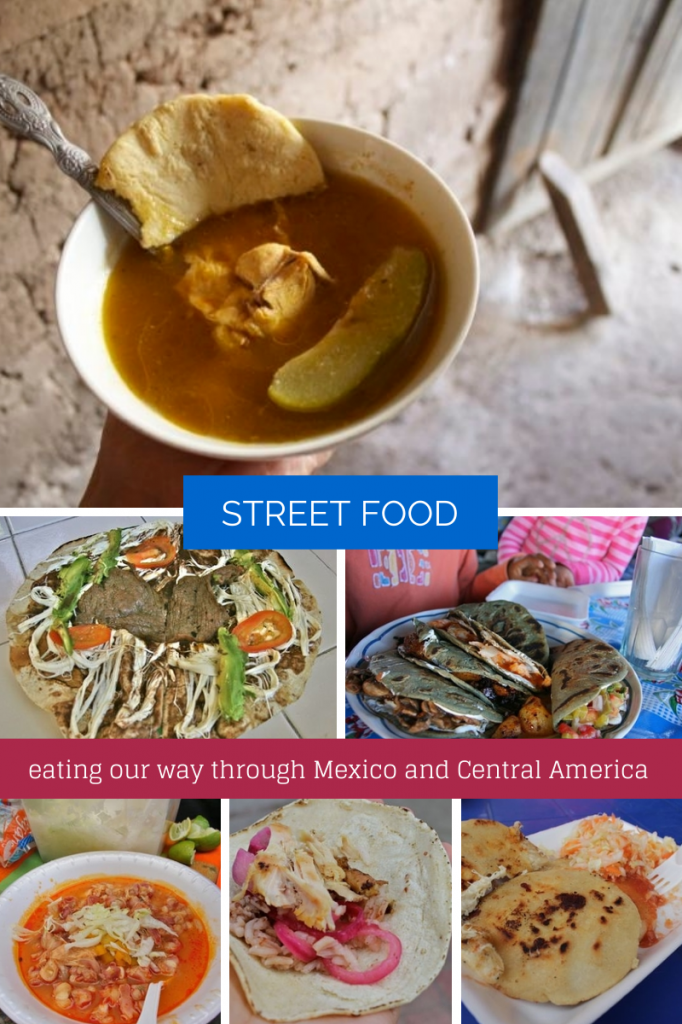 At least at first. But that's okay. Then you're body will build up an immunity, and you can indulge in all the street food you want.
My dad spent some time in Chile as a youth. When he very first arrived, he drank water out of a pitcher sitting on the table... it was the wrong water, aka NOT drinking water.
He was sooooo sick. Miserably, want-to-die sick.
But after it was over, he could drink any water, anywhere. He was immune.
I've never gotten as sick as my dad did. But I have been sick... at first. Now it's very rare.
Unlike our 'first rodeo', when we crossed into Mexico (for the second time along our Epic Expedition) in 2011, we ate street food. (This is our first meal, below.)
It was at a pretty sketchy roadside stand. Whatever was nearby smelled of sewage. I remember getting sick from that little meal... it lasted several days.
Lake Chapala
This was at a tianguis (market) in Ajijic/Lake Chapala. Yum.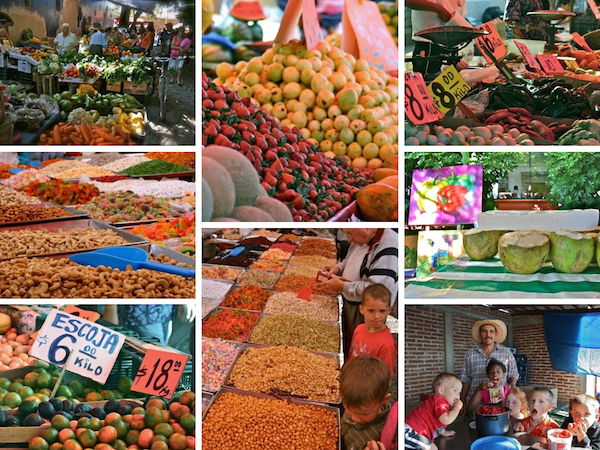 Fresh Mexican corn tortillas were one of our favorites in that part of Mexico. Here we are buying them hot off the press from the tortilla man at his store/home.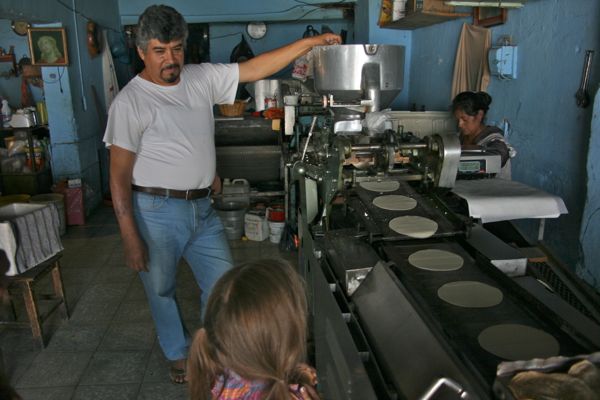 Jocotepec
Buying buckets full of fresh raspberries was AMAZING!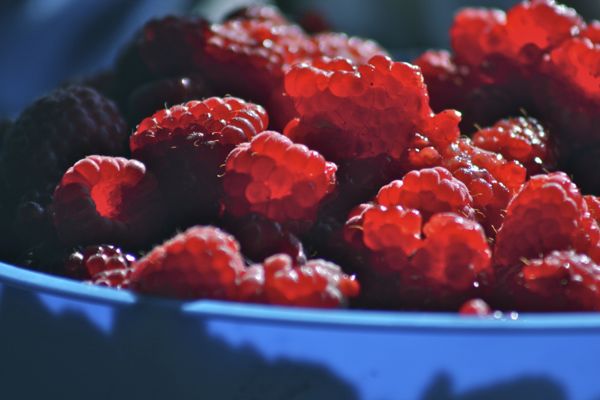 This big pot of raspberries cost us the same as the little box would at a grocery store in the States.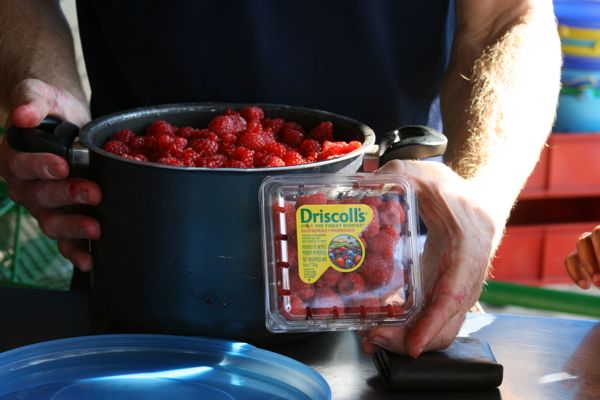 Paracho
Here we're eating at a market in Paracho, Mexico. That part of Mexico uses a lot of those big, clay pots for cooking. I bought one, but it broke in Guatemala.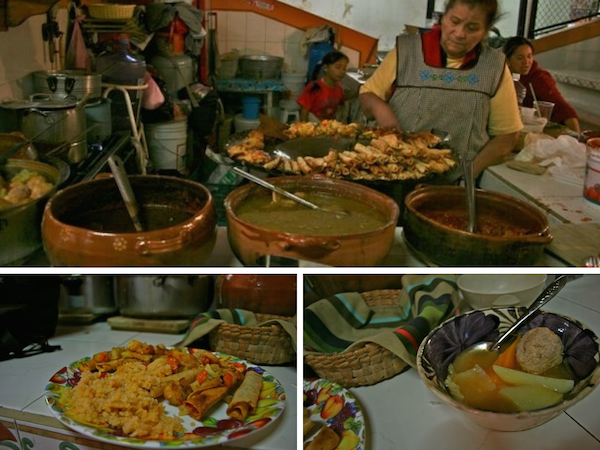 Parícutin
The famous 'growing volcano' that enveloped a town, before hiking up to the ruins (and climbing on top of the cathedral), we were fed this INCREDIBLE meal... ohhhh, so good. The tortillas were made from a black corn, ground by hand, and cooked over a fire.
Tzintzuntzan (Seen-soon-san)
That big meaty thing... lamb. Yummy!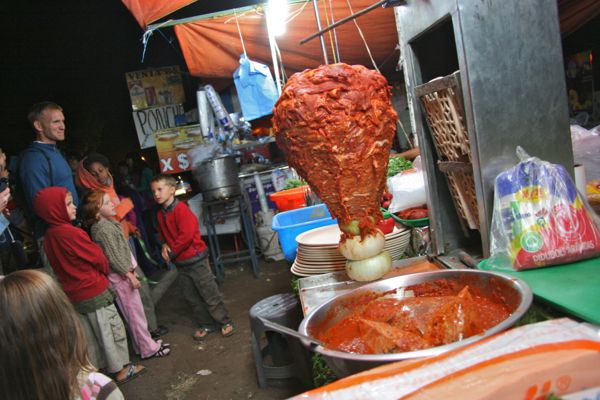 Waiting for our tacos while celebrating the night before Dia de los Muertos in Tzintzuntzan.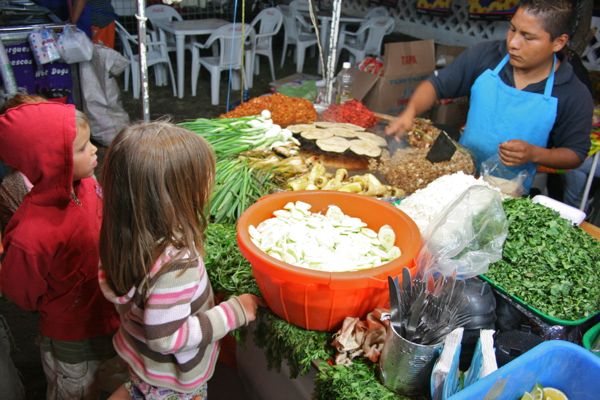 Patzcuaro
I really like this city. We were here in Patzcuaro for Dia de los Muertos. That soup was delish! Called something like pozole. Anyone know for sure?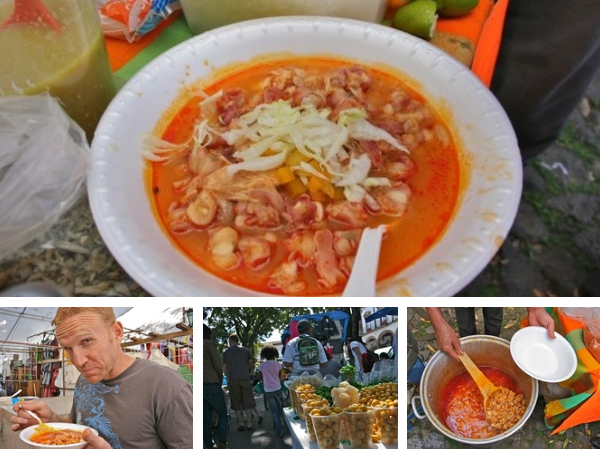 Morelia
I LOVED this town. I could have spent more time... very European feel (as if I would know, I haven't been to Europe... yet.)
This stuff was good, unique to this town... chopped green mangos, jicama, pineapple and other fruit, topped with cheese and chili sauce.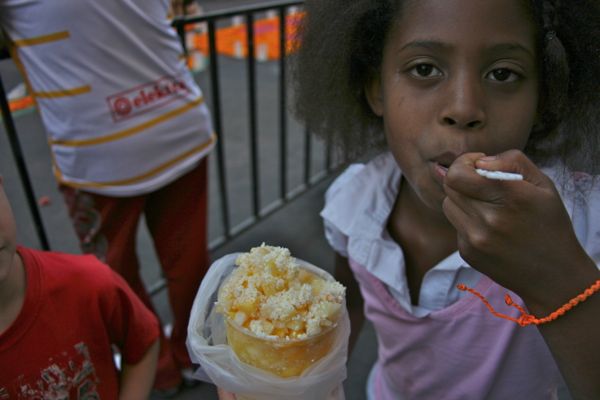 Our dinner that night. Don't know what it's called, but it was tasty.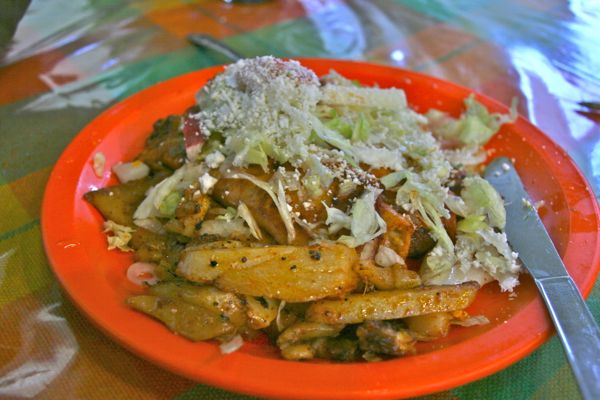 Mexico City
What a great place. I could go back there in a second to explore more (loved the Museo and riding the subway.) Yes, those people are selling food out of a shopping cart, and would run when they saw the police coming.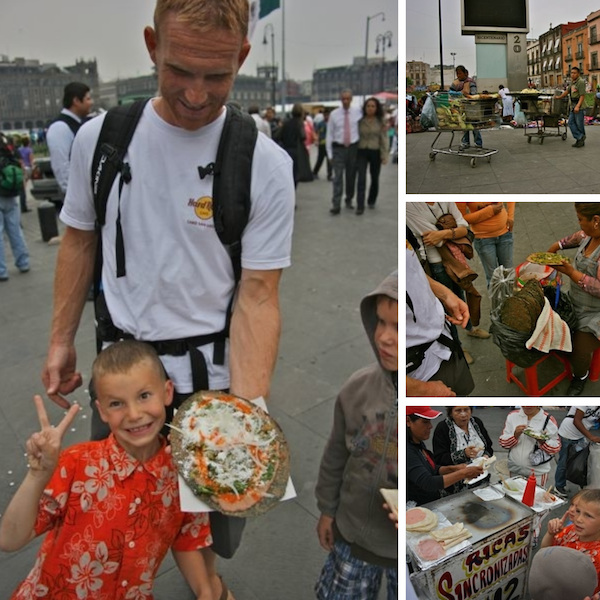 Oaxaca (Wuh-hock-uh)
A fantastic city, these tlyudas that we ate at the local market in town were some of our all-time favorite Mexican food (unique mostly to Oaxaca.) The ruins of Monte Alban are nearby, and also one of our favorites.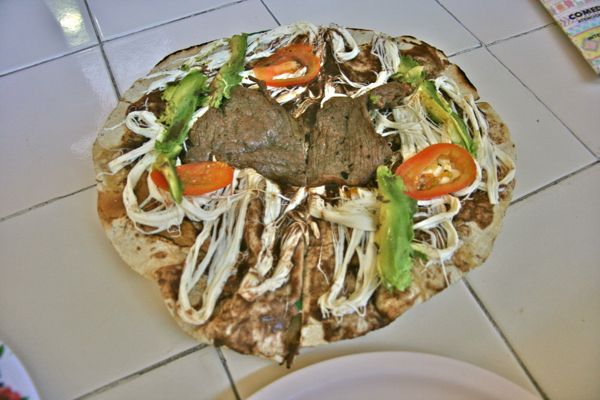 Chiapas
The state of Chiapas in Mexico is so dazzlingly beautiful... and it has a unique culture similar to Guatemala, with their cultural dress. On Thanksgiving Day we ate in a market in the highlands of Chiapas. This state is home to a few more of our favorite places, like Palenque and Agua Azul.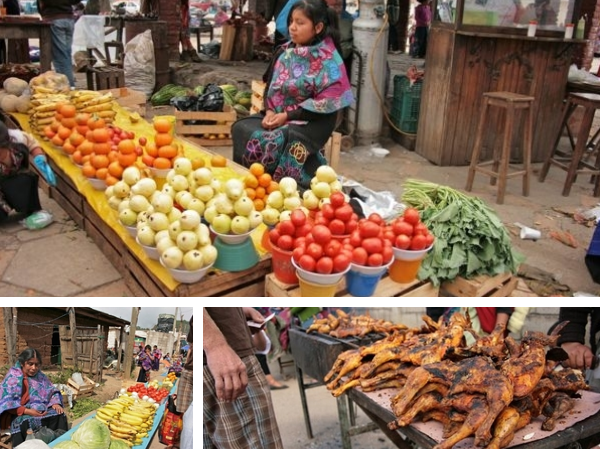 El Tule
As we headed southeast, after checking out one of the oldest trees in the world, we stopped for a taste test of fresh agave nectar... before it was made into liquor.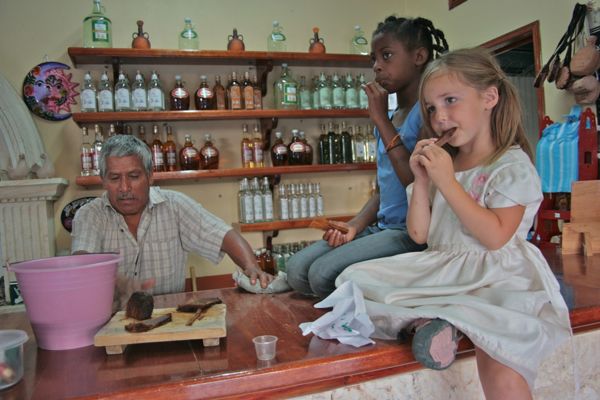 Laguna Bacalar
We spent about seven weeks at the 'Lake of Seven Colors' -- it was heavenly. Every Saturday we'd buy chicken and tortillas from this little shop/house.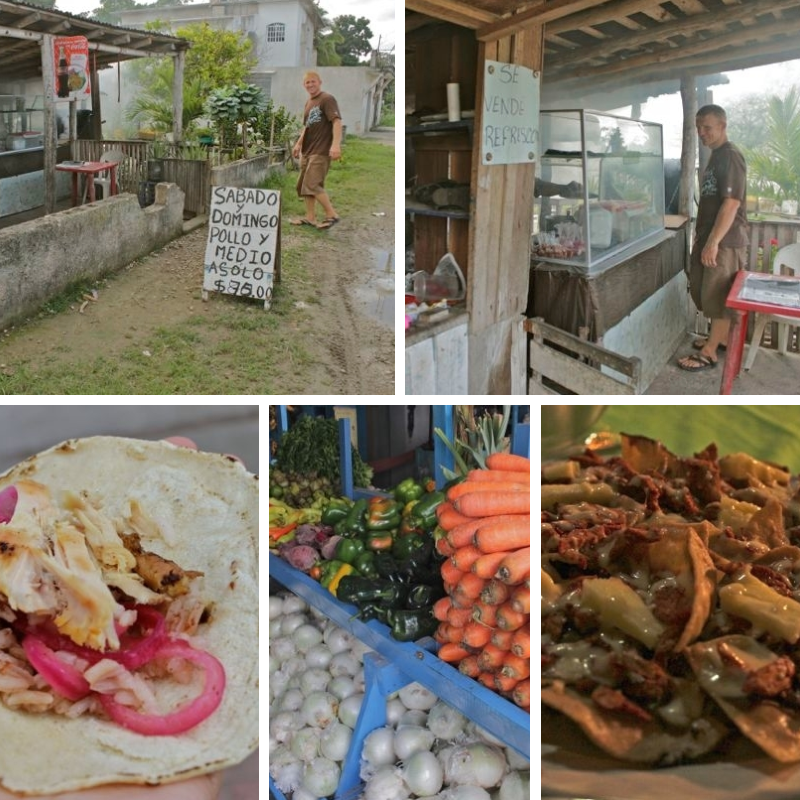 Belize
A very unique country with an interesting mix of food, people and culture. Their little meat pies were good (that's what the guy with the 'bike' is selling.) Belize is where we first tried El Salvadorian pupusas.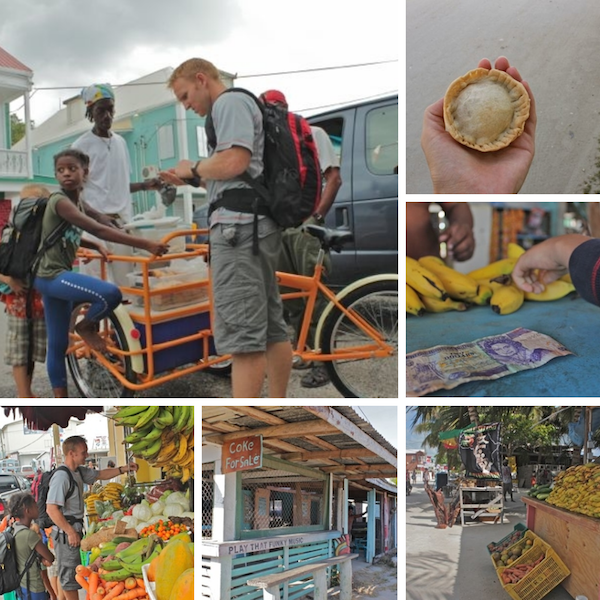 Hopkins, Belize
This isn't street food, we had to gather our own at this nature preserve in Hopkins.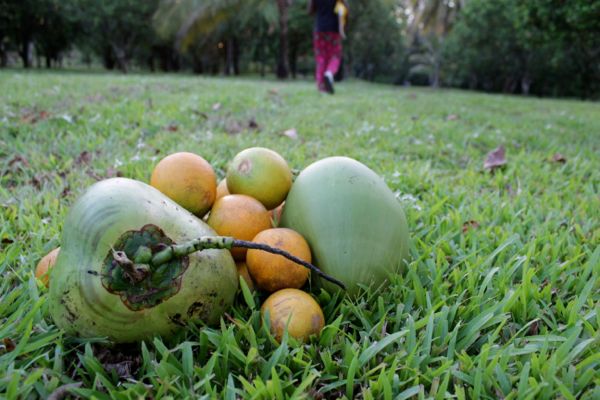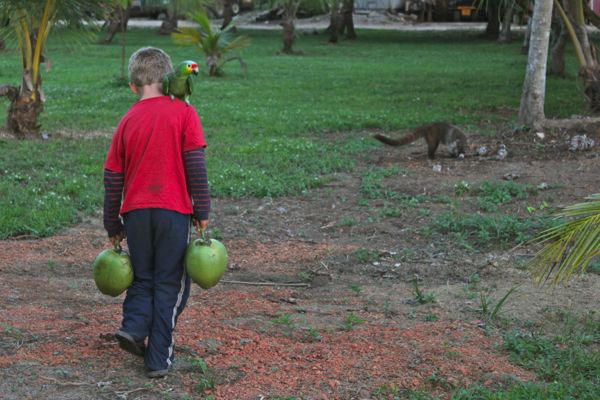 Peten, Guatemala
After we first crossed the border into Guatemala (after visiting Tikal), we got to eat a new favorite, pupusas. The grilled meat prepared roadside was really good too.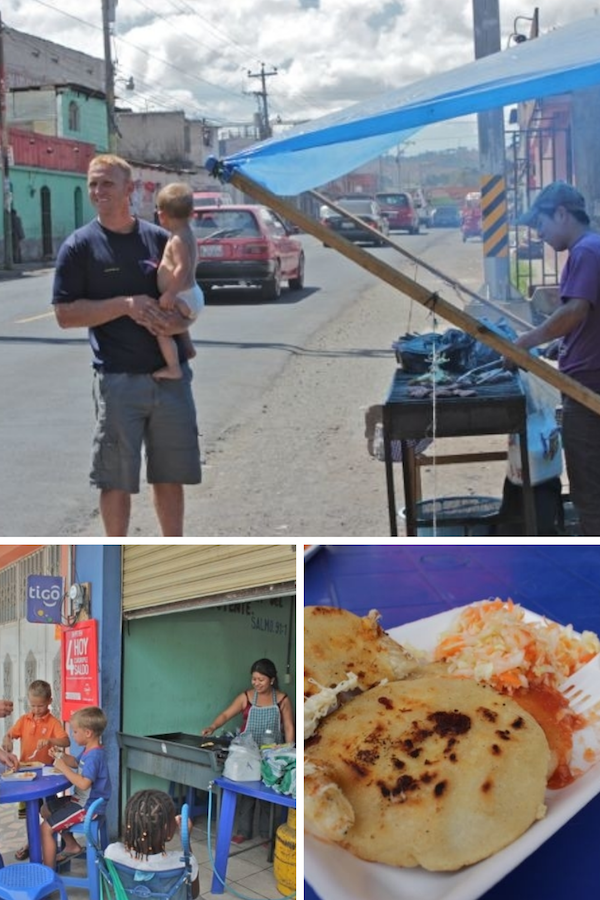 Panajachel, Guatemala
Shopping at the market. We lived here for over a year, on the shores of Lake Atitlan.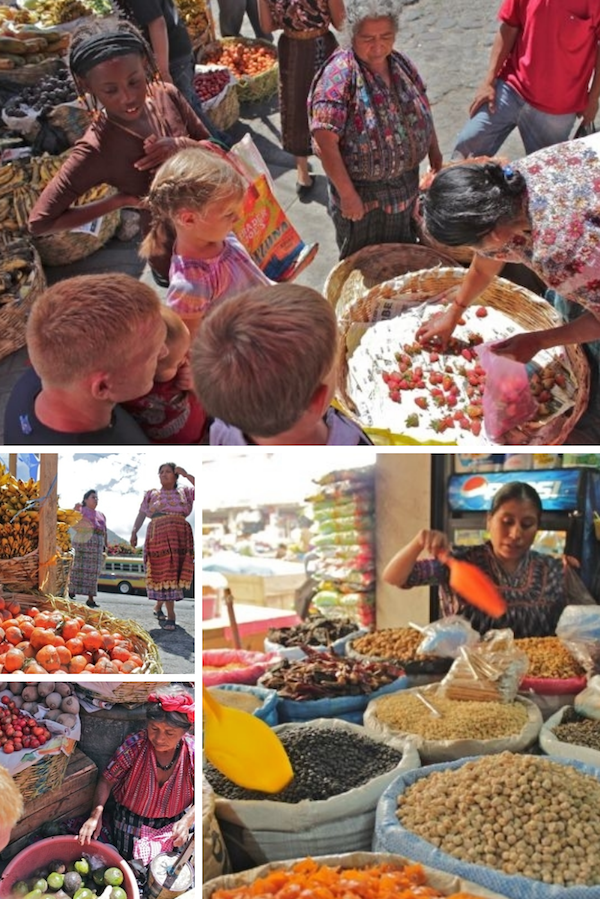 Making tamales with a local family.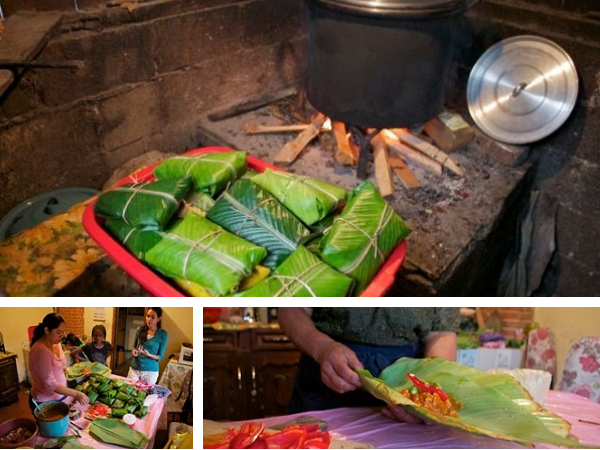 Ferria came to town. That really happy guy is selling peanuts. Fried chicken and french fries is (surprisingly?) a very popular Guatemalan street food.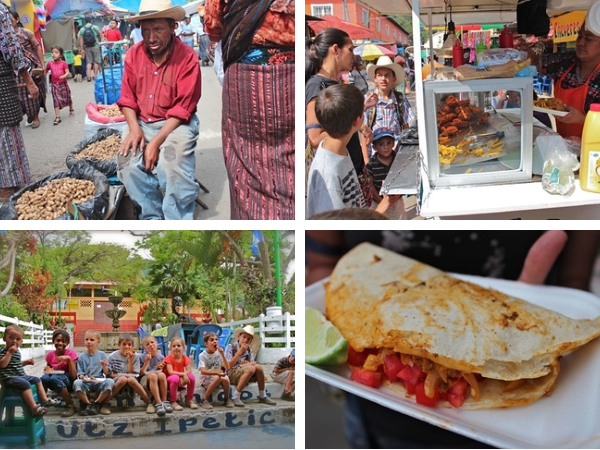 Lake Atitlan
Sometimes we get a special treat... a nice dinner at a nice restaurant, like when we went to Casa del Mundo for our anniversary.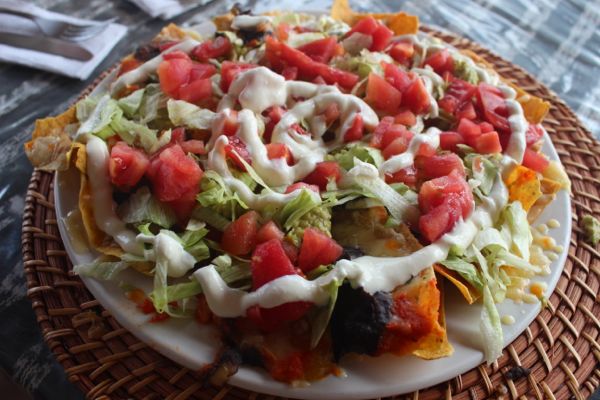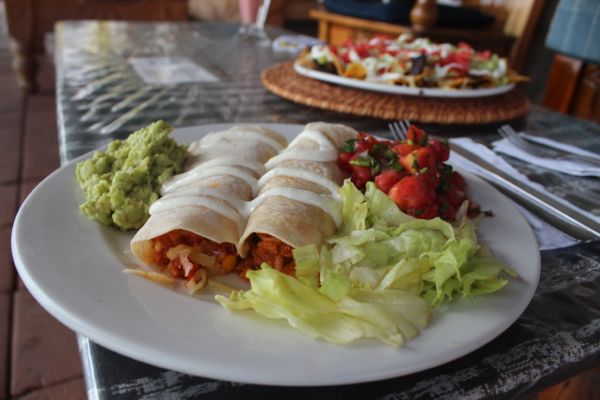 These ladies made a delicious salad with beets, onions, apples and all kinds of good stuff, in San Lucas Tolimán... a town on Lake Atitlan.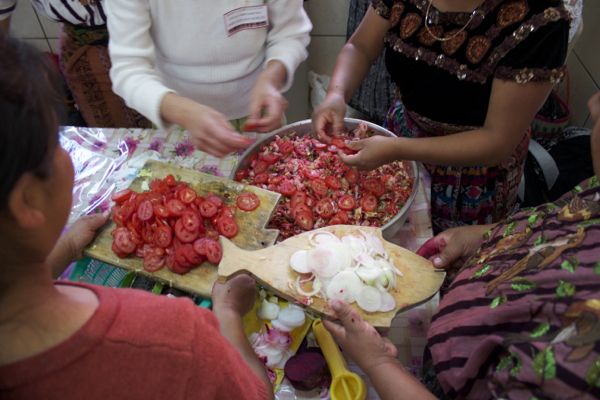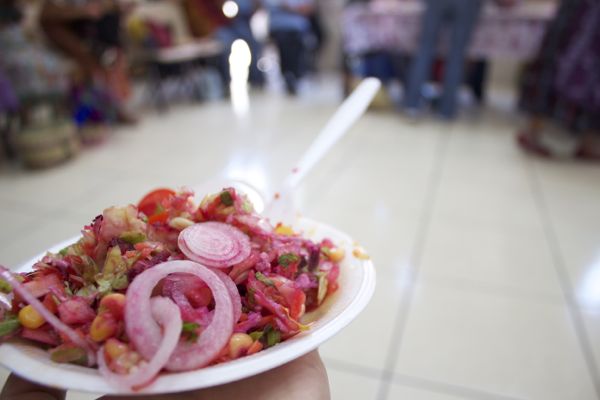 Patanatic, Guatemala
We spent a lot of time with this wonderful family, as we worked on the Self-Reliance Project (the precursor to Mayan Eco Homestead.) They made us many wonderful meals during those several weeks.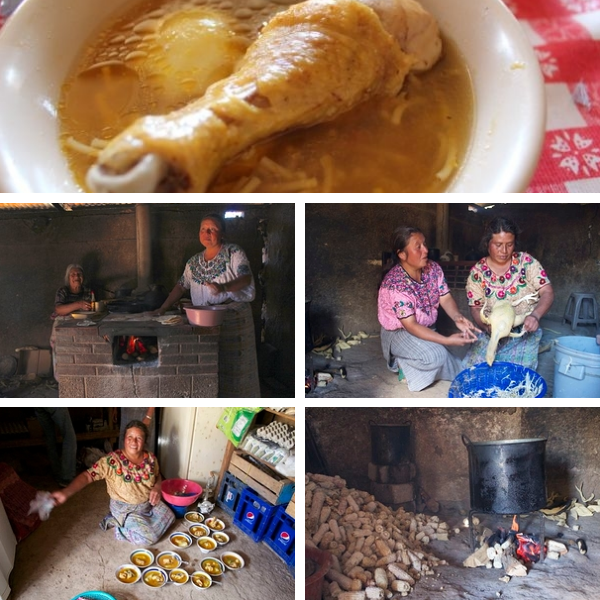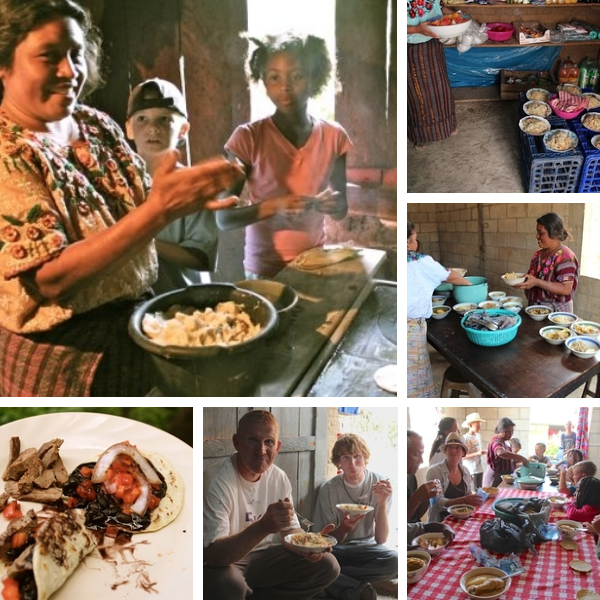 Sipicate, Guatemala
We had some surfing mis-adventures in Sipicate... and some good pupusas.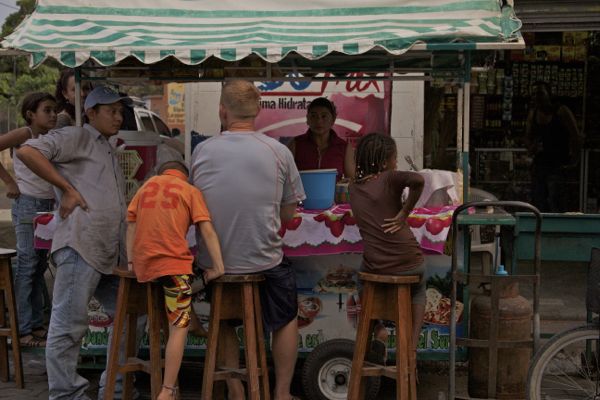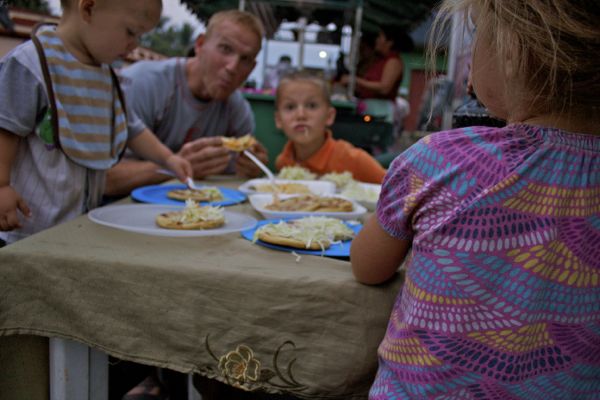 San Sebastian, Guatemala
Guatemalans love to put mayonnaise and ketchup on their corn... don't knock it 'til you try it.
That interesting looking bowl of yellow stuff... that's iguana stew. (Greg ate an 'iguana-male' in Mexico once.)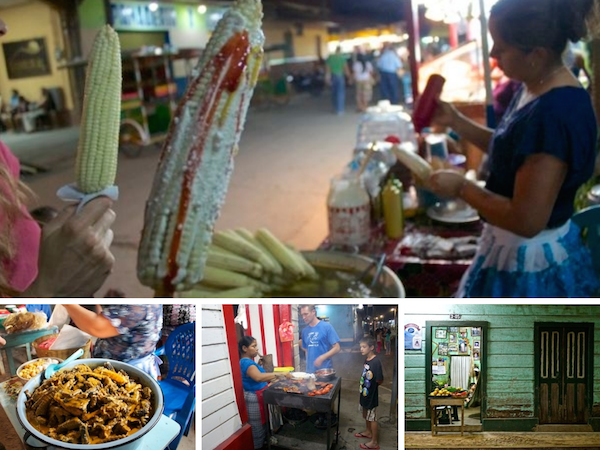 Mexico/Guatemala Border
While living in Guatemala, we had to do border runs every 90 days to renew our visas. It was lucky that they had good food in the border town.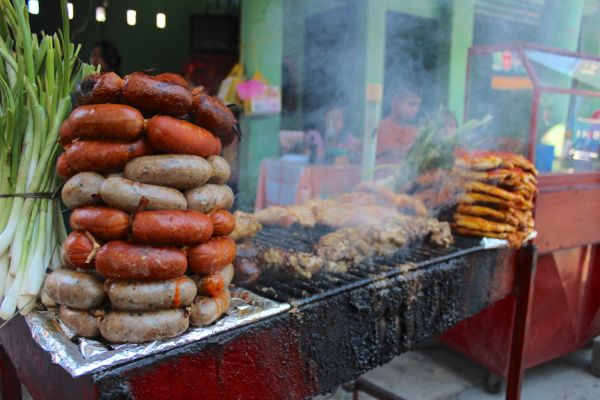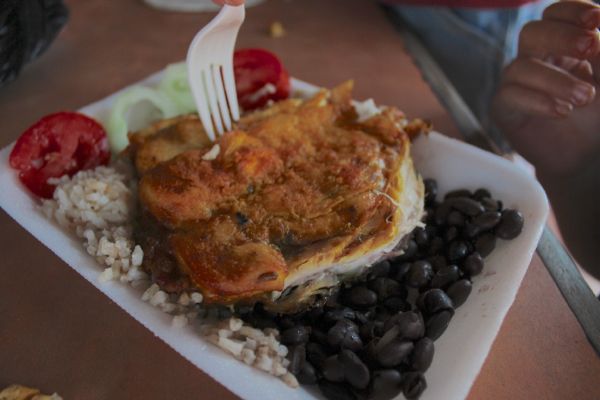 El Salvador
We finally had pupusas in their native land... mmmmm.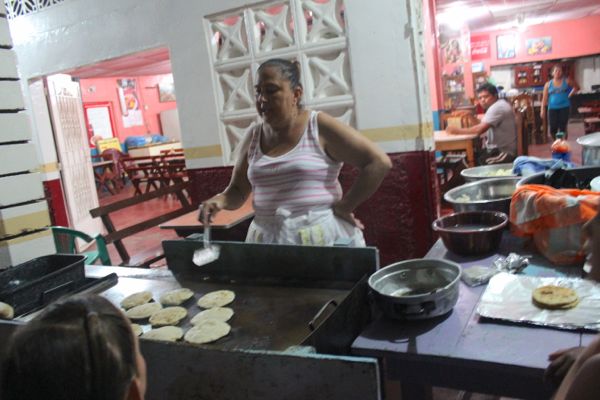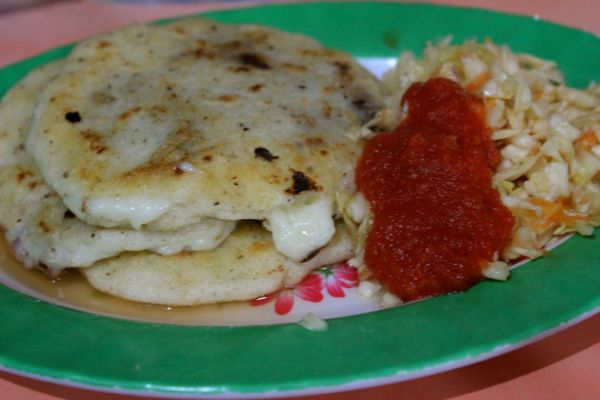 León, Nicaragua
My first meal in Nicaragua... well, I thought I was in heaven. Served on a banana leaf, that's kinda cool.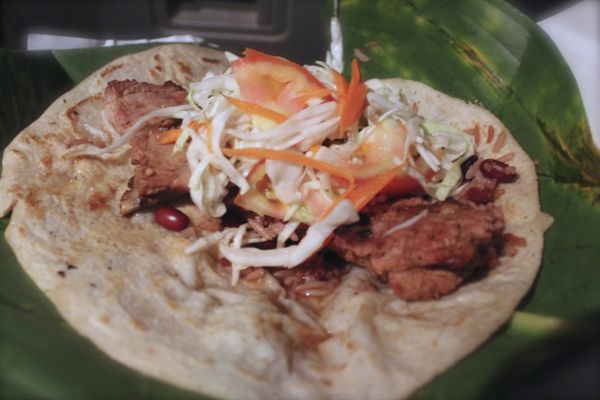 Nicaragua has some good food... although they really like to fry it. The tostones are tasty, with fried cheese (top right). And you can't beat the $2 plate. Cacao smoothies from the market are our favorite treat! And I love me some fried plantains.
Costa Rica
Here we are full circle, back where we first began our nomadic wanderings 7 years ago. Ironically, we haven't eaten any gallo pinto yet. Only fruit from the market (or a roadside stand at the beach.)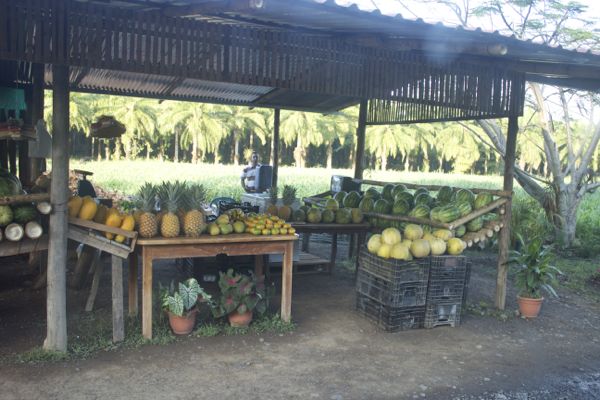 And we were invited for lunch at an old friend's house. But she's Nicaraguan 😉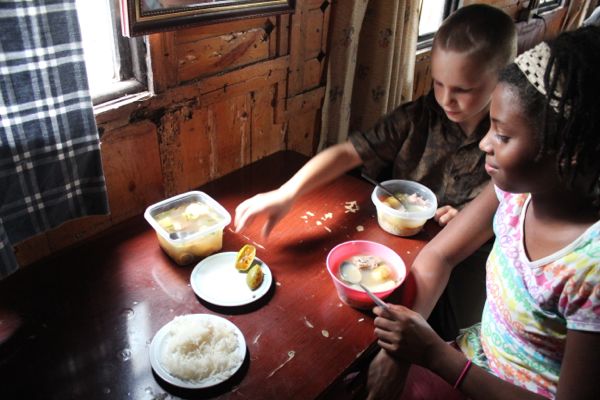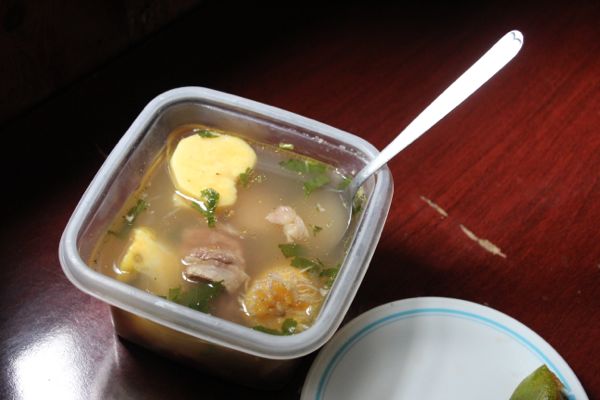 Of course, there is always fruit...
Every country we've visited has delicious, exotic, wonderful fruit... that's one of the best parts.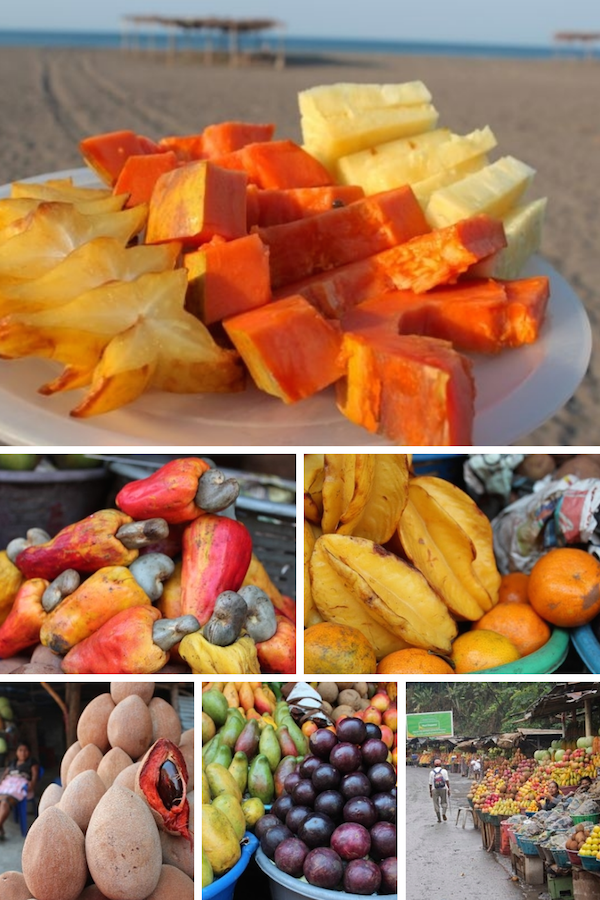 And markets...
Always a great place to get a cheap meal... if you can put up with the flies and the stray dogs.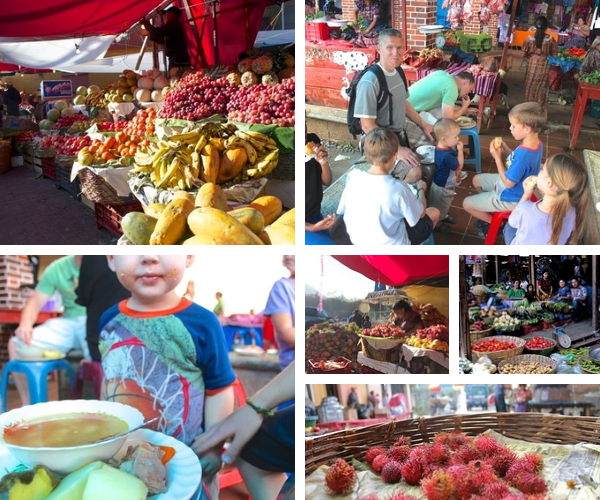 Do you love street food? What is your favorite?
Comments
comments
Powered by New Facebook Comments