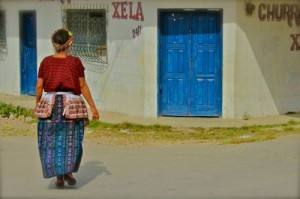 So... a crazy thing happened the other day. We woke up, and discovered that we live in Guatemala (that's not the crazy part). The crazy part is that we discovered that we've been living here for one year!!!
Yes, can you believe it!! It's been one full year since we first crossed the border from Belize, stopped off in Tikal, and then descended from the Guatemalan highlands to the lakeside town of Panajachel (all the while hoping our brakes wouldn't go out on that steep, windy road that drops down from Solola.)
Just a few days ago, we officially celebrated our 'Pana-versary', one full-year living on the shores of Lake Atitlan, a comparatively long time to be in one place for a nomadic, wandering family like ours.
So what's it like living in this country? (And, why are we still here?)
Planning a trip? Make sure to check out our book with advice on safely traveling to Mexico or Central America with your family.
I arise while it's still dark, and spend time studying before my kids wake up. The roosters are already crowing, but most of the street dogs are silent, a welcome repose.
After a morning snack (Atlas, 2, asks for food as soon as he gets up), Greg and I take our morning hike, leaving the kids to work on their chores and to get breakfast going. We walk down our street, passing bushes and trees blooming in purples, pinks, magenta and orange, then cut off the road to the left, up a trail that climbs the mountain to the onion fields above.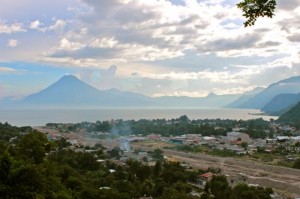 The hike leaves me out of breath (not hard, since I'm not in great shape... but I'm working on it). Greg and I use this time to discuss ideas and formulate future plans. Once we reach the fields, we pause for a moment to gaze at the towering volcano of Toliman as it looms over the lake. During this time of year, the sky is hazy, because the corn fields are being burnt, in preparation for a new seeds to be sown, but the view is still breathtaking (or maybe it's just the hike.)
As we begin our descent, we wish a 'Buenos dias' to the men and women on their morning commute -- climbing up to the foot-access-only fields where they'll spend the day working.
Back at home, our maid has arrived and is washing dishes and cleaning up. We share breakfast with our kids, then get clean using our 'suicide shower' (so named because of it's illogical combination of electricity and water), the only source of hot water in our house.
The neighbors have already begun their familiar pat, pat, pat as they form masa into tortillas. The corn grinder is also in full operation, making it's usual whir, whir, whir, sound, and runs much of the day, grinding more feed corn to be made into a never ending round of tortillas.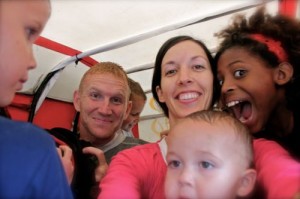 In need of groceries, we walk down our street toward town, until we find a tuc tuc to give us a ride (we're on the 'outskirts' of Pana, so there are fewer tucs out our way.) Carrying our own grocery bags, we do the 'easy' shopping first at stores like Despensa and Chalos (buying bread and milk, maybe cheese or yogurt), before we walk toward the centro (where the market is located) to buy the 'heavy' stuff.
Living in Pana you do a lot of walking, especially around town while you're doing errands. There's the pacas where we buy nice clothes for cheap (think thrift store). We get school supplies at the libreria, and doo dads at the 3 quet store (even toothbrushes and tupperware). Dropping in at the tailors, we pick up clothing that was mended. Then maybe we'll run across the street to the biblioteca where we're allowed to check out 3 books each (only 2 for kids).
Now at the market, we stop for lunch before making purchases. We get the usual (and probably the only options) -- caldo or guisado with vegetables, rice, and tortillas, only $2.00 a plate.
Bellies full, we choose our fruits and veggies from our 'usual' lady. Loading up our bags to overflowing with watermelon, papaya, melon, carrots, onions, broccoli, and zucchini, we strong arm them onto our shoulders, then haul them up the stairs and outside to the street. Here we pick up five pounds of strawberries from our strawberry lady, maybe grab some kale and fresh coconuts, then catch a tuc to lug our purchases to the house.
At home, the clothes have been washed and hung on the line, and we unpack groceries. Somedays, we'll catch a pickup to Patanatic so we can work on the self-reliance project. Or we might install smoke-reducing stoves.
Once a week, Greg and I will go out for dinner with friends, usually at a restaurant on Santander such as Lazzeronis, Guajimbos, Patio or the Deli. I'm wearing my usually hoodie to keep me warm, since the temp will drop to a 'chilly' 59 degrees. (Don't hate me 😉 ) This is known as the 'land of the eternal spring' here at Lake Atitlan.
Occasionally, we'll branch out to other parts of Guatemala (we're so brave, aren't we 😉 ). We might:
Next week we may be headed to Monterrico, a beach town. Won't that be fun?
Oh, and the last thing I hear before drifting off to sleep each night is the herd of street dogs howling and barking.
Culture
If there's one thing Guatemala's got, it's culture. It often reminds my husband of Peru. Although it is the 'land of the Mayans', there are not as many ruins here as in Mexico, although one of the best (Tikal) is here in Guatemala.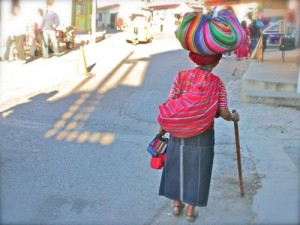 Many men, woman and children still wear the traditional clothing, especially around the lake and in the mountains and highlands.
Hand-weaved huipils (blouses), cortes (skirts) and faja (belt) for women, and the traditional traje for men (which includes colorful pants with a mismatched and equally colorful 'skirt' or 'apron' around the waist.) You can tell what city or town a woman is from by the design of her huipil, corte and head dress.
For many Guatemalans, Spanish is their second language -- with an indigenous Mayan language such as kaqchikel or K'iche as their first (over 21 Mayan languages are still spoken in Guatemala). Many of the people speak at least three or four languages, including Spanish.
Guatemala has a literacy rate of about 50-69%. Between 30-50% of the population over age 15 cannot read or write. This is in a large measure due to the focus of average families on the need to survive, since many of them live hand-to-mouth. The United Nations ranked Guatemala 131 out of 187 countries in the 2011 Human Development Index (which compares life expectancy, education and standards of living for countries worldwide.)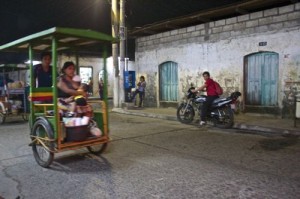 In fact, Guatemala is ranked as the most malnourished country in Central America, and the fourth most in the world. The staple of the Guatemalan diet is corn -- in the form of tortillas, atol (a corn drink or soup), chuchichos (corn tamales) and more. There's not a lot of variety. (Which is in part why we included garden boxes in our self-reliance project.)
Poor nutrition leads to inability to learn or to focus. Poverty leads to children dropping out of school to help on the farm or to get a job, which leads to perpetuation of the problem in the next generation. It's a vicious cycle.
The Guatemalans are religious (traditionally Catholic, thanks to the Spanish Conquest), and celebrate holidays such as Dia de los Muertos (which honors their ancestors and those who have died), and Semana Santa (Holy Week), which remembers the suffering of Christ before he was crucified.
The major form of transportation for most Guatemalan people is walking, bicycle, motorcycle, tuc tuc or bike taxis, or 'chicken bus'. Some own cars, but not many. Day or night, you'll find people out on the streets, walking, talking, selling or shopping. It's a very social place.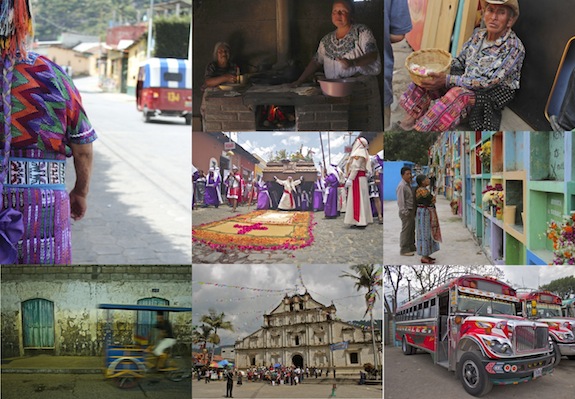 People
As a people, the Guatemalans are wonderful, kind, and hard-working. They value family relationships and they work very hard to provide for their families. They are also very happy. No matter how heavy the load on their back, they'll still smile, or stop to talk to you. They're incredibly strong, and perform human feats I never thought possible (like riding a bike with one hand along a cobblestone street with three passengers hanging on to their neck; or riding on the back of a motorcycle, without holding on, while nursing a baby in one arm and carrying a toddler in the other!)
Men and woman have their roles, and they stick to them. You'll rarely see a man carrying a baby, (or anything on his head.) Women work in the markets, take care of children, cook and clean. Men do manual labor, or drive tucs. They both run family owned shops, or work in the fields. And they are both tough, very, very tough.
Many of the people are descendants of the Mayans, but there's also some diversity. The big city (Guatemala) is vibrant and progressive. And on the Caribbean coast you'll find the Garifuna culture (African descent).
While there is a socioeconomic range that exists in Guatemala, it's not as diverse as that in Mexico. There's not as much wealth here as in other places in the world, though it still exists.
Overall, the Guatemalans are more reserved, quiet and soft-spoken. While they enjoy music, they don't blast it as loud, or as often as the Mexicans. When it's time to have fun, they enjoy their fiestas (the music is plenty loud then, like on Christmas Eve in Pana). But for the most part, they live simply and humbly.

Terrain
Although Guatemala is small, it offers a diverse terrain. From the jungles of Tikal, the cloud forests and mountain highlands to the beaches, lakes and rivers, and volcanoes, there's a lot here in this tiny country the same size as the U.S. state of Tennessee.
Surprisingly, we haven't discovered a lot of wildlife here. Most of the animals are domesticated, although we have heard about coyotes (that's a funny story!), and we've seen some squirrels and birds... but that's about it. (Not a whole lot, especially when we think about all the wildlife in Costa Rica.)
Safety & Visas
In the past, Guatemala endured a violent civil war and may have not been a safe place to visit. But today, this country is heavily protected by police and a very safe place. We frequently see policia patrolling the highways, streets and neighborhoods, and they are always very friendly and protective of foreigners. While theft can and does occur (like the morning we got robbed) we've never felt unsafe, even walking the streets at night here in Panajachel. The overall atmosphere is friendly and harmless.
If you're a foreigner, Guatemala will give you a 90 day visa when you arrive (part of the CA4, which includes El Salvador, Honduras and Nicaragua). When that 90 days is up, you have to renew the visa (if you don't leave the country), along with vehicle permits, if you drive in.
Technically, you're supposed to leave the country for 3 days (going to either Mexico or Belize, since the countries in the CA4 don't count for renewing visas). But, if you talk to the right people, and have Q100 per passport, then you can get renewed without the 72-hour departure.
I've also heard you can renew visas and vehicle permits in Guatemala City, but we don't have any personal experience with that.
Food
When I wrote about our time in Mexico, I really spent some time raving about the food - tacos, tlyudas, tortas, tamales and much more.
I'm not sure that I'll have as much to say about the food in Guatemala...
There are some meals that are quite tasty -- caldo (a beef or chicken broth with vegetables), guisado (a beef or chicken stew), dobladas (meat & veggies fried in masa - a corn flour dough), pollo encebollado (chicken in onions), asados (grilled chicken, beef or pork - usually with green onions) and pupusas (which are actually Salvadoranian.)
There are also some things I'm just not fond of... chuchitos (a kind of tamale made from corn flour and wrapped in corn husks), tamales (made from rice flour and wrapped in 'banana' leaves, and usually mushy), fried chicken and french fries (okay, this is good when I'm craving something unhealthy). And the corn tortillas. The staple in Guatemala is corn tortillas, and while I loved the corn tortillas in Mexico (we would heat them plain, hot, and fresh off the fire), the tortillas in Guatemala have cal in them (crushed limestone) and aren't as delicious...at least to me.
To be fair, there are a lot of dishes I haven't tried. Since we've spent most of our time at Lake Atitlan, we've only tasted what they have to offer around here. Other destinations in the country offer different fare -- like iguana stew (something our friends tried when we visited Xocomil)
While I may not rave about the tipica Guatemalan food like I did Mexican food, don't worry, we're not going hungry. There's still plenty of good things to eat, not to mention all the fresh fruits and vegetables! Mangoes, bananas, papaya, pineapple, watermelon, melon, strawberries, apples, lychee, zucchini, carrots, broccoli, plus things you've never even heard of before -- and so much more -- much of it local and cheap, cheap, cheap.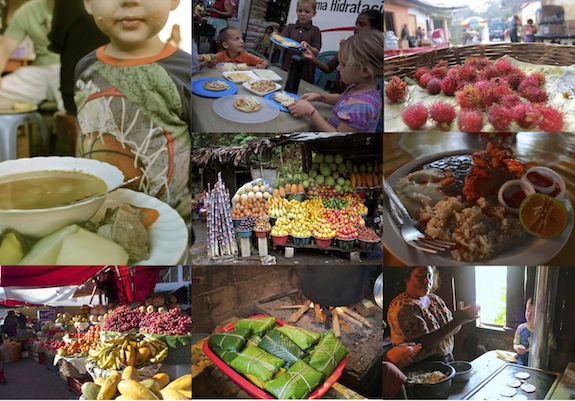 Cost of Living
Just like many places you travel to, you can live inexpensively in Guatemala, and you could also live expensively. It all depends on you.
Just here in Panajachel, you can rent a house for $200 a month, up to (I think the highest I heard) $7000 a month. It all depends on what you're looking for, and what sort of lifestyle you're after.
Here's a sample of what you might spend in Guatemala:
Mangoes (first because they're my favorite) - 3/$0.65 (when they're in season)
Watermelon - $1.30
Papaya - $1.68
Bananas - $0.77/dozen
Carrots - $0.78/dozen
Zucchini - $0.26/each
Eggs - $4.38/30
Milk (in a 1 liter bag) - $1.00
Apples - $1.16/lb imported; $0.39/lb local (when in season)
Pears - $1.16/lb imported
Can of tuna - $1.98
Black beans (dry, 1lb) - $0.65
Tortilla chips - $2.10
Loaf of whole wheat bread - $2.97
Diapers - $7.74 to $11.61
Pack of 80 wipes (Huggies) - $1.94
Diesel - $4.25/gallon
Dinner for two - $5 to $18 (depending on what kind of food you want)
Dinner for seven - $14 (because we usually eat at the market, or get pupusas, where you spend $2.00 a plate)
Cost of living comes down to what your lifestyle is about. If you want to live on fresh fruits and vegetables, and local foods, and in simple accommodations, you'll live inexpensively.
If you'll be continuing your diet from 'home', with imported foods, and living in a pricey expat neighborhood, you'll spend a lot more. It's all up to you.
Guatemala is a great country. I don't have the slightest hesitation in recommending it as a destination for travel, vacation, retirement or raising your children.
We never thought we would be here this long, but we're really enjoying it.
Well, there's 3 main reasons:
Community
Somehow we've found (or attracted) a really great group of friends. Currently there are 5 families here in Pana (including ours), and between us we have 22 kids ages 2 to 16. We share similar values and have a lot of fun together.
Each of us homeschool following similar methods, so we do book clubs, art and music classes, sign language and cooking lessons, not to mention all the cool 'field trips' we do together, and weekly date nights for the adults. Overall, we're just having a really great time.
For everything there is a time and season, and right now this is the season of friendship and learning.
Contribution
After the success of our perpetual self-reliance project, we've explored ideas that would take it to a community level -- creating a local 'model' homestead where the local Guatemalans could come and 'learn and earn'. There would be hands-on work, and live demonstration where they could 'catch the vision' of ideas that can help to improve nutrition, create more self-reliance, PLUS protect the lake from the onslaught of pollution that comes from sewage and gray water runoff. Stay tuned for more information on this.
Business
I've been taking part in weekly business mentoring through an 'online reality show'. It's keeping me busy, and helping to grow our business, which will solidify our long-term sustainability for the rest of our traveling life. 🙂 As romantic as the notion of 'working from anywhere' sounds, it's not a feasible option. To work consistently on something that will bring the results you want, you need scheduled time, consistent internet, and a place to do it. All of those things are difficult to do (consistently) when you're on the road.
So when will we leave? I don't know... What's your guess? (And would YOU like to visit Guatemala?)
Comments
comments
Powered by New Facebook Comments