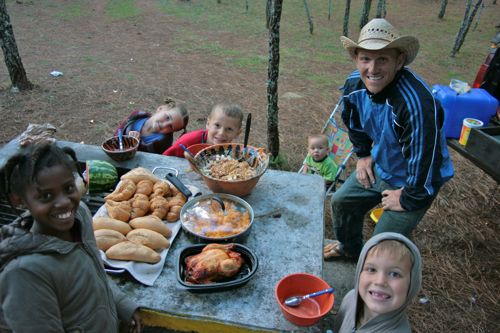 (Yes, yes, I know Christmas has passed...I'm trying to catch up).
"You've got to visit Chiapas, it's a beautiful state," we were told by a local resident of Mexico City, while in Valle del Bravo, Mexico.
So we went.
After our short excursion with insanity in the jungle outside Jalapa , we drove the next morning to Tuxtla Guitierrez, our first stop in Chiapas, mostly to look for veggie.
It was a very nice city, that had all the conveniences of an expat town, but without too much of the touristy feel. We liked it. Plus we scored 75 gallons of veggie from the local Vips restaurant.
It was an all day excursion, and as the sun began to set, we drove out of town to look for camp, passing the uber-famous Canon de Sumidero, which came highly recommended as a 'must see'.
One of our biggest travel challenges is deciding what to not see, and despite it's high recommendations, this one made it on the list. Logistically, it just wasn't going to work. There was no place to camp (for free) nearby, and we didn't want to back track.
So we continued up the libre road toward San Cristobal. It was a road that wound along the side of the mountain, like a vine climbing a wall. It provided a dazzling view of the valley below, as the setting sun cast it's orange and pink hues, and reflected upon the broad river which flowed out of el cañon.
Finding a spot to camp at the summit of this hill, we enjoyed a peaceful night. The morning was Thanksgiving Day, and we celebrated by doing some cleaning and reorganizing, and more eliminating. (It's amazing how much more you want to get rid of, the less you realize you need, the longer you're on the road.)
Soon we were on our way again, enjoying the spectacular views that the libre road were providing, despite their serpentine nature.
Deep, deep green forested hills veiled in sheer puffs of clouds. Indigenous villages protruded from the mountainsides like a tree jutting out of a rock crevice, held only by their roots and pure resolution.
One village appeared in need of assistance, as it's cathedral and a few dozen houses were knee-deep in water. But upon inquiring, a resident simply replied that this happened last year too.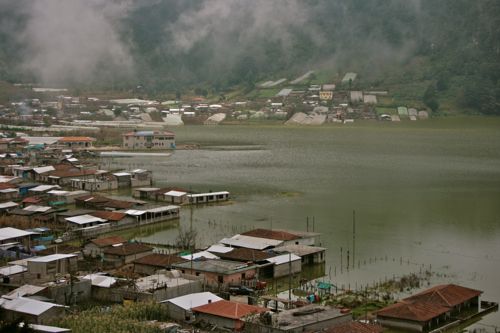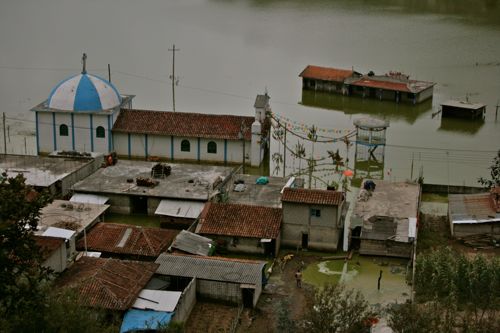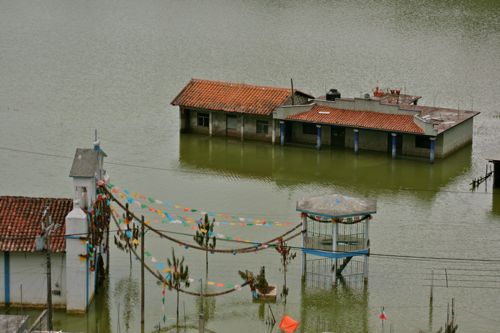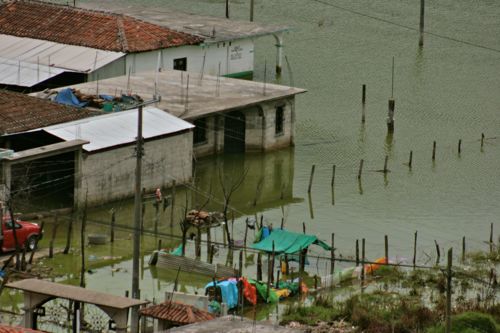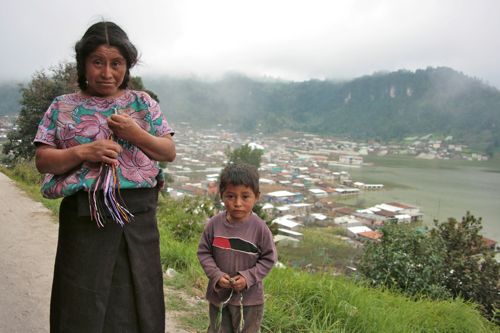 Along the roadsides walked aboriginal men or women in their traditional dress, carrying bundles on their backs of wood, harvests or babies.
As the road flattened out in the floor of a valley fenced in by lofty, lush, cloud crowned hills on every side, we stopped in the center of a native town.
The daily market was in full swing, and indigenous men and women were hovering around market stalls, like ornately dressed purple and turquoise bees in a hive.
With an irresistible urge to get up close and personal, and in need of a few items for our Thanksgiving feast for this evening, we pull over the truck. Aaliyah wasn't feeling well, but ultimately opted to come with us rather than waiting in the truck with her big sister.
Like children staring at TV, the natives gawked uncontrollable at these newcomers as we unloaded from the truck, crossed the street and started exploring the market. In a town where every small child was carried in a sling on the back, they were quite entertained with Atlas' little stroller.
Having left her shoes at last nights camp site, Aaliyah was in need of a new pair. While examining options at the booth of one little woman, Aaliyah suddenly exclaimed that she needed to throw up.
Holding a pair of little girl's flip flops in my hands while I bargained with the peddler, I watched wide eyed as Greg and Aaliyah dashed off in the direction of the truck, only to stop short so she could empty the contents of her stomach in the market walkway, directly in front of a tamale vendor.
My mouth must have been gaping open at this point, left standing there with our remaining four children. The woman selling the shoes turned to me, and I stared back at her.
I'm sure she was hoping to make a sale, but not knowing what else to do, I shrugged my shoulders, set down the shoes and walked off.
Reconvening back at the truck, we made Aaliyah comfortable and formed another plan of attack. I gave Aaliyah the iPod to play some music (a favorite past time of hers), paid her big sister to babysit, and Greg and I, with Atlas and Parker, went back for round two.
I'm not quite sure what is so enthralling about being in a place like that, surrounded by people and culture that is so different from what you've known, but your fascination is entirely captivated by the clothing, the food, the wares, the customs, crafts and society. It's like a baby with a new toy, or a fun new game. Your senses are on high alert, your mind is active and focused and fully absorbed in your surroundings.
We gawked, gazed and goggled to our hearts content, and made a few purchases for our Thanksgiving feast, including patronizing the aforementioned tamale vendor as a peace offering.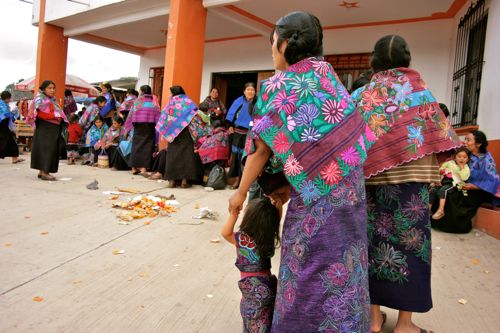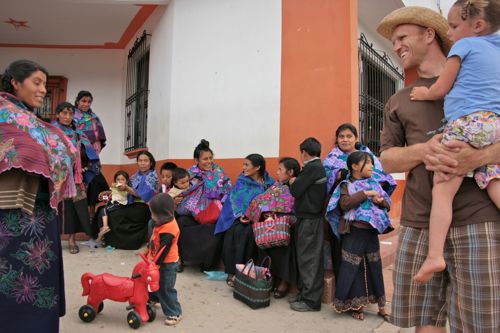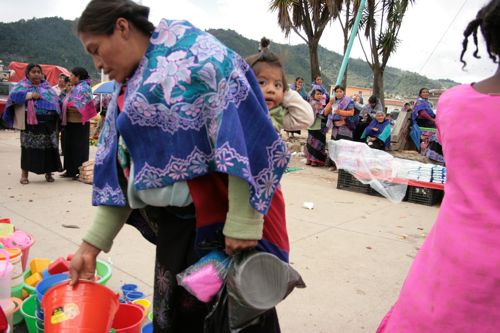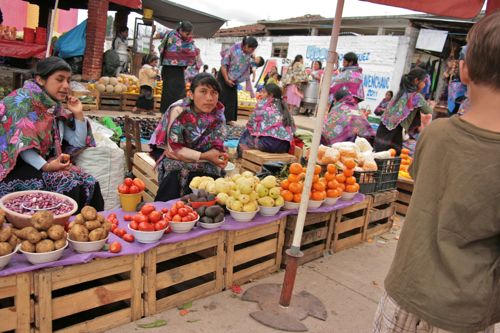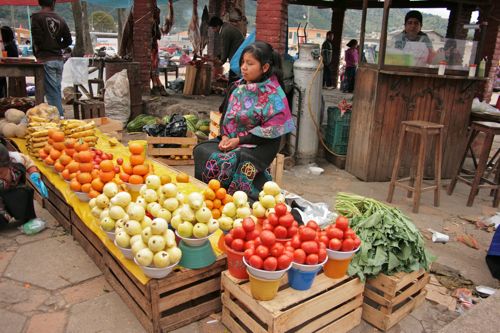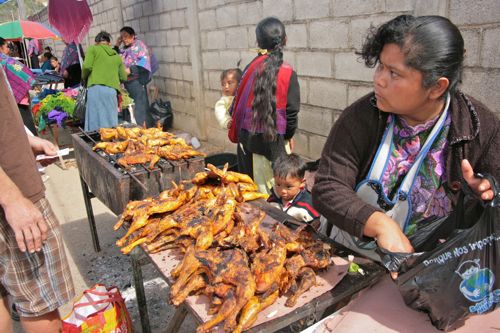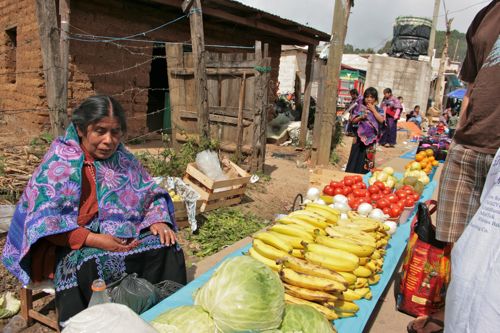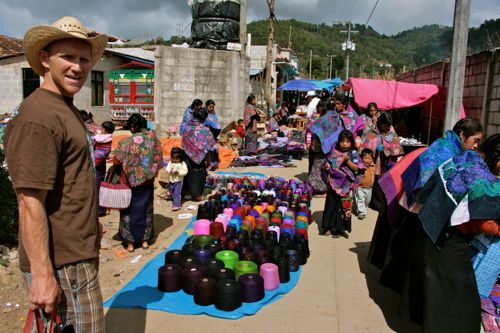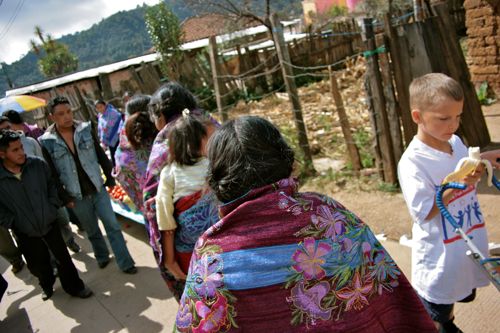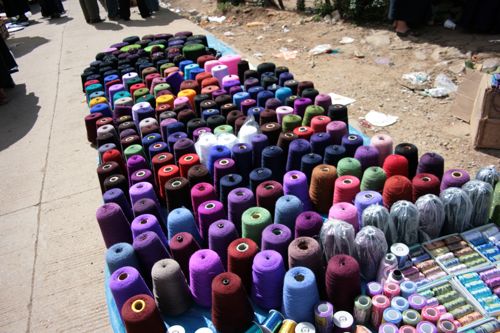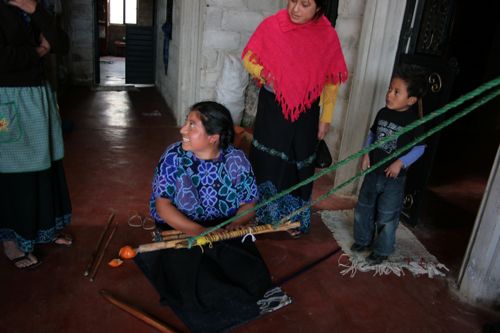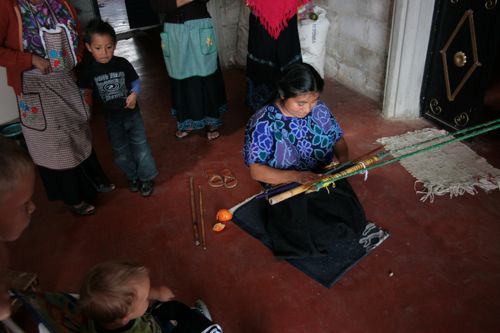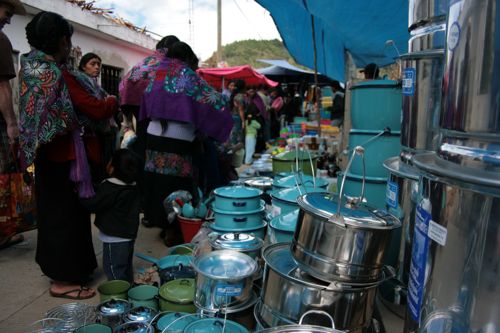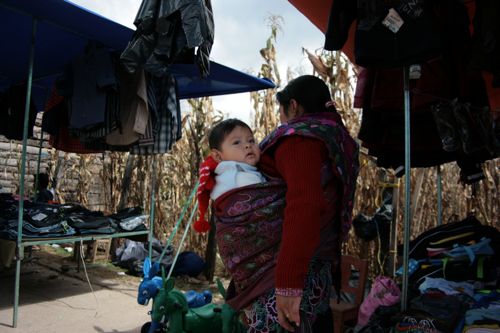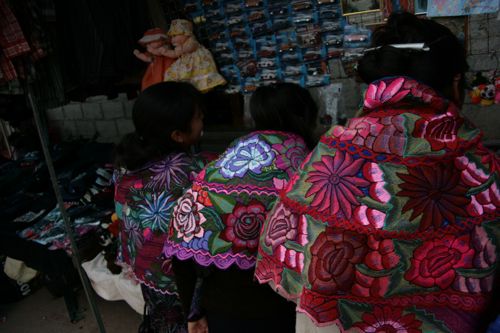 Look at those shawls. They cost about $1000 pesos each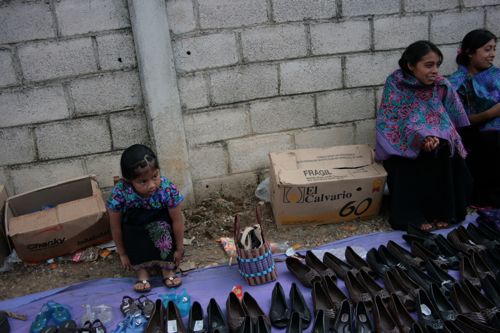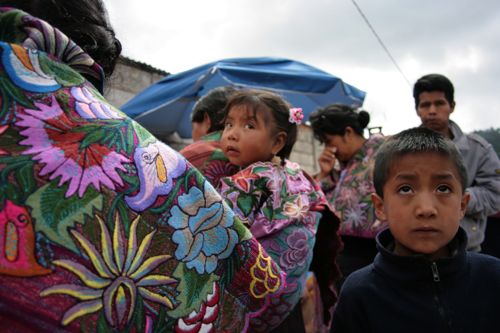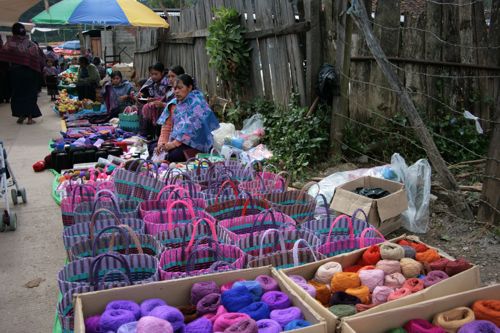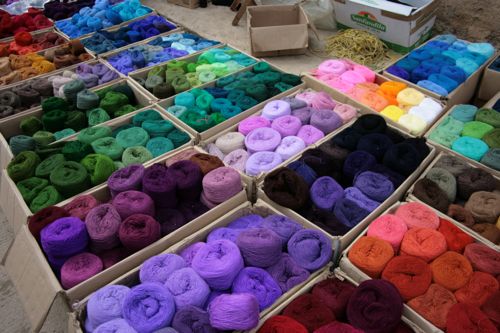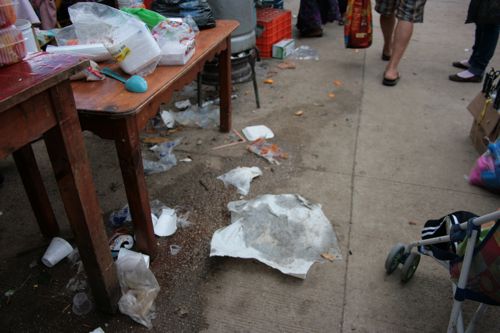 Where Aaliyah emptied her stomach. (Under the paper.)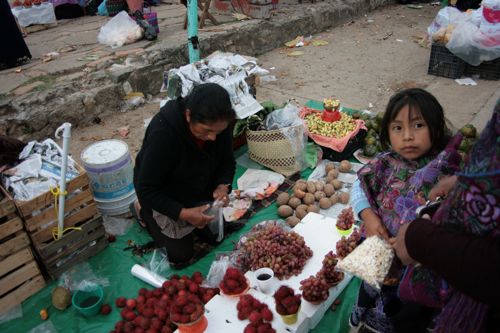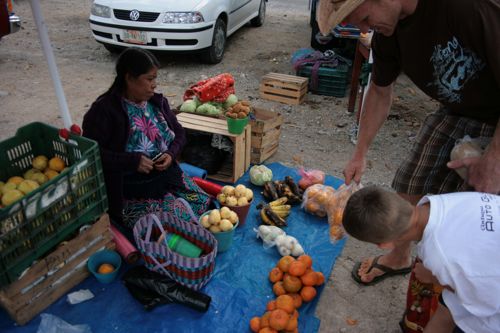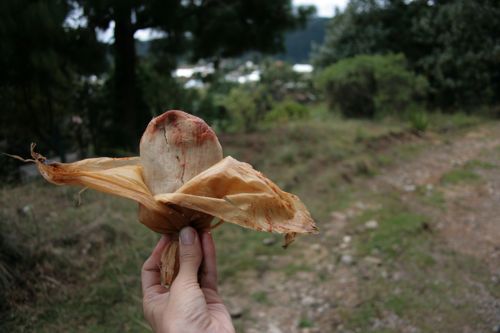 We bought ten tamales from the vendor we maltreated. They were really good!
San Cristobal was our next stop before the holiday festivities. We did some more shopping, to ensure a copious feast, then drove the streets of this quaint little town to get a better glimpse of it.
Our route led to an unexpected detour, which coagulated the flow of traffic in the narrow arteries of the city. The streets became more and more tight and constricted, like the walls of a plaque-filled blood vessel.
The detour led us to a turn which consisted of a hard left, and then an immediate hard right, with sidewalks that had two foot walls on each street corner.
With a vehicle that turns like a tank, we knew this would be a tough one, but there was no where else to go, and traffic was waiting behind us.
Greg made the left, until the side of the truck bumped the left wall. Then he attempted to go right, until the opposite side hit the right wall. Then there was no where to go.
He couldn't back up, traffic had crept up close behind him. He couldn't go forward, there was a wall directly ahead. There were cars on our left who wanted to pass as well. The horns started honking.
In an effort to assist, I got out of the truck. From every angle, it just seemed impossible that we would fit. Backward, forward, any-ward, there was just no way.
But Greg wasn't deterred. A centimeter here and a centimeter there, he moved back and forth, back and forth, with the most amazing thousand-point-turn you've ever seen. Even then, it wasn't enough, and he had to just gun it at the end, pushing through despite damage to paint and tire side-walls.
All this adventure, and we still had time for Thanksgiving dinner. We found a nice picnic area and prepared our feast - roast chicken, rolls, sweet-mashed potatoes and fruit salad.
We reminisced on Thanksgivings past - last year Alaska, before that Georgia, and wondered where we would be next year. We laughed, sang Christmas carols, stuffed ourselves, and told what we were grateful for - just our little happy family of seven, beneath stately pines in the mountains of Chiapas, Mexico.
What a life. I have so much to be grateful for.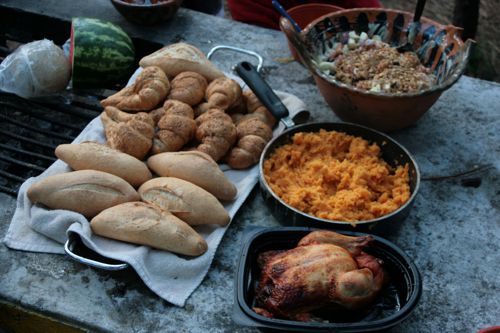 Comments
comments
Powered by New Facebook Comments