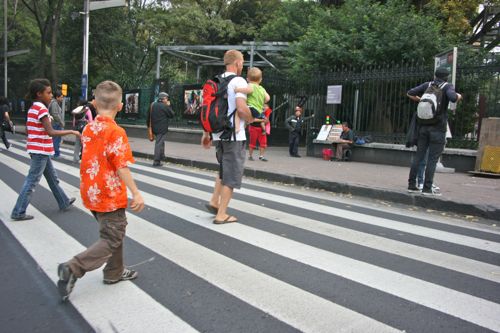 Some people argue that traveling with children is selfish on the part of parents, and a waste of time and money because 'they won't remember it anyway.'
Perhaps there is some truth to that, but for Greg and I, we believe that traveling with our kids vale la pena - it's worth the effort - even if they don't remember it.
There may be some selfishness there - like when we bribed our kids to climb to the top of the Pyramid of the Moon. We wanted to see it, they could only think about what they wanted right now - after a long day hiking pyramids in the hot sun, that was to go back to the truck and get some food.
By visiting it, did they learn a lot about ancient Mexican history? I don't know.
But they do know that there is a place called Teotihuacan, and that it has big pyramids. They know that because they've been there, not because they read about it in a book. (They also love to practice saying it - teo-ti-hwa-con).
And it's created a little peg in their mind, which they'll be able to connect to other pegs of information, until they have an ever growing peg board of knowledge gained from personal experience on which to base their education.
So as part of their education, and (selfishly) our own, we were determined to visit the Museum of Anthropology in Mexico City.
We'd already abolished our 'fear and trepidation' about Mexico City by driving through it, but we still had no desire to return in our own vehicle.
On the recommendation of our hostess at Trailer Park Teotihuacan, we decided instead to bus in, and then take the subway to get around.
After a few morning chores, and hanging our laundry out to dry for the day, we walked to the bus station where we purchased tickets to Mexico City ($28 pesos per adult, $10 for kids 5 and up)
It was a grand adventure for little legs to climb aboard a large bus, (which was leaving as we arrived), and after a few additional stops (one in which the men had to exit in order to be patted down), we were on the highway to D.F.
As before, I was amazed by the sea of concrete before me. Constructed on the hills all around were innumerable houses, mostly unpainted, stacked one on top of the other like Legos.
It was much more enjoyable to pasear through this part of Mexico as a passenger in a comfy bus seat, than as the driver and navigator of an oversized vehicle sitting in traffic.
Making our exodus at a bus stop on the outskirts of Mexico City, we searched for the entrance to the subway system. Descending into the ground, there was much excitement (even from Greg - his first subway ride!)
With some help, we purchased our tickets (only $3 pesos each), and found the right train.
Once our train took us to where we needed to go (a great exercise in reading maps), next was another bus ride from one side of the park to the other, where the Museo de Antropologia was situated.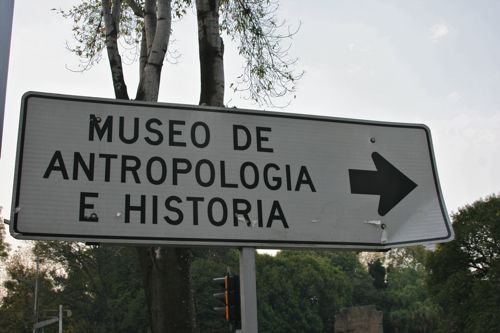 The Museum of Anthropology is one of the largest and most well known museums in the world, and finally we stood here before it! (sort of)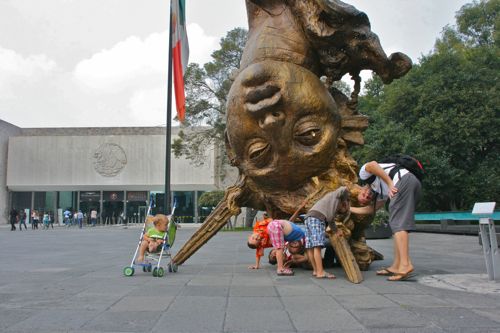 We purchased our tickets for MX$51 for adults, kids under 13 free.
How incredible is that? A world renowned museum and entrance for our entire family was about US$7.50! That's what I love about Mexico.
As we walked into the main atrium of the building, I was amazed by the shear size of the place! Will we be able to see it all? We're realistic about our expectations, we do have five small children in tow. We'll see what we can see.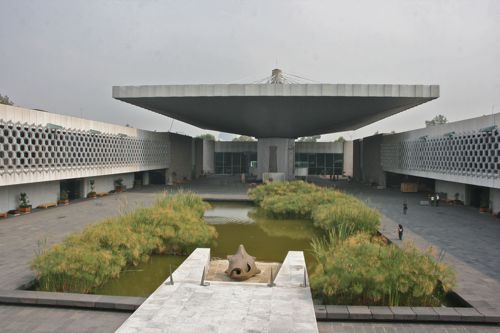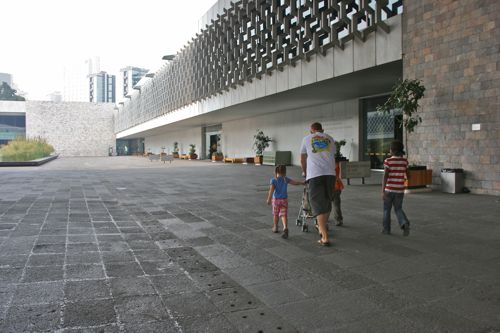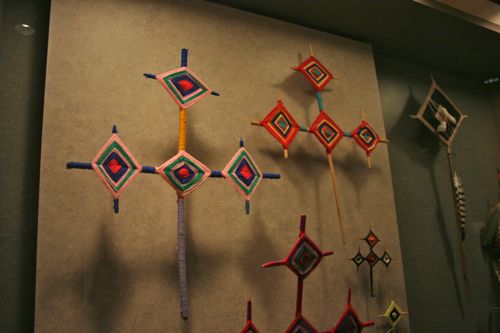 I made these as a kid in school! I didn't know they really came from Mexico.
They're called ojo de Dios - eye of God.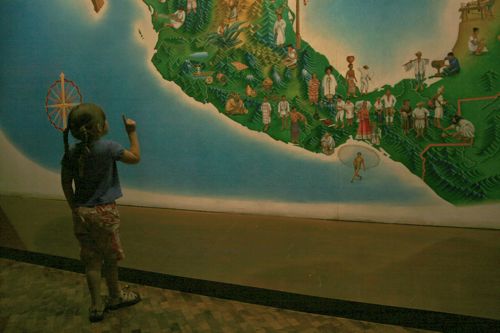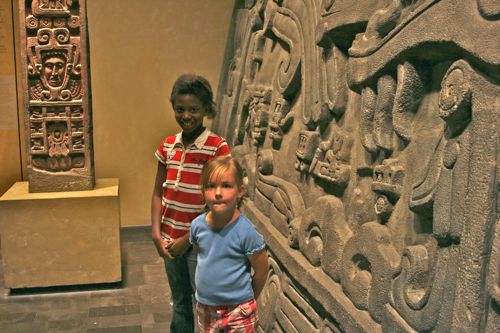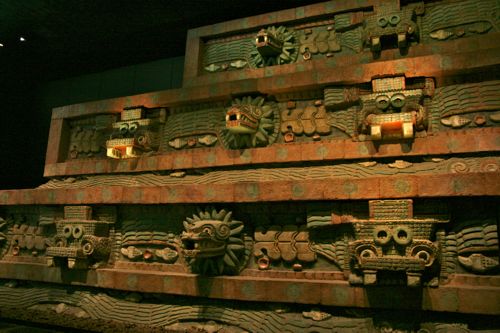 Hey mom, there's the Feathered Serpent temple from Teotihuacan! (They do remember something.)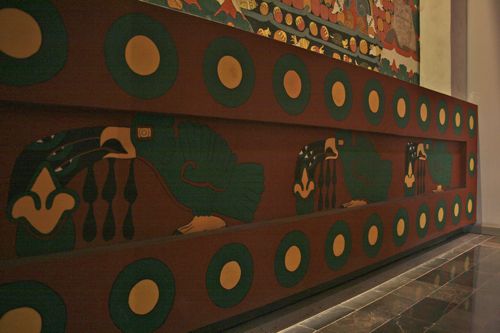 Another replica from Teotihuacan that we saw in person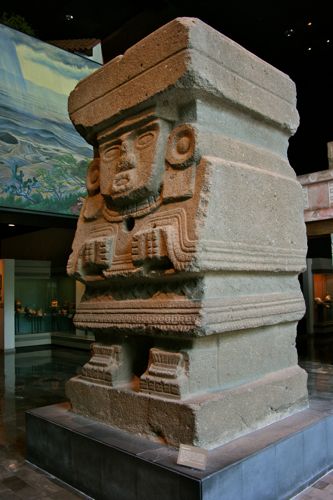 This was discovered at Teotihuacan - the Water Goddess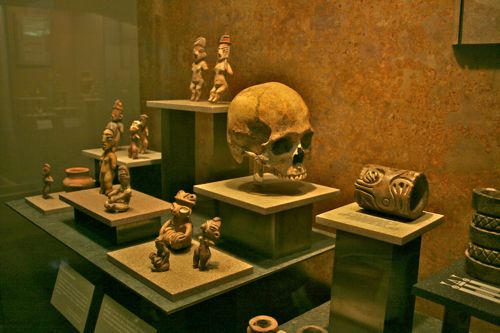 Kids are kids, no matter where in the world you take them. After a half hour, half our brood is bored, and hungry.
In a desperate attempt to satiate their irritating pleas, we visit the only on site restaurant - one that's a little pricey for our budget, and order the cheapest thing on the menu - four plates of frozen, reheated french fries at $20 pesos a plate - yikes! How annoying.
Even with food in the bellies, there still isn't much excitement from most of the crew about seeing the rest of the museum, especially from one child in particular who hasn't been feeling well for the past few days (the impetus for the bribery to climb the Pyramid of the Moon). We split up.
Greg takes the four younger kids and walks very quickly through each exhibit. Kyah and I take more time discovering the treasures of this incredible place.
There was so much to see, and to learn. Kyah asked lots of questions, and I answered the best I could (I've been reading a book on Mexico, so that helped).
We learned together about things like that the Maya used to drill out little holes in their teeth so that they could embed pieces of jade, and that the use of metal was introduced by the Spaniards.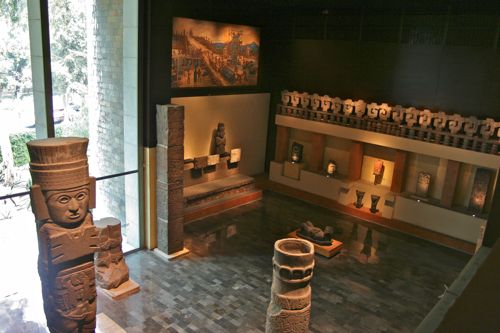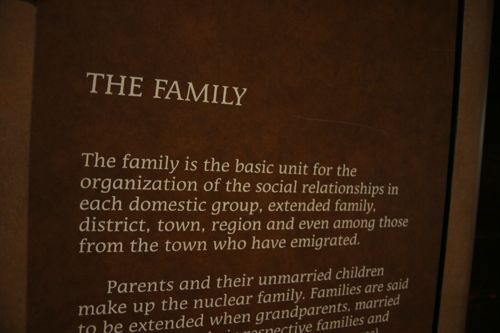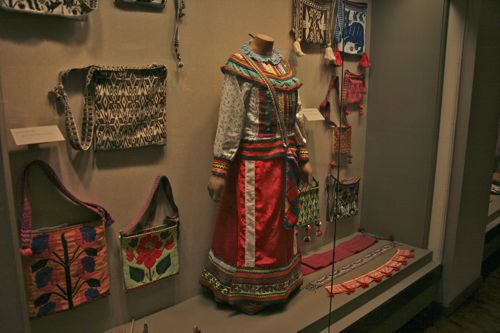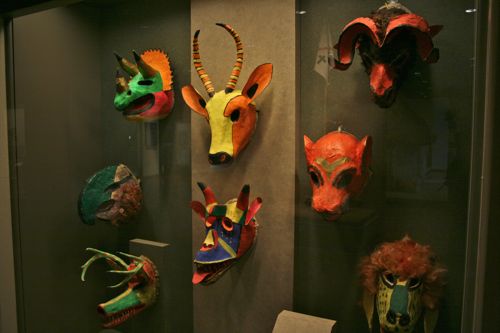 These masks are for Semana Santa - Holy Week (around Easter time)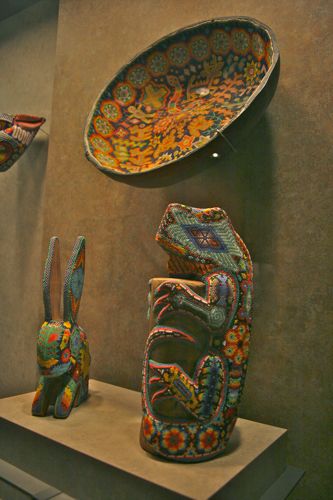 Amazing bead work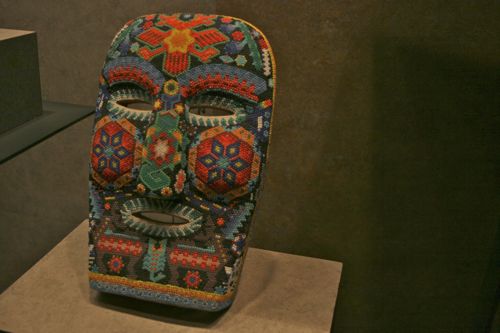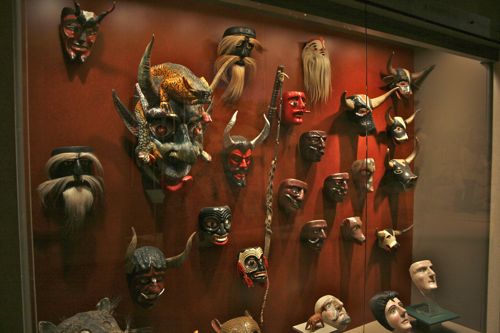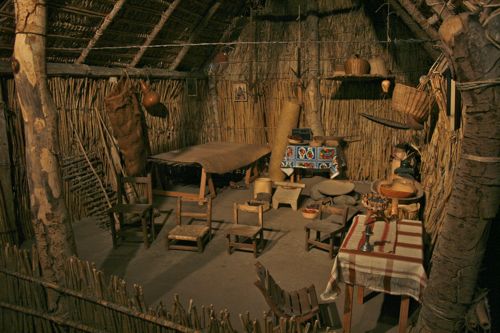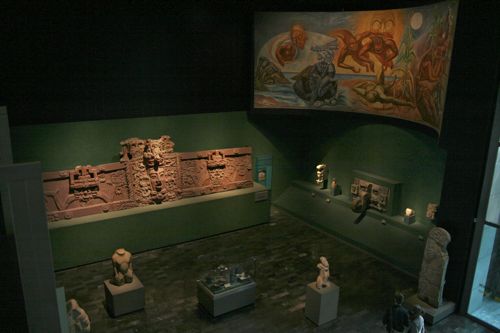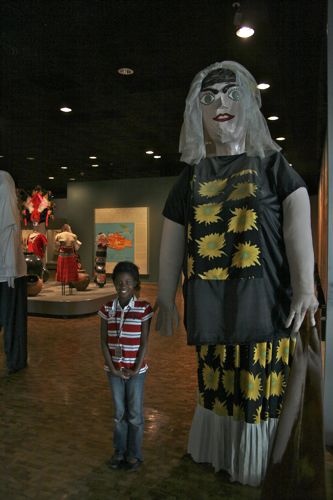 We found daddy and the kids again in one of our favorite exhibits - the Mexicas, also known as the Aztecs - located at the end of the museum, incredible artifacts taken from Tenochtitlan, the Aztec city that was built where Mexico City now is (it's built right over the top of it.)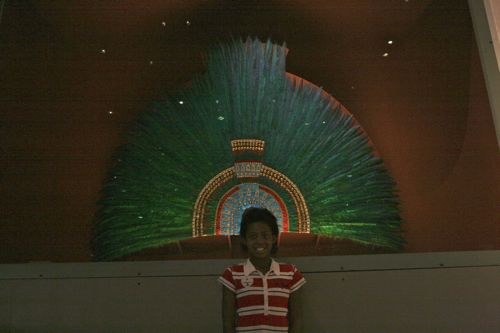 A quetzalcoatl feather headdress.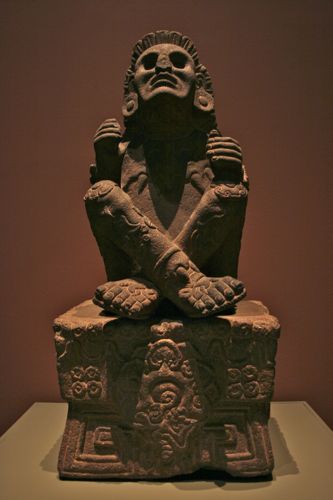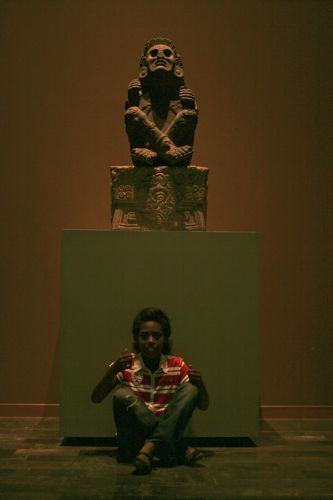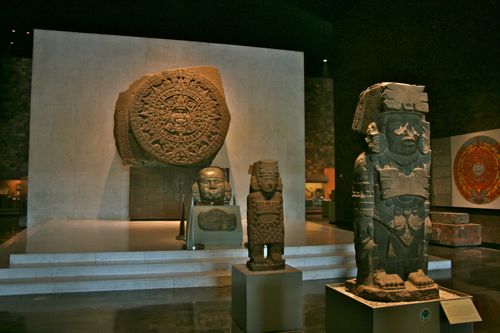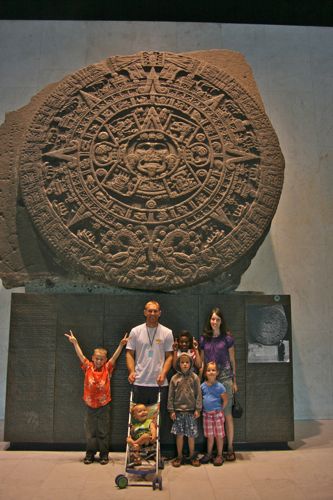 The famous Sun Stone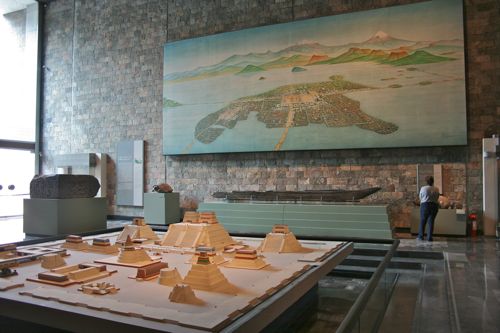 A model of Tenoctitlan, now covered by Mexico City.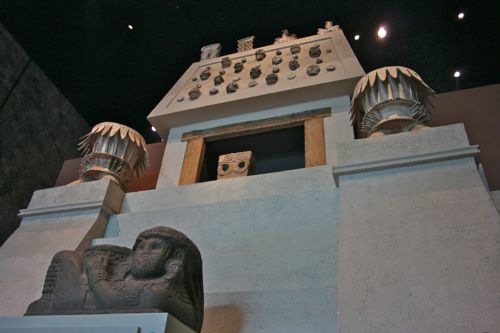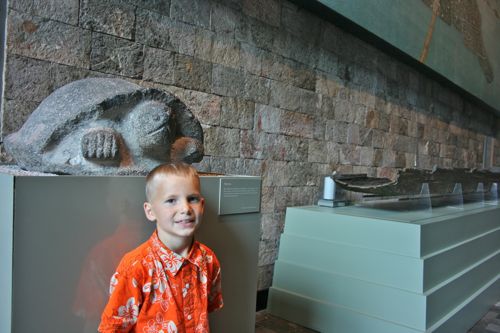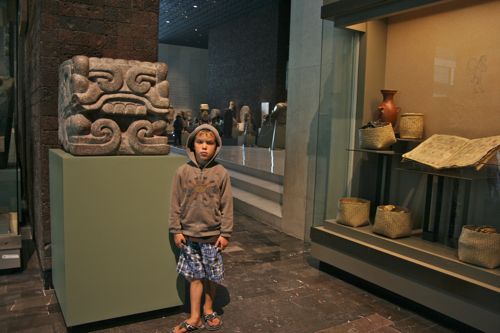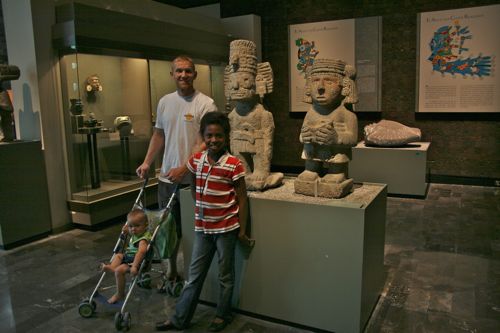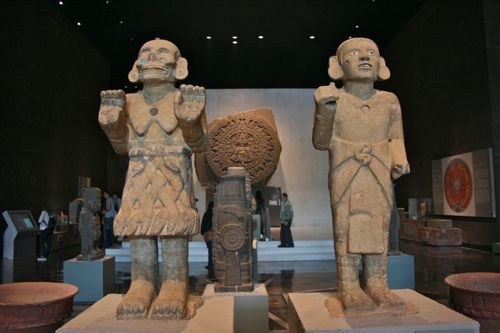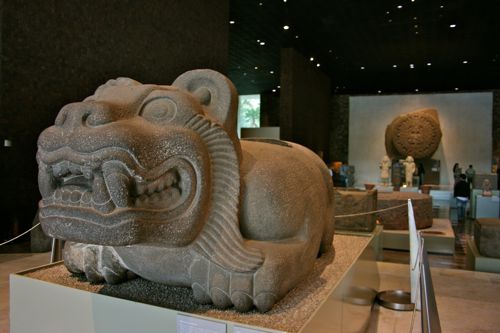 This was the last exhibit for daddy and the little ones. He took them out, while Kyah and I try to finish up the other wing.
As we stare at the Olmec heads, Mayan jade masks and jewelry, and elaborate burial accessories, I whisper to Kyah, "One day we'll come back when you're 15, and spend a few full days here."
We both really liked that idea.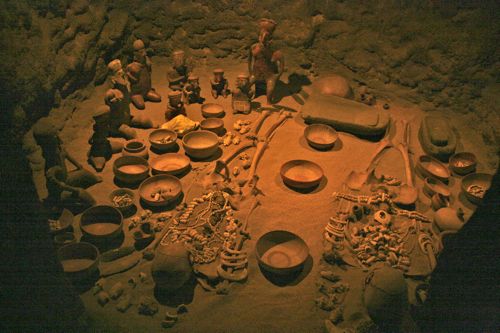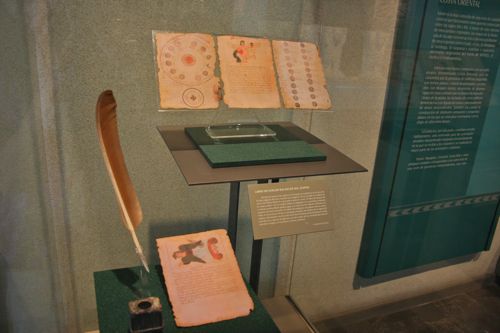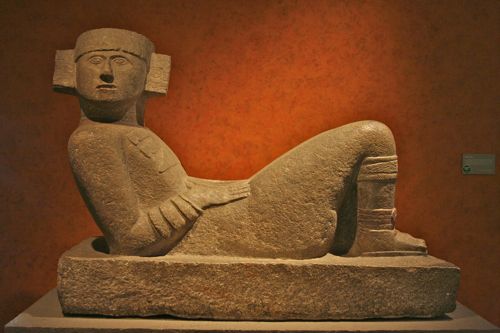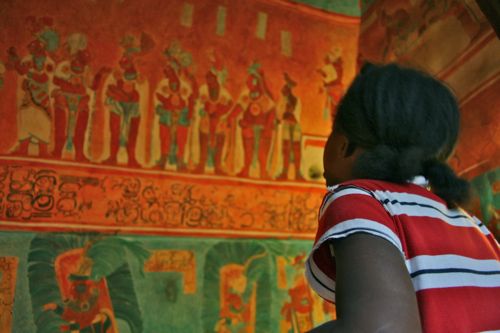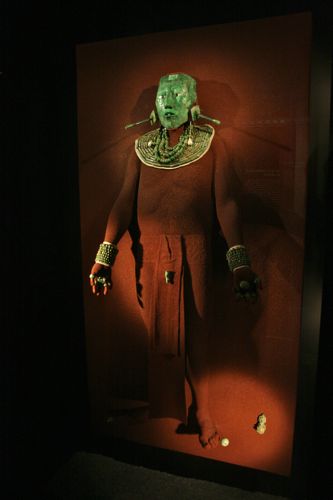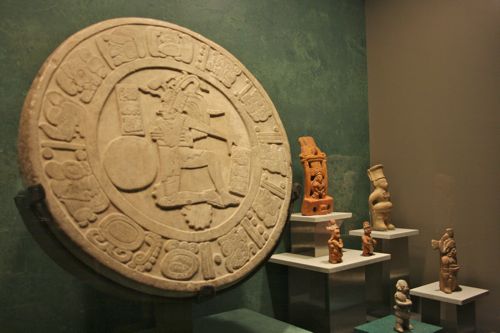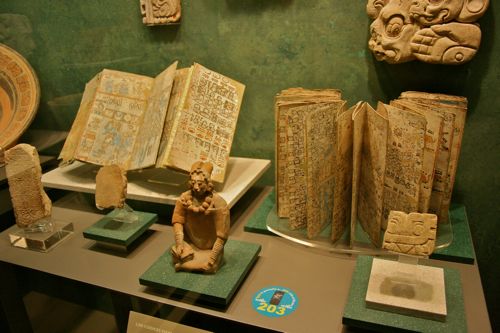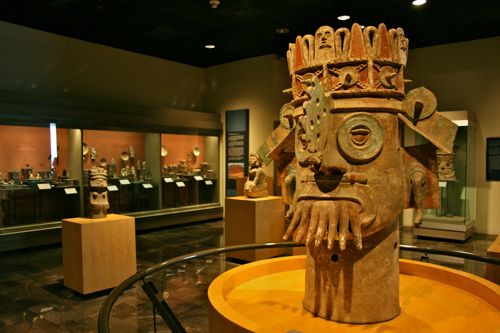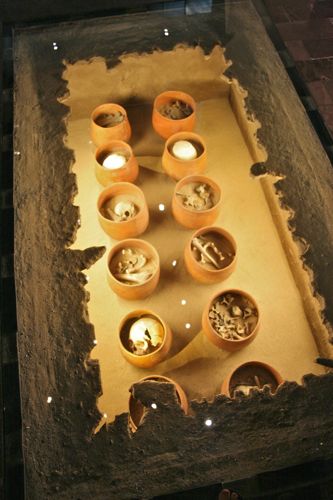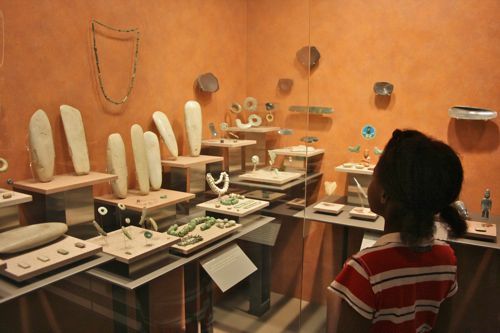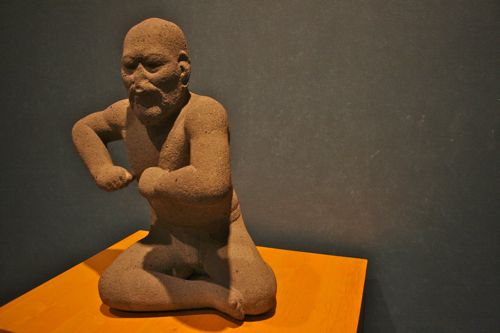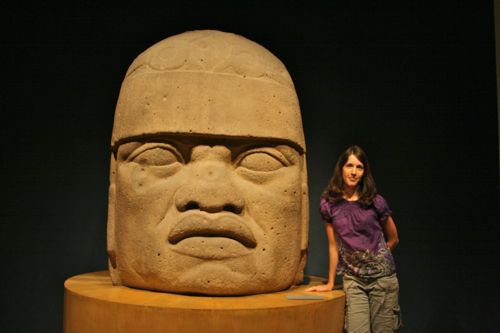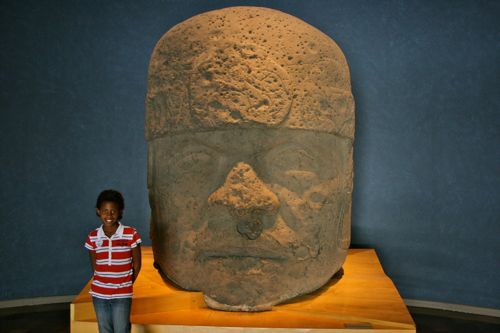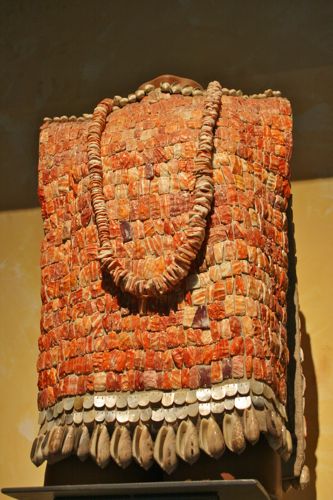 Made out of seashells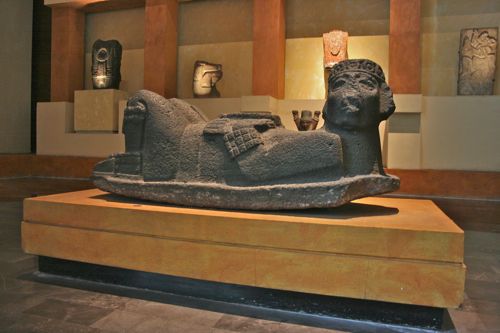 Daddy finally sent Parker in to find us - little ones had reached their limits. So we left, wondering when we might be back.
After a few snacks, we thought we might be up for a trip to the Zocalo - the city center. A twenty minute bus ride took us there, all the while I was glued to the scene outside my window - bikes, pedestrians, cars, skyscrapers.
My kids, however, were on drugs. A movie was playing on the bus' television. They were glued to that.
Kids.
Visiting the Zocalo was fun. There were street vendors, massive cathedrals, music and... food! We love food.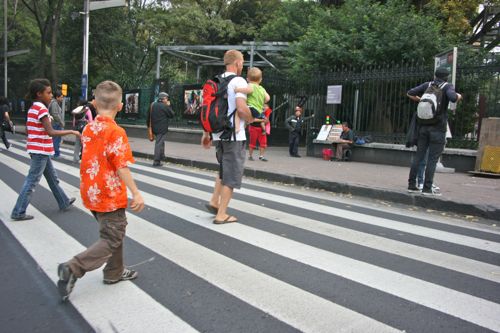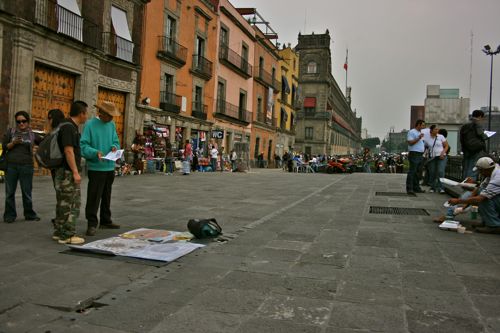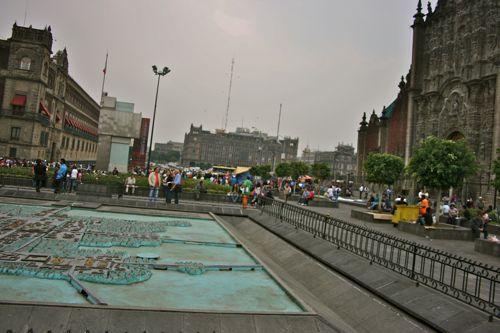 A model of Tenochtitlan, buried beneath this sea of concrete.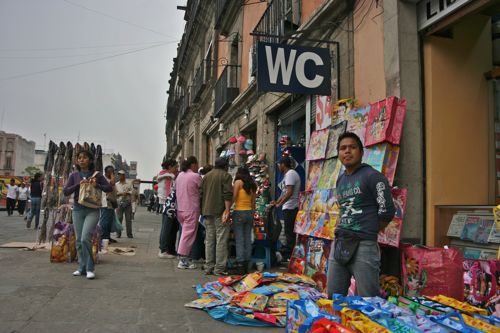 I bought a scarf here as a souvenir. I later discovered it was made in India. Doh!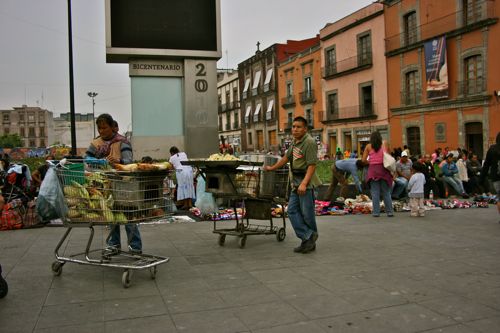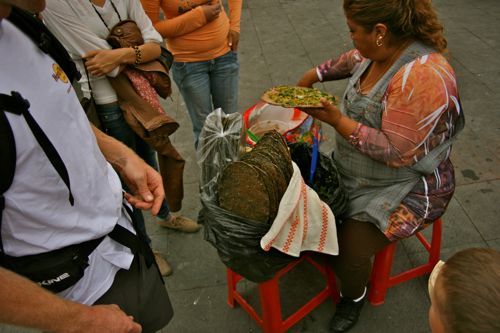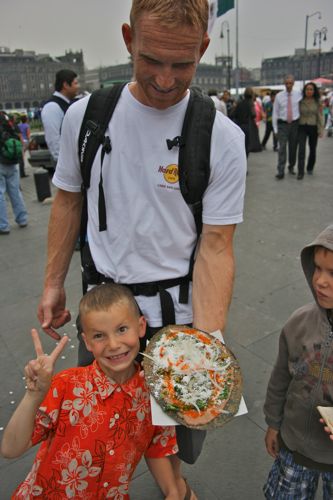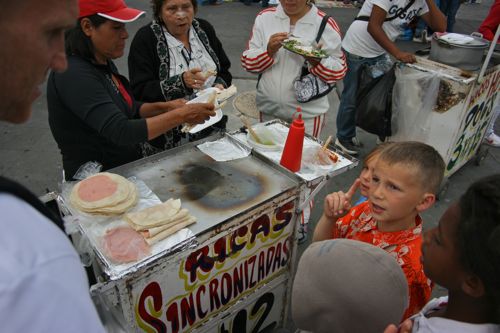 I'll take one please. (They're ham and cheese quesadillas.)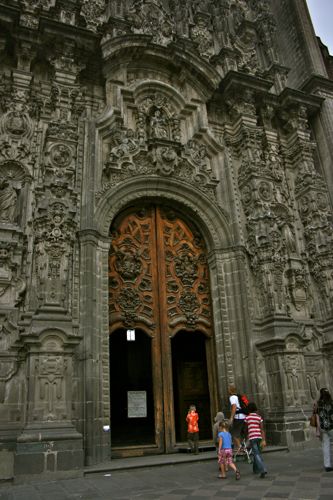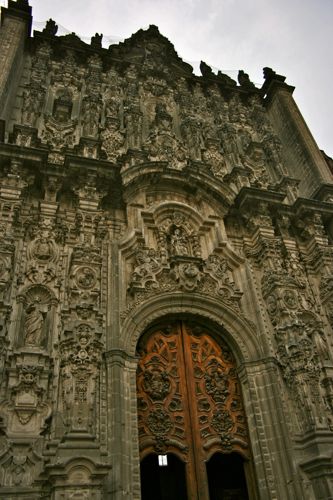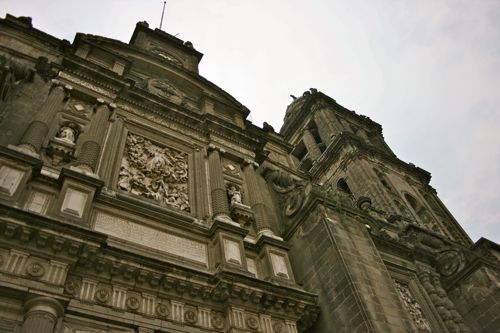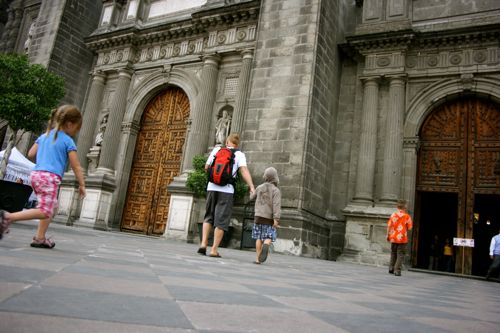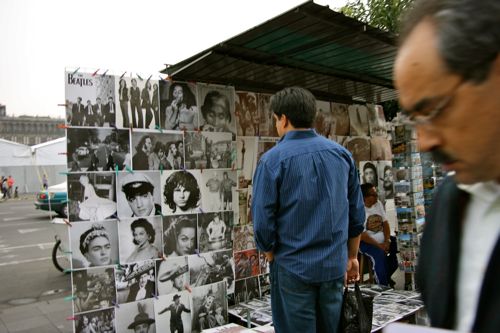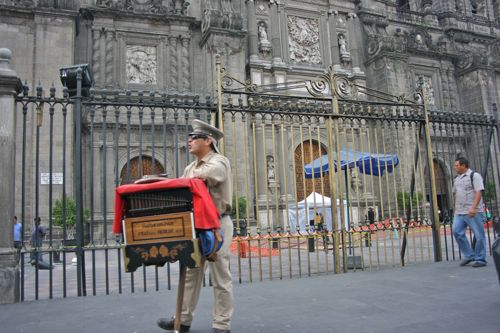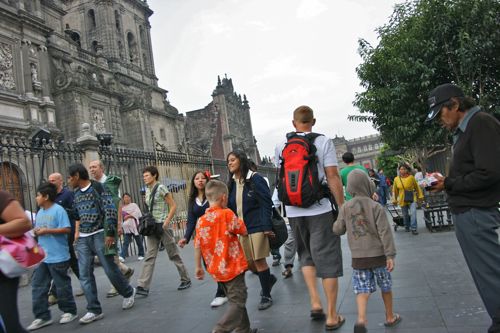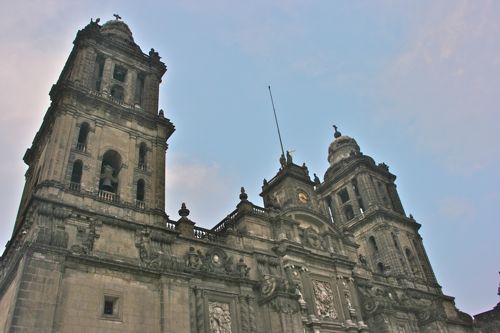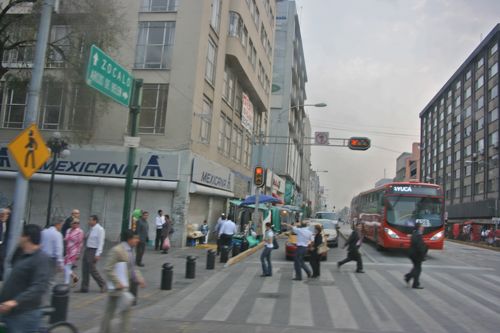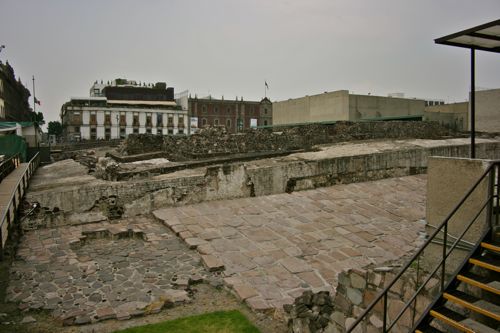 The top of Templo Mayor, poking it's head out from it's concrete grave. We considered visiting the museum here, but didn't want to press our luck. We regret not going now.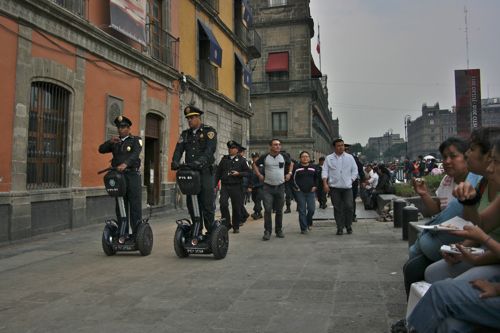 The most fascinating thing was when all the street vendors grabbed up their wares in their tarps and started running. This was why - la policia.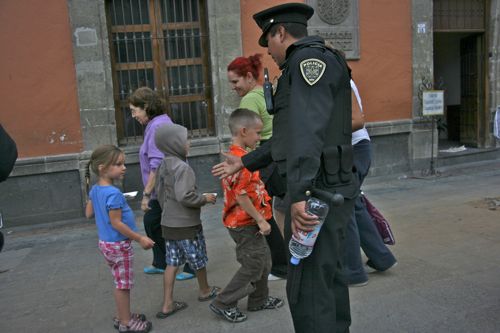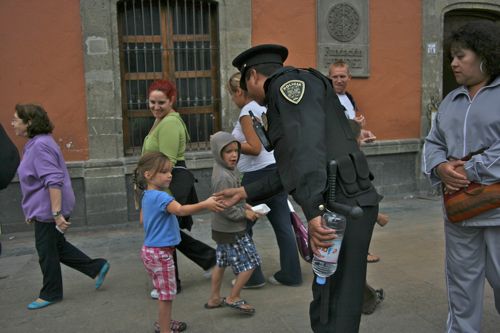 We love Mexico City! Have you been? Have you taken your kids?
Comments
comments
Powered by New Facebook Comments