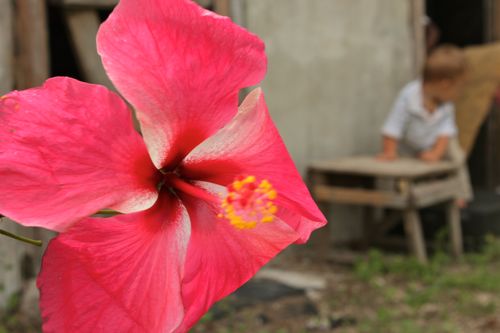 We spent about 4 amazing months driving through much of Mexico. It's an incredible, safe and stunning country with a lot to offer.
Our time in Belize was much shorter (about 2 weeks), and it started off on the wrong foot, although ended on the right one.
Here's a synopsis of our time there:
The Good
Belize is a very unique culture. Surrounded by Spanish speaking countries (Mexico and Guatemala), it's official language is English. Though as my kids said, "It's not English like I thought it would be." The other languages spoken are Spanish and Creole (or Kriol).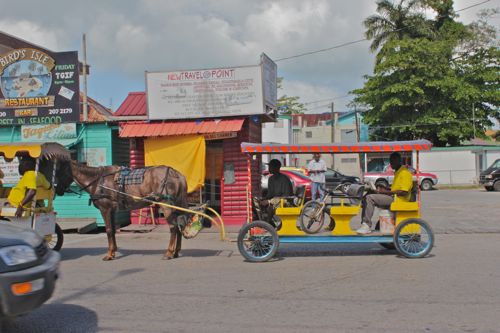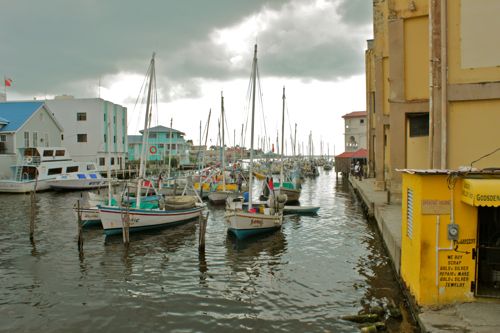 Belize City
There's a very interesting mix of people - European Menonites, Asians (who seem to own all the grocery stores), 'Mexican', and Creole. It's a place like no where else in Central America.
The Menonites are quiet and unassuming. The Asians keep to themselves. The Spanish speakers are polite and courteous. The Creoles are outspoken and full of spunk.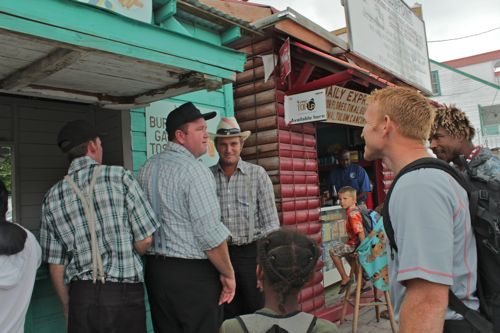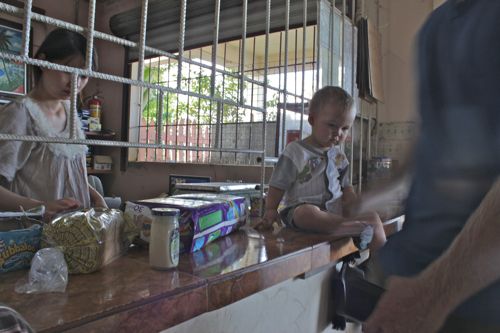 The Asians run the supermarkets
To sum it up in the words of five year old Aaliyah says, "Belize people are nice, mom".
Every time we visit a new city, state or country, it's always fascinating to me to notice similarities in differences. So naturally, as we crossed the Chetumal/Corozal border, I was on the lookout.
The terrain was very similar to the Yucatan Peninsula of Mexico. There were still mangy, half-dead looking dogs roaming around (what is UP with that in Latin America??), people still drove tricis around to sell their wares (think the three wheel bicycle/cart from Nacho Libre).
Differences included that topes (speed bumps) were now called 'Bumps', and a surprisingly number of runners/joggers out exercising in the morning in Belize City. In Mexico you don't see a lot of people running or exercising 'just for fun' (or health).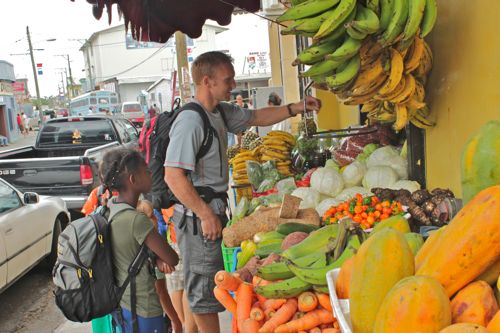 Produce is cheap in Belize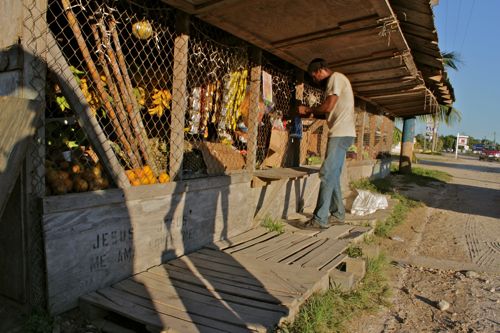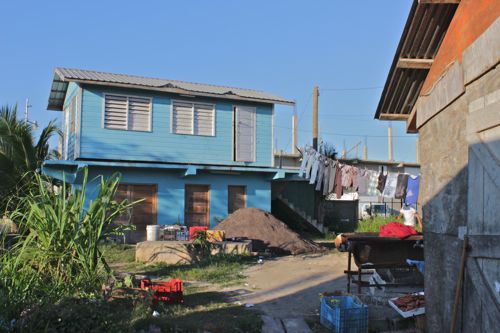 Our favorite 'good' spots in Belize include:
Ambergris Caye
A charming island that is north near Mexico (actually very close to Xcalac, where we were almost homeless for Christmas), an hour and a half water taxi ride from Belize City will get you there.
It's a pretty busy place in general, but still has plenty of laid-back island attitude. You can find the hustle and bustle, as well as the peace and quiet. It has great diving (so we've heard) as it borders the Belize Barrier Reef. The food is pricier than the mainland, there's a mix of immigrants from El Salvador and Guatemala (that make really good pupusas), it has some of the nicest beaches that we saw in Belize, and there are lots and lots of free coconuts - a family favorite (actually, probably an addiction, especially for 1 year old Atlas).
We spent a relaxing week with friends, made some new ones, and participated in some human-behavior experiments.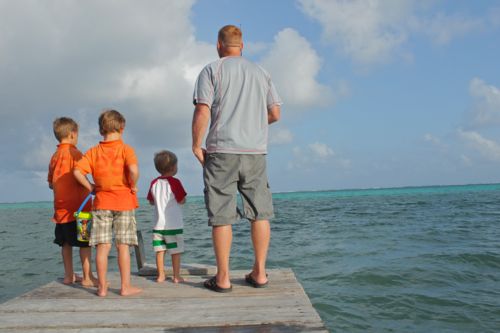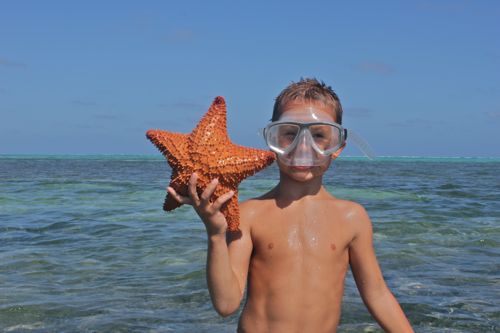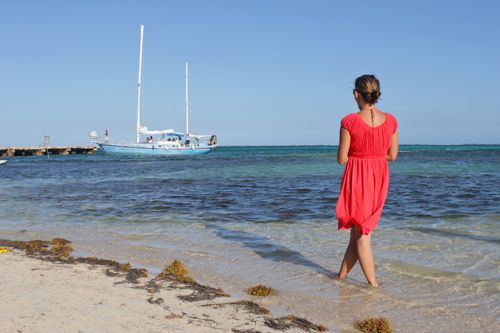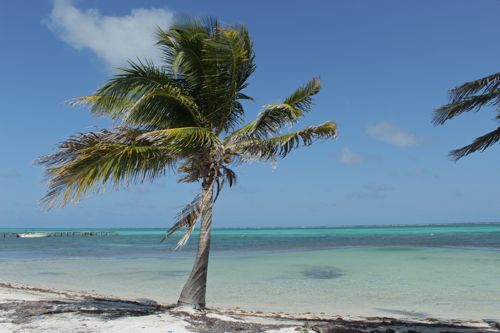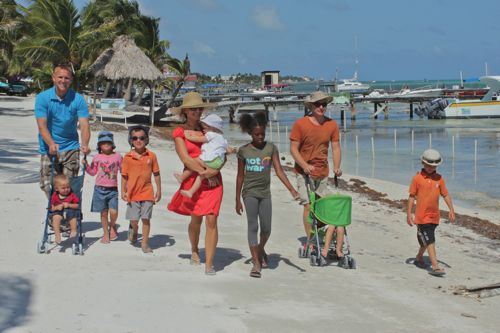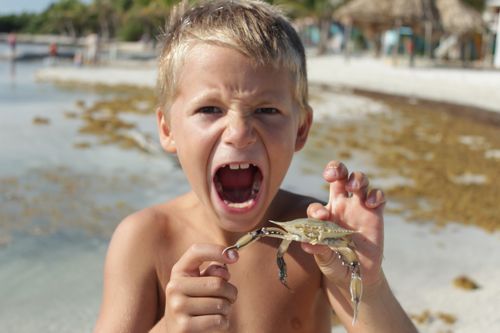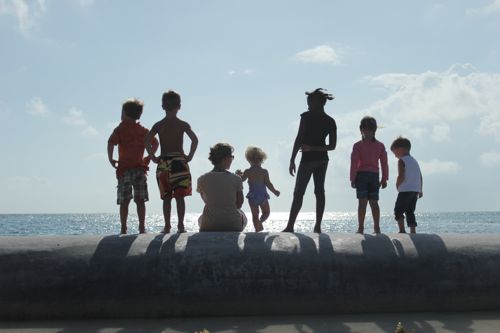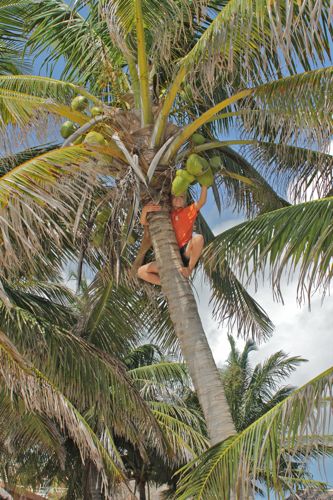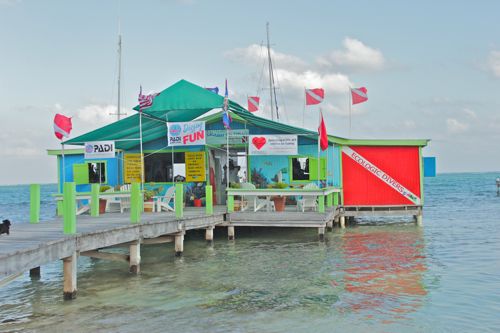 Caye Caulker
A smaller island that's a stopover on the way to or from the mainland, we decided to spend the afternoon after leaving Ambergris.
It has a more intimate, small-town, laid-back feel, we walked the (dirt) streets, grabbed a bite or two to eat, did some swimming and got Kyah's hair braided (for only US$20).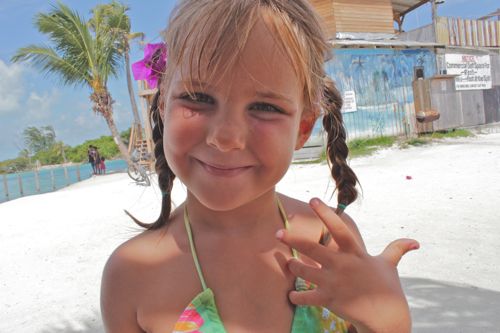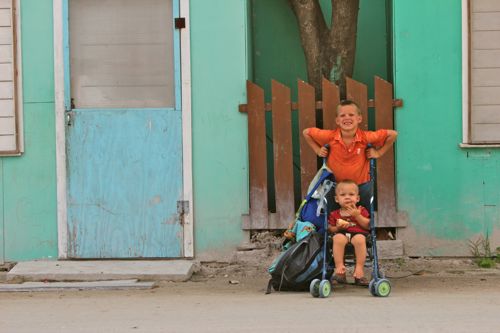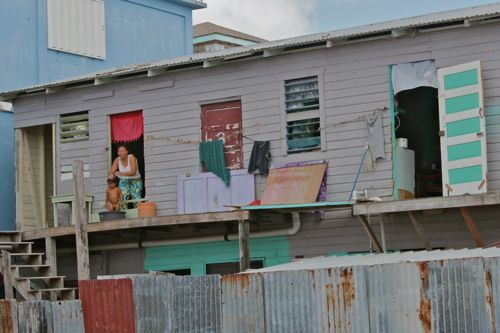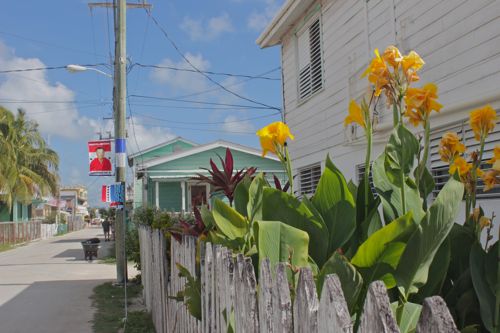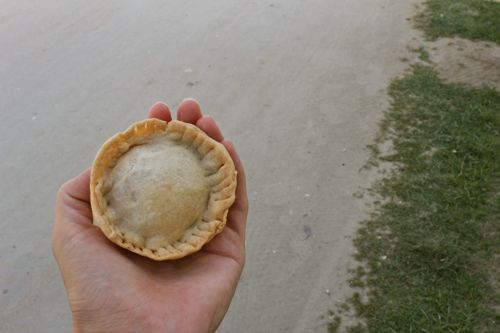 Meat pies are a traditional Belizean food.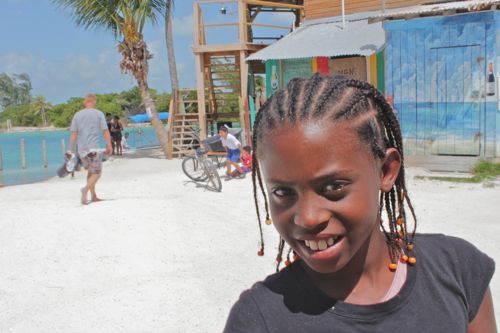 New 'do. They know how to do Kyah's hair in Belize 🙂
Placencia
Located at the very end of a southern peninsula, Placencia is a popular place to visit. We weren't sure what to expect - whether it would be great, just okay, or totally unworthy of the drive - but we had a lovely time when we visited. (And it was on the way to Placencia that we had our little serendipitous run in with wildlife).
It's a fun little town that's infused with tourists and expats. There's plenty of restaurants, hotels and shopping. It no longer borders the Belize Barrier Reef, so there are actually waves on the (descent) beaches of Placencia.
It's small, and quaint, but has a fun atmosphere. North of the actual town of Placencia are some very luxurious resorts and homes.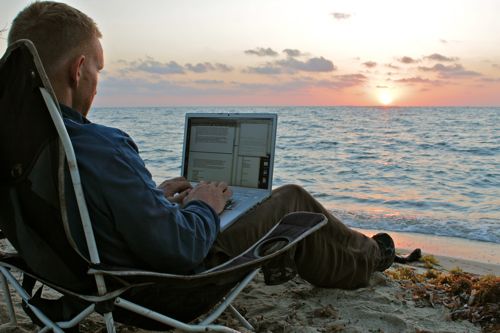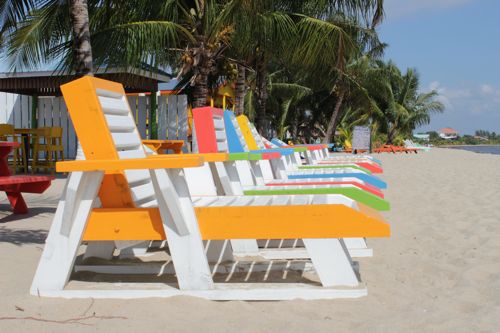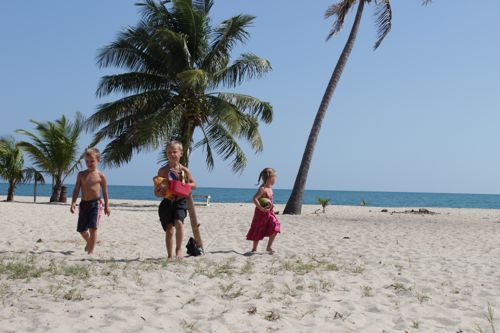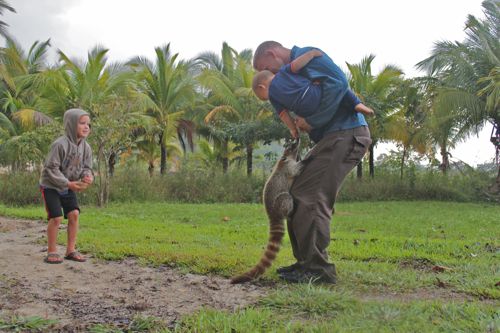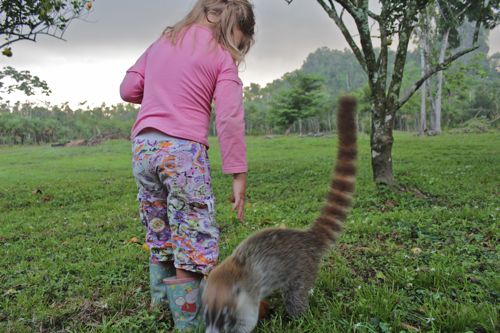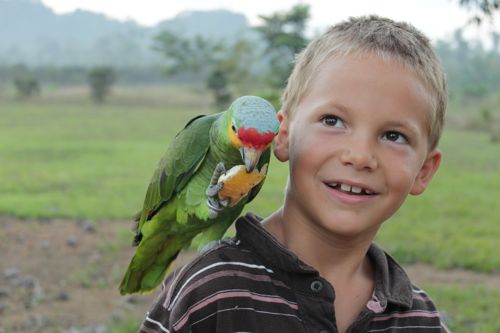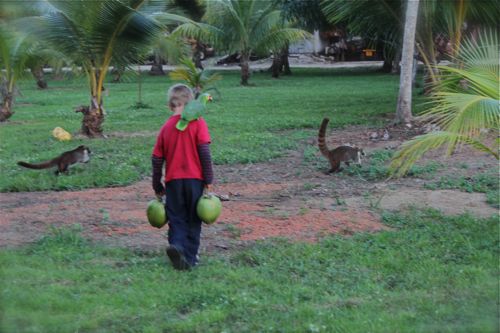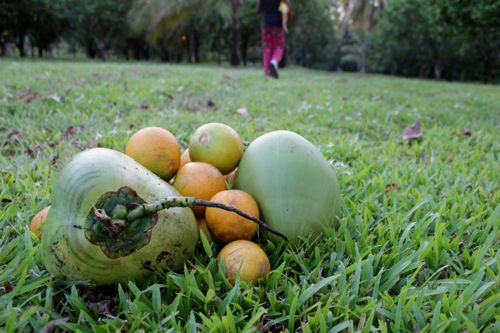 Cayo District
Leaving the coast and heading west toward Guatemala, you enter what's known as 'The Cayo District'.
Located in the mountains, the scenic Hummingbird Highway will take you there from the seaside. We loved this part of Belize!
It reminded me very much of Costa Rica - because of all the green, tree-covered hills, and bright green ranches and farms - and the Dominican Republic - because of all the colorful, wood-slat houses on stilts.
The temperature was cooler, the bugs were fewer, and the scenery was unbeatable.
There's so much more to see or do here than we did (by now we were anxious to get to Guatemala to work on some new projects and products for our websites). We barely stopped in the town of Santa Elena (for lunch, which was ironically BBQ chicken, pork and beans and coleslaw), and pretty much missed all of San Ignacio on our mad dash to Guatemala and Tikal.
There's so much that we missed out on! But we still loved this place.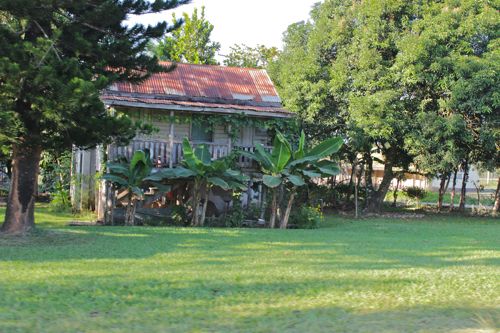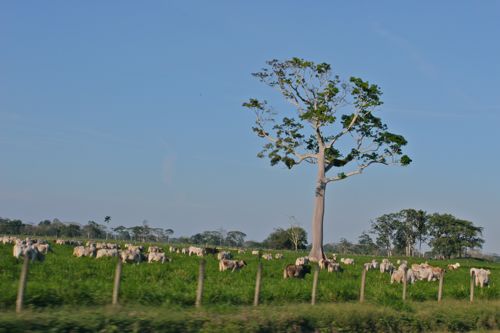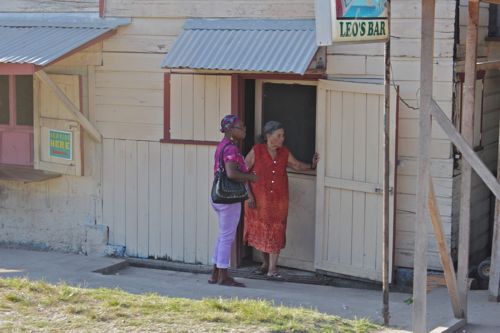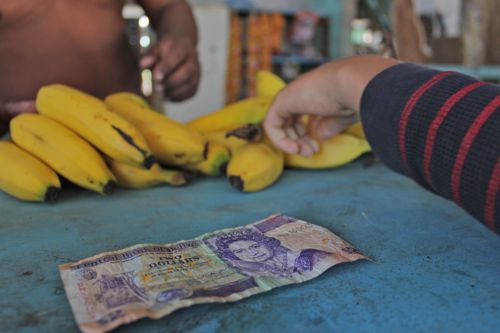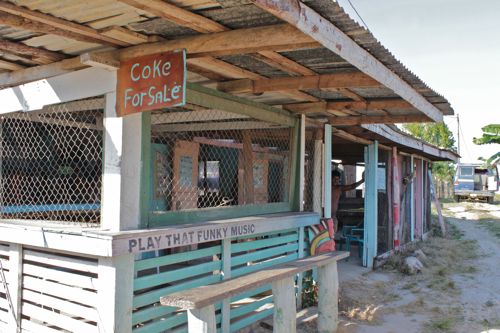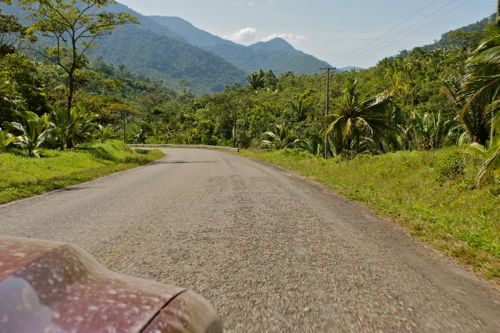 The Hummingbird Highway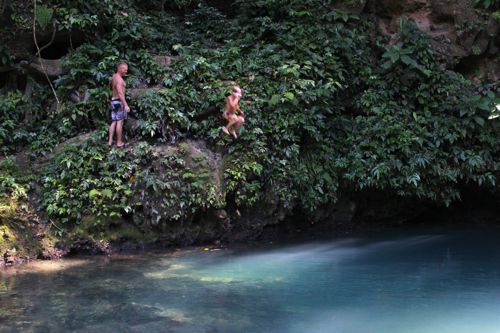 Swimming at Blue Hole was a blast
The People
Like Aaliyah said, "Belize people are nice."
The few locals that we interacted with were helpful, generous and kind - and they loved the kids (this seems to be a general rule when traveling as a family - people are just nice to you and help you out.)
One man let us park our truck on his property (for free) while we visited Ambergris Caye. Some darling girls spent the afternoon in our camper, eating 'ohr-un-juz' and telling us that 'veg-uh-tuh-bulls is good fuh ya' (among other things they shared, some of which was shocking).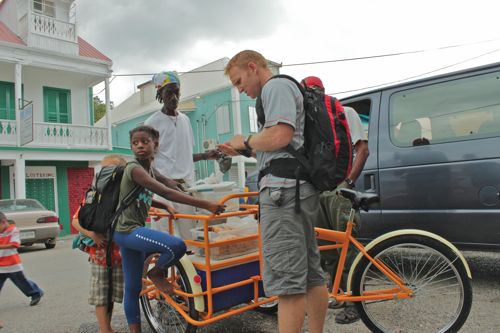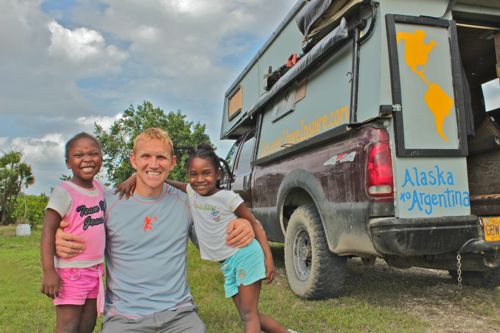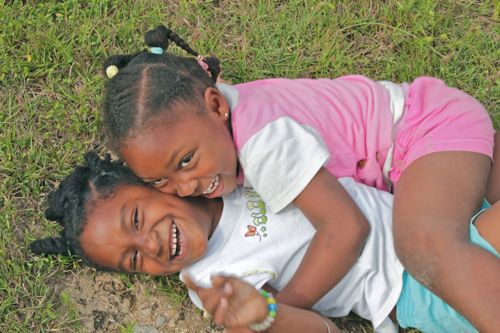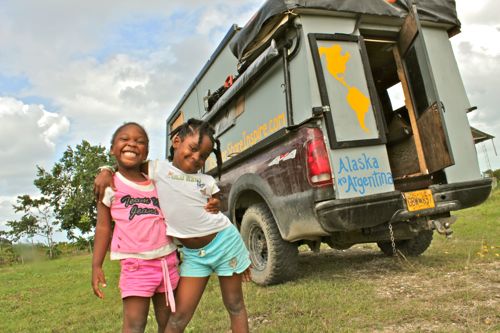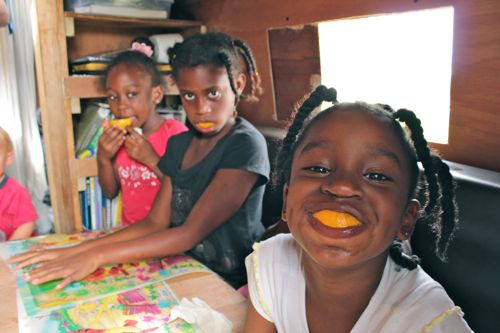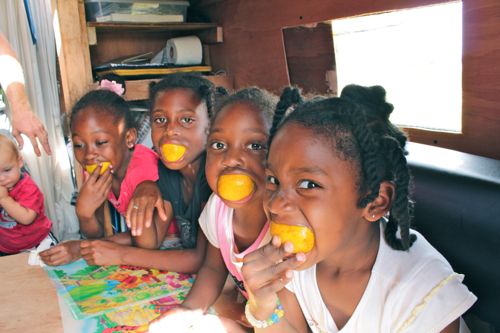 Can you tell which one is our daughter?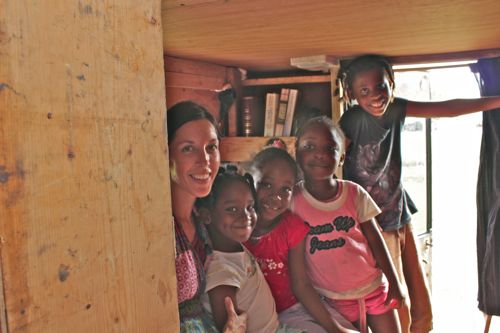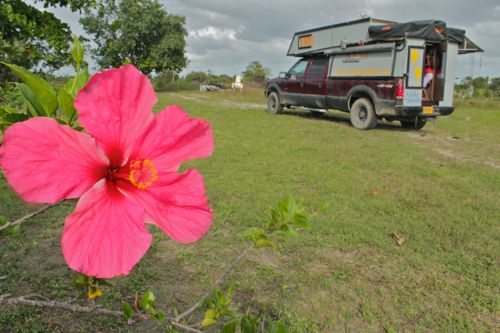 Camping on a farmer's field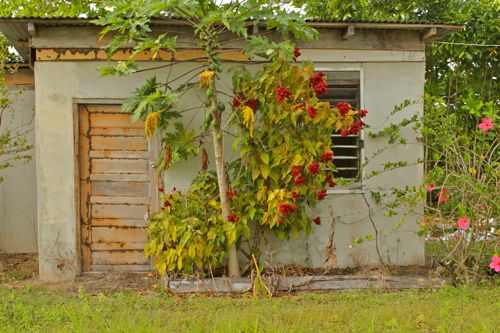 The Bad
I suppose every country has it's good and bad.
In Belize, it started out with the bugs. Our second night camping after crossing the border, we parked by a very ugly coastline in Ladyville. That night the sand flies attacked in a fury, leaving us looking like chicken pox victims.
We got attacked by sand flies more in our two weeks in Belize than during four months in Mexico. The bugs in Belize are bad.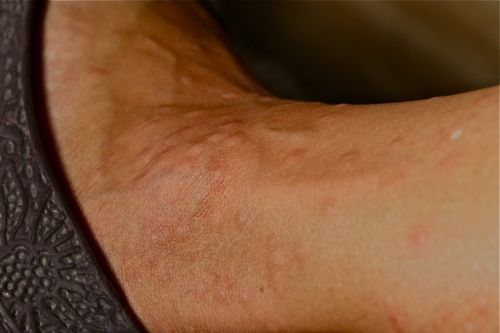 Hate is a strong word, but I think I do HATE the sand flies!!
One principle I try to live by is to 'travel without expectations.' If you have expectations about what a place should look be like, if it doesn't meet those expectations, then you'll be disappointed, tainting your travel experience.
A better philosophy is to simply go to see what's there, and enjoy whatever you find.
Despite that, I still had some vision in the back of my mind that Belize had beautiful beaches.
This just isn't true. Belize has average beaches, and ugly beaches. But not gorgeous, beautiful beaches (you can find those in the Dominican Republic).
Even the best ones we saw on Ambergris Caye, which were very appealing, still had abundant amounts of seaweed and sea grass.
Which is fine. Not every beach you visit in the world has to be picture perfect in order to be enjoyable. We had a great time on the beaches of Belize.
But if you go, don't have the expectation of white sand, clean beach and clear water (the water was pretty clear in Ambergris). The beaches in Belize are average.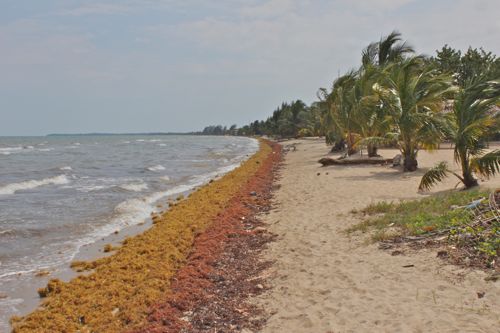 The Ugly
While as a general rule, we try to find the good in everything and in every place we visit, we have to admit, that some of Belize was just plain ugly.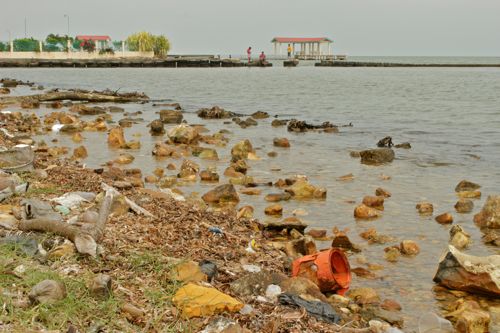 'Beach' in Belize City
The scenery. The attitudes. The beliefs and philosophies. The drugs. The corruption.
In fact, that was a word we heard on multiple occasions, from multiple people. Corruption. "Be careful, there's a lot of corruption in Belize."
As Greg put it, it seems like many of the people have a 'give-a-crapper' that's broken. And a lot of that we saw in Belize City.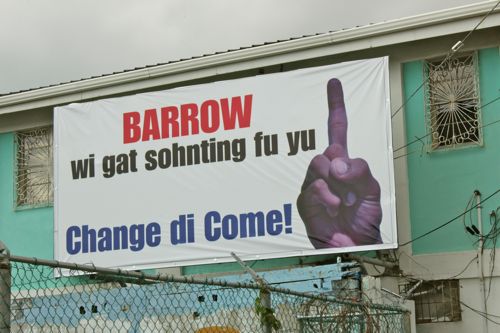 On our first day in Belize City, as we stared out at the ocean, enjoying the morning, a man approached Greg (with the kids standing around) and asked him if he wanted any of the 'good green.'
Greg told him (with a smile, of course) that he didn't do drugs because they ruin your life.  The peddler said he only sold them because he was poor and needed the money, and asked if Greg would buy some just to help him out.  That argument wasn't convincing my hubby, so then the guy just asked for money (that request was refused as well).
It wasn't the last time he was offered dope, or asked for handouts.
All throughout Mexico, I can count on one hand the number of times we were asked for handouts. Usually by old, poor women or children who'd been trained.
In Belize, we were regularly asked - by children, women, and strapping men. Men who were perfectly capable of working, yet sin vergüenza (without shame) would ask for money.
But it wasn't just the beggars and drug dealers that were ugly in Belize. It was the pitiful, atrophied human beings that were clearly living in an altered reality. Poor human beings that were shriveled and insane, living on the streets. A very heart-wrenching site.
Walking through Belize City, it's difficult NOT to notice the depravity. More so than anything we saw in Mexico, there just seems to be more of all that is debased.
Swearing and cat fighting and threatening. Begging and drunkenness and mental illness. It's not an extremely sophisticated society.
And what do we mean by 'sophisticated'? Well, simply a society, a way of acting and behaving, a way of living, which is upward moving.
Using yourself as the 'guinea pig', can't you feel the difference between using words like "F#%* You" and "I Love You".
You can tell the difference between expressing love to a child, and beating somebody's face in with your fist.
I'm not talking about religious do's and don'ts, right or wrong, (those happen to coincide), but more Universal laws or principles that all of humanity recognizes as being 'good' or better than other things.
Love, for example. What religious group or spiritual teaching does not believe in the rightness of love?
I think all could agree that love is a stronger, higher, more sophisticated, up-ward moving power than hate or anger.
So walking through the streets of Belize City, the vibe you feel is less of love and more of anger.
And what about self-respect? What about self-sufficiency? Can you respect yourself when you're asking for handouts? Are you self-sufficient when you look to others to provide for you?
Couldn't we agree that it is better to respect ourselves, than to disrespect ourselves? To provide for ourselves instead of relying on others?
Personal disrespect takes the form of self-abuse - through misuse of harmful substan
Comments
comments
Powered by New Facebook Comments