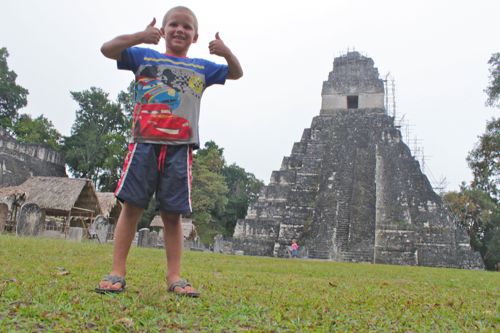 A single light from our truck camper barely penetrates the engulfing darkness as I stand outside, head cocked, staring in awe at the sea of stars above.
Wow. My brain can't begin to comprehend the immensity, but somehow I feel my heart opening, remembering, when natural beauty manifests itself, as though some long time connection is being rekindled.
I continue toward my intended destination in the pitch-black, guided only by the starlight. Suddenly an alarming sound brakes the silence of the jungle.
Ferocious and intimidating, making noise like some savage beast in search of food, if I hadn't had previous experience with the call of howler monkeys, I wouldn't need to take this trip to the bathroom, but would be changing my pants instead.
I'm filled with fascination, and as I near the campground bathrooms, their bellowing and roars continue, and get louder. I'm not afraid, but it is slightly eerie, their shouts echoing on the bathroom walls, and as I walk back to the truck, a flock of birds alight all at once from the tree, barely silhouetted above my head into the dark sky.
Wow again. This is like a magical kingdom. It's rare to have your senses accosted by so many wild animals at once.
It's scarcely beginning to get light when I get back to the truck, and so inspired by my morning 'potty' walk, I convince my husband that we need to wake up the kids to get an early start on exploring the park.
It was late, oh so late when we had arrived at Parque Nacional Tikal the night before. That morning we'd been in Placencia, Belize - a beach town on the Caribbean sea - and had driven all the way inland, crossing the border into Guatemala near sunset, and driven late into the night so we could camp at Tikal.
Understandably there were a few protests at being woken at a early hour, but with a description of what I'd already encountered this morning, the kids interest was piqued.
Soon we were paying our entrance fees - after spotting some psychedelic wild turkeys and cute coatimundis - and were kind of shocked by the price to get in - $150 Quetzales per person (about US $20 - kids were of course free). Compare this to the almost standard price of $51 pesos (US $3.75) per person fee (kids free) to enter all of the major ruins in Mexico.
That being said, it's still a lot less dough than paying for the family to visit Disney's magical kingdom.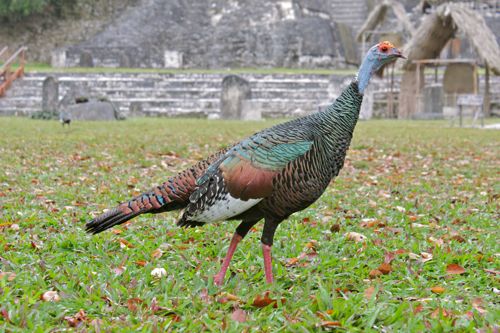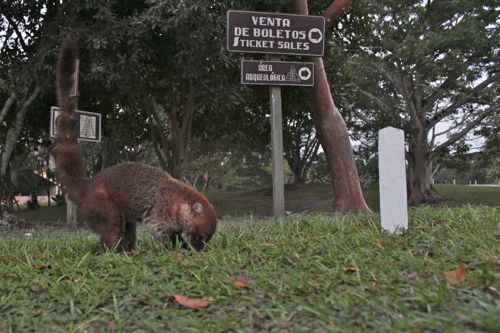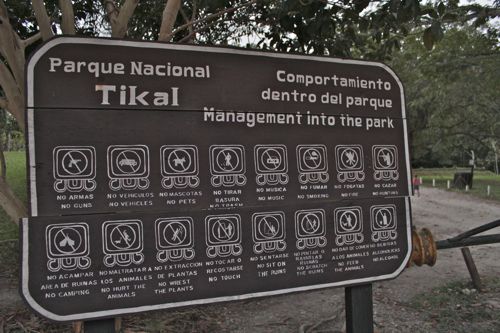 There's lots of things you can't do in Tikal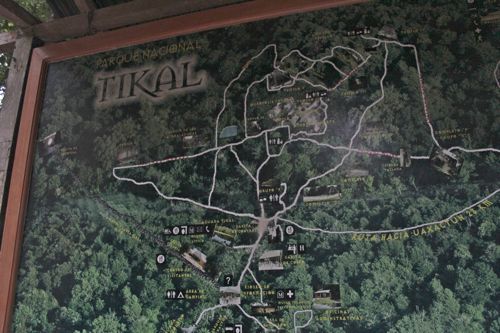 Following the path carved through the jungle, we ascend to the man-made created hilltop where the ruins of Tikal rest. Along the way we spot howler monkeys (whom we learn like to defecate on the heads of passerbys, so we're on the alert), more wild turkeys, an agouti paca (largest rodent in Guatemala), and hear the calls of countless birds.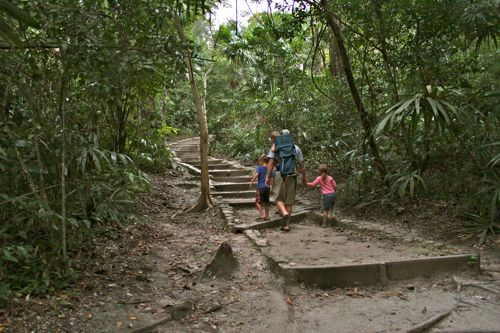 Soon we're approaching the impressive structures unfathomably created by man so many years ago. We climb countless towering steps to reach unsurpassable heights. Staring out across the silent jungle as the sun pierces the clouds I reflect on the enchantment of nature that so many kids miss out on today.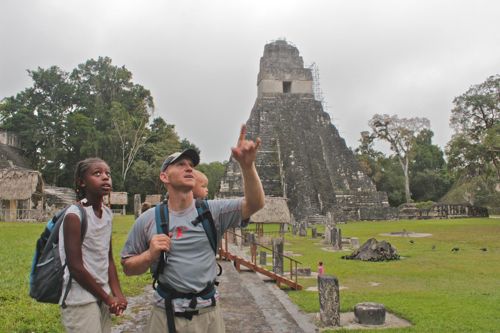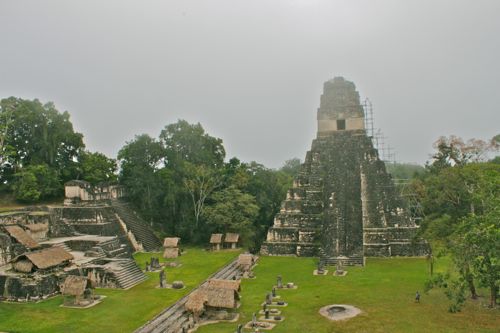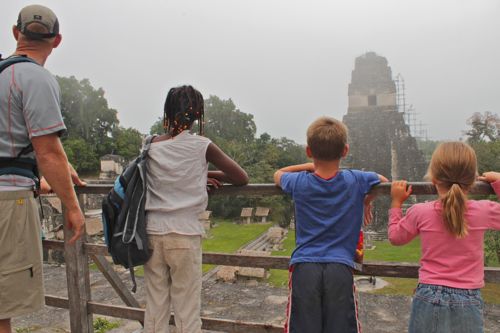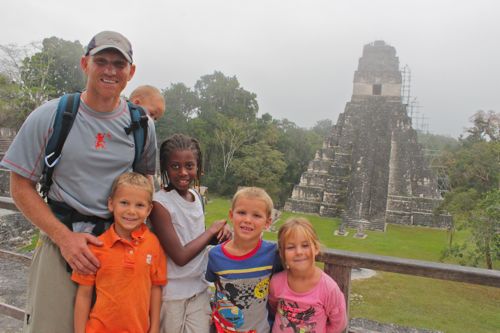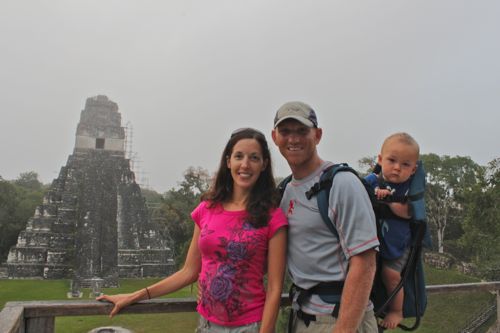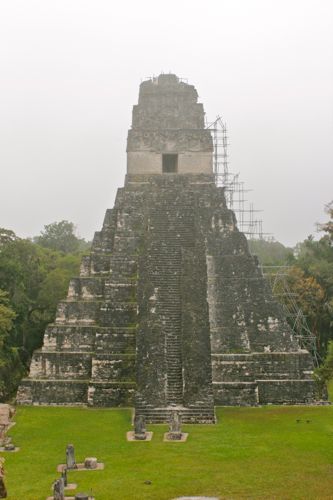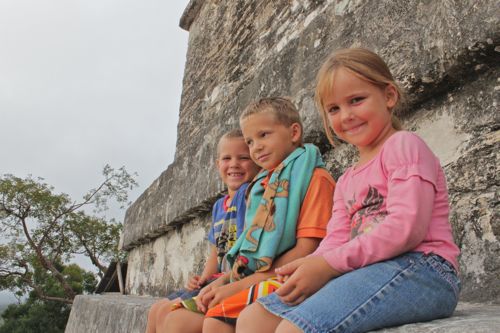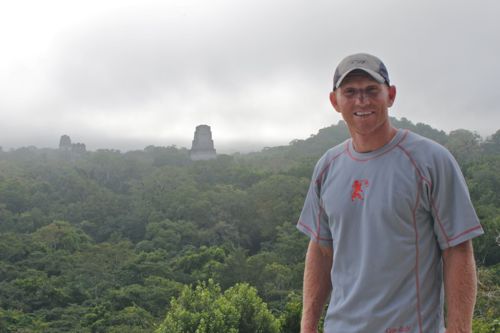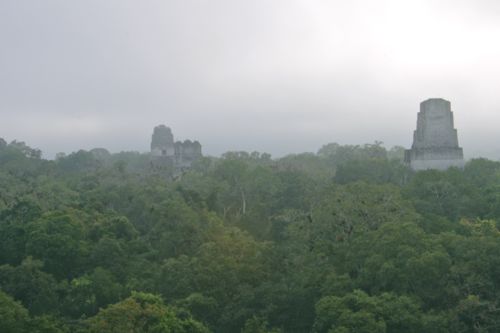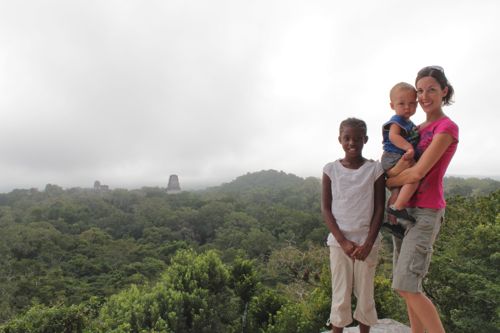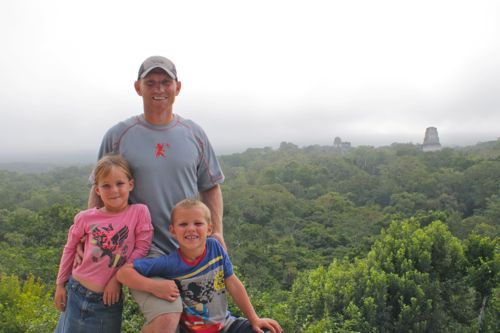 More exploration and clambering (and some rebukes from tour guides). We learn the name of trees, spy some elusive birds, discover the Lost World, and watch a spider monkey eat his breakfast just 15 feet from us.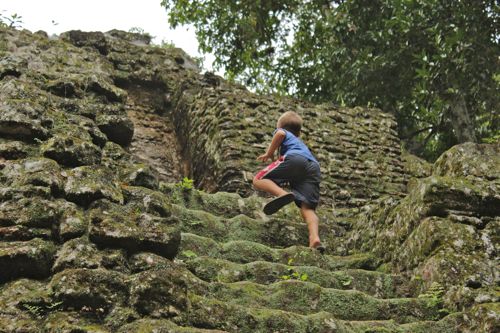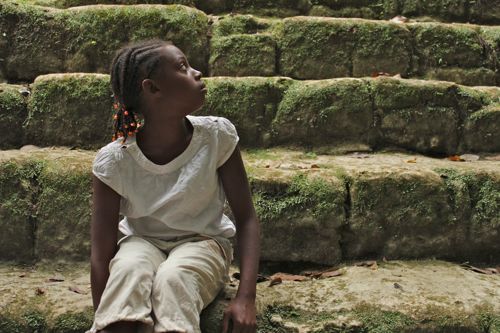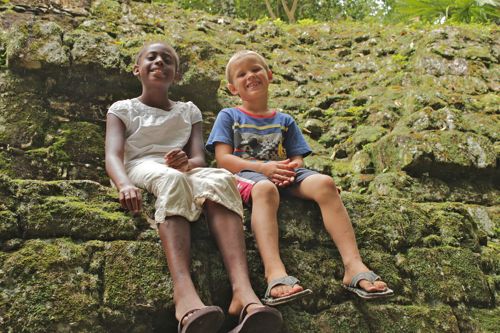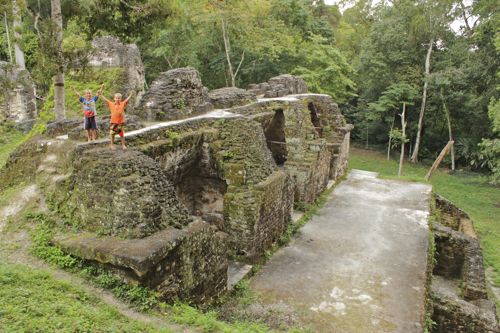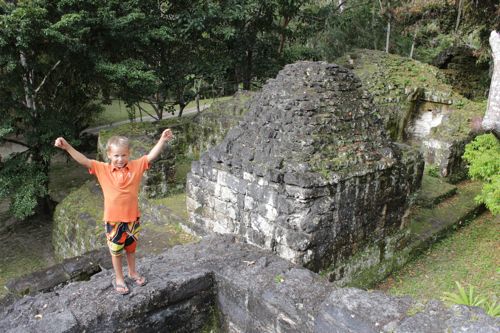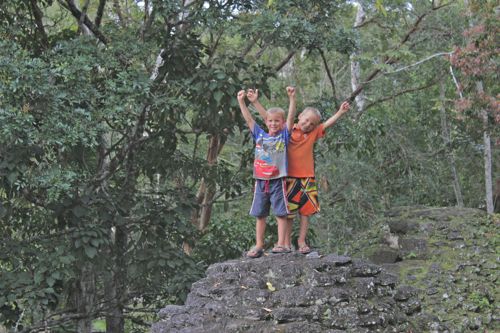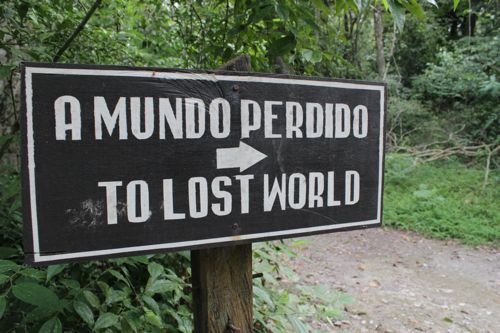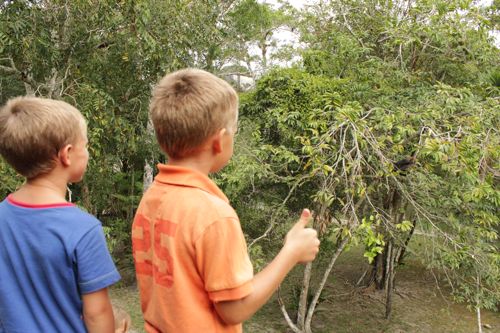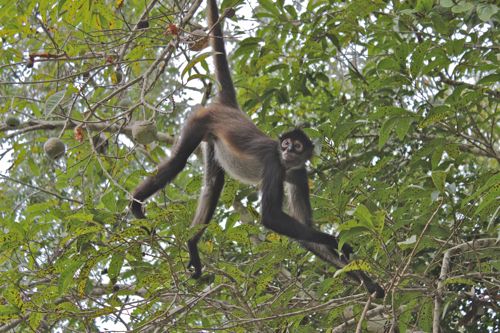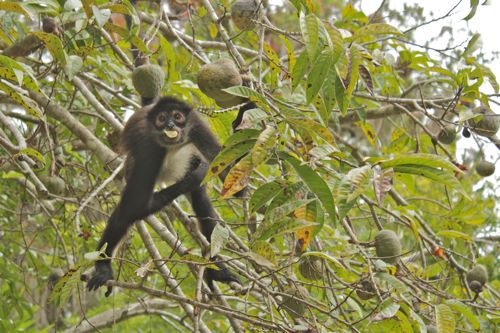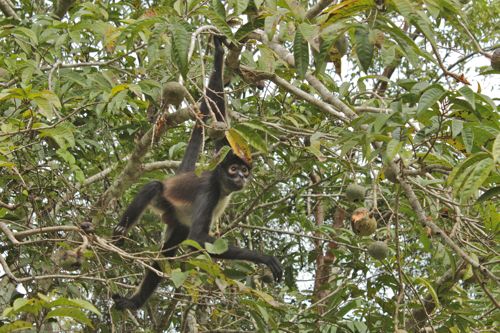 More stairs and tunnels and trees; secret passageways and crocodiles. More awe and marvel and admiration.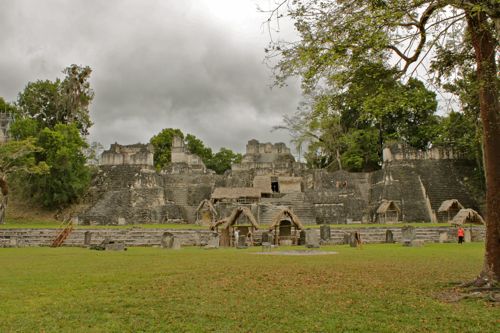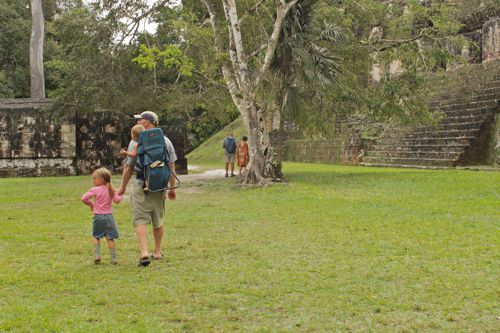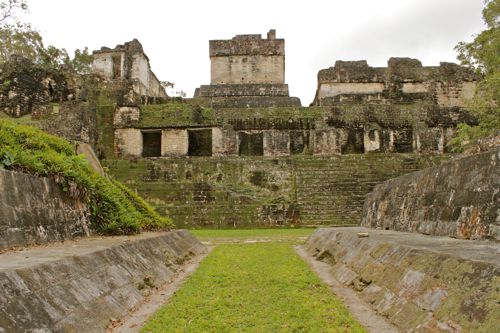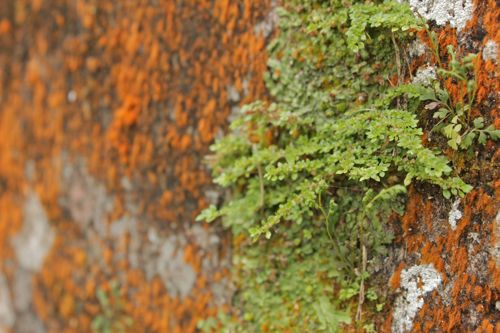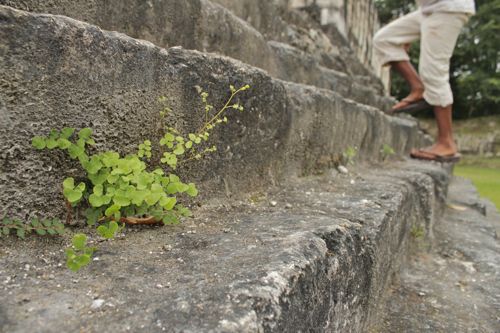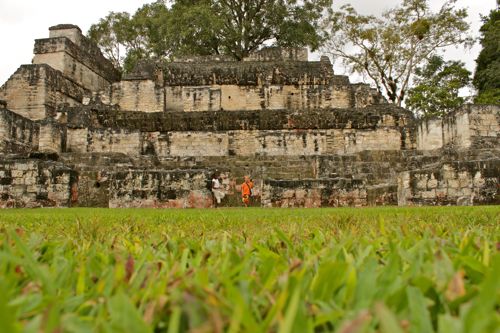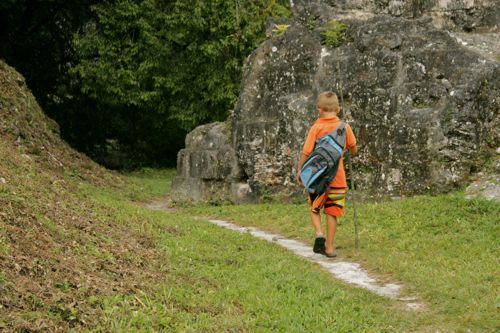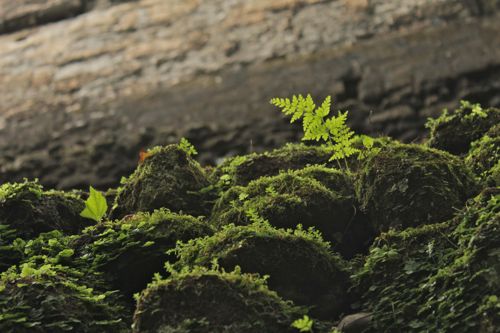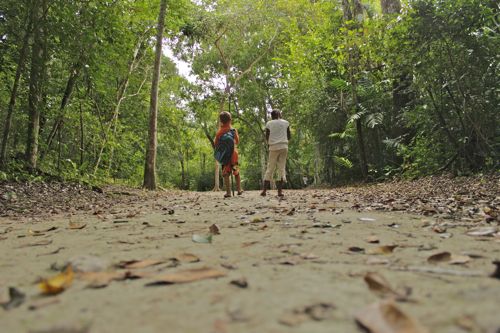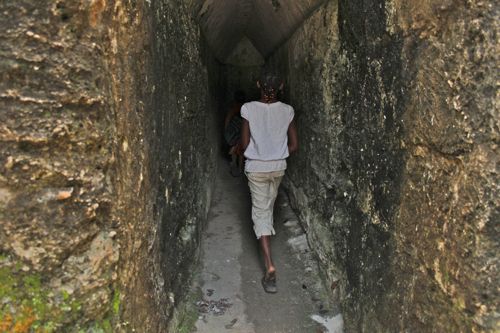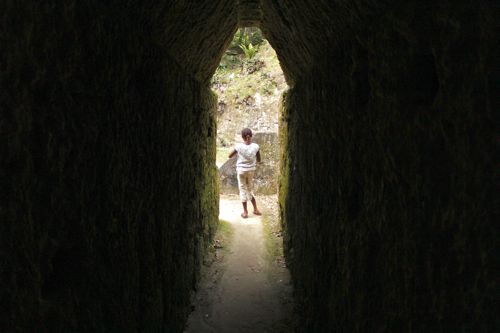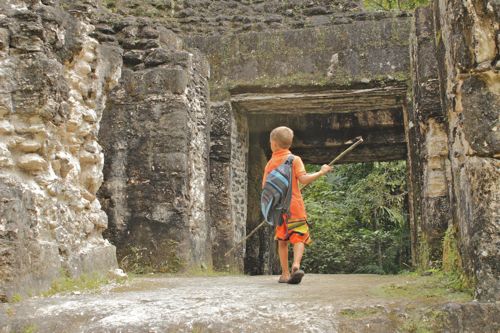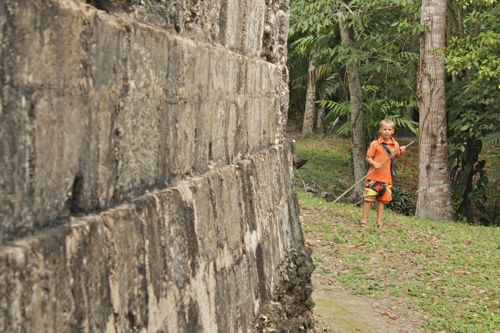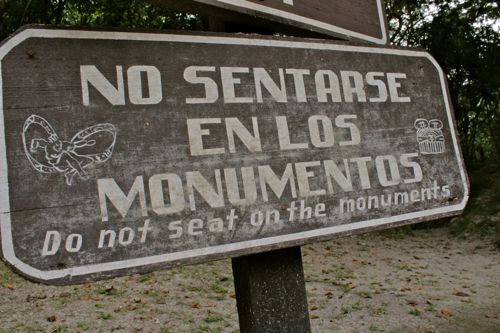 I love mistranslations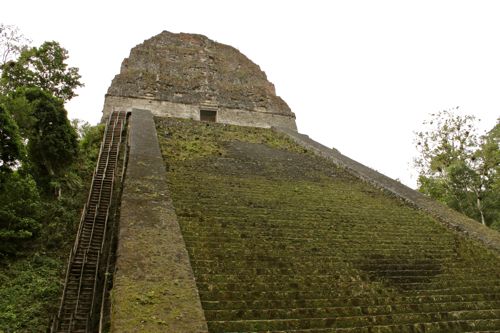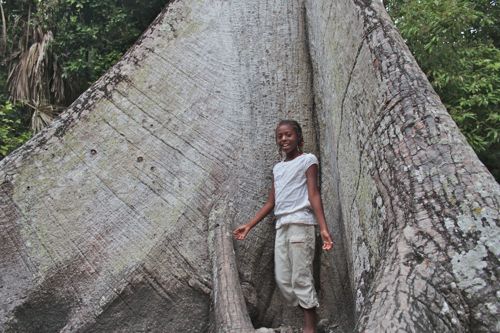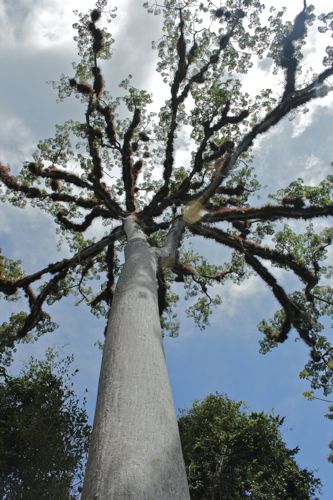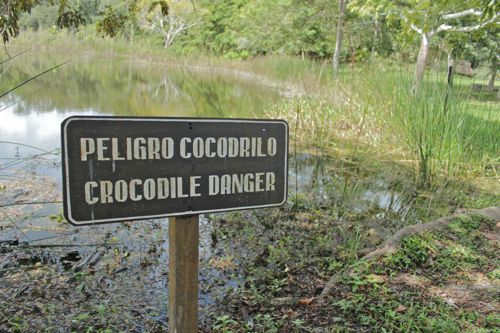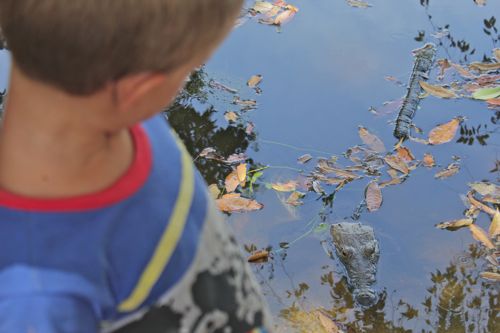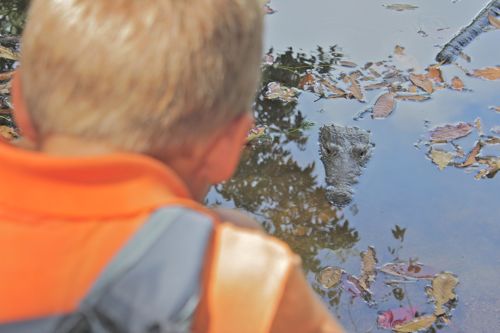 Too many children today suffer from too much easy entertainment, from over-stimulation and hyper-reality. Kids don't stand in awe and watch a squirrel. They expect to see a lion with it's kill, like they do on the nature channel.
Why play with sticks and rocks, or search for bugs, when they've got hand held video games. Who cares about the unadorned wonders waiting in our national parks, when there's the effortless amusement of implausible characters doing an exaggerated song and dance at Disney World? Why climb stairs at ancient ruins when there's roller coasters? It's too easy to have 'fun', so this natural stuff is boring.

I'm all about imagination, but research has shown that increased exposure to too much stimuli, and decreased exposure to nature, actually results in a weakening of our senses, not to mention our imagination. (Last Child in the Woods)
These quiet, 'unexciting', simple pleasures actually foster our children's imagination (and our own) more than all of the fancy 'bells and whistles' of technology and quasi-realities. Easy entertainment does not equal increased imagination.
Yes, movies and amusement parks are the realizations of dreamers like Walt Disney and Steven Spielberg. But participating in their creations doesn't develop our own talents. It might inspire them, but true development happens in quiet moments, through careful observation - not passive observance.
No, there were no rides on our visit to Guatemala's magic kingdom. Only hundreds of very steep steps. There were no life-size cartoon characters, only real-live wild animals. There wasn't a song and a dance, but they felt the magic of silence; the amazement of natural life; the wonder of history, especially when you're face to face with her remains.
Tikal offered real magic instead of something artificially contrived, and disconnected from the 'real world'.
That's why we're taking this epic journey with our kids - to decrease their exposure to 'artificial reality' and to increase their hands-on experience with 'real life.' It's all part of the master plan for raising our kids. I think it's working.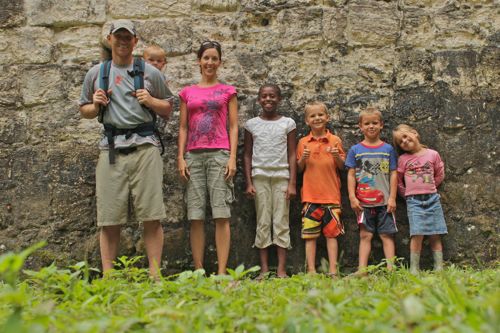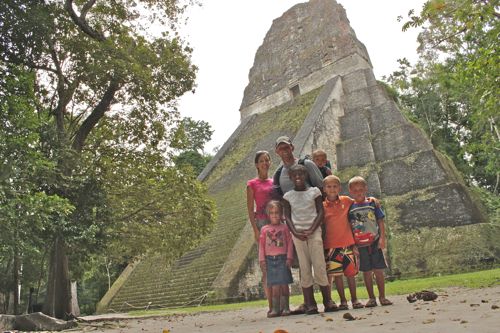 Watch the video below
Have you visited this magical kingdom? Have you taken your kids?
Comments
comments
Powered by New Facebook Comments