How do you decide what to do with your life, or where to go, when the whole world is available as a possibility?
After leaving our 'perfect job' in India (due to the expectation of baby #5), we drove to Alaska to welcome him into this world - but we knew it wouldn't be a final destination, only a temporary stopping point.
So we asked ourselves, "What would come next?"
Should we start a youth counseling program in Hawaii? Should we teach English in Thailand? Should we move to Colombia?
After asking ourselves a lot of questions, pondering, praying and considering - weighing pros and cons, likes and dislikes, passions, interests and values - we were able to prioritize what was important to us about life and decide how we wanted to spend the next several years...
Those plans include sailing the South Pacific, road-tripping through Europe, exploring Asia and other such adventures.
And those plans begin right where we are. Here in Alaska.
I don't know where it will end. (Perhaps it won't.)
But a monumental milestone will be when we reach El Fin del Mundo, The End of the World - Ushuaia Argentina.
We're planning to drive there. In our veggie powered truck. And with our five kids. (Update 2/2014: Now six kids, our last born in Costa Rica along the way!)
A Two Continent Tour - With Five (Now Six) Kids?
Hawaii, Colombia, or Thailand are all places that we considered moving to. It would be cool to live in any of those places.
But we've discovered something about ourselves.
We don't like just living. We love exploring, discovering, wandering.
We love the thrill of arriving in a new place, unearthing all that it has to offer, learning from it, creating new friendships, trying new foods, immersing ourselves in the culture - and then doing it all over again.
And again, and again, and again.
It's the exhilaration of exploration, the intoxication of discovery, the pleasure of pioneering.
To travel slowly with inspiration as our guide - free from the confines of restraints on time and location.
As Thoreau says, 'to live deliberately, live deeply and really suck the marrow out of life'. That's what we want.
When we lived in Costa Rica, we had the freedom that came from owning our own vehicle. We explored remote beaches and spent long weekends wandering through jungles.
When we lived in the Dominican Republic, we didn't have that same freedom. We loved our time there, but our travel was limited to the distance we could walk, or the route of public transportation. It was a very different experience.
We want the freedom that comes from having your own wheels. And we don't want to live in only one place.
We contemplated doing the 'RV thing' - wandering North America in our own mobile home. There's a lot to see.
But we really love being abroad. We want to explore South America.
We're fond of the people, the culture, the food. We want our kids to solidify the language.
Flying there is an option. But how do we explore the continent like we want?
Our first road trip from Utah to Costa Rica with four children gave us enough confidence to know we can do it, and enough experience to know how stinkin' fun it will be!
Why not drive there?
How You Know It's 'Your' Adventure
The seed was planted, the idea sprouted, and with it grew our excitement.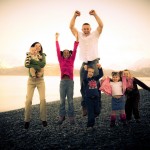 Yes, why not experience the Monarch migration in Mexico, explore Mayan and Aztec ruins, investigate volcanoes in Guatemala, pick up surfing in El Salvador (okay, Nicaragua), examine wildlife in Costa Rica?
All other ideas, plans and designs slowly fade from our mind, until all that exists is this one all-consuming conjecture.
Teach English in Thailand? Yeah, that would be awesome.
But what about Machu Picchu? What about the Panama Canal? What about new countries on a regular basis?
The more we thought, the more we planned, the more destinations we added, the more we KNEW that this was our adventure.
It was no longer a matter of IF we would do this trip, but only WHEN.
Comments
comments
Powered by New Facebook Comments