[message type="custom" width="100%" start_color="#FFFFFF" end_color="#FBF8FF" border ="non" color=""]I wrote a short report, an intro to our 'Academy' - 5 Steps to Funding Your Dream Lifestyle. You can get it free here. [/message]
Two years ago today my 3 year old daughter was in the hospital with a broken femur.
One year ago today we were celebrating Dia de los Muertos in Tzintzuntzan, Mexico with our friends the Lybberts. (See photo to the right.)
Today we celebrated Dia de los Muertos (Day of the Dead) with our friends the Jensens here in Panajachel.
How much life can change.
Where in the world might we be next Dia de los Muertos?
Who knows? But first off, what IS the Day of the Dead? Is it anything like Halloween?
Well, not really.
While Halloween, in our opinion, is an excuse to binge on candy and dress up in creepy costumes (and to act out of character), Dia de los Muertos is actually a 'religious' holiday - one meant to remember and honor your dead (kind of like Memorial Day).
(In fact, the kids didn't even know when Halloween was, until I mentioned on the 31st that two years ago we were in our car accident.)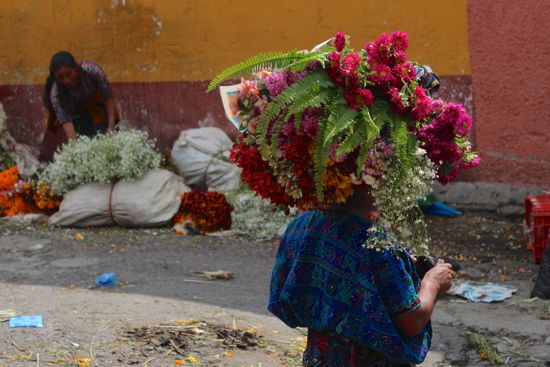 A woman carrying flowers to the market to sell.
The tradition is to visit the cemeteries - the graves of your loved ones - and adorn them with candles, flowers (especially marigolds) and sometimes food and gifts. These celebrations can last all night long, and might involve prayers, chants and other 'communications'.
[message type="custom" width="100%" start_color="#FFFFFF" end_color="#FBF8FF" border ="non" color=""]Do you 'Like' Discover Share Inspire?

[/message]
But just like with most other holidays, there is also usually festivities and food involved (and due to American influence, we've sometimes seen some dressing up.)
We started our celebrations with a visit to the mercado to buy some more kites for flying (since summer in Pana is for flying kites.)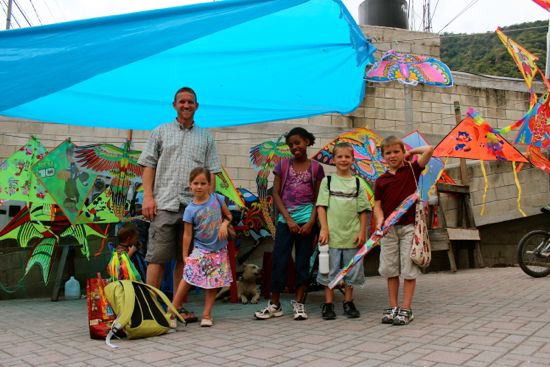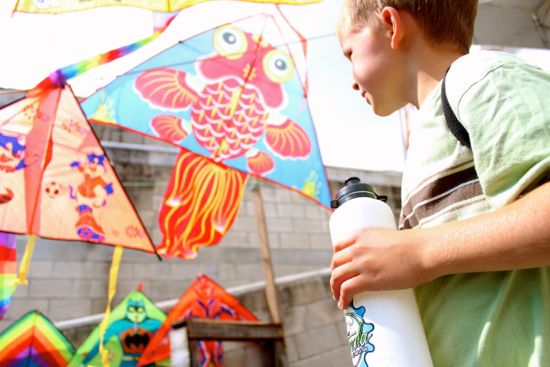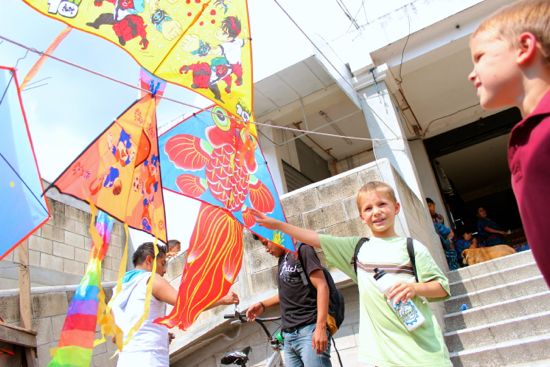 A procession passed by while we picked out our kites...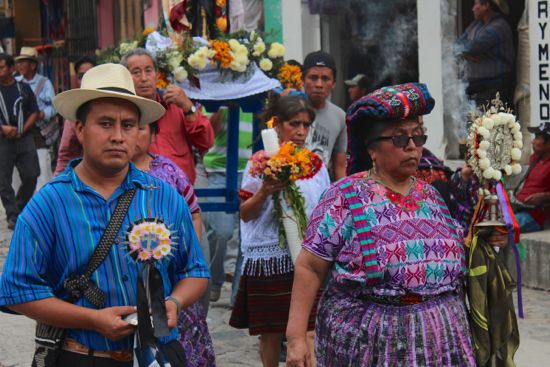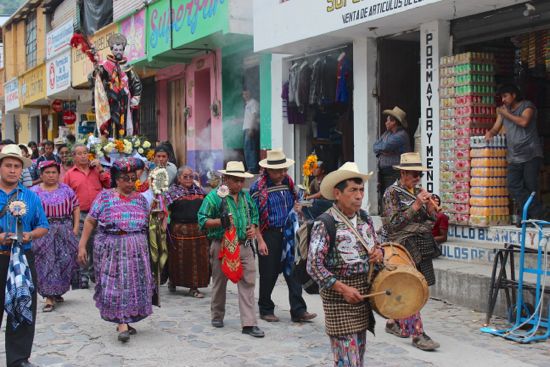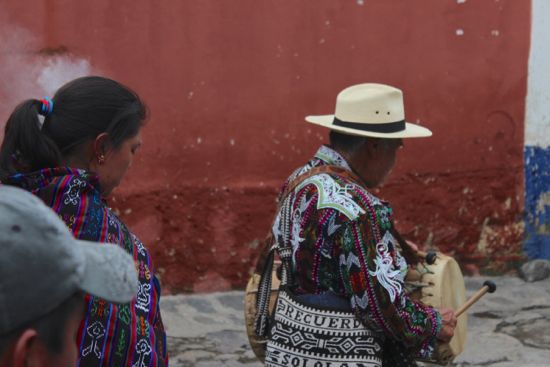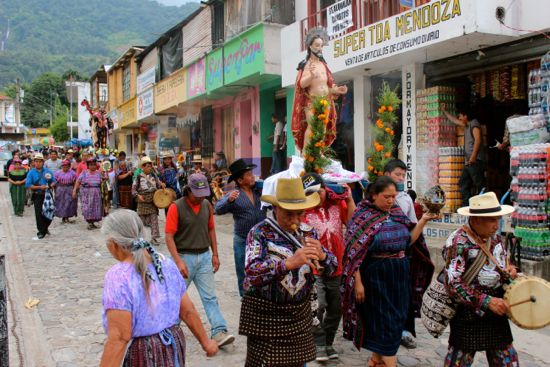 Watch the video below (you'll be impressed with the flute player) 😉
There was lots of new additions to the regular market crowd, with all the flower vendors selling to those who will visit the cemeteries today.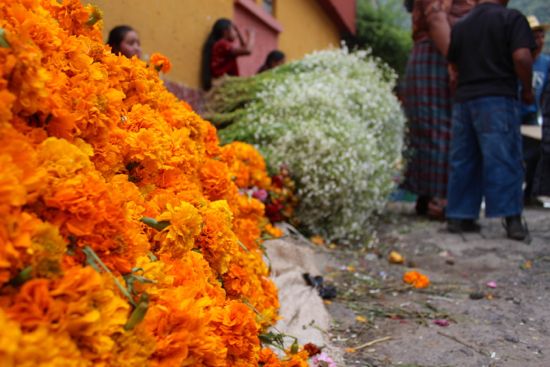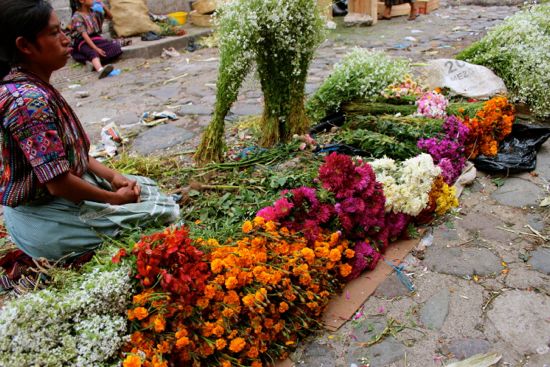 I love this lady with her pile of flowers.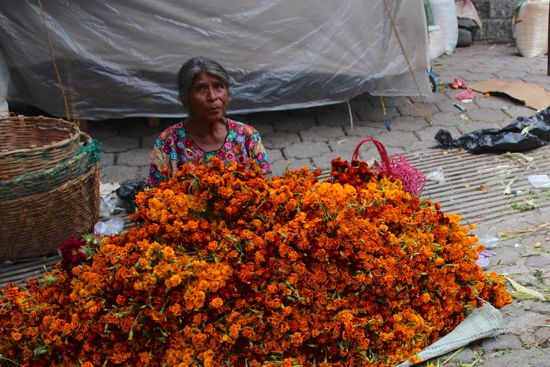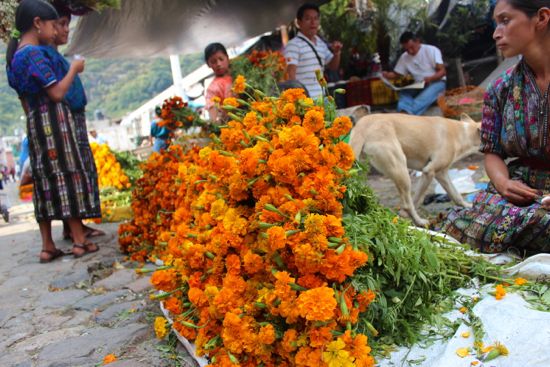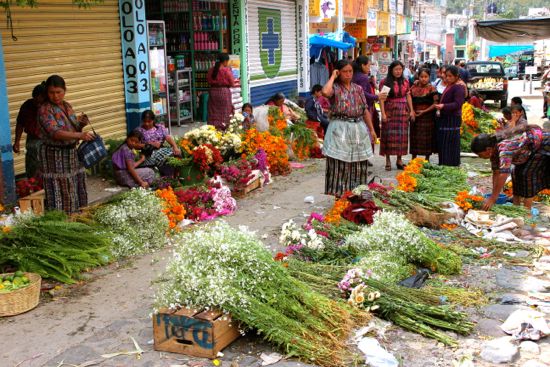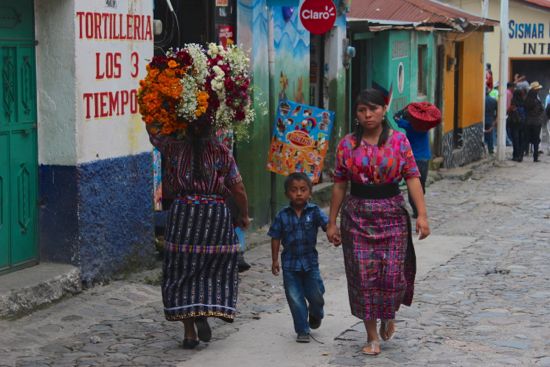 After the market we walked toward the lake to find a place to fly our kites.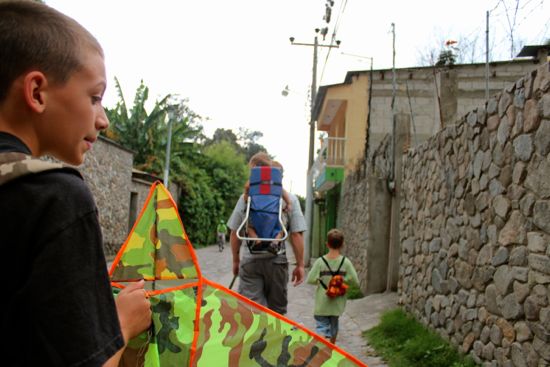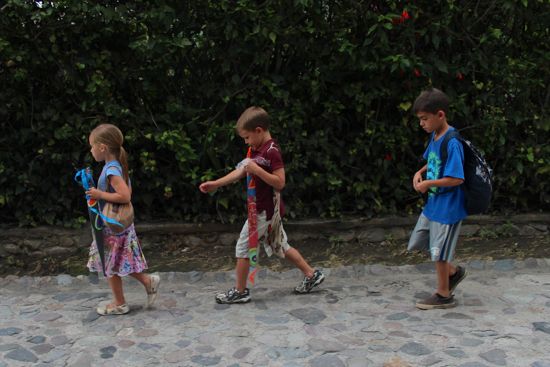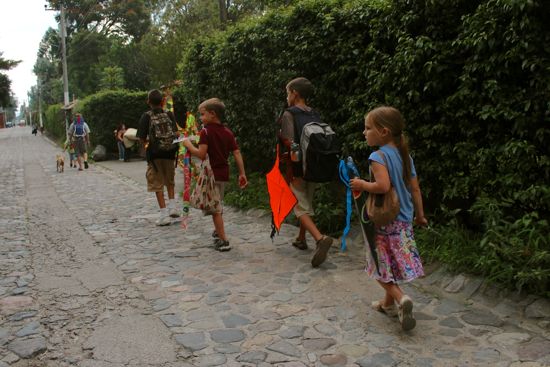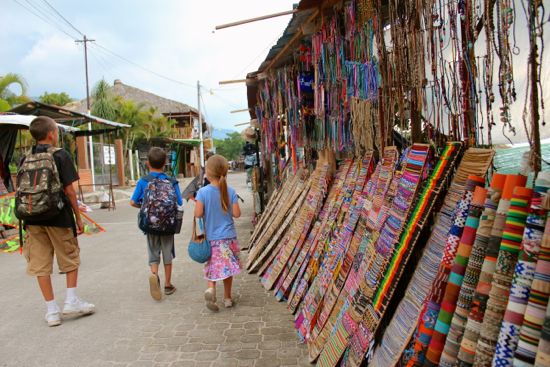 When we finally reached where the river empties into the lake, it was quite stinky (kind of like a pig sty), but it was open and the wind was blowing, so we did a little kite flying.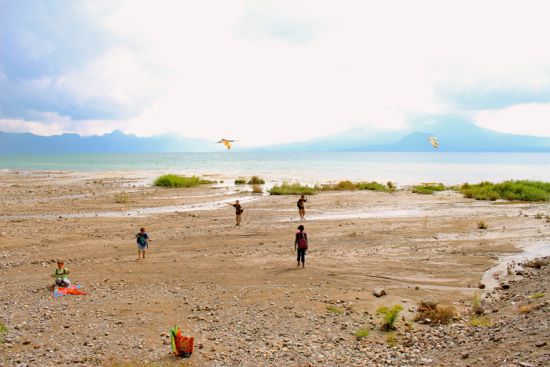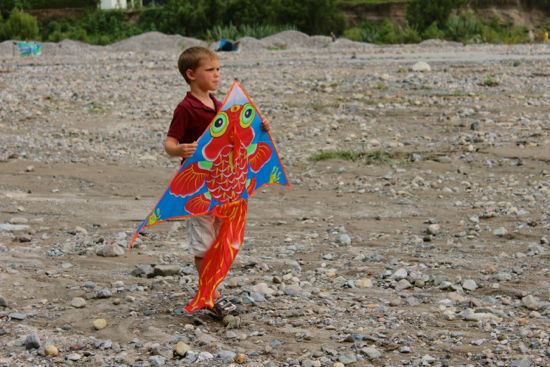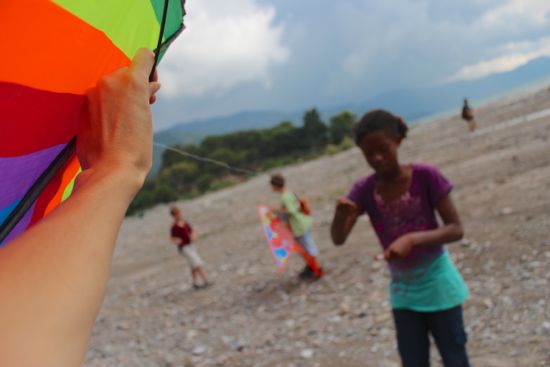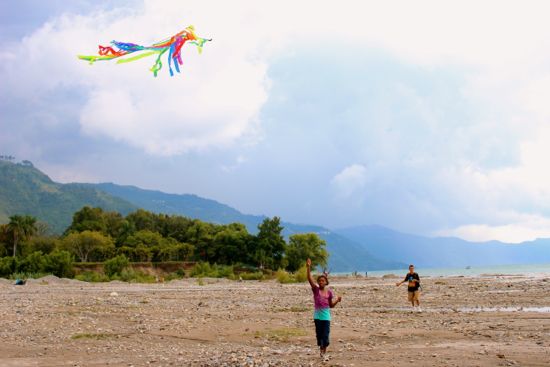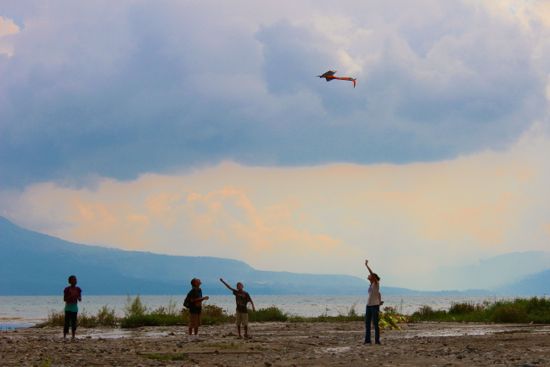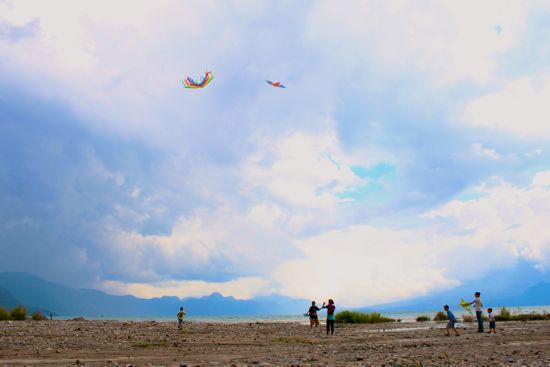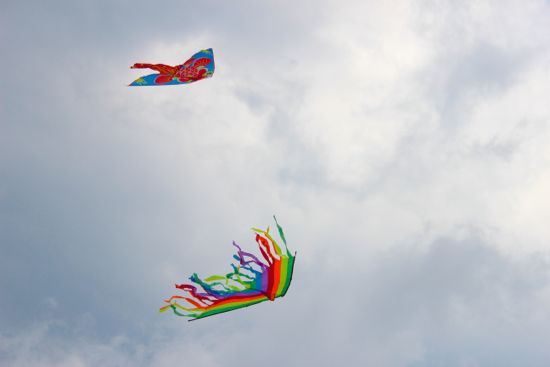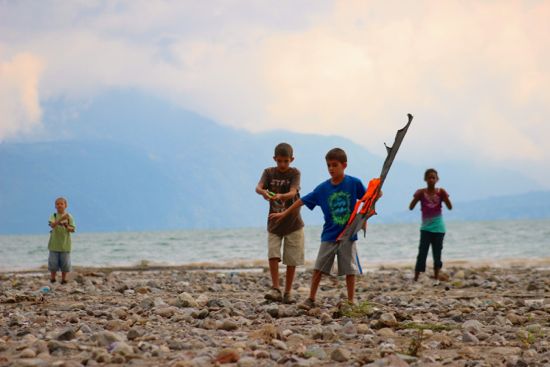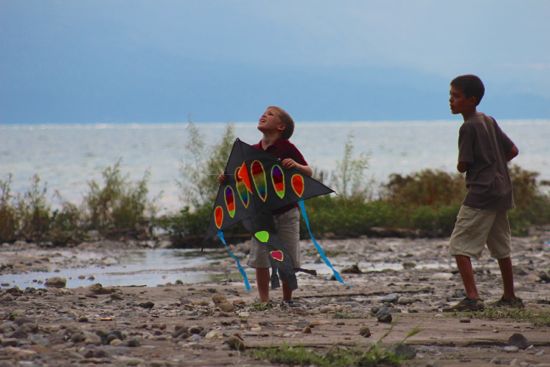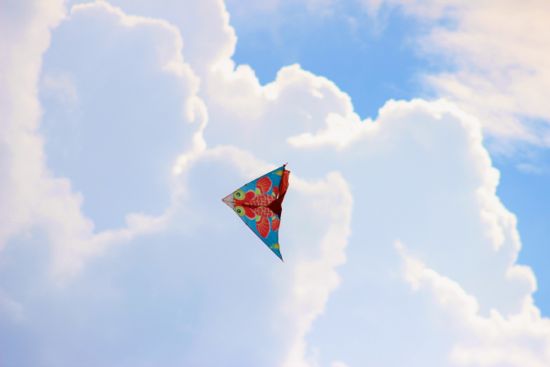 The smell was unpleasant, and kites and strings kept falling into the river water (which we knew carried sewage), and that was getting a little disgusting. But when we saw the dead rat, then we thought it really was best to find another spot for flying kites.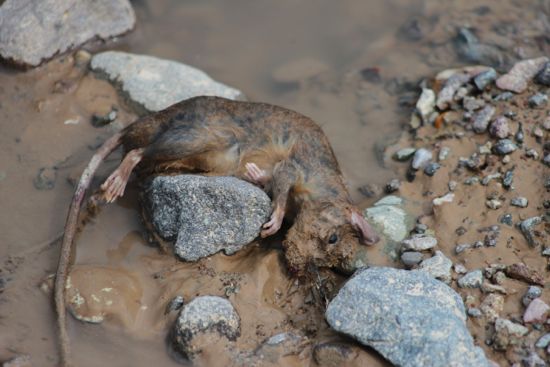 So we carefully crossed the river...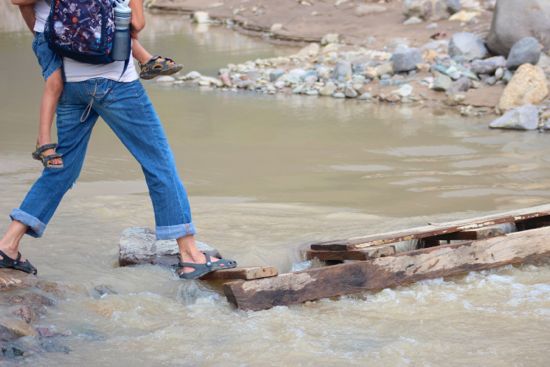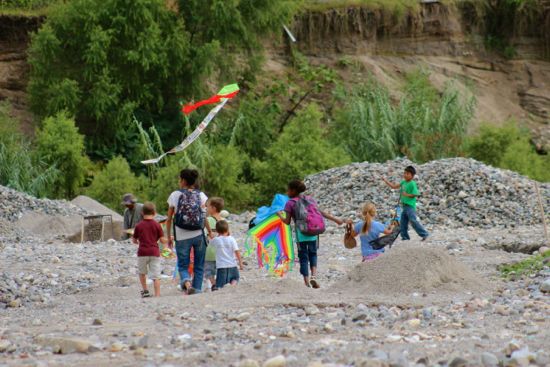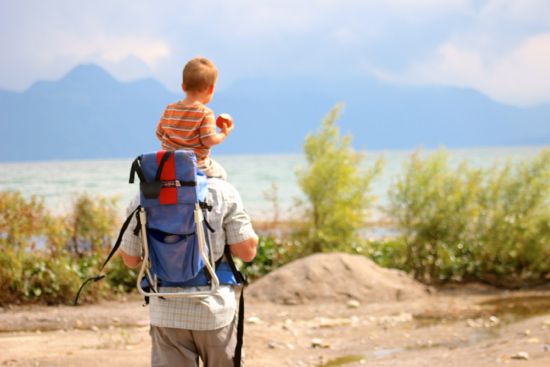 Passed the putrescence...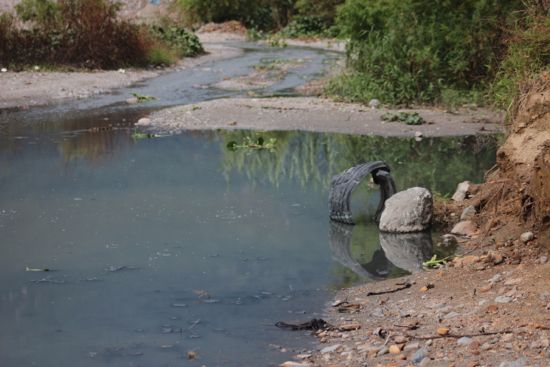 Crossed again...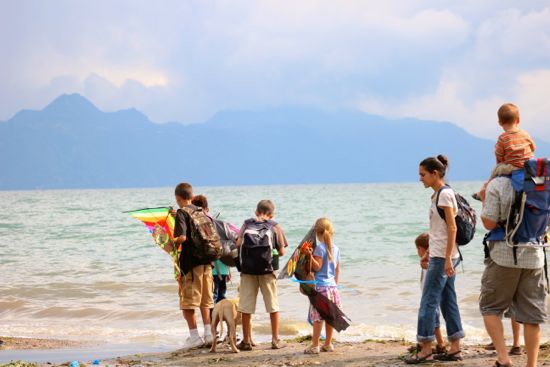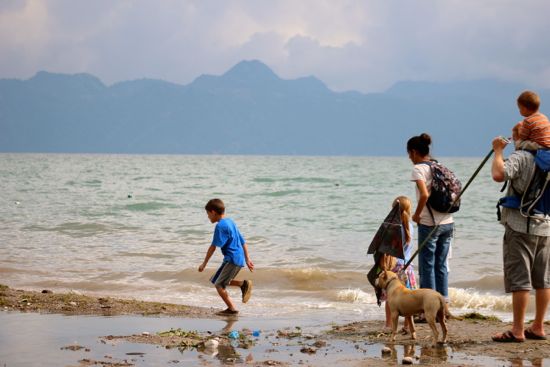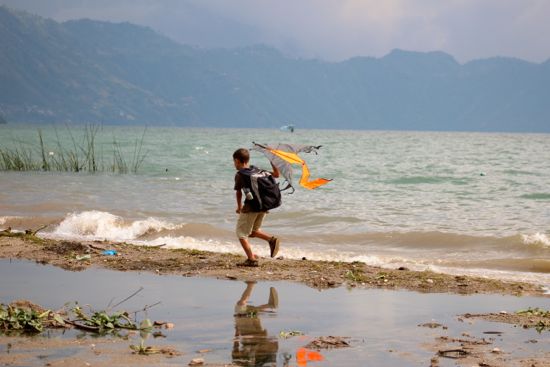 Then walked along the lakeshore...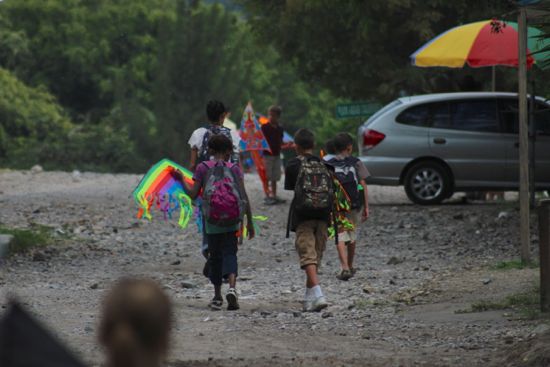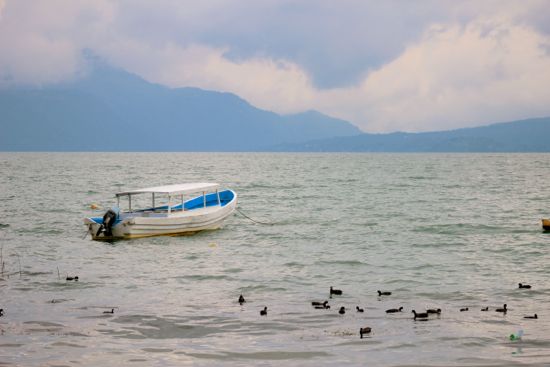 Watched the locals fly some homemade kites...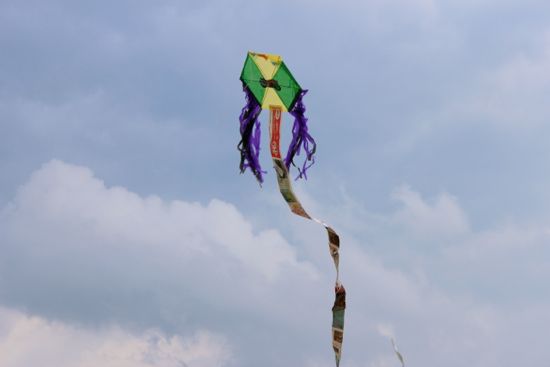 Played on the playground for a bit...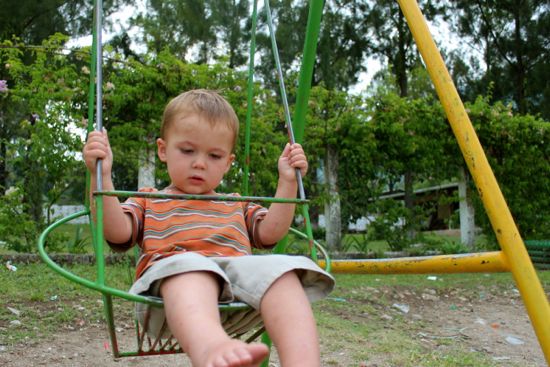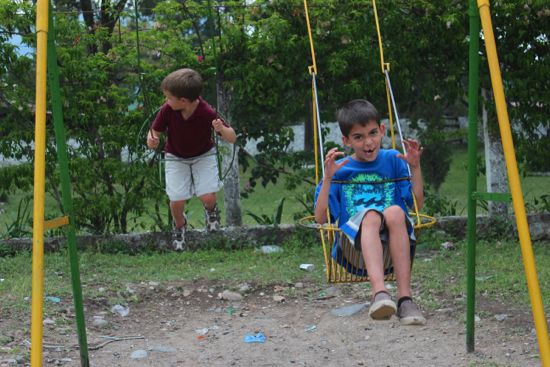 Spied a Maya Ceremonial ground...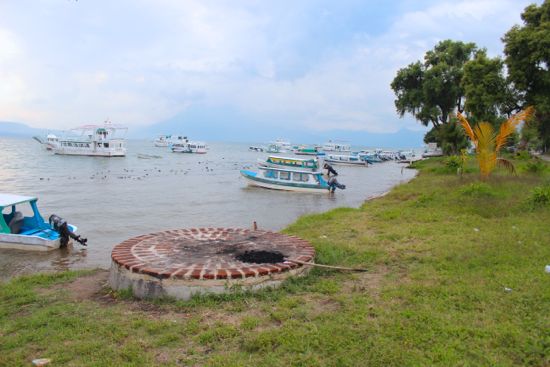 Then FINALLY reached the cemetery...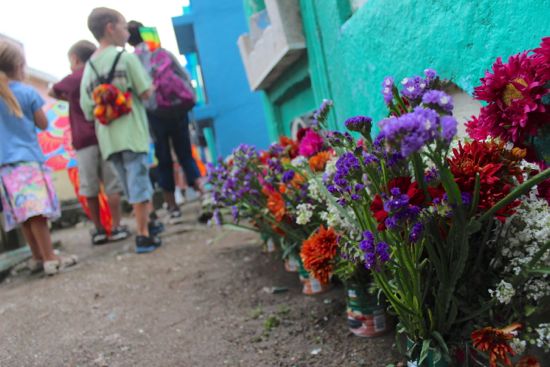 We wondered at the unique way the graves were built...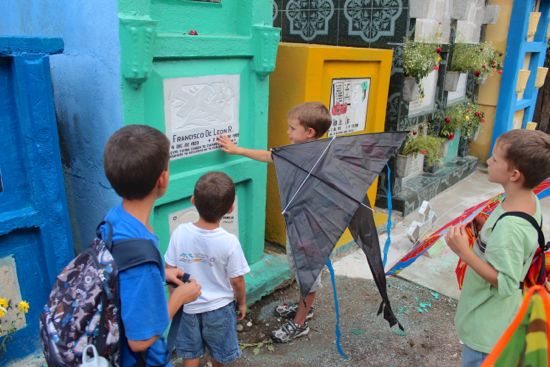 With their cheerful colors...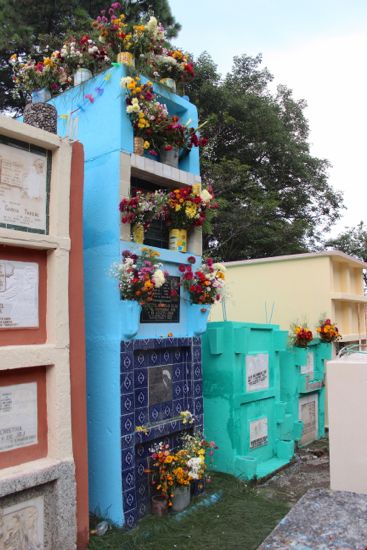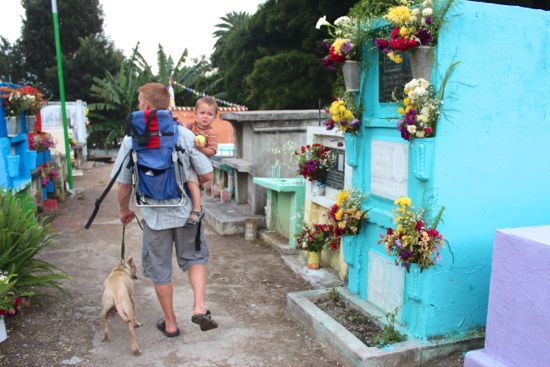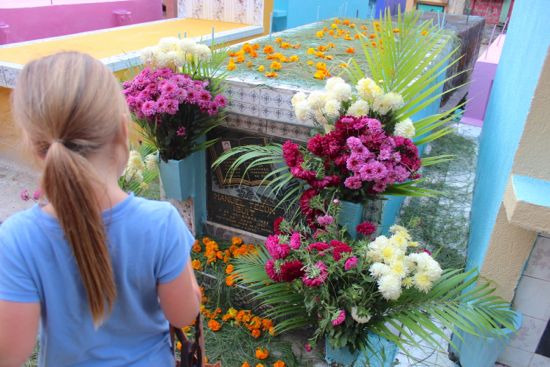 Some were nothing more than a pile of dirt...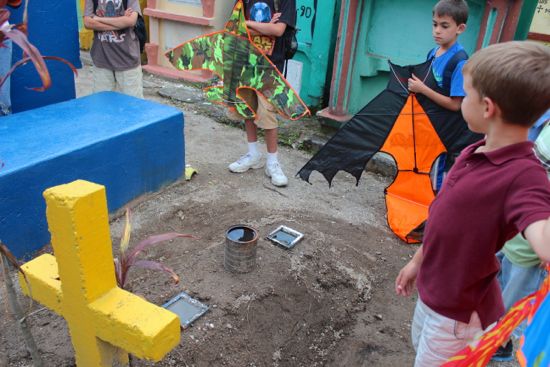 With broken crosses...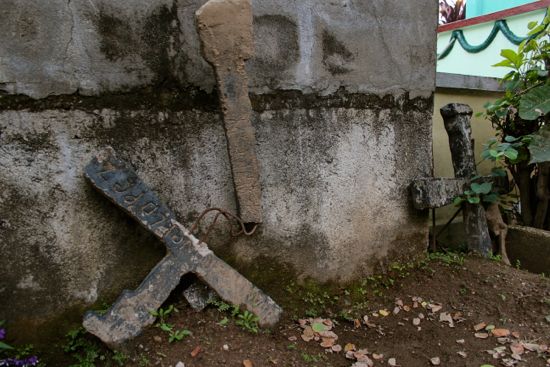 This one is awaiting occupants...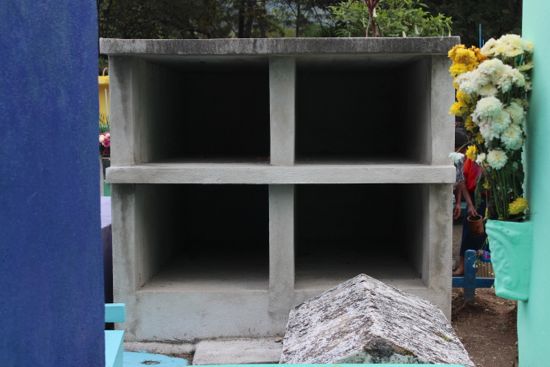 This tree is growing out of a grave...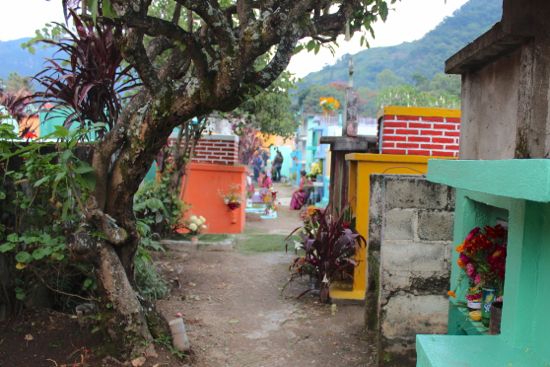 This grave has a tree growing too...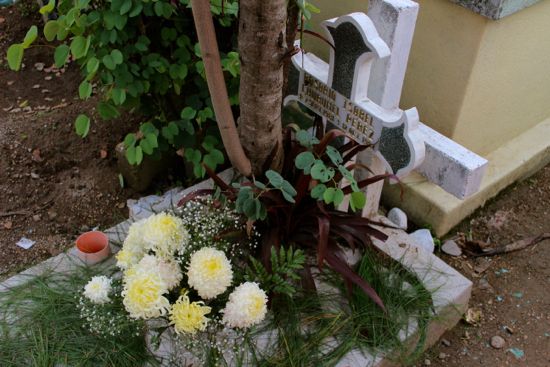 That has very beautiful flowers...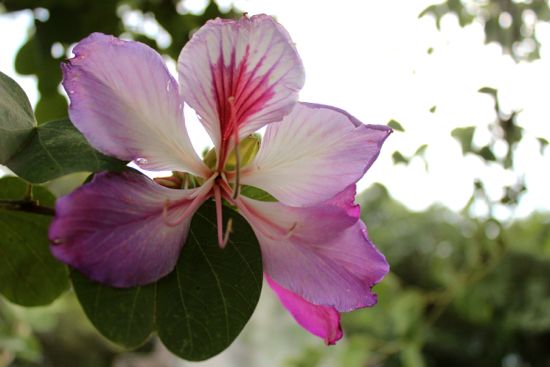 Soon, I started to feel more than just wonder at the grave construction style.
I began to feel the weight of humanity, the reality of life and death and the temporary state of our existence. One day, I will be in a grave, or my children or someone else I know and love.
Some great conversations where had with the kids, as we passed the graves of babies and young children, surrounded by 'remembering' family members.
I intensely felt a lot of gratitude for living, healthy children - who's lives were jeopardized just two years ago.
Life, while we're living it, seems so long and permanent. It seems as though our children will always be young and that we'll always be together. But that's just not so...
It will pass by as if it were a dream.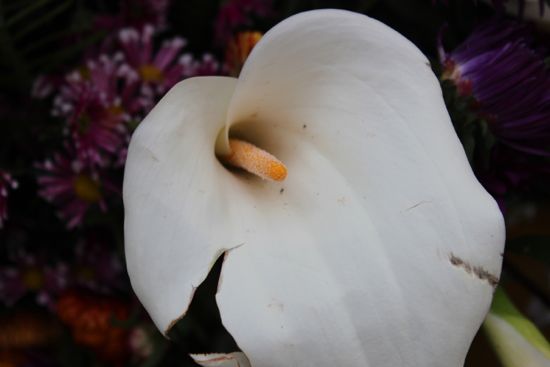 I love callalilies, but I almost didn't take a picture of this one because it was broken. But then I realized that somehow this broken callalily seemed completely appropriate...
Some people just sat at their loved one's graves...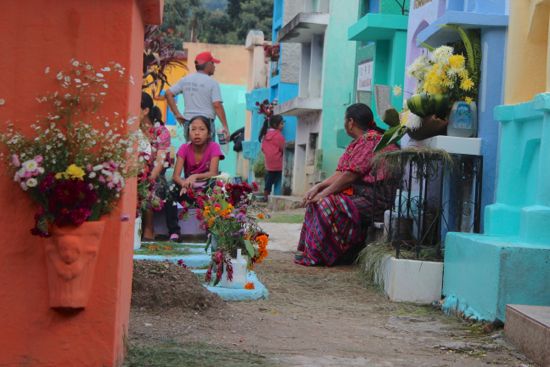 Others left flowers or candles...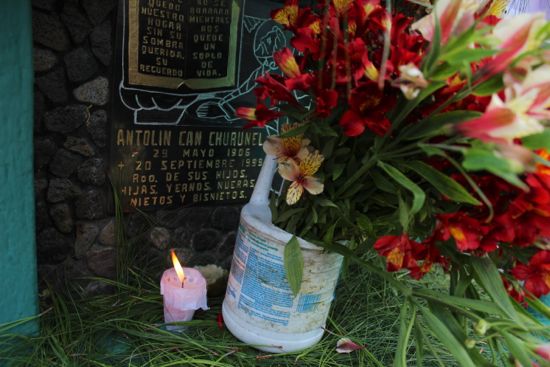 Or burnt incense...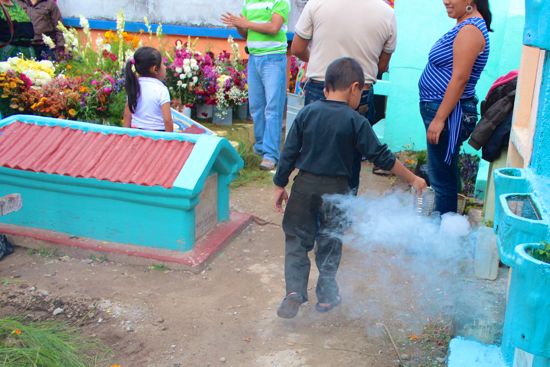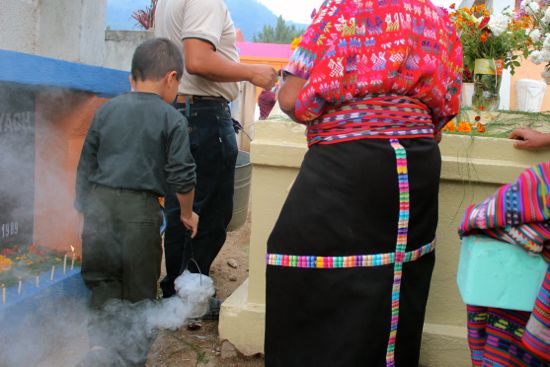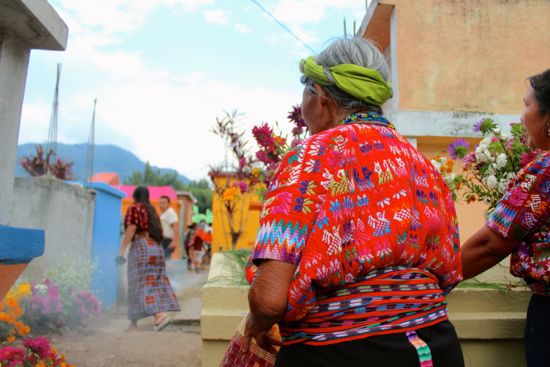 I love her colorful clothes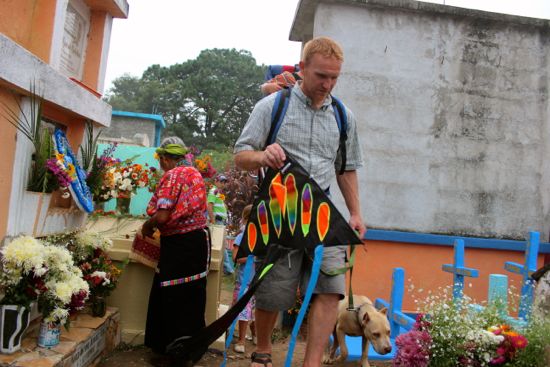 Some people were re-painting the graves, or doing some cleanup...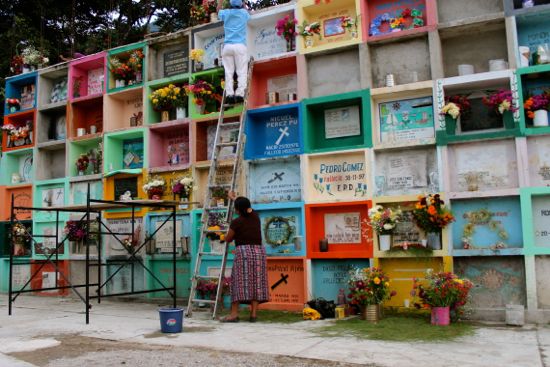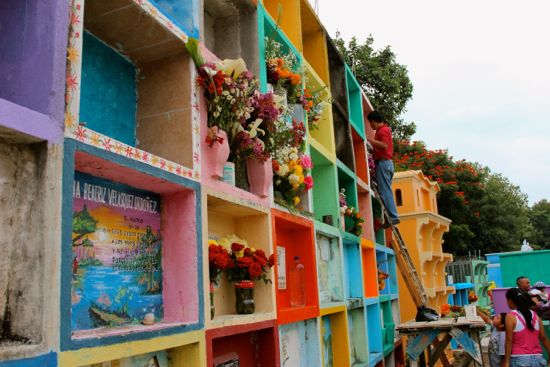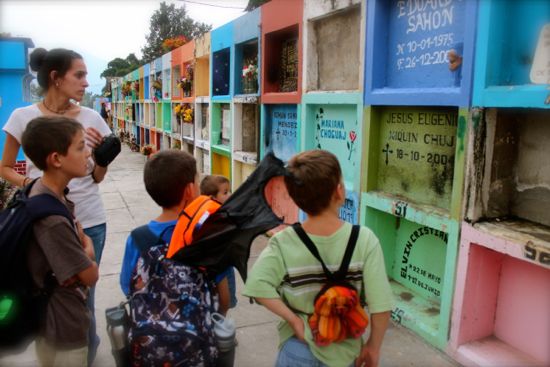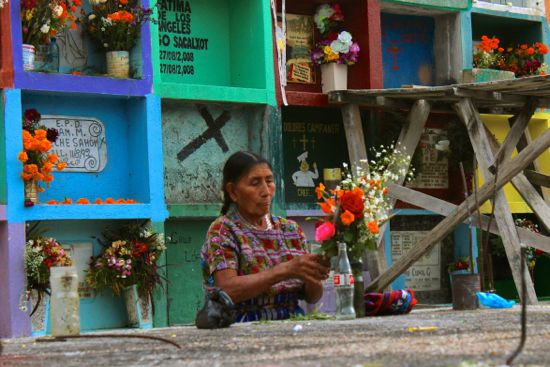 When we reached the end of the cemetery, with the 'wall of the dead', of course Greg had to say, "Man, this place is packed. People are dying to get in here."
I'd already been thinking of my dad who passed away nine years ago, but this quip only reminded me even more of him - it's totally a joke he would tell. 🙂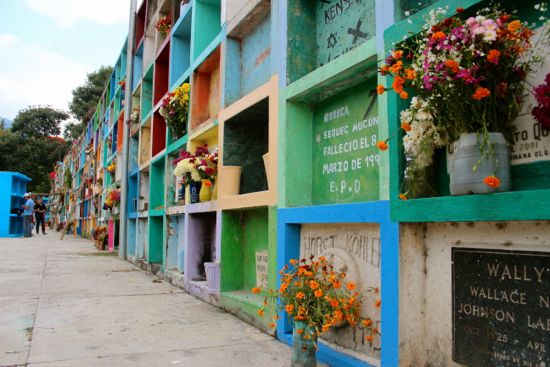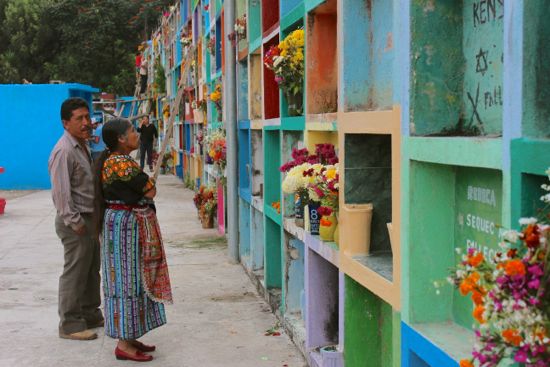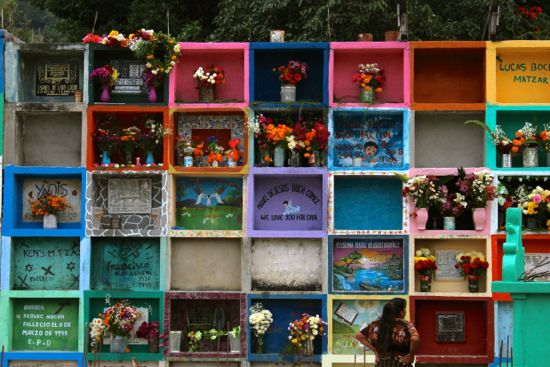 Then as it always does, even after you really 'feel' the heaviness of life... it goes on as normal...
We were hungry, so we stopped and ate lunch.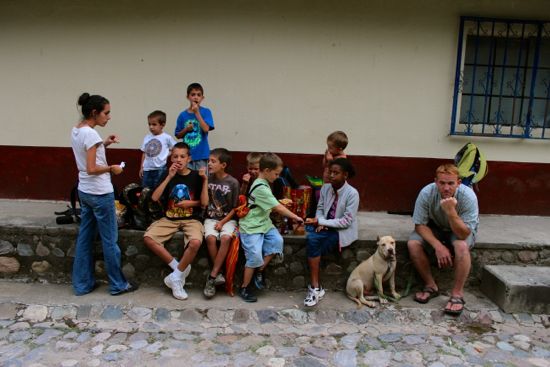 Greg is contemplating the meaning of life. Either that or he has gas (but we'll never tell) 😉
Have you ever celebrated Dia de los Muertos?
Comments
comments
Powered by New Facebook Comments