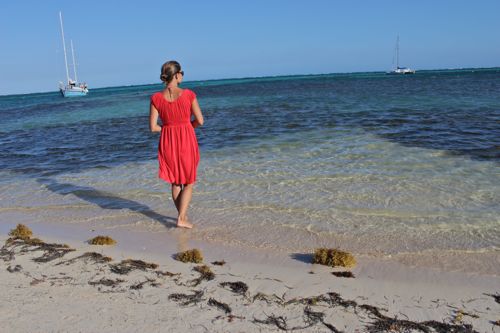 Sabina King gazes out toward the ocean from the island that she calls home.
Destiny is not a matter of chance, it is a matter of choice.
It is not a thing to be waited for, it is a thing to be achieved.
–William Jennings Bryan
About the time that Belize started to grow on us, we parked our truck and caught a bus into Belize City, where we would take a water taxi to Ambergris Caye - a place we were going to visit thanks to an invitation from online friends - Keith and Sabina King - who live on the island.
Waiting for the bus to Belize City
A decent wait, but we finally flag down a bus that will stop for us, and climb aboard. Filing to the back where the only available seats are, it's obvious that most of our family stands out as foreigners.
But with closer observation, it's intriguing to see the diverse cultural mix that this bus contains.
Music in Spanish is blaring out of the bus speakers, and the driver himself looks Mexican; the man next to me also looks Latin, and speaks to me in Spanish, and English, though I have a difficult time understanding both; then there's the rastifarians that speak Creole with a 'Jamacian' flair; the 'sistas'; the Asian gentleman; the Danish Menonite farmer with ruddy skin and a cowboy hat. This is Belize.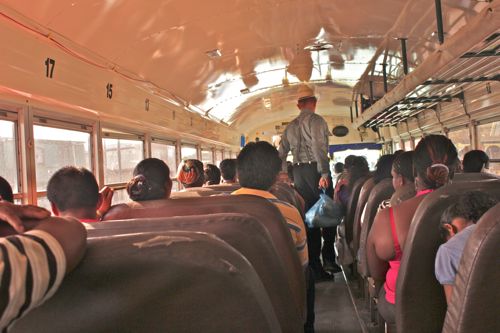 The tunes are thumping, and we're tapping our toes and the kids are grooving to the beat. Many others are bobbing their heads and mouthing the words. We're feeling good and loving the immersion.
Greg taps me from behind, and yells over the music, "I love this! I love these kind of experiences." I just nod my head and smile from ear to ear in agreement.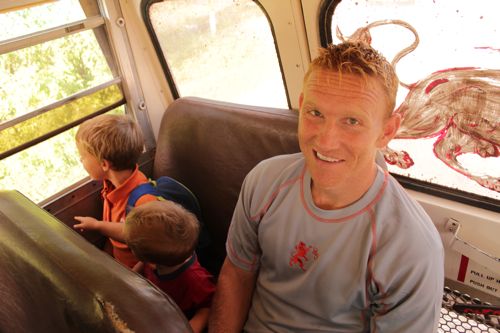 This is incredible, and how grateful we are to do it while we're young, and with our family.
The cultural immersion doesn't end with the bus ride. Killing time until the water taxi leaves, we walk the streets of Belize City, buy Journey Cakes, meat pies and banana bread.
We delight in the new sights, sounds, and flavors.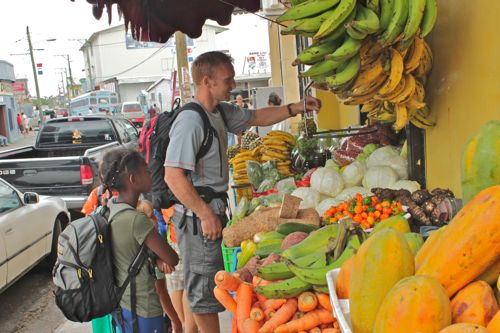 Buying produce in Belize City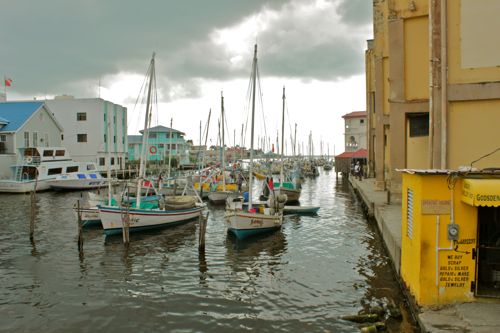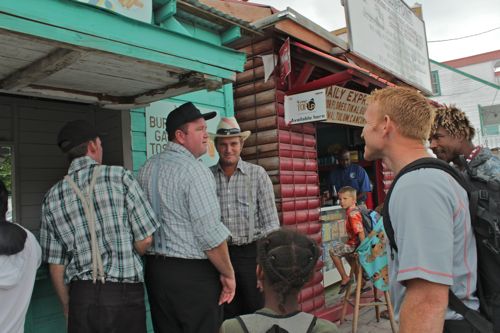 A sampling of the mix of cultures that make up Belize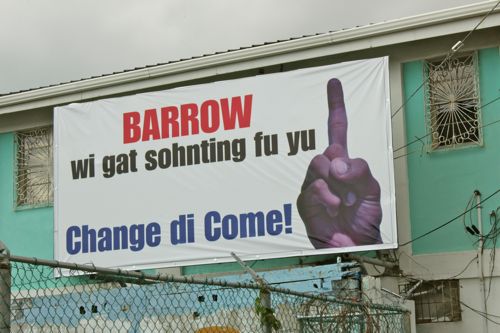 I'm sorry...to me, Creole (or Kriol) just seems like really poor English.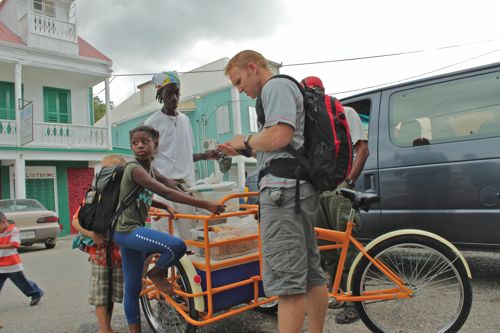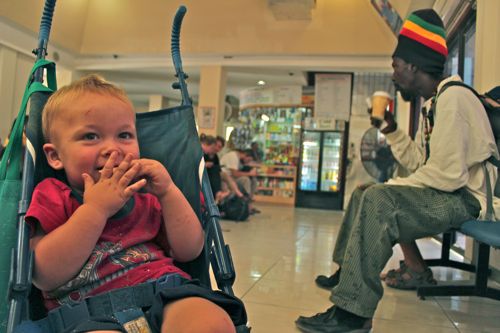 It goes from good to better as the boat leaves the mainland, and the water turns from brown to turquoise. Wow, Belize does have beauty.
An hour and a half later we reach the island of Ambergris Caye, and tropical paradise.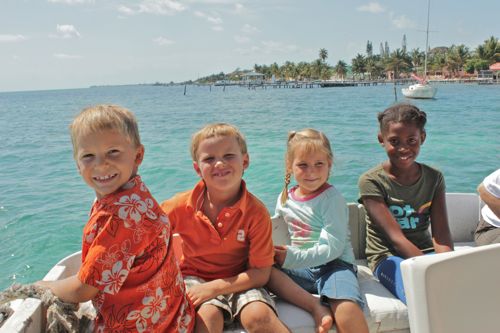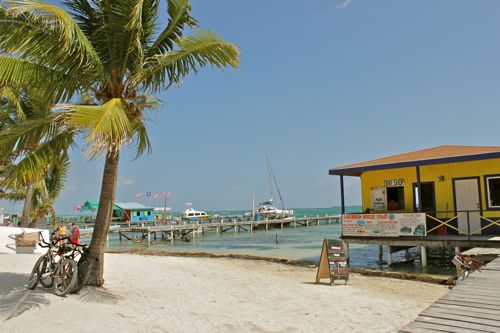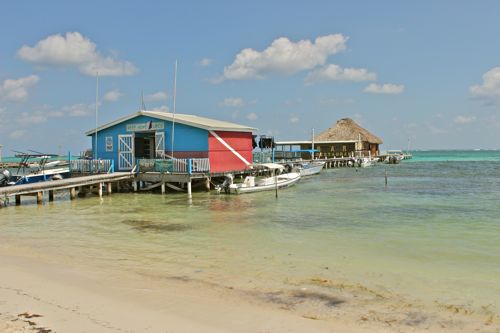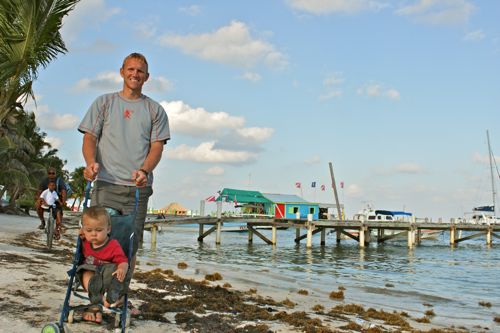 Due to previous challenges with Belize's mobile internet and cell phone service, we have no way to contact our hosts. But we do have the directions to their condo.
With a big sigh of contentment, we peacefully gaze at the beauty surrounding us, while we leisurely stroll through the sand to our destination.
It's...I don't know, a Monday? and here we are walking down a tropical beach in Belize, watching pelicans, gazing at fish swimming in the turquoise water, observing the fisherman clean is catch while trying to avoid the sting rays that are gathering around his feet.
Kyah seems to sum it up perfectly when she turns to me and says, "Mom, I'm so glad I don't have to go to school."
"I'M glad you don't have to go to school," I reply, "because then I'd be sitting in some house in suburbia waiting for you to get home, instead of walking along this beach."
"And then we would be fighting about doing my homework," she responds. I just laugh. Where does she get this stuff?
But the thoughts bring a feeling of gratitude, which seep deep into my heart and gently fill it up.
Reaching our destination, we meet for the first time strangers, who soon become friends. The days that follow brings plenty of fun and adventure, and great conversation as we discuss like-minded ideas. As is common when you meet other traveling families, we ask each other lots of questions about how, where and why we're doing what we do.
Not an 'official' interview, here's a summary of my take on the conversations we shared over our week together. (Hope it's accurate) 🙂
Why did you move to Belize?
The Kings were living in Costa Rica, and were ready for a change. Trying out the island life seemed like an appealing idea, so they came to Ambergris Caye.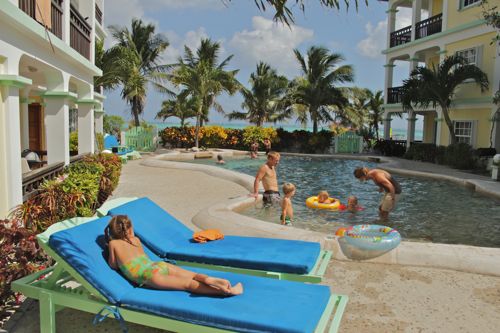 Lounging by the pool at the King's condo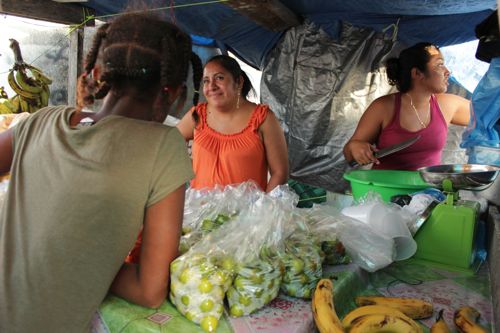 Shopping in the town of San Pedro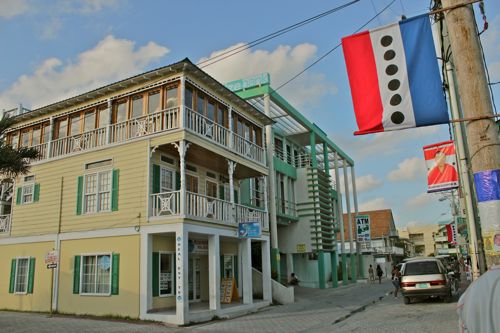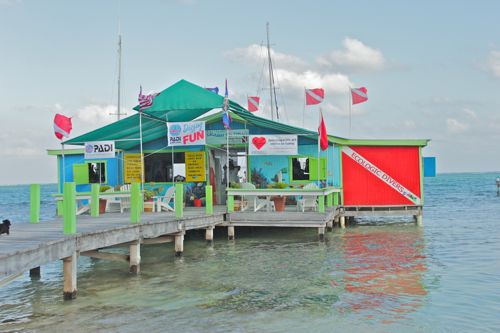 A great place for diving, Keith King plans to get scuba dive certified while living on the island.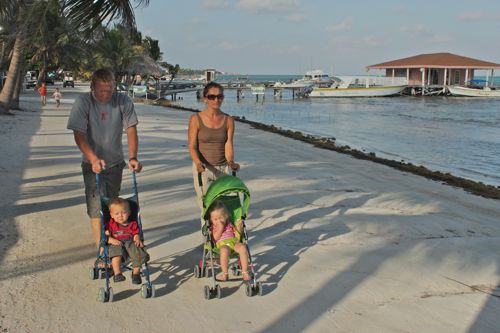 Walking to town to do some grocery shopping
How did you decide to move to Costa Rica?
They were living the 'American Dream', had an anchor, or a 'money pit' on a few acres in Colorado that they had remodeled and redesigned to their hearts content.
Their businesses saw some challenges during the economic downturn of 2008, and as a result they had to kind of 'start over'. Sabina studied everything should could about internet marketing, learned to create websites and began building their current business, (which now support's their 'King' lifestyle).
It was about this same time that they thought, "Oh, wouldn't it be great to retire to Costa Rica one day?"
Then they said, "Why wait? Why not do it now?"
With only a few weeks remaining in her pregnancy before the birth of their second child, and a prayer that the income from their new online business would only go up instead of down, they packed up, rented out their house in Colorado and moved to paradise.
They didn't make excuses, or think of all the reasons why it wouldn't work, or couldn't happened. They asked themselves the question - Why not now? - and then made it happen.
Business only got better, and after about 2 years in Costa Rica, they realized they were ready to become more nomadic and slowly explore more of the world. Belize was the next destination.
What does a typical day look like?
Living in Ambergris includes routines that are no different than any other around the world. Sabina's up early working on her blog or business. Then there's breakfast, lunch and dinner, and nap time for the kids. There's laundry and dishes and sweeping.
But weaved into 'normal' is the 'island life.'
They might chop some coconuts for a snack; walk along the beach into town; swim in the pool; wade in the ocean and spy sting rays and star fish; entertain friends and make new ones; talk to the locals (who speak a mixture of Spanish and English); go kayaking out to the reef; or maybe they'll snorkel with sharks and sea turtles; or buy some chicken tacos or papusas for lunch. Staples in the King household are coconut water (pipa); coconut oil; bananas and pineapple that tastes like candy.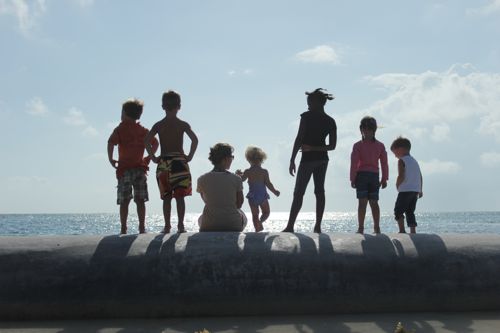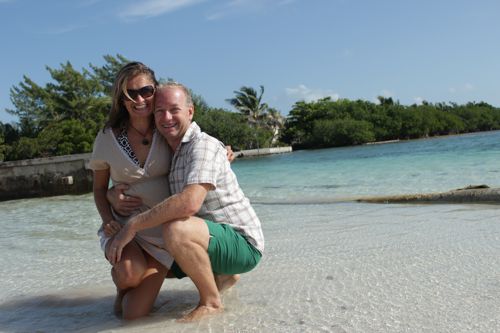 Sabina and Keith King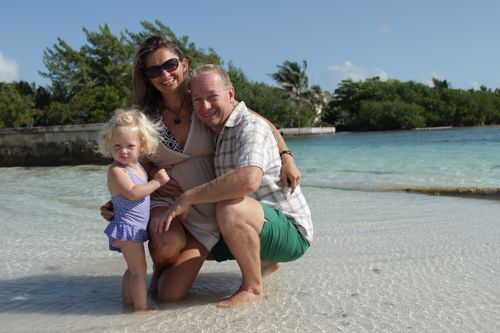 Three-fourths of their family, with daughter Isla Rosa, born in Costa Rica.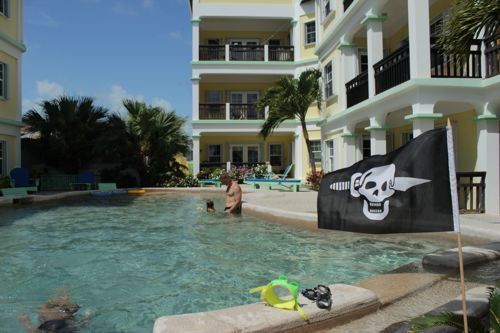 Commandeering the pool for our little band of pirates.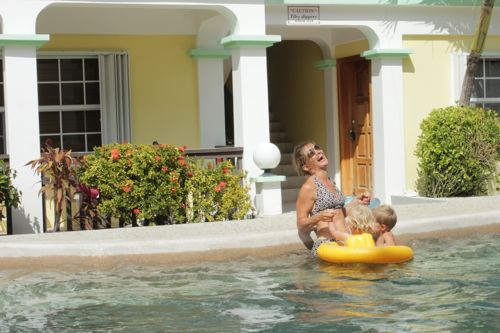 Fun-loving Sabina has an infectious laugh.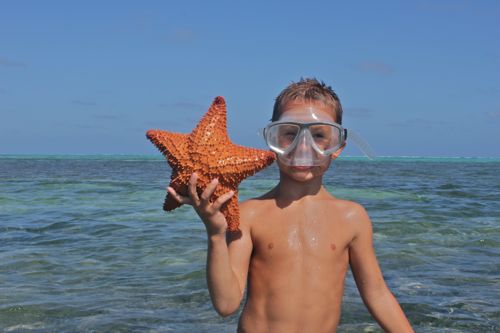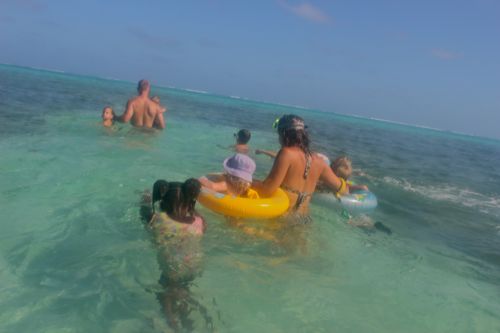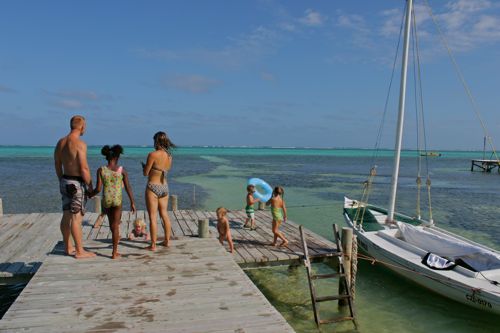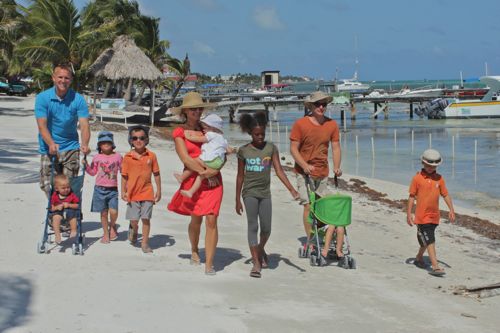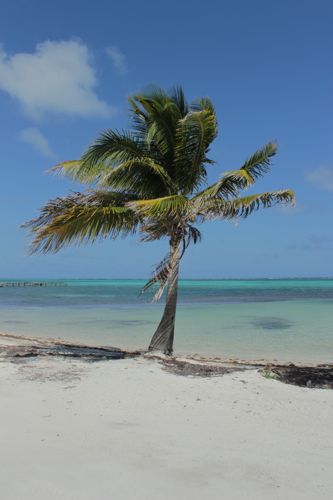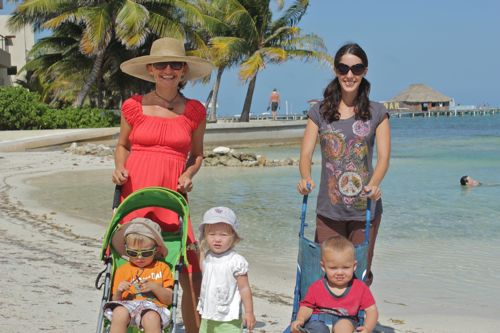 It's tough to be a traveling mom. 😉
What's your favorite part about your lifestyle?
Not having to go back to 'normal life' like all the tourists that pass through here every week.
Being disconnected from the 'herd' and all the freedom that results by not feeling required to live up to social expectations. We've left our own tribe, back in the U.S., so we don't have to conform to social norms. We don't officially belong to the local community here, and their societal conventions. We're free to live our life according to how we see best, instead of the expectations others might have for us. And we're able to raise our kids outside of those expectations, giving them so many more options for creating their own life.
Knowing that life can be whatever we want it to be. Who knows where it will take us? (I use 'we' and 'us', because the Kings and ourselves feel the same about the answer to this question). 🙂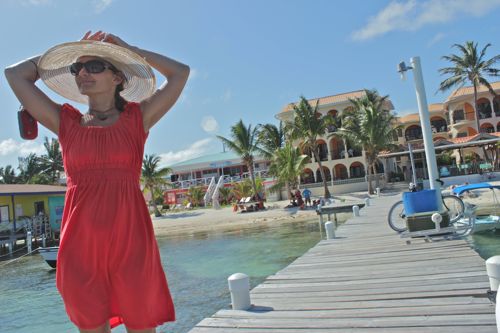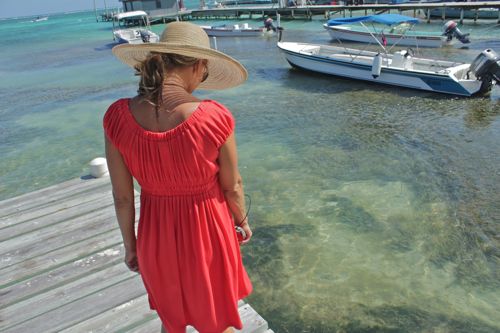 Looking for sting rays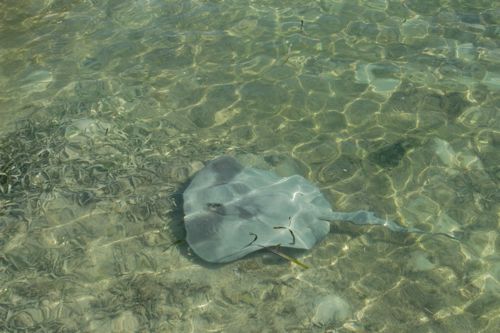 So what lies on the horizon?
Who knows? Maybe a few months in Mexico; maybe Indonesia...
The Kings want to become even more nomadic and mobile, there's so much to explore in this world...
But for now, they're loving the island lifestyle, and there's plenty here still to explore and experience.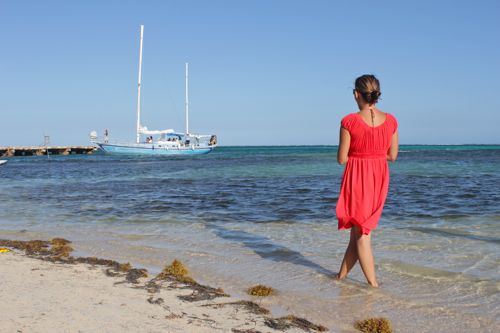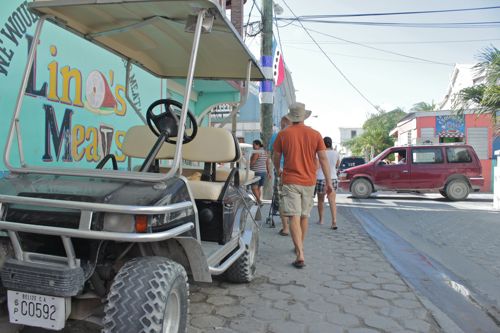 Golf carts are a popular mode of transportation in San Pedro, but the King's opt to walk.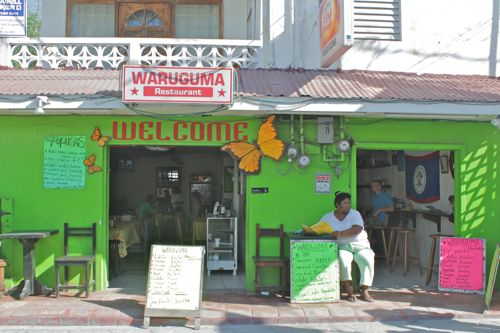 A local restaurant that makes delicious El Salvadorian pupusas.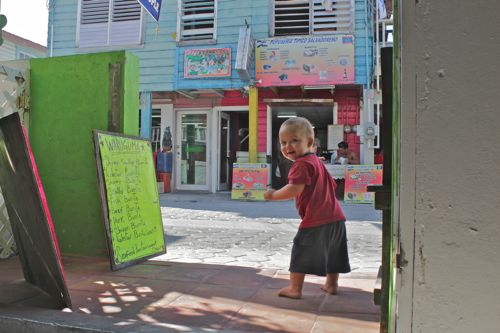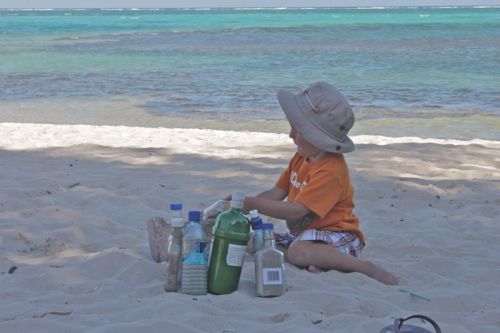 Three year old Grayson King plays in the sand.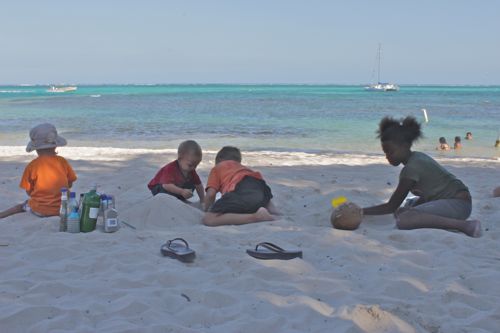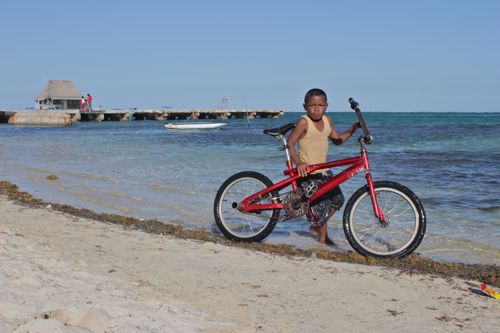 There's a unique, cultural mix on the island - Belizians, Guatemalans, El Salvadorians, Canadians, Americans and Europeans. Spanish and English are the most common languages.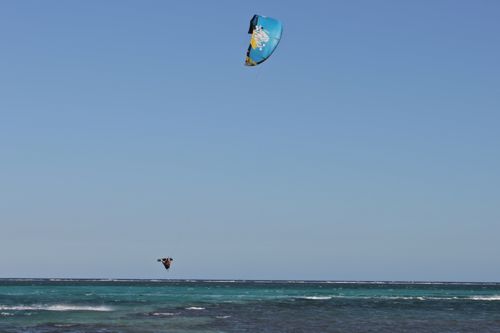 Sabina is determined to try kiting before they leave Belize. Perhaps soon she'll be doing tricks like this 🙂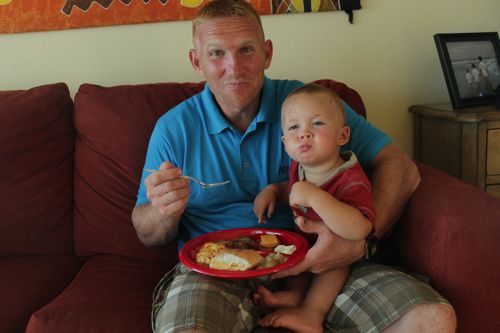 Eating good, good food at friends' house.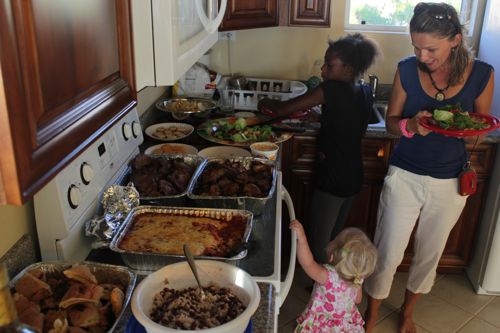 It's tough to live like a King, but somebody's got to do it... Why not you? What holds you back?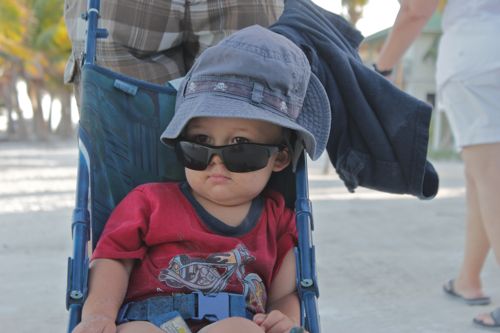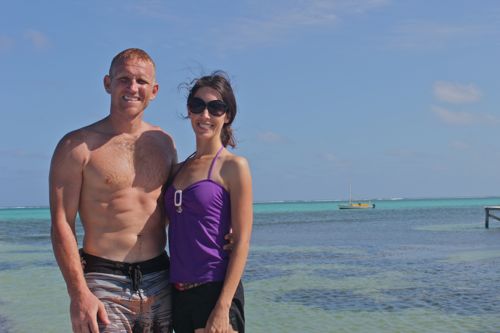 Thanks to the King family for being amazing hosts and for such an incredible, unforgettable, 'chaotic' time! We'll see you in Placencia!
Follow the Kings: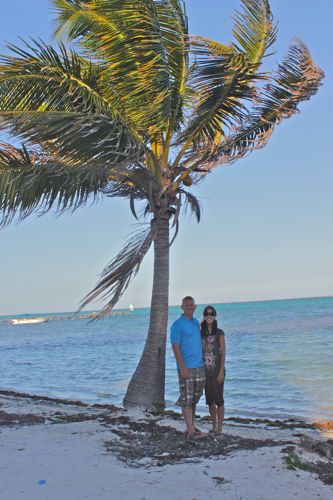 P.S.
As I complete this post, I've just received news that my brother-in-law has passed away from brain cancer. At the age of 42, he leaves behind his wife (my husband's sister) and their 6 young children.
I don't think it's possible to express the emotions I feel thinking about what their family has been experiencing during the last few months of his life, and will experience now without a husband or father. I have some small inkling of what it might be like, after losing my own father to cancer just less than 9 years ago, and seeing my mother's own struggle at losing her husband of 25 years, and still having young children at home.
I can't begin to explain or understand why our family is exploring tropical islands, while others are coming face to face with death and sorrow. I don't know why things are the way they are. But I do feel a lot of gratitude. And humility.

And I do know, that not one of us is able to predict what life will bring our way - which gives us even more reason to seize this day, this hour, this moment!
How can we wait to live life the way we want to until we reach retirement or 'someday'. Someday may never come!! We can't wait to enjoy and appreciate life, today is all we have for that.
Live deliberately today, and everyday for the rest of our lives, because we never know how long or short they may be.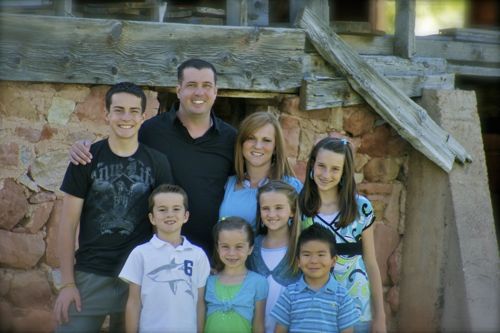 We love you Cloninger family
Comments
comments
Powered by New Facebook Comments