********
Mwahahahaha!! 😀
The book is ALMOST finished... and the course re-release is not far behind! We are totally EXCITED about it!!
********
"I happen to think it is a bit irresponsible of you to put your kids' futures in jeopardy to satisfy your need for travel.  What [you are doing] is just risky,"
was the response one commenter made on an article I recently wrote for BootsnAll about letting travel transform your life.

It's not the first time we've received comments like this regarding our family lifestyle choices. We've been attacked before by the 'zombie-dream slayers'. We've been accused of not providing our children with a 'stable' life; of not preparing them for their future; of being beggars; vagrants; irresponsible.
We've been 'advised' to buy a house, get a job and put our kids into school : it's what's best for us. We all need some stability.
One of my favorites was from Dan who said,
"I think this is insane. Fast forward 20 years. You are going to have 5 messed up kids. You can't comprehend this. Most people can. Stop this insanity and give your kids some stability, friends and a life. Boxed up in a truck "traveling N.A." is selfish, irresponsible and idiotic. Grow up."
I mean, traveling with our kids; being nomadic, on the go and not having a permanent home; regular change, exposure to new things and experiences; 'informal' learning, lack of testing and grades; no 'regular' job; no after school activities; no neighborhood friends; no sleepovers or play dates; no video games or t.v.; it's all a recipe for instability, right?
Most certainly, our kids our doomed. How will they ever go to college, find a job and fit in to society?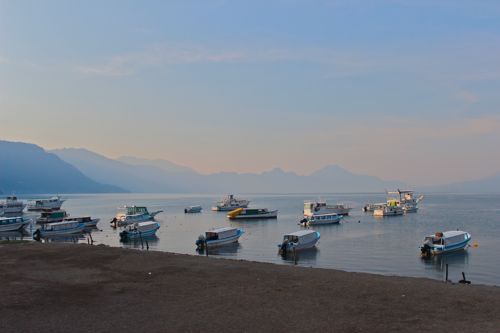 Lake Atitlan, the morning we left for Quetzaltenango (aka Xela)
Well, I've got something to say about that.
First of all, stability is not created by location dependence.

Second, fitting in is not our goal.
For some reason, there's a large majority of people who believe that in order to have a 'stable' family, you have to stay in one place. Let me tell you a secret:
Stability and location dependence are not the same thing. 
Now think about it for a minute. If staying in one place was the answer for creating stable homes, families and communities, then why is most of the world so messed up?
Most people - whether you're in Guatemala, India or the United States - stay in one place for the majority of their lives. They don't stray farther than the home town where they were born. You would think this would create a lot of 'stability', wouldn't you?
Yet, look around, and you'll see broken homes; divorce; teen pregnancy and suicide; porn addictions; drug addictions; technology addictions; eating disorders; I could go on, but I'll spare you from telling you what you already know.
Sorry, but that tells me that the formula of stay-in-one-place = stability doesn't add up.
In fact, maybe it's actually adding to the problem.
I would go as far as to argue that point. Perhaps staying in one place actually adds to instability. We've seen first hand young adults who can't handle going to college because they'll have to sleep in a different bed. Or adults who 'lose it' when their 'schedule' is thrown off. We've seen families fall apart over a change in circumstances.
People become so accustomed to their normal, 'stable', same-old-same-old routine, that any deviation is a major catastrophe. That sounds a little unstable to me.
They go to restaurants and order the exact same item, afraid that they 'won't like it' if they try something new. Parents feed their kids only macaroni-and-cheese because 'it's all they will eat'.
They don't change jobs; they don't change houses; they don't change schools. They don't change. It's too uncomfortable, or scary.
That's not stability. That's evasion of the inevitable.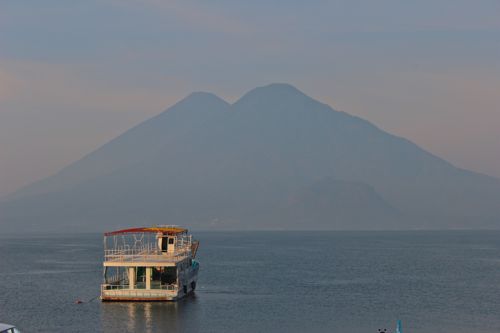 Change is the only constant, and teaching your children (and yourself) to learn to effectively cope with and adapt to change, is probably one of the most responsible, stable things you can do.
That's because stability has nothing to do with location. Stability is a mental state. Want a stable family? Then become a stable parent.
Your mental stability will have more of an impact on the stability of your children than whether or not they grow up in the same house their entire lives.
That being said, being nomadic and initiating change are not equal to inconstancy and volatility. You can be a vagabond and still have a regular routine; you can be 'incapable of holding down a job', and still make a worthwhile (profitable) contribution to society. You can also have a career and a mortgage and be stable - but they don't create the stability. That comes from within you.
Atlas and Daddy in Quetzaltenango, Guatemala
On our recent trip from our current home in Panajachel to Quetzaltenango, Guatemala (a.k.a. Xela - pronounced Shay-la), we explored the town center, and then visited a park on the top of a peak that overlooked the entire city.
The big attraction was the GIGANTIC cement slides built into the hillside. They were incredibly 'dangerous', and violated all sorts of U.S. safety codes, I'm sure.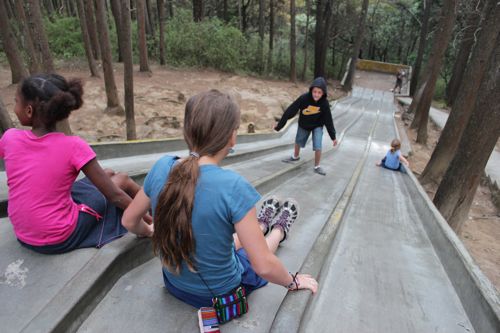 Life is kind of like those slides. They can be fast, and scary and threatening to the health and safety of your family. You might think the responsible thing would just be to avoid them altogether. Certainly you'd be more 'stable' standing firmly on the ground than careening out of control down a slippery surface, right?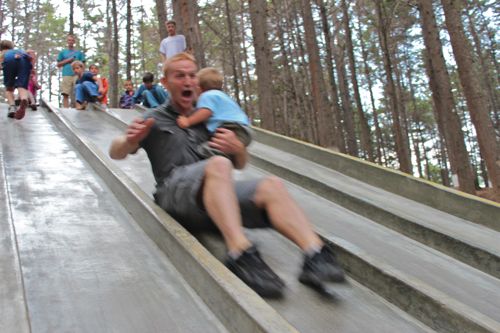 Out of focus, but look at that face 🙂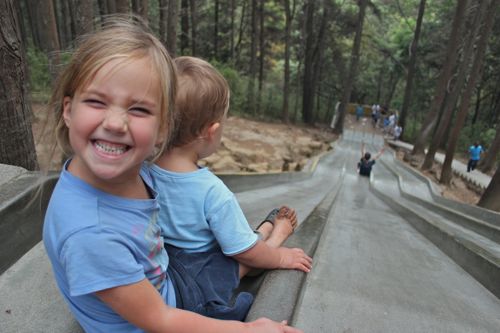 Do you dare send your kids down something like that? Do you dare remove them from the 'stability' of home?
The answer to creating 'stability' for your family (and yourself) doesn't come from avoiding life's ups and downs. It comes from learning to successfully navigate them. You don't have to avoid change and stay in one place to create a strong family unit.
You have to become better parents, more stable individuals. You can do that anywhere. In fact, change and uncertainty force you into it.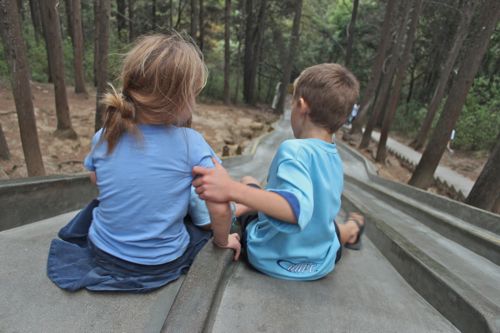 Learning to work together and take care of each other is more crucial to family 'stability' than location.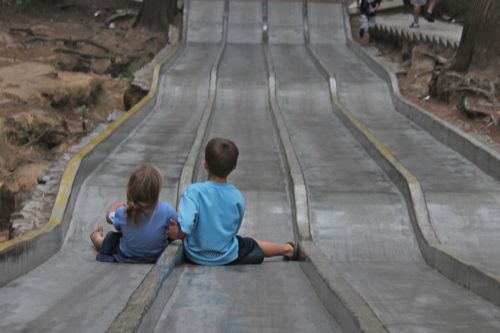 And the result of learning to embrace change, accept the unpredictable, and work with it? Usually it's personal growth, and a lot of FUN!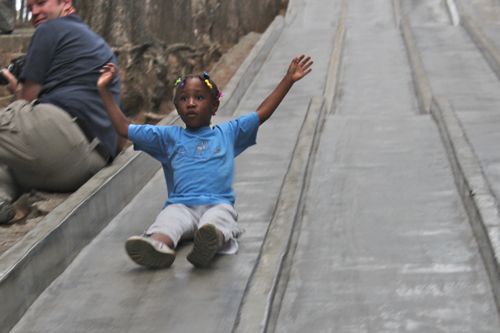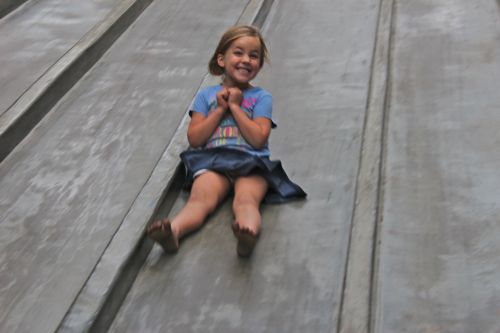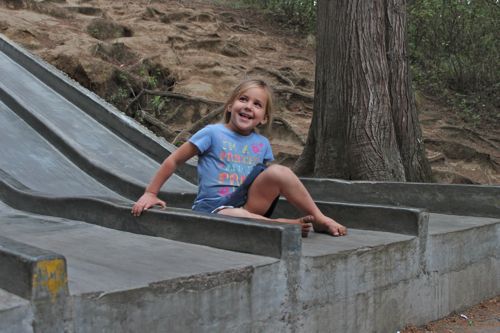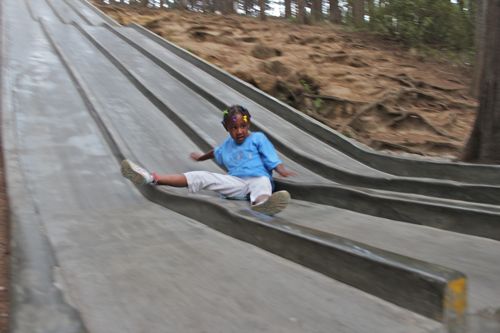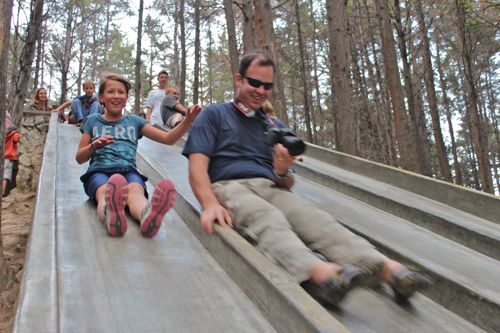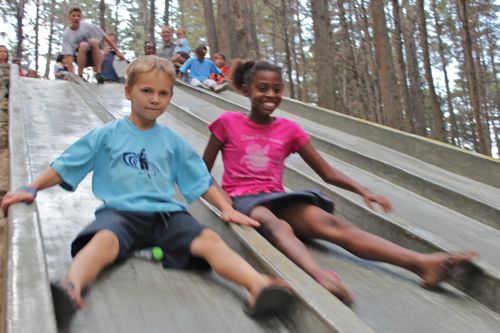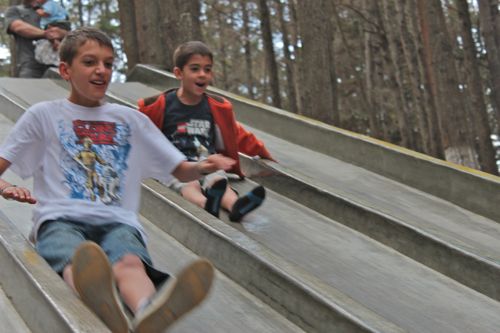 So if our kids future is dependent on our stability as parents (which may be in question 😉 ), and not on 'staying in one place, what about their future? What hope will they have without formal education; standardized testing; report cards; diplomas? How will they go to college? How will they get a job?
Truthfully? We don't want our children to go to college and get a job. We hope they grow up to be a little more creative than that.
But I'll have to expound on that topic in the next blog post.
For now, enjoy the video of 'unstability':
Thoughts?
Comments
comments
Powered by New Facebook Comments