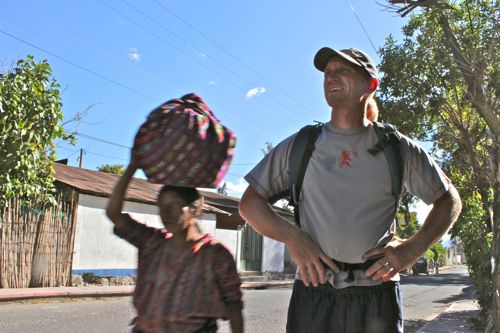 The dictionary defines luxury as:
the state of great comfort and extravagant living; an inessential, desirable item that is expensive or difficult to obtain.
There was a time in my life when I yearned for a life of luxury. I drove a $50,000 Armada; my husband drove a Nissan Titan and a Porsche; we lived in a $400,000 furnished model home complete with a home theater; our monthly expenses were in the neighborhood of $15,000 (now we could live for more than a year on what we spent in one month).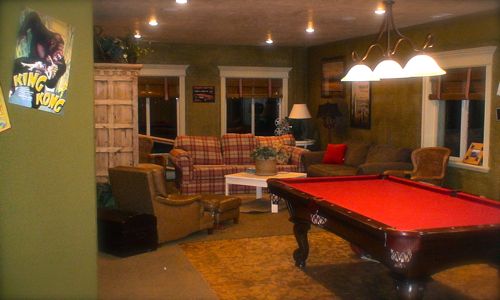 And still I wanted more. We moved to Costa Rica, driving our luxury SUV from the United States, all the way through Mexico, Guatemala, Honduras, Nicaragua to San Jose (staying in all-inclusive resorts along the way).
After renting a nice 1500 sq ft home perched above the Central Valley, we looked at buying $7,000 couches to furnish it, until we found a place that 'suited' us better - a 6500 sq foot, fully furnished $2 million dollar mansion on the hill.
"It's such a great price," we told ourselves, at only $3000 a month. What a bargain! We could really keep up the Joneses now (aka other expats who were living it up).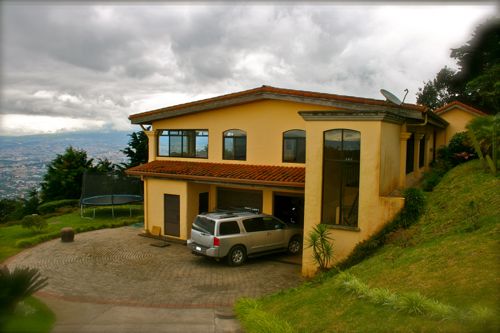 We thought we had a great life, yet happiness was kept at bay by stress. When you have to work so hard and make so much money just to pay your bills to maintain your lifestyle, it generates a lot of pressure and worry. It keeps lighthearted joy from being your companion.
We've come a long way since then. Travel, and economic failure, has changed us.
With the financial downturn of 2008, we lost our source of income. And then our house(s). And then our vehicles. We returned to the States to look for employment. The facade of wealth was lost. We borrowed a car, borrowed money, and we were compelled to 'humble' ourselves to live in an 1100 sq ft apartment in a complex, which our kids nicknamed 'The Castle.'
We thought we had it so rough.
But then an interesting thing started to happen. Our reality began to change. We started to see things in a new light.
Before our financial mishaps, we had firmly believed that in order to have travel as a part of our life, we needed to make enough money to cover our living expenses - mortgage, car payments, bills - and then pay for travel. Just to be able to have the experiences we wanted, we needed to earn a lot.
With our previous income dried up, we started to consider other possibilities. We still really wanted to travel. We had loved our experience living abroad, even without living in the lap of luxury, and wanted to repeat it. Except that now we didn't have the surplus funds.
Was there a way we could still do it? We began considering the possibilities and truly analyzing what was important to us.
Did we need a mortgage and a car payment? Did we need to have stuff 'at home'? Or should we use that money to fund our travels instead?
Travel called, and we had to answer, and we did so any way possible. We worked and saved; we borrowed; we took jobs overseas; we built our own businesses.
And along the way we learned to live simply, and discovered what we truly valued. We realized that meaningful experiences were more important than owning nice things. Having options was better than having possessions. Our personal growth was preferable to having bragging rights.
The personal transformation in philosophy resulted in greater freedom than we'd previously known. We had unencumbered ourselves from social expectations (ie, we need at least a 3 bedroom house for a family of seven), and the bondage of bills, and were now at liberty to live the kind of lifestyle that was truly fulfilling, even if from an outsiders perspective it seems strange or radical.
That journey has brought us to where we are now - settled into a little house in Panajachel, Guatemala - a small stopping point along our epic expedition. (**We've paused here so that we can focus on creating content that will help others live deliberately).
If you took the Rachel that lived in her 6500 sq foot mansion in Costa Rica, and placed in her this house, she probably would have been appalled. The walls are a pistachio green. The tile floor is stained so it constantly looks dirty. Part of the property fence is made of tin - due to a portion being washed away during a deluge in 2005. It's located in a 'scary' local neighborhood, and right next to the river which is now a gravel pit.
That's how I used to think.
But take the Rachel that lives in her truck, who's learned that all she really needs to live is clean water, good food, shelter and love - anything above and beyond that is luxury.
Truly, luxury is a matter of perspective. Many in more developed countries - places where the poorest of the poor still make $10,000 dollars a year, compared to those who earn $2 an hour here in Guatemala - might think that the living conditions in this house are deplorable. We'd certainly be classified as being poverty-stricken, and treated as such - with either disdain, disrespect, pity or charity.
But when the same exact conditions are compared to the local standard of living, we're suddenly in the upper class. We're treated with respect and esteem. We're wealthy because we can afford US$200 a month for rent.
We can 'live within our means' without negative social repercussions, a luxury many can't afford in other countries.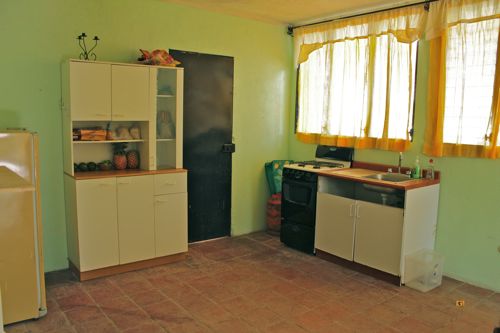 This house has everything we need- a fridge and stove, a washer...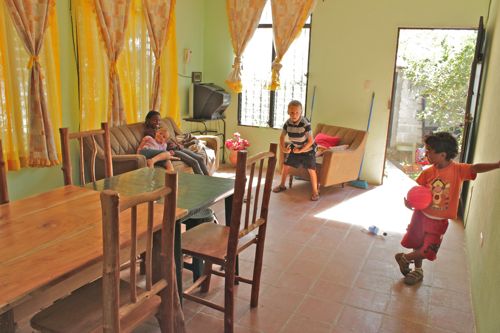 Some furniture, internet(!)...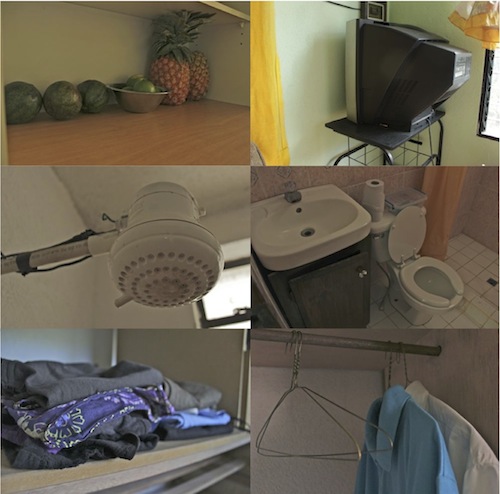 Space for our clothes; a toilet and sink; a shower head that produces hot water through an ironic combination of electricity and water; a t.v. which we put in the closet (that's the part we don't need).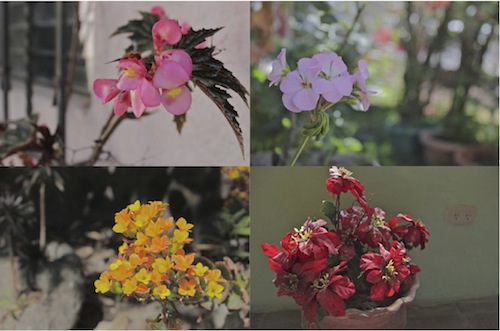 It has a lot of flowers too - some are fake.

Two views of the gate/wall around our house.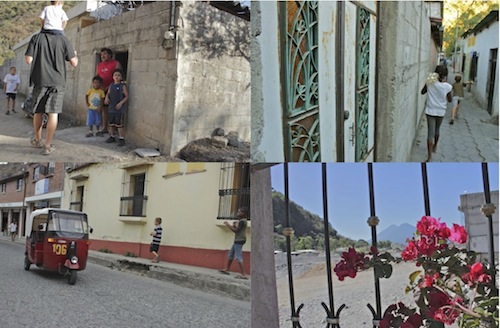 The neighborhood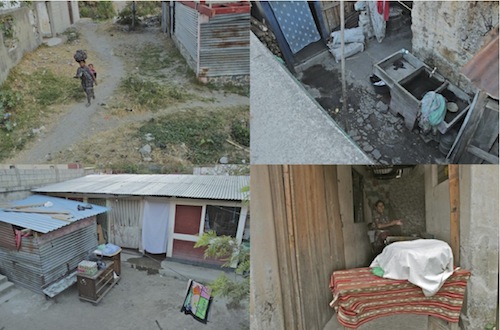 More of the neighborhood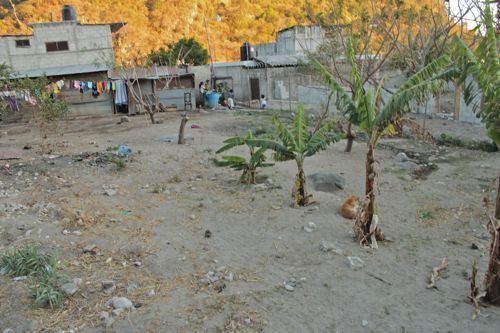 See this house right here at the back of this photo. No, not the tall cement structure with the window - that's the back of our house. Look closer. It's the pile of tin behind the line of clothes. Yeah, that one. Those are our next door (literally) neighbors. You see why we live in luxury?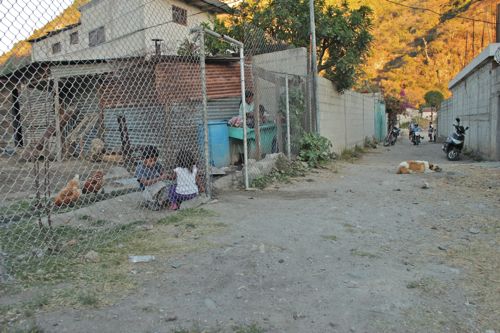 This is a closer view of it from our street. The cement wall on the left is around our house.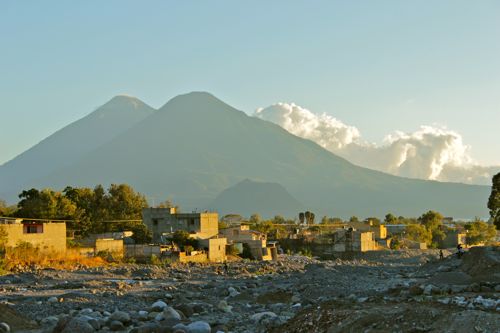 This is the view when you step outside our gate. Look at those volcanoes!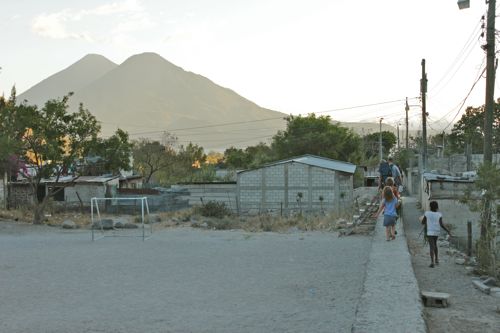 This is how we walk to our house from our friends house (who do trail running here in Guatemala)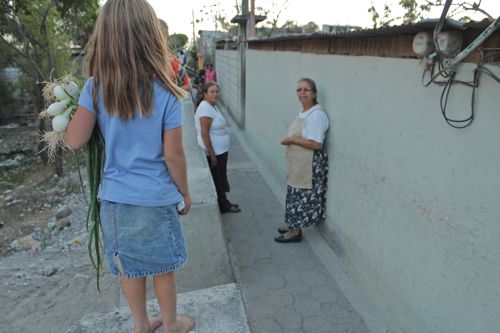 It's called the muro (the wall). It's supposed to keep the river from flooding the houses.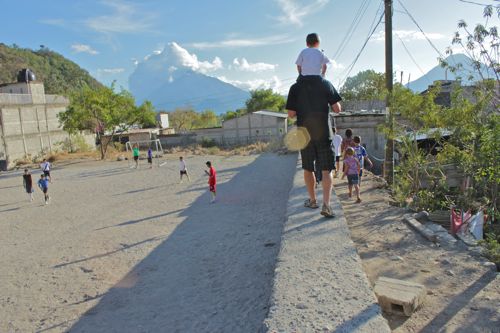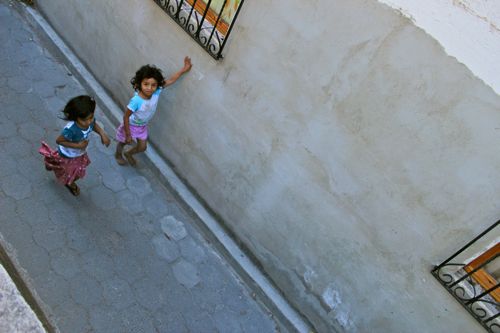 I LOVE the market in Pana. This is where I do my grocery shopping: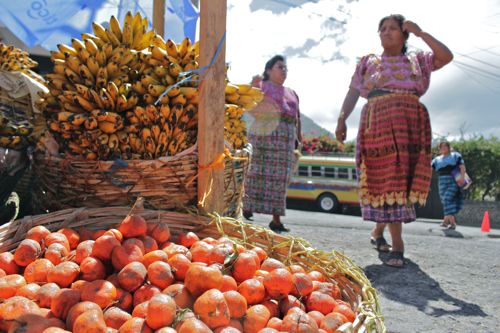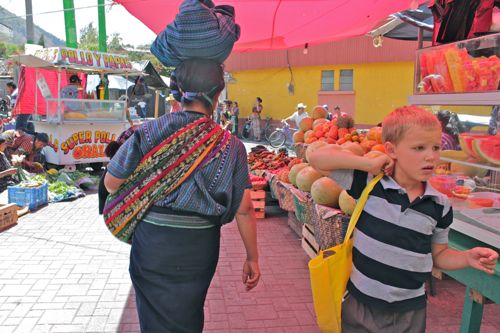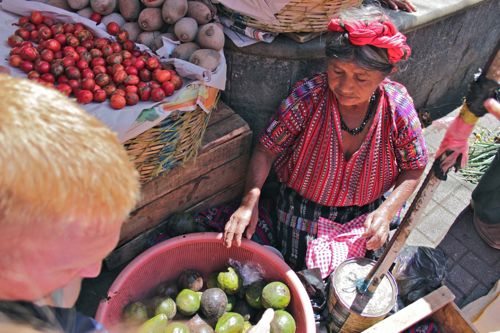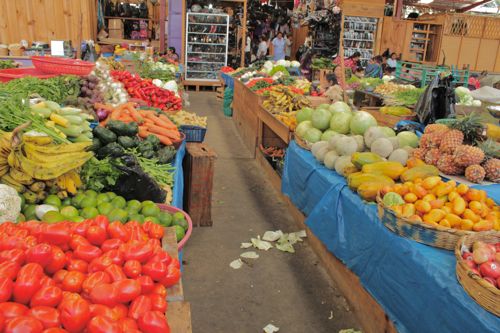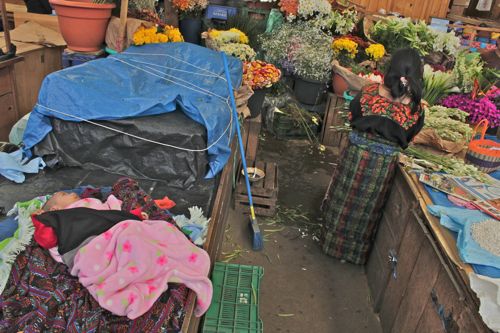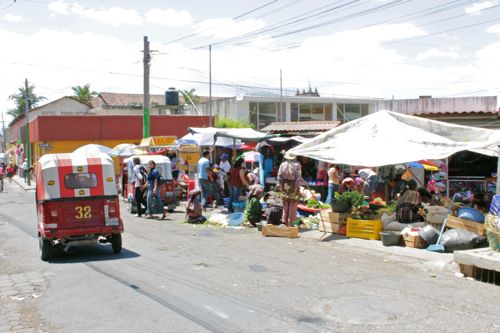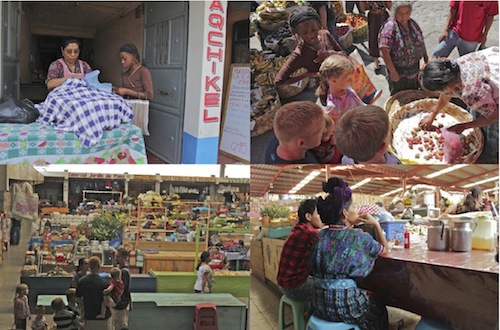 Our lifestyle is possible, not because we're 'lucky', 'special' or make lots of money. It's possible because we've made travel one of our top priorities.
Next to basic necessities, like food, travel is at the top of the list. Our time, energy and money go toward making it a reality.
And besides the obvious benefits of a life filled with adventure and fun, I've also discovered that I'm a lot happier too. There's less stress to 'pay the bills' (we have very few); less worry about 'what the neighbors will think'; more time spent doing the things I enjoy; more simplicity; greater joy.
It's possible to apply this same formula to any worthy ideal. Whether it's travel; starting a charity or your own business; or making a change in the world; when you commit to cutting out the resource draining excesses, and focusing intently on what you want to create, there's little that will hold you back from living deliberately.
It's not about the money. (Money's great, I'm a fan) It's not about living 'poor' either. It's not about your circumstance or living conditions. It's about living by what matters to you. That's what 'living deliberately' means.
And when you live deliberately, that's where you'll discover true peace and fulfillment. Where do you find yours?
Comments
comments
Powered by New Facebook Comments