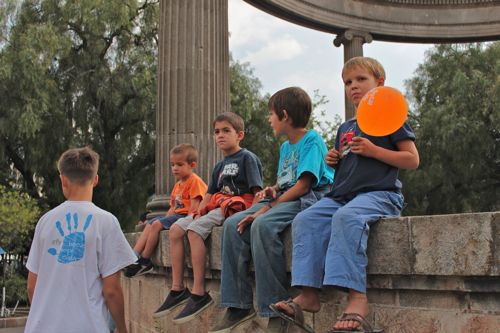 In the centro of Xela, Guatemala. An average 'field trip' for these kids
********
Don't forget about the book that is coming along nicely and will be released soon.
********
This post is continued from Stability Comes From Staying in One Place (and Other Ridiculous Myths).
According to one commenter, our kids will never be able to go to college or get a job as a result of our nomadic lifestyle, right?
Well, that's our hope anyway.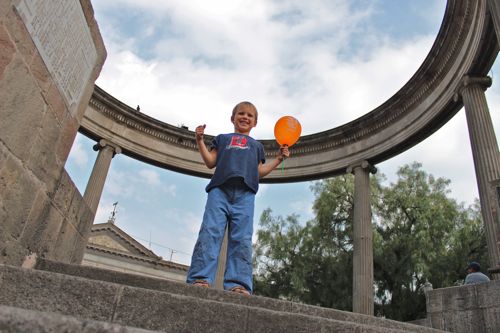 Let me explain, lest you think that we're anti-education, pro-vagrant.
The world has changed. The formula that used to work - the same formula that millions of people have followed - go to college, get good grades, get a career, build your resume... well, it is not going to work anymore.
That was a formula for the Industrial Age. Now we're in the age of Information and Connection. The rules are different. If there are any rules.
This new Age creates 22 year old billionaires, appoints blogging as a viable career option, and makes 24-hour-around-the world connections a possibility. In the words of Ken Robinson, from Out of our Minds:
No matter where you are or what you do, if you are alive and on earth, you are caught up in a global revolution. I mean this literally, not metaphorically... I know this is a bold claim but it is justified...What is distinctive now is the rate and scale of change. The two great driving forces are technological innovation and population growth. Together they are transforming how we live and work.

New technologies are revolutionizing the nature of work everywhere... New forms of work rely increasingly on high levels of specialist knowledge, and on creativity and innovation...

Everyone will need to adjust to a world where, for most people, secure lifelong employment in a single job is a thing of the past."
So, how are we preparing our children for this?
By traveling with them and exposing them to a multiplicity of experiences, cultures, people, lifestyles and options. And giving them a solid, mentor-style education with an emphasis on relevant, hands-on learning. And teaching them (through word and example) that the world is open to them. The sky is the limit.
The most important things for our kids to know are:
Learning is absolutely awesome, and something you do everyday of your life - not just on weekdays or 'school' days.
Where to find the answers if you don't know them (all-powerful Google is a good place to start)
How to think and solve problems
Dreaming is a good thing
How to work
How to give back
How to live on purpose
How to be an expert
Some people believe that our children won't be able to 'fit in' because of our nomadic lifestyle. Well, we hope they don't fit in. Fitting in is not our goal. As Mark Twain once said, "Whenever you find yourself on the side of the majority, it's time to reform"
We want our children to desire lifelong learning, to express themselves, and to innovate. We don't want them to be concerned with 'testing at grade level', getting good grades, scoring well on the SAT or attending a good college.
That's not the formula we want them to follow.
Becoming an expert, a 'thought leader', indispensable, irreplaceable - that's the new formula for success in today's Age. Having the gumption to come up with an idea and then risk all to making it happen - that's what's valued in today's global economy. Not how many accredited degrees you hold.
Ken Robinson, in Out of our Minds says,
We are living in a world that is changing faster than ever and facing challenges that are unprecedented... As the world spins faster and faster, organizations everywhere say they need people who can think creatively, communicate and work in teams: people who are flexible and quick to adapt.

Too often they say they can't find them.

In order to [do so], we need to run... our education systems in radically different ways."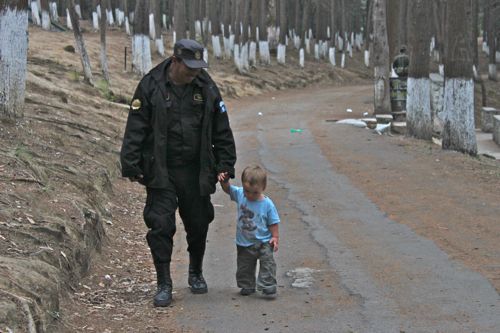 My children are learning open-mindedness and respect for all cultures and people, a highly valued skill it today's global economy.
Businesses and the world today want and need people who are experts - who know how to think, take initiative, have vision. They aren't looking for people who know how to follow directions and take orders - not unless they're willing to work for peanuts, or live in India.
For the most part, the skills of creativity and innovation aren't being taught (at least to the degree that they should be) in traditional educational institutions, even college. They weren't skills that were necessary for the Industrial Age. Following directions and working within this system, that's the skill set that was valued. And that's what the schools system was created to teach.
Preparing our children to 'fit in' to that antiquated model, will only hinder, not help them to succeed in this changing global economy that we currently belong to.
Now, so that we're not misunderstood, if my children want to go to college to pursue a passion, we're totally supportive of that. But in our minds (one of which has a degree, and one which doesn't), college is becoming obsolete (and more of a money making business than an institute of education).
It used to be that if you wanted to connect with great ideas and great minds, you would have to go where they were - which was at a university. They had the library with all of the books, and the professors who could mentor you to greatness.
But today? Any book you need can be found online or ordered from Amazon. MIT has over 2100 courses available for free on their website. Any great professor, speaker, teacher or presenter? Probably has a website, or their own channel on YouTube. Either that, or they're speaking on TED, or teaching for KhanAcademy. The options are endless.
But a belief in college as becoming obsolete doesn't equate into a belief that our children should not be studying. My husband constantly says, "There's no graduation from education." Our children will be encouraged to study, and learn and grow and develop - intensely, passionately - for the rest of their lives. Then use the knowledge they gain and apply it to their talents and passions in a way that will add value to the world.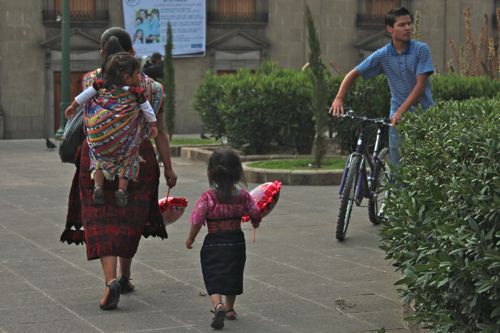 Mother's Day in Xela (a.k.a Quetzaltenanago), Guatemala
On a recent trip, we visited Xela (Quetzaltenango), Guatemala, and then drove to visit the Fundacion Salvacion, an orphanage in Huehuetenango.
It was a celebration day for the organization - solar panels had been donated and installed, which would result in cutting their electric bill in half.
Besides spending time with the children and being moved by their lamentable stories, I was inspired by a dynamic, handsome young man who assisted in much of the work going on.
He had followed the usual formula. He'd gone to a great university, got good grades, graduated as Valedictorian, and had his career and life planned out.
But then something changed. During spring break he visited an orphanage in Guatemala, and was deeply changed. He decided that all his plans of a 'normal' life didn't matter, when there were children with tragic stories who needed love and hope for a future.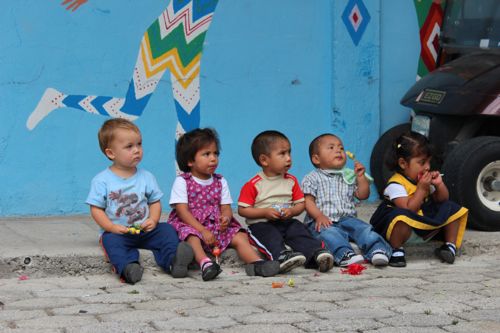 Atlas sitting with some of the little ones at the orphanage
Now he's moved to Guatemala, is living at the orphanage, has started a non-profit to raise funds in the States (morethancompassion.org), raised $30,000 in just a few weeks, and broke ground on a new school for the kids. He's a change-maker, an innovator, an initiator. He's doing work that will impact generations.
He's not going to look for someone to give him a job, or be content with punching a time clock for the next forty years. He's making a difference in the lives of orphaned children.
This is the type of future I want for my kids. It comes from travel and experience, exposure to people and cultures and problems, not from time in a classroom or following 'the formula'.
I'm sure this young man will use the knowledge he gained at school in the work he's doing now. His university experience wasn't a waste. But I don't believe it was a pre-requisite either. Being a change-maker can happen to anyone (college degree or not). But it most often happens to those who get out and see what the world is really like, and then decide to do something to change it.
I'm not interested in whether or not my children can get into an Ivy League school, become an engineer or the CEO of a Fortune 500.
If they decide to do those things, or they want to be a doctor or lawyer, then great. I support that. When the time comes, we'll find out what they'll need to do, which hoops to jump through, what tests to take, and get them there if that's what they want.
But I believe that preparing them to not do those things gives them more options than if we focus all our efforts on preparing for college and career, no matter what. And I believe that mostly because, the rules have changed.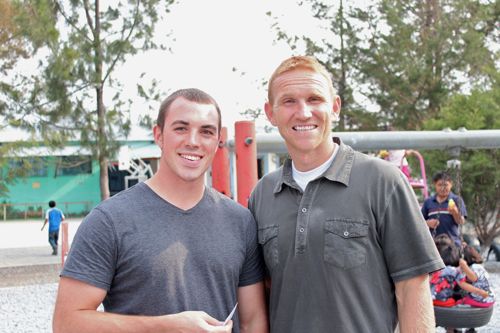 If you don't think so, if you're still hanging on to the Industrial Age formula, then you need to read Linchpin by Seth Godin, or his manifesto about the antiquated school system - Stop Stealing Dreams. (Or any of the books I have listed below.)
There is a place for college. Some people may need it, or find it beneficial. But that may be changing.
In the words of Abraham Lincoln, fresh and applicable for our day:
The dogmas of the quiet past are inadequate for the stormy present... As our case is new, so we must think anew and act anew."
"We all live our lives guided by ideas to which we are devoted but which may no longer be true or relevant. We are hypnotized or enthralled by them. To move forward we have to shake free of them."

1
 Thoughts?
Here's a few books to expound on the subject. I haven't read them all, but their on the list:
Comments
comments
Powered by New Facebook Comments