I want a sewing machine.
And an ice cream maker.
I want to plant a garden, grow some herbs and some flowers.
I want a house where we can store our growing library, make crafty things to hang on the walls and decorative pillows to put on the couch.
I want a place to keep all of our memorabilia — pictures the kids draw, their little scribbled notes of love and my seashell collection.
(I want, I want, I want... I sound like a spoiled brat.)
After giving birth to Saige here in Costa Rica, which provided the opportunity to get residency, this burning desire seemed to grow even stronger. Yes I still want to travel. I still want to 'do' Alaska to Argentina.  But I want to plant some roots. I want a home base.
Where?
Yes, we have The Homestead in Guatemala, but the intention with that was to establish a humanitarian organization which our friends would manage (and they're doing a great job).
Where can we establish a home? A place we'd really like to be, near beaches AND the mountains, with a group of friends and opportunities for community involvement, music lessons and the like…
The area of Costa Rica known as the Southern Coast and up into the mountains towards San Isidro aka Perez Zeledon has both beaches and mountains, surfing and cloud forests. There's a health conscious, active community with chances to be involved with 'stuff'. It seemed like it might be a good place to live.
We did a recon trip in August (2014) and we were led Providentially, as we often are, to Casa Ylang Ylang on Finca Ipe.
In September we made the move, planning to fully explore the area, intent on finding our 'place', settling down and establishing ourselves. (At least I was fully committed to that goal.)
But then there came Europe.
She wasn't there right away. Not until we started attending the weekly community dinners at the Bamboo House, where we mixed and mingled with fascinating souls, each with intriguing stories…
They told us of their dreams, plans, goals and desires. And as we listened, that old friend wanderlust started to nuzzle her way into my heart.
I started dreaming of Europe. We started talking of Europe. We started planning for Europe. Street side cafes in Spain. The challenge of new languages -- French, German, Romanian? We started checking on flight prices on Adioso.com and hotels in Barcelona on Venere.com. We began figuring logistics for visas and transportation.
And then instead of it being a fantasy or a dream, Europe starts to feel, not a maybe, but a must do… sooner than later. The same strange way it happened when we were thinking about Alaska to Argentina in 2011.
Then begins the panic. Then come the fears.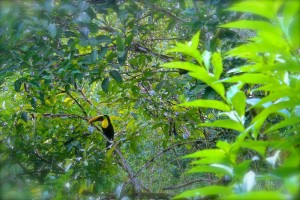 What about my crock pot? What about my little plastic containers for storing popcorn and raisins (I really like plastic containers — square ones, not round)? What about that ice cream maker I wanted? What about 'playing it safe', preparing for when things 'hit the fan' and focusing on my Scholar Education and Mission?
Even more crippling are the 'big' fears -- heart-stopping, irrational fears of tsunamis and civil wars, and big, bad, scary things and exposing my family to those risks by leaving our safe little bubble in Costa Rica (a country that has no army).
Do I really want to take on a new adventure? Is it the right thing for us to do?
And then God whispers in my ear, "What if travel is a part of your Education and Mission?"
If it really is a part of my Mission, then staying here where I'm comfy and safe, with all my little gadgets and stuff, isn't helping me to live it. Giving heed to irrational fears won't allow me to fulfill it.
 We Have to Live a Good Story

A good story — one that makes you walk out of a movie theater and say, "Wow, that was a great movie!" —contains a moving, engaging plot. It includes character development, conflict, and triumph over challenge.
We have to be willing to live a good story. Our life lacks meaning unless we can make our story good. That means, as the main character, we need to be growing. Growth comes from doing hard things and getting out of your comfort zone.
To live a good story, we have to have an engaging plot, which means we face conflict and overcome challenge.
Buying an ice cream maker isn't exactly a major challenge. Exploring Spanish speaking countries is easy for us. It's comfortable.
Figuring out how to pay for tickets for seven to Europe is more difficult. Encountering new languages and unfamiliar cultures is entriguing. Discovering how to work around visa restrictions by spending only 3 months in each country, finding out where to live, how to get around and fitting it around our work schedule… it's a logistical Mt. Kilimanjaro.
Our life is meant to be a good story.
Our life is meant to be lived giving everything we have to our Mission.
Our life is meant to be spent in the pursuit of our Spiritual Path.
Nothing else matters.
So if living our Mission, following our Path means we go to Europe, then that's where we're going.
We'll let you know.
Comments
comments
Powered by New Facebook Comments