It didn't START out awesome... but it ended that way.
We arrived in November, which (we learned later) is notoriously bad for mosquitoes (since it's the end of rainy season.)
And we were really ready for a house after our rough week in El Salvador.
Nicaragua was cheap, at least food and other commodities. But housing... well, let's just say it was less expensive than beach rentals in El Salvador, but not as cheap as housing in Panajachel, Guatemala.
In our eagerness to get settled, after 3 days in Nicaragua, we took the first house that was in our budget.
It turned out to be a trash hole...
The first couple of days in Las Peñitas were spent camping at a great little place right on the beach. We went beach combing and took sunset walks and ate great Nicaraguan food.



Tostones (fried plantains) with fried cheese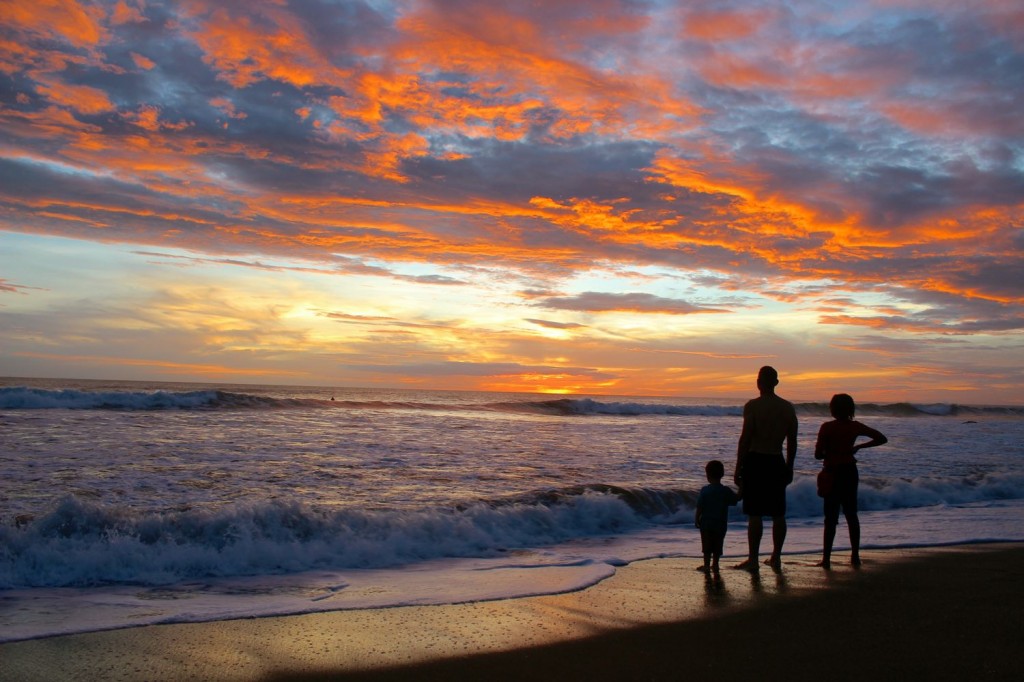 It was wonderful.
Then we moved in to our place.
The truth is, Las Peñitas doesn't have a lot of options for nice places. It's kind of a run-down, up-and-coming beach town, with tons of potential. It's small, it has great surfing, and it's got a nice, kid-friendly beach (you do need to be careful of the rip at high tide.)
It's where we wanted to be.
But it's lacking in housing options. There are trashy places, and decent places, and 'nicer' places... but if you want something nice (there's only one or two options), it's about $1100 a week (a little out of our price range 😉 )
The place we rented was okay, although it was dirty. The landlord said he would come clean it up. He came... and had someone sweep the floor. That was about it. Then I (the 6 months pregnant lady) cleaned out all the rooms and the beds and made them and sprayed them all down with essential oils. When he left, there were still piles of his junk left around. Not my definition of clean.
But we settled in and made the best of it. At least we could unpack. However, as time wore on, we realized several problems.
First, we were on the wrong side of the street (the not-beach side of the road.) That meant more mosquitoes. That also meant no ocean breeze, and no escaping the heat. By 10 a.m. I had to put on my swim suit and take a cold shower (I don't usually do cold showers. Ever.) I spent most of the time like that. In front of a fan, mostly naked, taking cold showers every couple hours.
Next, the house was 'outdoor living' style, meaning that it wasn't totally enclosed, meaning that stray dogs liked to come in and eat our dog's food, birds liked to come pick crumbs off the table, and mosquitoes (did I mention those?) SWARMED, I mean swarmed! There was no escaping. It's a miracle we didn't all catch dengue.
Look at Greg's back after sitting in a rocking chair to work on the computer for an hour (with a shirt on.)




Greg finally created some 'havens' for us... mosquito nets where the kids could play, and one for us to work under. It saved us.
The next problem with the house was in the kitchen. The plumbing didn't work well, so it STUNK!  And the fridge didn't freeze, or stay cold. We kept stuff in the freezer just to cool it off a little. We had lots of food go bad.
Of course we still took fabulous beach walks each evening, and these moments made it worthwhile.











But being 'at home' was becoming unbearable. I hated cooking in our stinky kitchen (we drank LOTS of smoothies.) I was too hot to do anything but sit under our mosquito refuge in front of a fan and work. The kids spent lots of time making things out of clay under their little tent.






A boy and his two hounds chasing a coon made by Parker (we were reading 'Where the Red Fern Grows' at the time, his 'favorite' book.)
We had to move.
We really liked the area, the little surfer town with a great beach for kids, and León nearby, a great city with all the amenities we needed.
So we went on the hunt, again. We found a place on the way in to town that was $100 more than we were paying. It was very nice, clean and had a pool. But it wasn't right by the beach. And that's why we were here.
There was a place right by the beach, only $50 more a month, but it had no stove or fridge, dangerously steeps stairs and was next door to a popular bar/restaurant (owned by an American who made snide remarks like, "When you havin' more kids?") and right across from 'weed rock'. Not exactly the most kid friendly environment.
Finally we found someplace that might work. It had been vacant for two years, but it was large (four bedrooms), it had a working fridge, a large stove with oven, and it was right on the beach... and at the far other end, quiet and peaceful. And it was the same price we were paying for our current trash hole.
We took it.
It wasn't perfect. It did have bats, although we never saw them (just heard them), but they were better than mosquitoes (which we only saw at night at this place,) and the oven actually did not work... but you couldn't beat the location.
The days were spent working building websites while ocean breezes blew in the open windows and palm trees swayed outside. At sunsets we walked on the beach. Greg and the kids took some surfing lessons, and once or twice a week we'd drive into León to do some shopping, watch a movie at the theater, go to church, watch a play (that was an interesting experience) or participate in local festivities.






Sunset on the way home from León

It was a good life. But everyday I was getting closer to having this baby. Would it, could it be here? That was still to be determined...
Where's your favorite beach town?
Comments
comments
Powered by New Facebook Comments