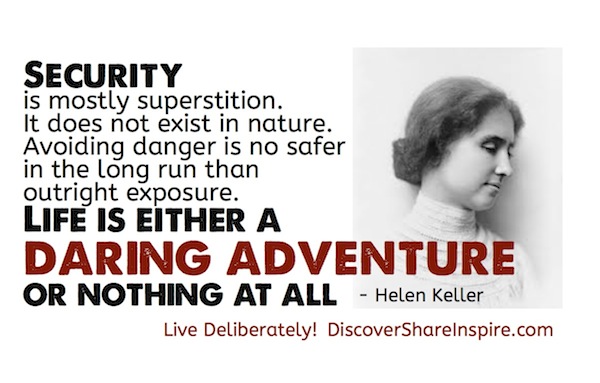 It was February 2012 when we pulled into Panajachel, Guatemala and rented our first house, intending to stay for only a few weeks.

Those weeks turned into months, which turned into a year, which developed into purchasing land and starting Mayan Eco Homestead.
Where once we had only 321 things, during the last 17 months we've collected stuff (a LOT of it), and gotten comfortable and thoroughly enjoyed the luxuries of 'not traveling'. We own a stove, and a fridge, and a washer, and several kitchen appliances and a KING SIZE bed.
We love baking bread, making yogurt, growing a garden, raising animals, dehydrating fruit and having space to keep all our 'stuff'.
And during the several times we've taken trips, either to the beach, or the water park or to Mexico for visa runs, I've wondered... could I go back to doing this?
[message type="custom" width="100%" start_color="#FFFFFF" end_color="#FBF8FF" border ="non" color=""]Make sure to check out our NEW store! We've got cool stuff in there, with more coming soon.[/message]
Could I go back to the uncertainty of not knowing where to find a bathroom when you need one, or where to buy your next meal? Could I go back to cramped quarters and minimized belongings (and leave behind my Crock Pot)?
Could I deal with the unknown once more, facing the open road, wondering where we'll lay our heads that night and whether they'll have hot water?
Sometimes I've really wondered...
When we set out to hike Tajamulco (the highest mountain in Central America), I was excited to be 'out' again, and eager for new adventures. But despite having planned a 10 day trip, after facing cold and heat and cramped spaces and the uncertainties of travel, we headed home (to Pana). Why sleep somewhere strange and new when your bed is so close and comfy? (Unless of course it's someplace fancy and 'far-flung'. Then it's worth it, right?)
Yes, we've gotten soft.
We're luxuriating in our luxuries. It just so much... easier that way.
Why risk? Why stretch? Why get out of your comfort zone? Why sacrifice and suffer? Is it really worth it? Really?
You might wonder what I'm going to say, but I'm here to remind myself (and you) that:
YES! It is worth it! Here's why.
Staying home makes you comfortable, and if you're comfortable, you're not growing
At least not as much as you could be. Anthony Robbins (I recommend this program) once said that most people have the same experience over and over again for 10 years, while other people have ten years worth of experience in one year. Who do you think grows the most, and develops themselves as a capable human being?
Life is not lived unless we are growing. Growth doesn't happen unless we're stretched, tried, uncomfortable.
It is easier to 'stay at home' (i.e. play it safe or whatever that means for us, it's not literal), than to dare adventure -- whether that adventure is travel, a new business endeavor or having children.
Growth is what we want. And growth doesn't happen when we constantly seek security (which is an illusion).
Our times of greatest growth have come when we've sacrificed, suffered and risked the most to pursue something important to us. Unfortunately, our last 17 months in Guatemala has been a time of comfortable, 'low-growth' for Greg and me, and we're feeling it's affects -- on our energy levels, motivation and passion for life. Life's not the 'daring adventure' it once was... and it's time to change that!
Staying home limits opportunities
One of our very favorite quotes says: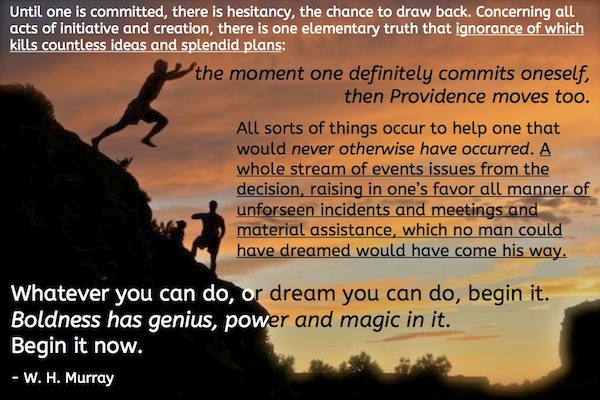 What does this mean exactly? It means that once you are committed to doing something you really want to do, despite not being able to see how you can do it, that's the moment that 'Providence moves' and a whole stream of opportunities presents themselves that weren't previously available while you were 'playing it safe'.
Until you're ready to risk, to leap, to step into the darkness, the opportunities and circumstances you need to accomplish your big dreams simply won't be there! They come after you've already committed to 'risking it all'. They come after you've told security to take a hike and you've embarked on your daring adventure.
It's the only way.
Staying home doesn't prevent what you're afraid of from happening
So you're afraid to embark, to step out because:
you won't have enough money
your friends/spouse/family will think you're crazy
you'll fail and fall on your face
you're not smart/strong/bold enough
or whatever reason (excuse) you might have
Guess what? Staying home won't guarantee those things will never happen. You might still run out of money, or do something 'crazy' or fail or not feel smart/strong/bold enough.
But guess what? 'Staying home' does guarantee one thing. It means you'll live your life wondering 'what if'. It means you could get to the end and ask yourself (like Ivan Ilyich), 'what if my whole life has been wrong?' That's a much worse fate than even facing your 'worst case' fears (I speak from experience.)
Staying Home Can Be an Adventure in Itself
All the foregoing being said, there are times when 'staying home' can be an adventure. After months on the road, 'living' out of our truck and constantly on the move, being able to bake bread and make yogurt was a big adventure. That's how life is. There's times and seasons.
It's possible that the 'daring adventure' ahead may be to go home or stay home. It may be to relish in the richness of 'regular' life, to be willing to happily remain where you are, and to embrace all it has to offer. In that aspect, we HAVE grown over the past 17 months... we've learned to enjoy and appreciate the 'normal' day-to-day things.
We wouldn't be where we are without 'daring to adventure'
Our life, and specifically the last few years (since we took our first daring adventure to Costa Rica in 2007) has brought us to where we are because of being bold and taking risks.
As a result we've lived in Costa Rica, Dominican Republic, India, Georgia, Alaska and Guatemala. We've traveled to Mexico, Honduras, Nicaragua and Panama. We've added to our family. We've started businesses. We've world-schooled our children. We've had decades of experience in a few short years.
We're more than we used to be -- become more, done more, seen more... and it's all because of daring to adventure.
Where could your life be if you dared more?
Maybe you've already dared great things and taken big risks. Maybe you've always sat on the sidelines, dreaming and hoping.
No matter who you are (ourselves included), there's always the 'next big adventure' waiting for us, if only we'll embrace it.
I think I'm ready... are you?
But how and where do I start?
Knowing how and where to begin is sometimes the hardest part.
Greg has created a short video offering one solution.
[message type="custom" width="100%" start_color="#FFFFFF" end_color="#FBF8FF" border ="non" color=""]* Congrats! You made it to the end. If you liked this post then you'll LOVE our book! Don't forget to 'share the love' below.[/message]
Comments
comments
Powered by New Facebook Comments