A toilet. Not something we usually give much thought to (or get teary eyed about).
It's there. We use it when we need to. We find them slightly disgusting.
But what if you didn't have one? What if there wasn't a designated area to do your business? (When we lived in India, Greg discovered the distressing fact that over 600 million people in that country do not have a toilet.)
Or, what if you did have a place to poop, but it consisted of nothing more than a can above a hole and a few tarps and pieces of tin for privacy?
Can you imagine what it would be like to live that way?
Even worse, what if this 'bathroom' was located down a steep hill from your house, and you had to walk up and down the precipitous, slippery trail to use it, in rain and heat, when you're pregnant or carrying a toddler? Can you even comprehend such a thing?
I can't. I've tried to imagine it, but it's very far out of the reality I know, that it's difficult to comprehend what that would really be like.
But we know a family that lives that way. That's been their 'bathroom' situation for the past 25 years. Through rain and heat, raising three children and serving in their church.
For the past 25 years, this is where they've had to do their business: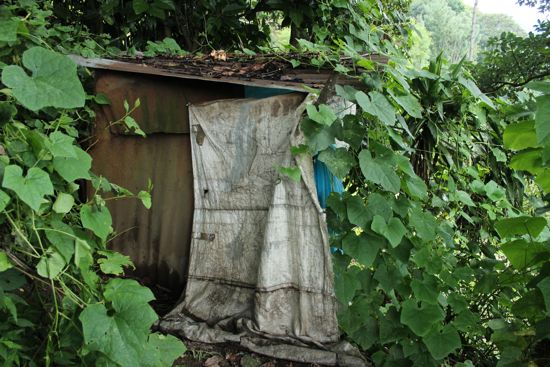 It's only about 4 feet tall, so you have to stoop to go in.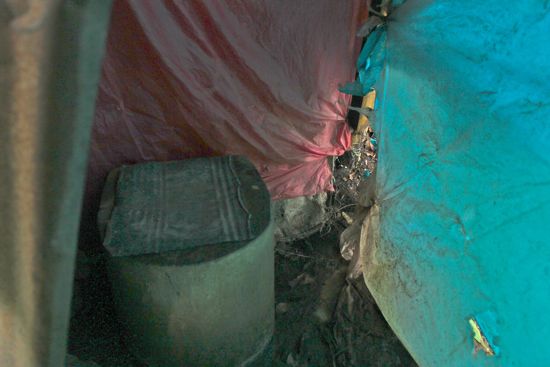 There's the toilet seat.
We're about to change that!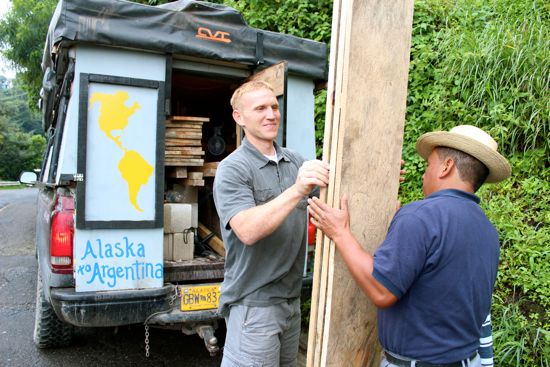 We hauled the supplies up from Panajachel, where we live, to the aldea on the mountain above us - Patanatic.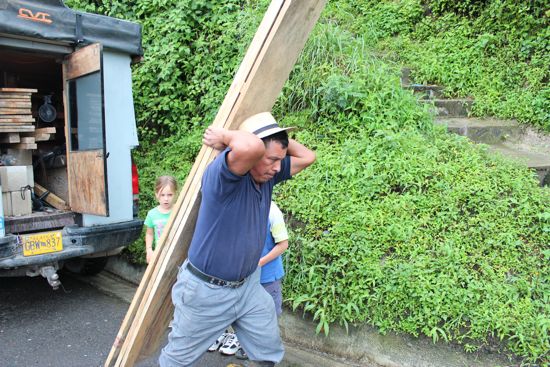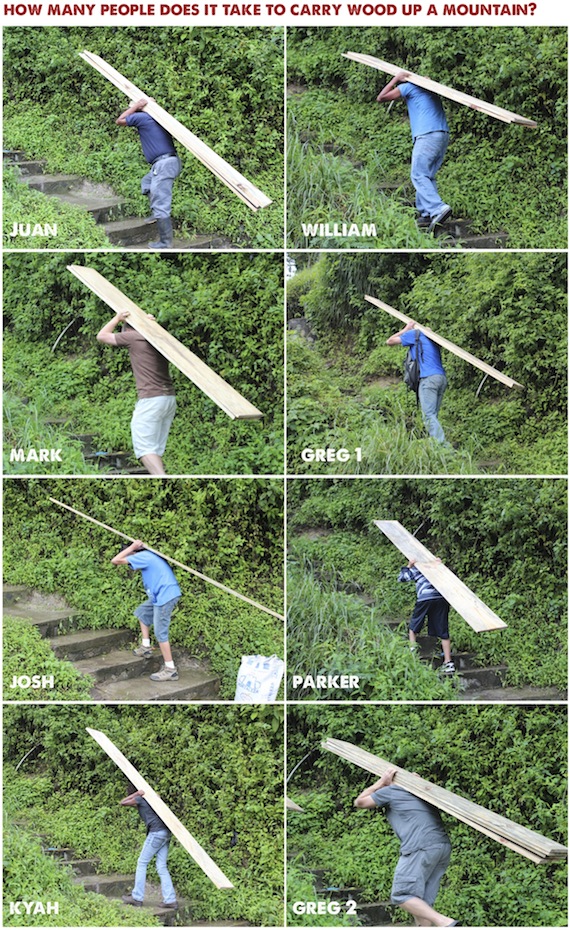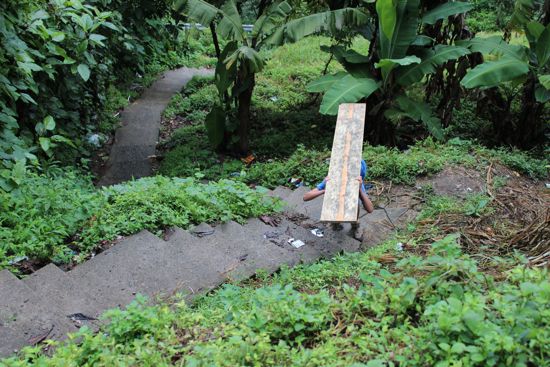 This gives you a small idea of how steep and how far they had to carry the wood. I carried Atlas, and had to stop a lot along the way. When I got to the top I was shaky and light headed. I know, I'm a wimp... especially when compared to these tough Guatemalans.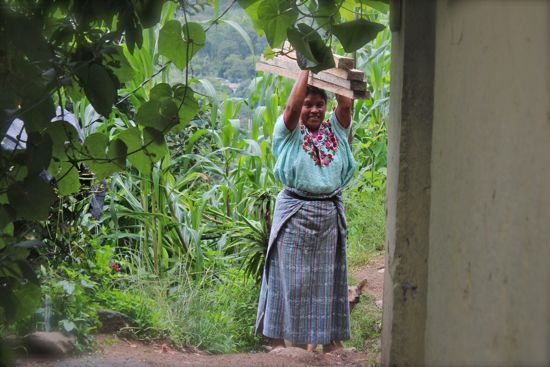 She ran down the hill, and then carried four 2x4's up the mountain on her head.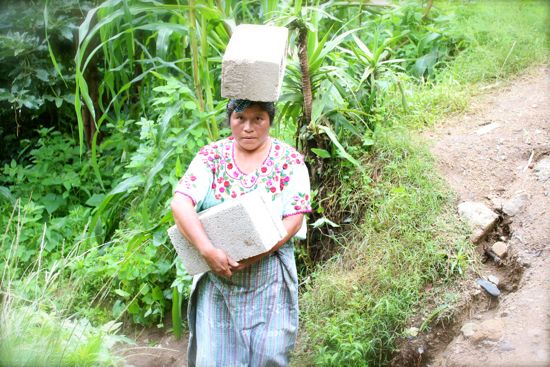 Then she went down again, and came up like this!!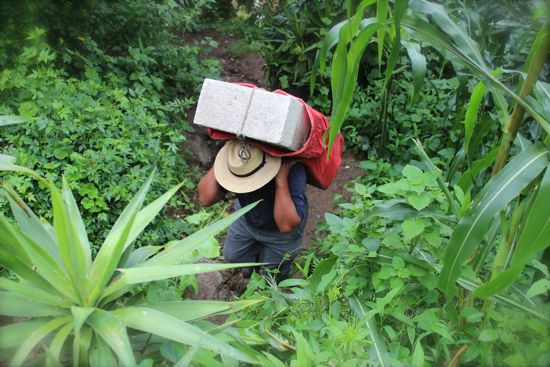 He carried seven cinderblocks up the mountain on his back. That's about 175 pounds! More than he weighs!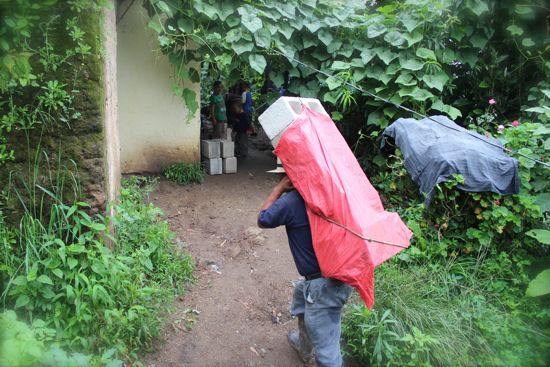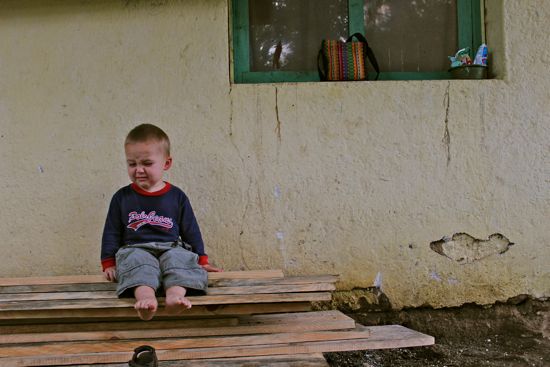 Once we reached the top, Atlas and I just sat and waited. He did NOT want me to take his picture. 🙂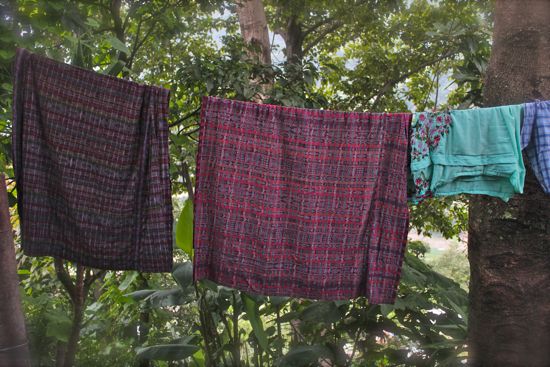 She had just done her laundry. Her cortes (skirts) and huipil (top) are hanging to dry.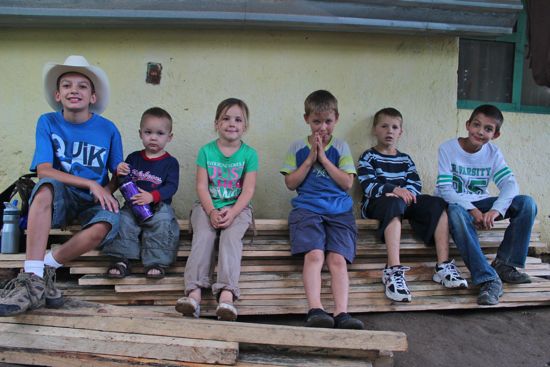 The kids did a GREAT job helping out, now they're taking a deserved break.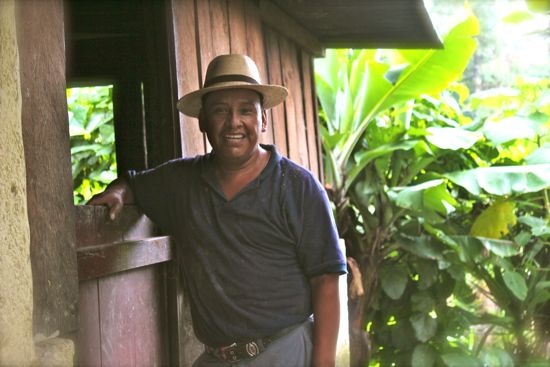 He deserves a break as well...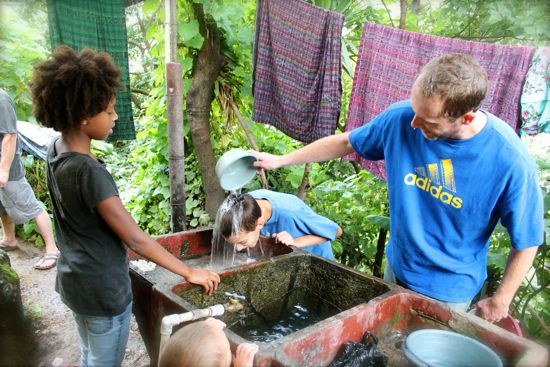 Cooling off in the pila. It wasn't a hot day, but after climbing that mountain...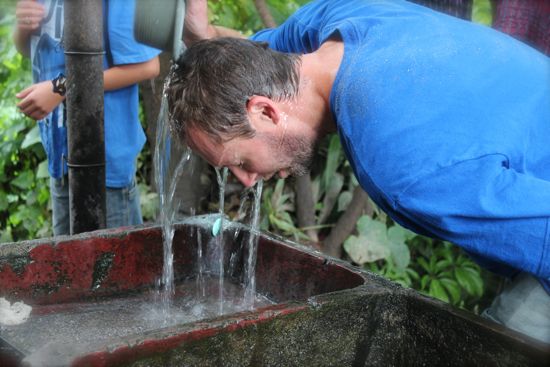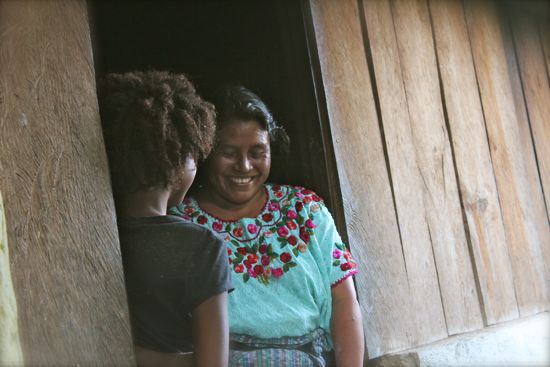 Kyah loves to talk to people.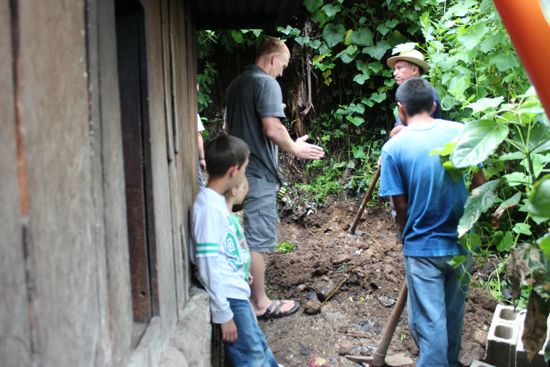 Preparing the location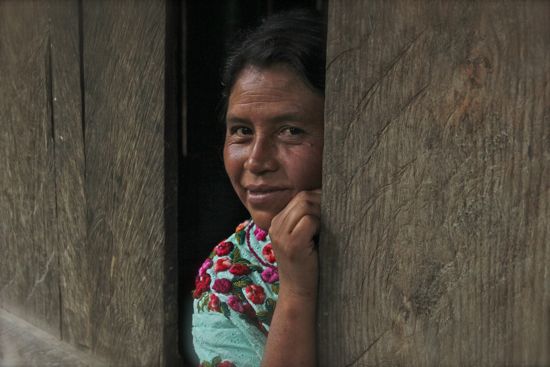 Watching out the window. Isn't she so cute? 🙂
Splitting the cinderblock, yes, with a machete.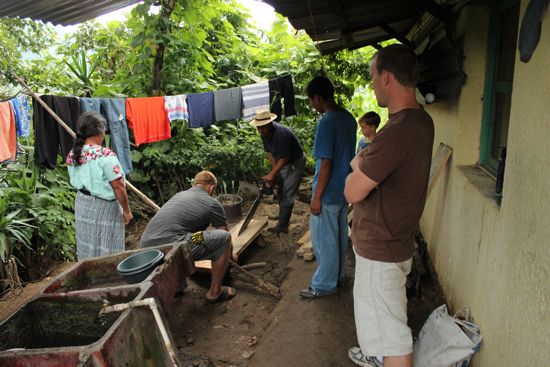 Cutting the wood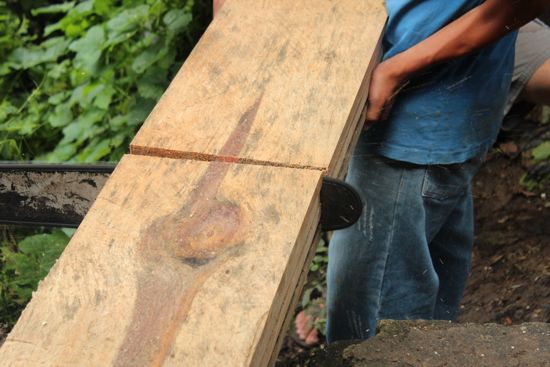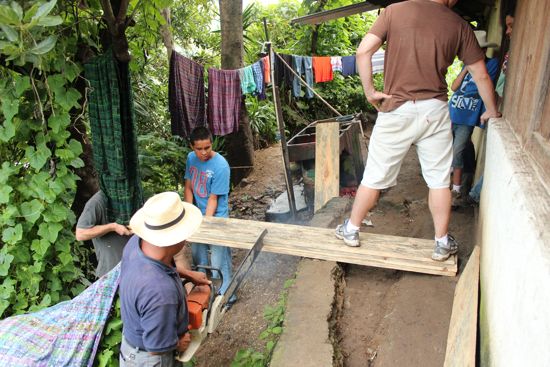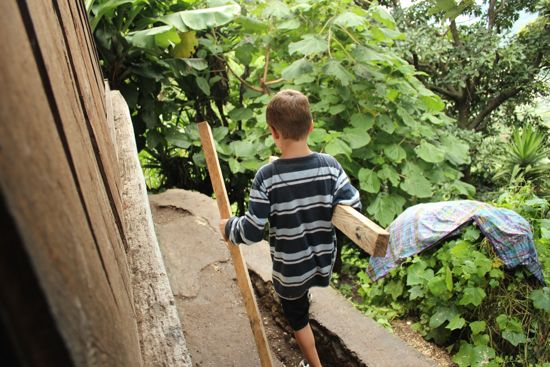 Helping out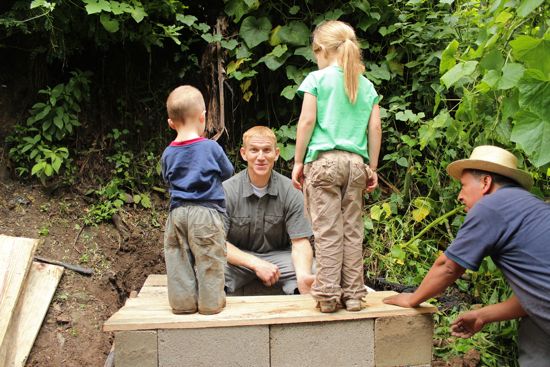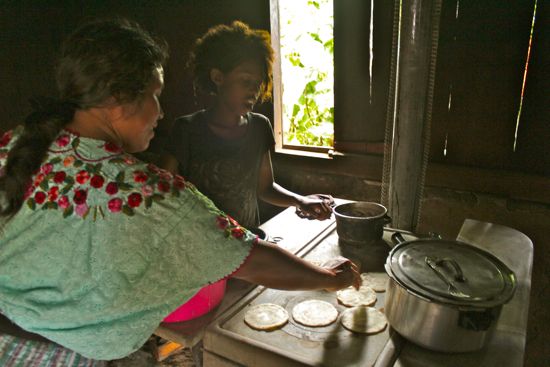 Kyah's helping with lunch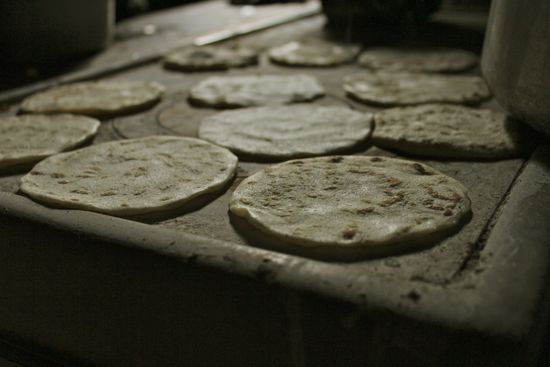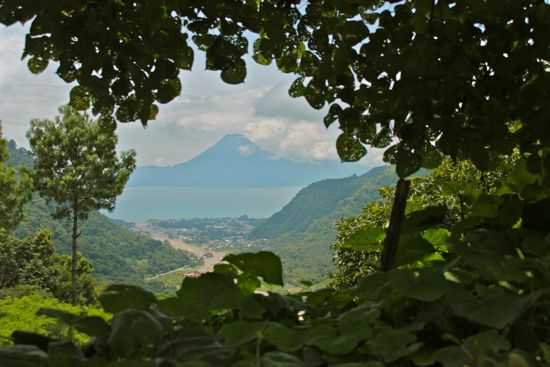 The view from the new toilet. Not bad!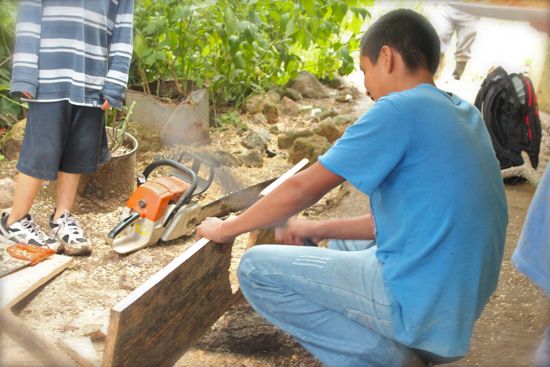 Curving out the toilet hole... with a machete 🙂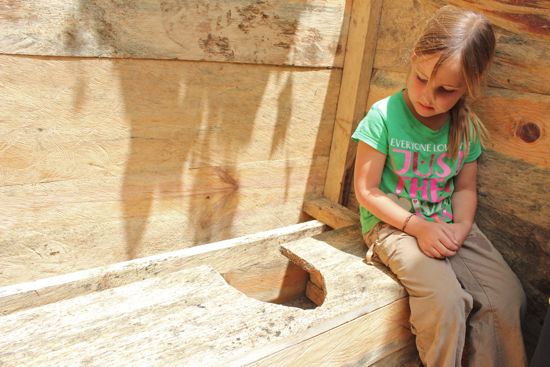 Deep in contemplation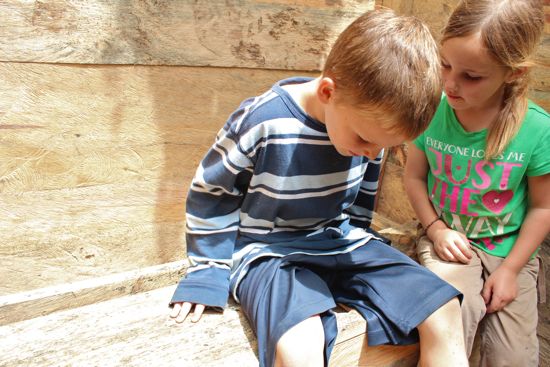 Parker will just try it out.
Toilet progress... 
Let us pause for a moment to consider something. Let's imagine that it's been a long day. You've been on your feet, climbing mountains and working hard. They hurt. Your back hurts. You just want a comfy place to put up your feet and to rest your weary bones.
Now imagine that this is all that is available. This is the most comfort you have at your disposal: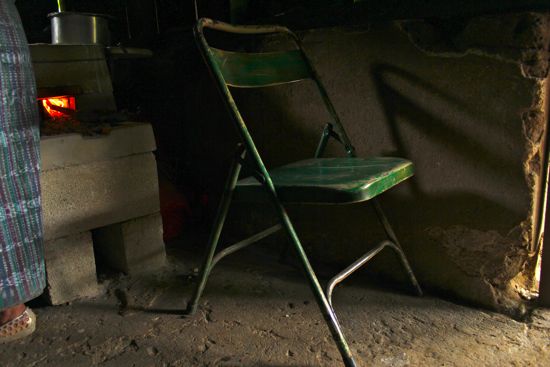 Now take that one step further and imagine that this is the most comfort you have available to you everyday of your life. I remember when I first made that realization. Most people in the world live with very little comfort. They have hard, small beds that they share with others. They have hard, small furniture, and cement or dirt floors. THERE IS NO PLACE THAT IS COMFORTABLE!
Now go lay on your cushy couch or your soft bed, and be grateful for it!!

The semi-completed project.
But this is where I and the kids leave the story. We were dropped off at home before the guys went back up to finish it up.
When they finally left, Juan (the proud owner of a new toilet) took a moment to say to them, with tears in his eyes.
"Thank you so much. I never thought that I would have something as nice as this. I feel like a rich man."
(Now they were all a little teary-eyed by this point.)
They came home for dinner with big smiles, a good feeling and a few more plans for more small improvements in the world.
What we've learned and how you can help
With the small experience we've had in the world, we've grown to believe that the best 'humanitarian work' is that which is done on an individual basis - helping one person or family at a time to improve their life in some small way. It's what I call the 'starfish principle'. It might not make a big difference, but it makes a difference to the one.
This is something we've done throughout our travels, and we plan on doing throughout the rest of our Epic Expedition.
Now we want to give you the opportunity to get involved and be a part of it!
It's this simple. Whenever we discover a worthwhile project that we want to orchestrate (like planting a garden, or installing a smoke-reducing stove), we'll let you know about it, and give you the chance to donate.
Every dollar you give will go directly to the project, and when we're done with it, we'll post pictures here on the blog (and even give thanks to you, unless you wish to remain anonymous.)
We think this will be a great way for you to give to something for which you'll be able to see the effects your donation will make.
Here's the catch. We don't want to take your donations unless we have a specific project. We don't want to feel that we have to come up with something because we have donations we need to use. When we find a need, then we'll let you know. Until then, we don't want your money. 🙂
To start out, we do have two current projects in mind:
Solar-heated hot water system
This same family (that we just built the composting toilet for) has never had hot water. In fact, their 'shower' is just a pipe out by the pila. We want to install solar-heated pipes on their roof, which will give them hot water for the first time in their lives!
Estimated cost: $200
If you would like to donate part, or all for this project, click below. (Please indicate if you would like to remain anonymous.)
Teaching skills for a better job
Greg asked our neighbor what kind of job he would like to better provide for his family. (He currently works as a tuk tuk driver, aka taxi driver, and makes about Q50 a day - US$6.45.) He said he would like to work at a hotel.
Greg told him to go find out what skills he needed to know to work at a hotel, and then report back. He recently told Greg that he had done it, and he needs to know English, Word and Excel.
One-on-one classes will be beginning soon! Here's what we need though. An empty Dell computer was already donated, but we need to install Windows and Microsoft Office on it to use for teaching the skills he needs.
Estimated cost: $20
(Ha ha, my husband just informed me that it's NOT $150 like I put previously. It's Q150 - about $20. Oops, my mistake!)
If you would like to donate part, or all for this project, click below. (Please indicate if you would like to remain anonymous.) 
These projects have been completed. Thank you for your donations!
Comments
comments
Powered by New Facebook Comments