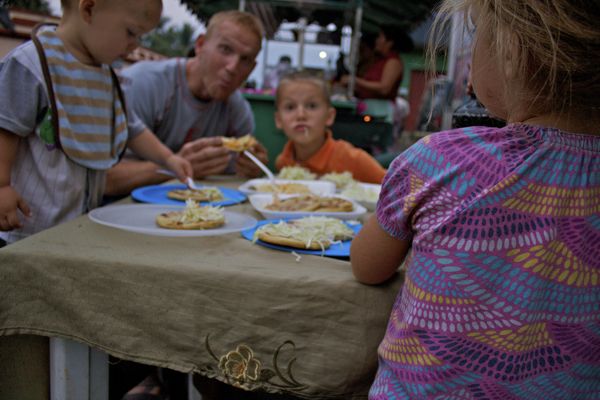 Eating pupusas at a roadside stand in Guatemala
I recently received this email from a friend, and I thought I would share my answers with you, my readers, in case you have some of the same questions:
The closer we get to traveling the more and more questions I am asking myself in my mind and the more and more I want to talk to seasoned travelers like you!  O.K. here goes my questions:
Driving:
If we did take our vehicle down (into Central America/Costa Rica) what are the taxes and problems you will run into?  Are there taxes in each country to take your car in?
[message type="custom" width="100%" start_color="#FFFFFF" end_color="#FBF8FF" border ="non" color=""][one_fourth]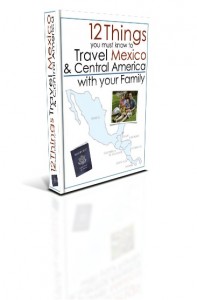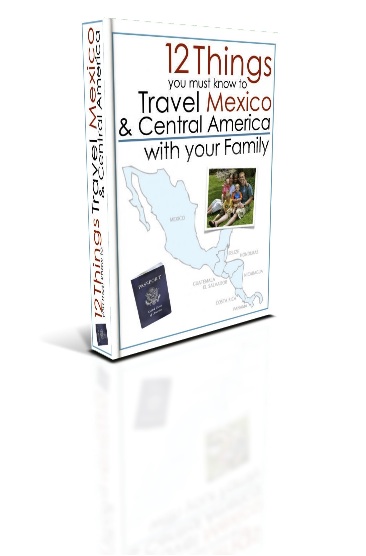 [/one_fourth] [three_fourth_last]Make sure to get my book on driving Mexico and Central America with your family. 
Everything you need to know about border crossings, safety, paperwork and much more!
[/three_fourth_last][/message]
Driving through Mexico and Central America is a wonderful experience, and I recommend it. When you cross into each country, you will need to provide proof of ownership (title) and/or registration; show your drivers license (you can buy an international driving permit from AAA); passport; and then get a vehicle permit.
In Mexico, for our 1999 Ford F250, the vehicle permit was about $47 and was valid for 180 days. In Belize the permit was free, and valid for about 90 days. In Guatemala, the permit was about $25 and valid for 90 days. If you are there longer, then you will just have to go to the border or immigration office and renew the permit (for free).
Mexico also requires that you pay a refundable deposit - between $200-$400 (depending on the age of your vehicle) which you will get back once you leave the country.
We would like to stay in Costa Rica indefinitely, so would that work having our car there?  I don't quite understand the ins and outs of taking your own vehicle. You guys did it for a year, so I know that it's possible.  What did you have to do to keep your car there for a year?
Costa Rica is an expensive place to live, and buying/getting a vehicle is even more expensive. You can bring your car in on a 90 day vehicle permit, and then you can renew it one time (so 180 days total). We did have our vehicle there for one year, but that required the help of an attorney, and it was pricey.
If you import your vehicle to keep it there permanently, they charge you 40% of the vehicles value in importation fees.
(As a side note, although we absolutely loved our time in Costa Rica, it may be the most expensive country in Central America. Be prepared to pay U.S. comparable prices for housing, food, etc. Many imported items, such as vehicles, appliances, and food, are heavily taxed, so it often costs more than it would in the U.S. A great inexpensive country to live in? Guatemala!)
Would our little Subaru be O.K. or would you really suggest a truck or 4-wheeler vehicle? 
You would be fine driving a small car. Many of the roads are in good condition, but those that aren't are still manageable with a small vehicle (unless you're doing some off-roading).

Bites from sand flies while in Belize
Bugs and disease:
Do you take anything for mosquito spread diseases (i.e. malaria)?  Do you do the antibiotics? I really don't want to do that!  I know you've been into natural remedies.  I know there are natural mosquito repellants, so I will probably rely on that. My family, most especially my children getting sick, has been my largest concern!  I finally bit the bullet and we are getting our vaccinations in a week!!!

Personally, we have chosen not to take any of the malaria pills (even when we traveled to India). After doing some research, we felt that the possible side effects could be as bad as having malaria itself, so we opted to focus on prevention. We do use bug spray, and wear long pants and long sleeves in buggy areas, and in the evenings and mornings when mosquitoes are out.
I do use natural remedies for our health care needs - bug bites, etc. I haven't really used them for preventing bug bites though.
We also chose not to get vaccinations for our family - except for a select few when we went to India. But while traveling through Central America, we have not gotten any of those recommended vaccines. Again, we feel that risks from side effects are about equal to the risk/chance of catching the disease.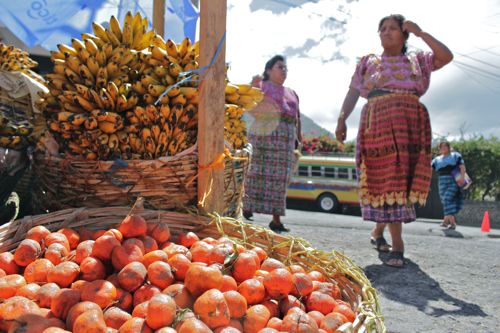 The market in Panajachel, Guatemala
Local foods:
I also wonder if your family is O.K. eating local foods?  Do you guys have any anti-worm drugs?  Do you ever get bad digestive issues with eating local food?  I know you have some vaccinations.
Our family will eat the local food any chance we get. We do all of our shopping at the local markets, and if we eat out, it's usually at a road side stand or comedor.
Yes, sometimes we do get sick, and get some diarrhea, but it also helps to build up our immune system so that our chances of getting sick in the future decreases.
Again, we do not have any/many vaccinations, except for a few we got when traveling to India in 2010.
I may ask more questions!  But these are my main concerns!
Are there any questions that you have? Leave them in the comments below.
Comments
comments
Powered by New Facebook Comments