Dealing with a cut forehead in Antigua, Guatemala
*******
Quick note: The book is finished!! Hurray! Living Deliberately: Your Guide to a Ridiculously Awesome Life. Over 230 pages. Get it here on Amazon!
*******
Travel seems so exotic. The images of white sandy beaches; romantic street-side cafes; ancient ruins with stories to tell of peoples long ago. The notion is so appealing.
But when you get down to the nitty-gritty, travel is about a lot more than the exhilarating highs. There's plenty of grating, irritating or down right overwhelming lows.
There's sand in your shorts (or in eyes, mouth and nose if you're traveling with kids). And if you are traveling with kids, forget any moments of romance. Most often you're trying to quiet their incessant screams while you all wait impatiently for food prepared by someone who doesn't know the meaning of 'fast' (which is what makes the food so good).
And climbing those ancient ruins eager to absorb the aura of people long ago dead? In reality you reach the tippy-top, out of breath, only to be told by your 6 year old that they have to go "number two", RIGHT NOW! Talk about 'aura'.
Beyond the idiosyncrasies of traveling with children, there's the logistical side as well - mail, taxes, banks, and the one people have often ask about... health insurance.
The question, "What do you do about health insurance?" might become less of a concern for American citizens who may be required to hold federally mandated? insurance policies.
(What it means for American citizens living outside of the U.S., I have no idea. Perhaps we'll have to show proof of insurance before we can return. In that case, I guess we won't be back for awhile. 😉 )
Most people have a job (although statistically 80% of them hate it). And with that job comes health insurance. But there's also a large percentage of people who don't have 'regular employment', and therefore, 'regular' health insurance coverage.
This 'problem' isn't unique to people who travel. It's something that countless families deal with who do something that's at all outside the 'norm'.
And I'm sure the solutions are as varied as the individuals who seek the answers.
I can't answer for others, but I can tell you the approach we take. It may not be very 'reasonable' for some, but it absolutely works for us. (And if you don't like what I have to say about it, I apologize in advance. I have no intention of offending, I'm just telling it like I see it.)
1. The best insurance is prevention
The approach that too many Americans take toward health insurance is somewhat absurd. Stuff my body with processed, unnatural foods, avoid exercise, pop pills to mask the message my body is sending me, and then pay money every month to a private company (that is raking it in) to cover my butt so that when my body finally reaches a breaking point and experiences failure in one of it's systems, my insurance will pay my exorbitant medical bills that I didn't avoid incurring through proper diet and exercise.
To me, that approach shows a lack of personal responsibility. It's looking to someone or something else to pay for life-long mistakes.
Now I know that not every medical expense can be avoided through prevention. Accidents can and do happen. But the majority of medical costs are incurred through procedures that could have been prevented with a healthy lifestyle. We believe that that's the best 'insurance' we can have.
We live by this Healthy Lifestyle Pyramid to ensure that we take care of ourselves so we can prevent the highest causes of death and disease - obesity, diabetes, heart disease and cancer, among others.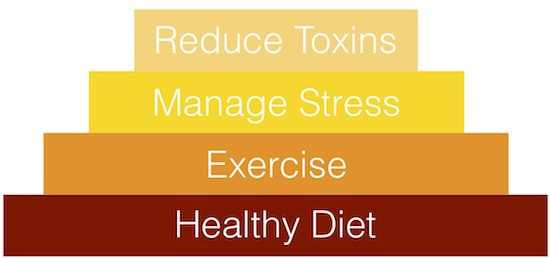 It is possible to prevent visits to doctors and hospitals through a healthy lifestyle. Eat an apple a day (i.e. make good daily choices about your health) and you really will keep the doctor away. But eat a Hershey bar a day (i.e. make poor health choices everyday), and you'll see the opposite results.
I (Rachel) have not been to see a doctor or to a hospital since I had my wisdom teeth removed as a teenager. I attribute this to the lifestyle choices I make on a daily basis.
2. Proactive Self-Care
After building a healthy foundation, you add to the pyramid with Proactive Self-Care and, when needed, Professional Medical Care.
We believe that part of a healthy life-style includes proactive self-care. Turning to 'experts' to have all the answers for us as individuals isn't always the best course of action. Of course, experts have a lot to offer, and can have very helpful advice. But as much as possible, we should pursue information and education that will help us to treat illness, injury and disease for ourselves and our families.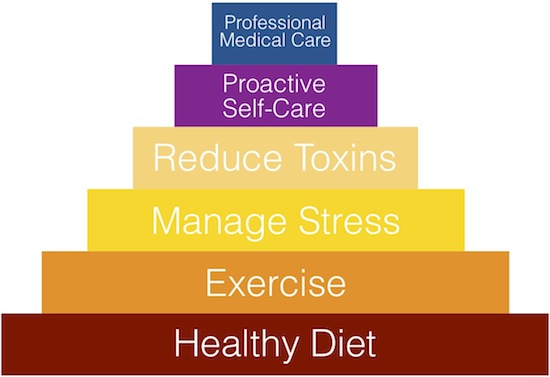 Greg has received emergency medical training (EMT), so he has the skills necessary to handle trauma and emergencies. I am educating myself in natural healing. Over the past year I have naturally treated my family for the many things.
It wasn't always like this. When we first moved to Costa Rica, or lived in the Dominican Republic or India I didn't have the skills I do now to help my family when we needed medical care. In those situations, we turned to medical professionals and visited local clinics when necessary (like the time when we were living in the Dominican Republic and Greg had a staph infection that spread from his shoulder to his fingertips. He had to receive five shots of penicillin at the local clinic to conquer it. Most recently, I staved off a staph infection in eight year old Parker's arm with natural remedies.)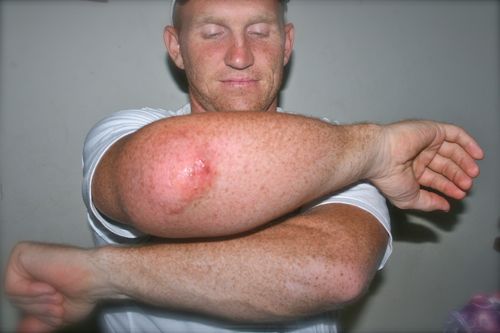 Greg's arm before
There are times when you need professional medical help, like when we were in a car accident in Alaska and our three year old broke her femur and our six year old cut his head open. We RAN to the hospital then (well, we were in an ambulance), and were VERY grateful for the competence of skilled medical professionals. (And Providently, the medical bills were all covered by the other driver's insurance).
But for most of life's bumps, bruises and maladies, becoming educated about natural remedies has literally opened opportunities for our family that we haven't know before. In the past, I did experience fear of something 'bad' happening to my kids while we traveled. Now I know that for most of the things that we'll encounter, I have the resources to combat them.
3. Focus on 'What Is', Not 'What If'
Health insurance exists to cover your butt for the 'what ifs' of life. That's why it's a profitable business model. Believe it or not (!), insurance companies are in business to make money!!
And they do make money, because the majority of people who pay them large sums every month never actually collect - they never use the coverage they pay for.
Watch an insurance commercial, and you'll notice that they're selling you on 'fear'.
"You better buy insurance because something really bad could happen, like a tree falling on your house, or your car, or heaven forbid, your child."
Those things do happen. But what is the likelihood that they will happen? Actually very small. If there was a high likelihood, than the insurance company wouldn't be in business. It would be too risky for them.
Our approach is simply this: Rather than paying money every month to a big corporation who's already raking in the dough, 'just in case' something bad happens to us sometime, we'd rather pay the money to ourselves to use if and/or when we actually need it.
We'd rather pay for 'what is' than 'what if'. If we have to go to the hospital for some emergency, than we'll pay the bill out of our savings, or make payments on it.
If as a result, we end up in debt paying for a medical bill for the rest of our life, well, how is that any different than paying an insurance premium every month? At least we're paying for something we actually needed, rather than paying for the 'fear' of something happening.
Like I said, this approach doesn't work for everyone. People have different needs and desires. We choose to focus on a healthy lifestyle, choosing natural solutions for our health-care needs (versus prescriptions, etc.), and being reverse optimists - believing that the universe is conspiring for our best good. This is what works for us.
How have you addressed the issue of health insurance? What is your strategy?
Comments
comments
Powered by New Facebook Comments