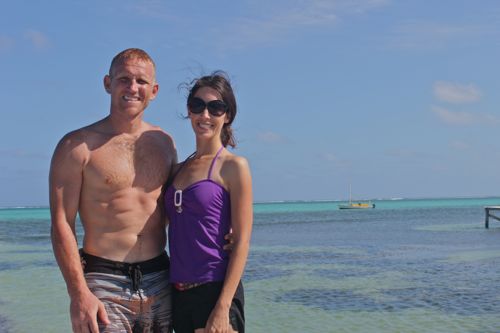 In Ambergris Caye, Belize
Happy Anniversary!
Today Greg and I celebrate 11 years of blissful marriage. Yes, it's true, for the most part, it's been a happy, wonderful, crazy, sexy, amazing adventure.
Last year as we celebrated 10 years together we watched the Northern Lights in Homer, Alaska (and I wrote 6 Ways to Make Love While Traveling With Kids).
The year before that, our 9th anniversary, was in Chennai, India.
Eight years together, we moved into our new home on the beach in Las Galeras, Dominican Republic.
Seven years was celebrated in San Jose, Costa Rica.
Six years was in Utah, just before our first grand family adventure, driving from the U.S. to Costa Rica to live.
Where in the world will we be next year? Only God knows. Care to take a guess? Leave it in the comments below.
Family travel isn't just about families - it's about couples. Without a strong partnership, your travel ventures are likely to fail. Nurturing your relationship is key.
So for now, here's places in the world to make love before you die. No explanation necessary 🙂

Before a wood burning stove during an Alaskan winter
In a roof top tent
On the beach
By firelight
Overlooking the lights of a valley
In the woods
Beneath the stars
In the desert
In the ocean
In a tent
On an island
At a strangers house
At a friends house
In the back seat of your vehicle
In the shower
In the moment
Enjoy each other and be there together, no matter where in the world you are.
Happy Anniversary Babe! I love you. Thanks for a wonderful ride.
Comments
comments
Powered by New Facebook Comments