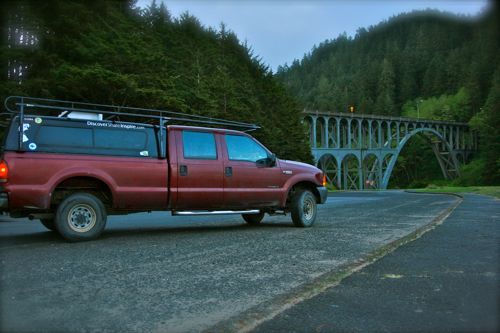 Note: This post answers how we 'live on the road' - during the in-between times when we're traveling from place to place. It does not give accurate insight into the rest of our life, like when we spent 6 weeks at Laguna Bacalar, or rented a house in Panjachel, Guatemala or especially while living on The Homestead in San Jose Chacaya.
Before answering questions about 'how' we live on the road, we'd like to clarify that we don't necessarily suggest doing what we're doing (why would you want to, it is insane).
Some people seem to think we advocate that others follow in our footsteps and live a crazy, nomadic life.
That's not what we want for you. What we do want is for you to pursue your dream.
We also don't have 'all the answers'. All we can do is share what we've done, and hope you can learn from it (either as an example of what to do, or what not to do 🙂 )
First of all, some background. We are making an Epic Expedition from Alaska to Argentina, and doing it with 5 children and in a veggie powered truck (watch the interview with Adam Baker at ManvsDebt.com if you haven't already).
We chose a truck rather than an trailer or motor home mainly because of our past experience driving through Mexico and Central America, and our desire to explore 'off-road'. We didn't want to attempt it with a large(r) rig.
We purchased a 1999 Ford F250 because it has the 7.3 liter engine, supposedly the best engine ever made. We bought a diesel so that we could convert our truck to run on recycled vegetable oil, to reduce our travel costs.
Do you 'like' living in your truck? Will you do it forever? Couldn't you just live 'abroad'?
'No', 'no' and 'yes, we could'.
The decision to 'live' in our truck was a choice we made in order to do what we wanted to do - explore two continents overland.
We've lived in Costa Rica, the Dominican Republic and India, and it was awesome. As we considered where to go next (we considered Thailand or Colombia), we realized we couldn't pick just one place - there was so much we wanted to see.
Finally we just decided to explore North and South America (why not, we were already in Alaska), so we 'moved' into our truck to do it.
But, really, we don't 'live' in our truck. When we're not renting a place somewhere, we sleep in our truck, and travel in our truck. But we livein the world - the mountains, the deserts, the beaches. We're not cramped inside our truck 24-hours a day.
Even then, traveling and living in a truck is not always easy and it's not always fun. But we do it because of the 'end result' which we have in view. It allows us to inexpensively explore two continents.
Once we've accomplished this feat, then we'll do something different. Maybe we'll sell the truck and buy a beach bungalow. Or maybe we'll sail the South Pacific, or perhaps study Portuguese in Brazil - who knows?
But for now, this is our life.
Where do you stay?
Our amazing sponsor, Cascadia Vehicle Tents, provided a roof top tent for us, and that is where my husband and I and our baby sleep. The rest of the children (4 others) sleep in the bed of the truck or on a bench in the cab.
My husband made some modifications in the back, so there is an additional seat with seat belts, storage capacity, and a 'bed' with carpet and padding, and storage space underneath.
Our future plans include more storage on the roof of our truck, now that we have a roof rack, and perhaps an additional roof top tent, then all our sleeping would be done in the tents up top, leaving the truck bed for usable storage space.
Update Apri 2012: We removed the shell and actually built a camper onto the back of our truck. It includes a large bed over the cab for the kids to sleep, a 'kitchen', 'bathroom' and our office/dining area.
As to the actual physical location of our sleeping, that depends on the night. Sometimes we just drive late while the kids are sleeping, then pull over on the side of the road and 'camp'.
Other times we'll find a sweet little camping spot all to ourselves and enjoy the great outdoors. We've camped in forests, fields, farms, gas stations, parking lots and countless other places from Alaska to our current location.
Sometimes we're invited to stay at someone's house - whether we've met them online and arranged a meetup, or just barely made acquaintance at the park or at church (that happened a couple of times in Alaska). That offers a nice change, and the chance to sleep in a bed, do some laundry and get showered up.
We have paid for a campground once or twice.
Each of these choices have their pros and cons. Ideally we like to get to a camp spot early enough that we can enjoy our evening together, but you also have to be flexible while on the road.
If there's a specific destination we're trying to reach, we pull a late nighter, because it's easier (and faster) to drive while the kids are asleep (no potty breaks).
How do you cook while on the road?
Much to my enjoyment, I haven't done much cooking since we left on our adventure. I don't know how my husband feels about it, since he's taken over the job now.
Update April 2012: I'm back to doing the cooking, now that we've figured out a better system, and have a 'kitchen' on the road. Plus, I'm the better cook 😉
But, after reading In Defense of Food, I'm committed to devoting more time myself to meal preparation (as well as to purchasing locally grown food - this will be a lot easier south of the border) so that we can have healthier fare while on the road.
To explain how meals are done, I'll break it down according to mealtimes:
Breakfast is usually cold cereal. To this point in our journey, the weather has been cold enough that we can buy milk and use it for a few days without it going bad. Occasionally we'll bust out the camp stove and boil water for oatmeal or scramble some eggs.
Once we get south of the border, to warmer weather, we'll probably eat fresh fruit for breakfast.
Lunch is usually a sandwich - PB & J or Honey, or ham/turkey and cheese. Again, due to the cold weather, we haven't had a problem with food spoiling (mayo or lunch meat).
Sometimes we'll buy salads from the delis at grocery stores. Or maybe some fried chicken or broccoli/bacon salad.
I don't like these options as much because they usually come with a lot of packaging, and as of yet, I've been unable to do any recycling while on the road. Usually if/when we find a garbage can, we just dump everything we can.
Dinner we usually try to cook something on our Coleman two-burner propane stove. It's generally been something frozen that we've bought that day (hashbrown/buffalo cheese burgers; chicken; stir fry) or a can of soup; chili and tamales; hot dogs; black beans, tortillas and cheese.
Not necessarily the most 'alive and healthy' food you might find, but I'm determined to improve that on the next leg of our journey.
Snacks happen all the time - in fact I think, too much. Clif Bars, granola bars, applesauce, peanuts, almonds, apples, oranges - always snacking, snacking, snacking.
This is something I want to change/improve on especially after reading In Defense of Food. I think the majority of our snacking is due to boredom, or just because 'it's there'.
Eating out is not something we generally do, though we've splurged once or twice, and I imagine we might do more of it south of the border, where food is much cheaper.
Update April 2012: Since crossing south of the U.S. border, our meal times look very different. Fresh produce is very inexpensive, so we eat a lot of it. Eating out is cheap, so tamales, chuchitos, tacos and other local specialties are often on the menu. If we don't eat out, then I make meals from scratch - usually including oatmeal, pancakes, crepes with fresh fruit, beans, brown rice, pasta, stir fry, or some delicious concoction made from local vegetables on hand, eaten with fresh made tortillas or tostadas.
What about showering and staying 'clean-ish'? Laundry?
I think 'clean-ish' is an accurate way of putting it. It's amazing how much easier it is to stay clean when you have running water- which a major portion of the world's population lives without.
We do have a personal grooming routine. My major concern is that we don't look like we live in our truck. I ensure this with our 'get ready' morning routine.
Each day, after breakfast, we get out the 'get ready box' and brush our teeth, fix our hair, clean our faces, clip our nails, clean out our ears, change our underwear and put on clean clothes.
So we start each day pretty much clean-ish.
As for maintaining that level of somewhat cleanliness, wipes have become my best friend.
They're great for washing faces, hands, muddy feet, even dishes and utensils, not to mention changing bottoms.
The other life saver is hand sanitizer.
Besides that, we get 'really clean' by showering at laundromats, community centers, or when staying at new-found friends' house. We usually pay between $2 -$6 to shower the entire family.
Laundry is simple. We keep it all in a garbage bag, then throw it in a large washer at a laundromat.
We've simplified our clothing to the point that we generally only have to wash once or twice a week, and it takes only about one large load, which costs around $5-$7.
Update April 2012: With our new camper, we now have running water in the truck. This really helps with staying clean, when we can wash hands, bodies and dishes. When we're not staying in one place, laundromats and public showers are the best options - and they're becoming more common in Mexico and Central America.
How many hours are you in the car each day?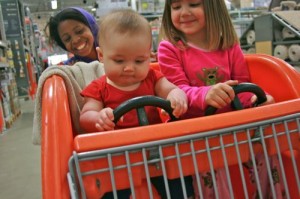 First of all, I have to assume that this refers to 'drive time', since in reality we spend a lot of our time in the truck just eating, sleeping, reading, etc.
Up to this point in our trip, the answer for 'drive time' hours is  - too many. Some days it's 3 or 4 hours, others it can be as much as 8 to 10.
Ideally, we wanted to travel nice and slow, spending hours at camp sites, reading, writing, playing and enjoying.
We have done some of this, but not as much as we would like.
The reasons for this has been 1) Cold weather - it's been an unseasonably cold spring across the U.S. and Canada and 2) Problems with our truck - one tire has been wearing differently than the others, and we need to get it repaired.
We'd originally planned to have a long 'layover' in Utah - it's where we have family and friends, as well as a storage unit with the few belongings we do own.
So we decided to speed up the first leg of our trip and get to Utah so we could work (on our business, and at some temp work my husband had lined up), and regroup for the remainder of our journey - evaluate what has worked so far, and what we need to change, etc.
In the future, as we continue our journey, we'll spend less time driving. We'll have things arranged so we can focus on why we took this trip in the first place - to explore, discover and enjoy the outdoors and time together as a family.
Update April 2012: Sometimes we'll have a few days of hard driving to get to a new place we want to stay for awhile. If we're not pushing hard, then we'll just spend 3-4 hours a day driving to the next camp spot.
What about schooling? Do you have a 'resident' state that you check in with?
Obviously, we do 'home schooling', or 'road' or 'world' schooling as it's commonly referred to now.
We'd always planned on educating our children ourselves, and since we took off on our first adventure before our oldest was 'school age', we've never even thought about 'checking in' or letting any government agency know what we're doing with our kids education. (I guess it helps that we've never really belonged to any school district.)
Although this might not work for everyone, the approach we take is to just think about what we want as the 'end result' in our kids education, and then we do those things that will help us get there.
Our whole philosophy toward education in general never needed us to 'get approval', 'report back' or 'consult authorities'.
We have our children's best interest at heart, we have ultimate responsibility for their well-being, and so aren't we the 'ultimate authority' when it comes to their welfare? The educational model that we are following will surpass what is offered in the average government school.
The internet and technology today provides so many alternative options to the 'normal' school route, and home education in general is becoming so much more popular, that when our children reach high school/college age, we know that there will be plenty of options for them to choose from regardless if we've 'jumped through all the hoops' or not.
What about attending church?
Yes, we do attend church. With the use of the internet, once we know the area we'll be in on a Sunday, we locate a local congregation and attend their services. It's a great way to meet a lot of amazing people, and to hear from many visiting church officials whom we happen to catch.
How do you cover your expenses?
I shared our expenses for our first month, and while you were able to see how frugally we live, some people still wanted to know how we actually covered those basic expenses for food, shelter, etc.
How we do it isn't just a certain strategy we use or a method of earning money, but an overall philosophy toward living that works for us but may not necessarily work for everyone.
My husband calls it the Ready. Fire. Aim.principle.
We live by words such as these: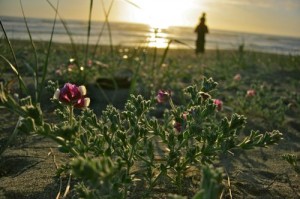 Are you in earnest?
Seize this very minute;
What you can do,
or dream you can do, begin it;
Boldness has genius,
power and magic in it.
Before every knowing if/when/how we're going to do something, we start deciding what it is we would like to do - move to Colombia? Start a business in Hawaii? Take an epic road trip?
Once we decide which adventure appeals to us most - and determine that, yes, this is definitely something we want to do - we then focus all our energies on making it happen.
We start making all our decisions 'as if' this escapade we've planned is a reality. We no longer question 'if' it's going to happen, we only ask ourselves 'how' we will make it happen.
We purchase the vehicle, eliminate unnecessary belongings, pack up and then move out. Ready.
As soon as we saved enough money for the first leg of our trip, we took off. Fire.
What about paying for the rest of the adventure? Aim.
We didn't wait for the answer to that question before beginning. We don't have to see the whole staircase before taking the first step in faith.
But the miraculous thing is (and this happens every time we undertake a feat like this), as we move forward, opportunities that were previously unseen, previously unavailable to us, present themselves.
We meet the right people, find the right solution, discover the perfect answer - options we wouldn't have come across if we hadn't taken those first steps.
"Concerning all acts of initiative (and creation),
there is one elementary truth the ignorance of which kills countless ideas
and splendid plans: that the moment one definitely commits oneself,
the providence moves too.
A whole stream of events issues from the decision,
raising in one's favor all manner of unforeseen incidents,
meetings and material assistance,
which no man could have dreamt would have come his way."
~ John Anster
So, to answer the question more specifically - so far we've used the money we saved working in Alaska to pay for our journey to this point.
As we prepared to depart, my husband was offered work in Utah, Colorado and Texas. That will fund another leg.
And as we've continued on our way, more and more opportunities are being presented to us for funding our voyage.
Work in Central and South America, and most importantly (for us), help improving and growing our online business and building our location independent income - our 'long term plan' for funding our travels.
Is it risky to approach life in this way? Maybe.
We personally think it's riskier to waste our lives doing something we're not really passionate about - working at a job just to pay bills.
What if we 'fail' and it doesn't work? It's a possibility. It's happened before.
Are we willing to take that chance? Are we 'ok' with the 'worst case scenario'? Absolutely.
I guess we really believe in the adage 'where there's a will there's a way.' We know that we can figure out a solution to whatever challenges we will face, financial or otherwise.
"Far better is it to dare mighty things, to win glorious triumphs,
even though checked by failure...
than to rank with those poor spirits who
neither enjoy much nor suffer much,
because they live in a gray twilight that knows not victory nor defeat."
~ Theodore Roosevelt
Update April 2012: I wrote this post to expound on how we make money - 9 Ways We Earn Money to Fund Our Travel Lifestyle
Comments
comments
Powered by New Facebook Comments