[message type="custom" width="100%" start_color="#FFFFFF" end_color="#FBF8FF" border ="non" color=""]This is part of our freedom income series as we interview individuals and families for the How to Fund Travel series.[/message]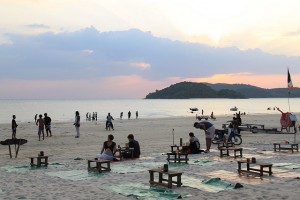 How's this for an itinerary?
Malaysia (the beach you see on the left)
Bali
Thailand
Vietnam
Cambodia
Singapore
Australia
That's just a few of the places that Colin and Tracy Burns and their two children have traveled to over the past two years. An envious travel tour. (I know I started dreaming of travel while I was looking at their blog.)
Currently? They're living in New Zealand, an island country in the southwestern Pacific, known for it's incredible scenery (think Lord of the Rings). The landscape and coastlines are magnificent.
There's plenty of adventure (like mountain biking, backpacking, kayaking and skiing); an abundance of nature, flora and fauna; lost of culture (the Maori are the tangata whenua, the indigenous people, an integral part of Kiwi life), with their traditional Maori arts, war dances and performances; world-class wine (120 vineyards along the New Zealand wine trail) and unique cuisine (known as Pacific Rim).
(Ooooh...are you thinking what I'm thinking? Let's plan a New Zealand holiday?)
Despite the beauty and adventure of this country, next they head to Canada... because they love the snow and want to do some more skiing. (Personally, we try to avoid the snow, but to each his own.)
[message type="custom" width="100%" start_color="#FFFFFF" end_color="#FBF8FF" border ="non" color=""]Do you 'Like' Discover Share Inspire?

[/message]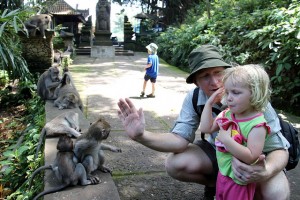 In 2009, the Burns decided to 'uproot' their family from their comfortable Austrailain home, and take their 2.5 and 4.5 year old children to travel the world.
They chose to do this for several reasons:
every couple they spoke to that had done something similar never regretted it
every couple they spoke to that had thought about doing something similar, but never did, had huge regrets
your kids are only young once, and you should make the most of it (it was their way of forcing themselves to spend more time with their children)
to spend their money on something else besides expensive Australian real estate
to leverage their income (earn in Australian dollars and spend in Asian currencies)
So how do they earn an income, even while they're traveling? They are both web designers (one the programmer, the other the graphic designer), so they have the freedom to work anywhere there's a reliable internet connection.
In his interview, he'll be sharing the details about how they created their business, with principles that you can apply to creating your own freedom income.
They are a part of a movement that's happening all over the world - individuals and families who are tired of following the formula prescribed by society, and are now charting their own course. You can do it too!
You can follow Our Family Lifestyle on their family travel blog, and make sure to check out their full length interview.
What would you ask Colin if you could sit down with him?
Comments
comments
Powered by New Facebook Comments