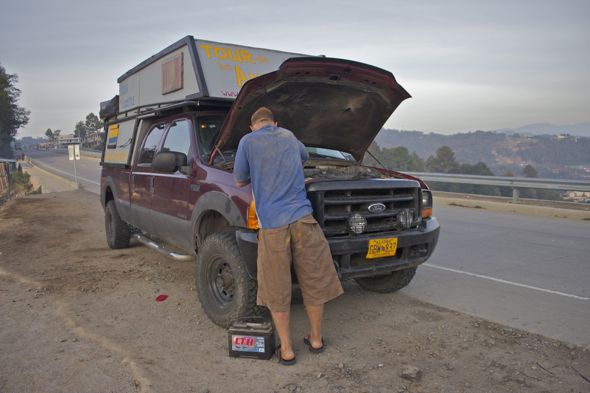 "Please don't blog about this," my husband pleads, as we sit together in the dark - defeated - on the side of the highway that takes us from Panajachel to Antigua, Guatemala.
"It's really getting ridiculous. People will think this is all that happens to us, instead of realizing how awesome every other day of our life is," he continues, "In fact, don't even mention it on Facebook."
"Too late," I say with a smile. That's the amazingness of connectivity today. With an iPhone and a data plan, all our friends around the world who are on Facebook already know that we've been stranded for hours.
Greg had fiddled with every option to try and get us going again. I sat in the truck with the kids and practiced patience, a perfect opportunity to develop a much needed virtue.
Now it was dark, and it was clear we weren't going anywhere. So we decided to just go to bed.
Plans had been made weeks ago to meet up with friends in Antigua to experience Semana Santa. After the beach trip mishap, we had talked about not going.
I hate being stranded, and didn't want to take our chances of doing it again.
But since then, the truck had been in the shop. It had been 'fixed'. And we'd taken it out Monday. We'd driven around for several hours exploring the high mountains above Lake Atitlan.
We didn't have one problem the entire time. HOURS of driving. We even had friends with us to help out if we had been stranded. It would have been the perfect time for truck problems.
Instead, it happened when we were supposed to be somewhere, and hours away from friends who could help. Irony.
It's hard to describe those long, drawn out moments that pass while you sit waiting for something to happen so you have the freedom to continue doing what you'd really like to be doing.
Those minutes never seem to end. And it's frustrating to be 'victim' to something to which you have so little control. I want to go, to travel, to move - and yet I am prevented from doing so by external circumstances.
While hardly comparable, I think of Viktor Frankl as a Jewish prisoner in a concentration camp, and the famous quote he shares in his book about what he learned during that time:
"When we are no longer able to change a situation, we are challenged to change ourselves."
I decide this is the perfect opportunity to work on doing just that.
My husband is already blessed with the gift of perspective. When he's riding in the cold-wind-blown back of a pick-up truck to the nearest town (that wasn't that near), while his wife and kids sit stranded on the side of the highway , and he's tempted to think, "This is hard," he corrects himself and thinks instead, "This isn't hard. Being widowed is hard (like his sister recently was). This is just an inconvenience."
Or as he sleeps cramped during half the night on the back bench of our truck, shivering without a blanket (because he gave up the warm, cozy spots to his wife and kids), he thought once again (as he often does in situations like this) of the people who were sold as slaves, and transported on a ship to the Americas, cramped in the fetal position, urinating and defecating on themselves for over 90 days.
That's hard. A situation like ours is only annoying, an irritation.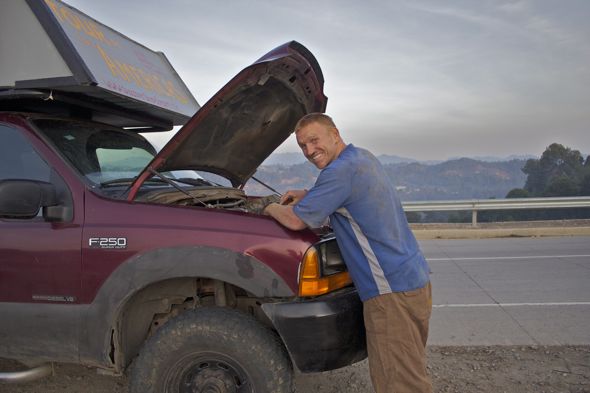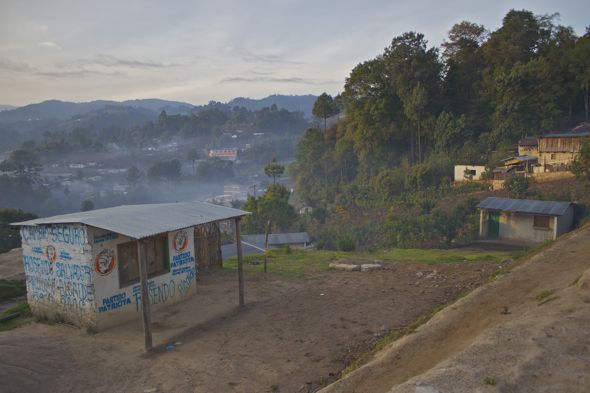 At least we had a beautiful view
Early the next morning, it's my birthday(!) and my hubby's up working on getting things fixed so we could spend the day celebrating in Antigua.
By 7:30 a.m., the truck actually starts and we're on our way. Hooray!
But our excitement is short lived, when it dies again 20 minutes down the road.
More fiddling and tinkering, and even a trip to town once again (given by the policia) to buy a new fuel pump.
But despite assurances by the store owner, the pump is too small and doesn't work with our truck.
Finally, we give up on fixing it. We pack a few small bags with necessities and valuables, and leave our mobile home to fend for herself.
We are going to Antigua, despite the odds!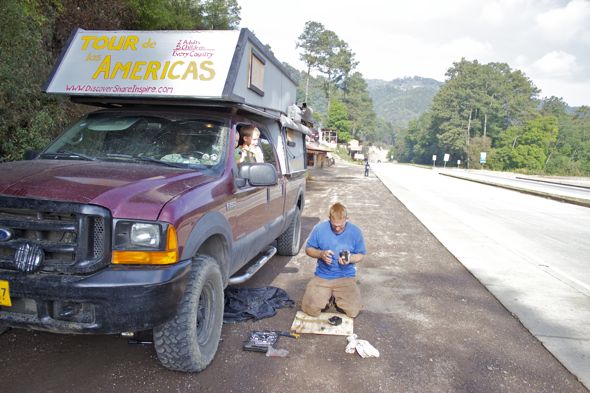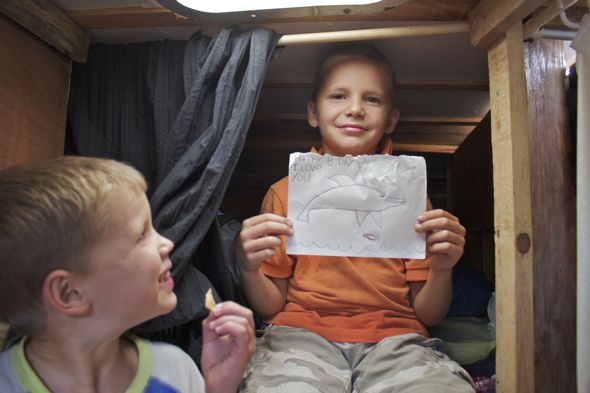 Parker's birthday picture for me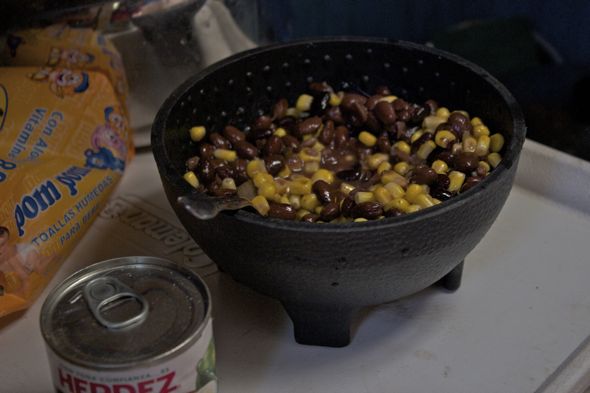 No propane in our camp stove either, so cold beans, corn and chips for my birthday breakfast.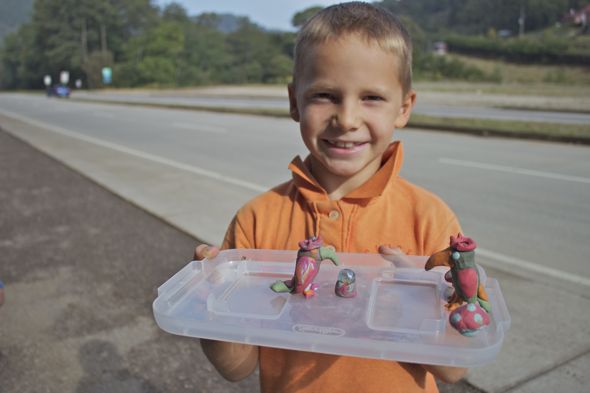 Parker's creativity wasn't hindered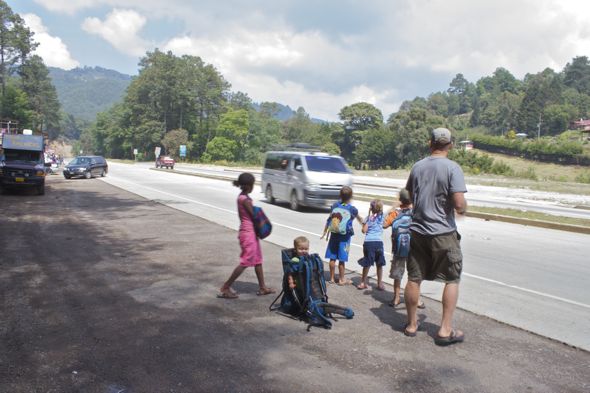 Waving down a combi
Our forced circumstances give us the chance to experience the public transportation system in Guatemala - something we don't usually do while traveling, because of the convenience of having our own vehicle.
We wave down a combi (bus taxi) that gives us a ride to the city of Chimaltenango. There we wait and watch as buses pass by heading for Antigua, bursting at the seams. Will we ever fit on one?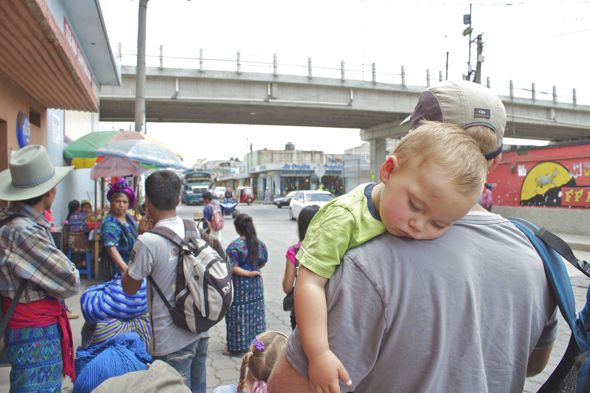 Waiting for the bus to Antigua in Chimaltenango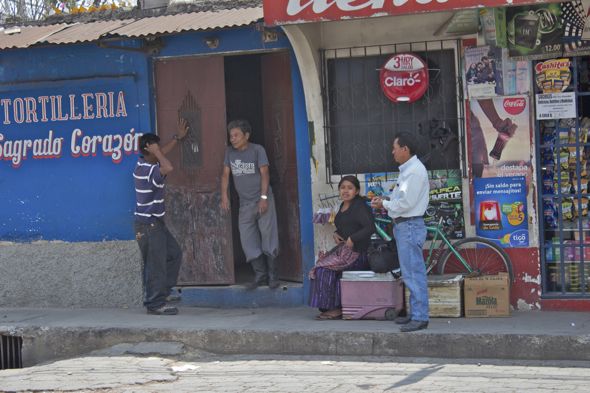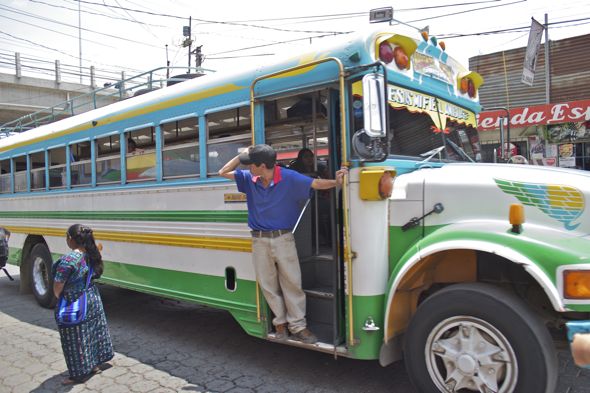 This one is mostly empty. Too bad it's not going where we need to go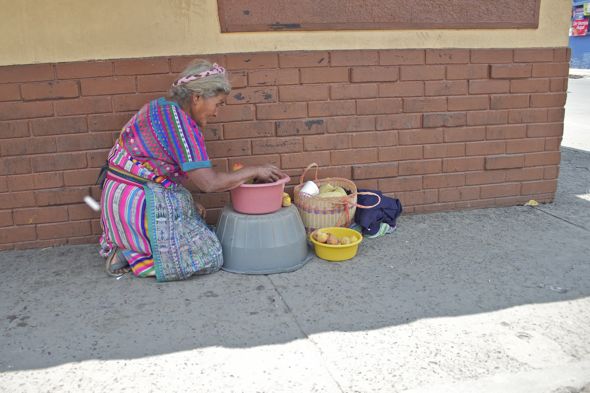 A little old lady getting ready to sell some food
A friendly local finally shares a tip with us: walk four blocks up the road to the bus station, and we'll find an empty bus there.
Empty is a relative term, but we do at least get seats. Me, Aaliyah (5), a Peace Corp volunteer from Wisconsin, and a girl with her dog share one seat meant for two. The aisles are filled to capacity in a space that's only big enough to stand sideways.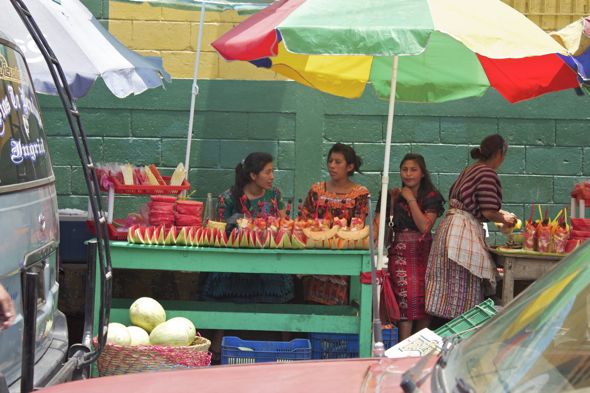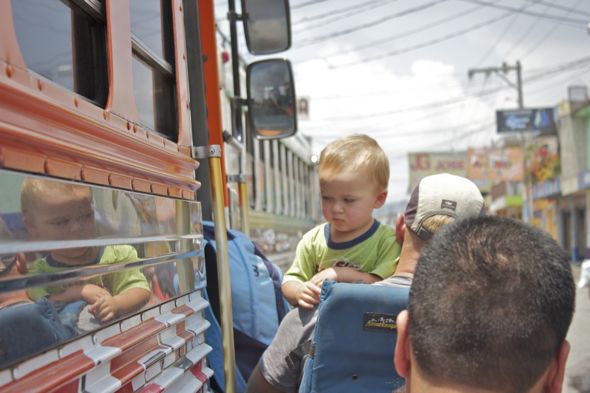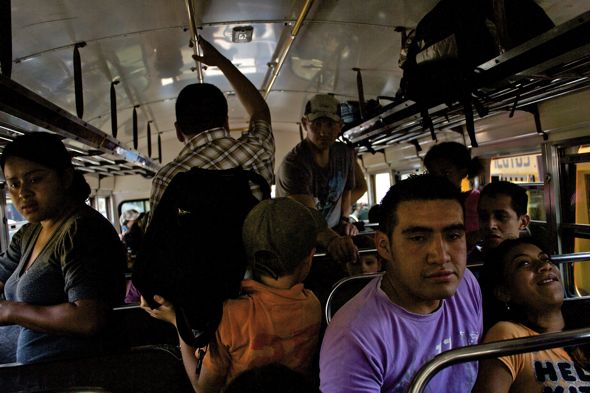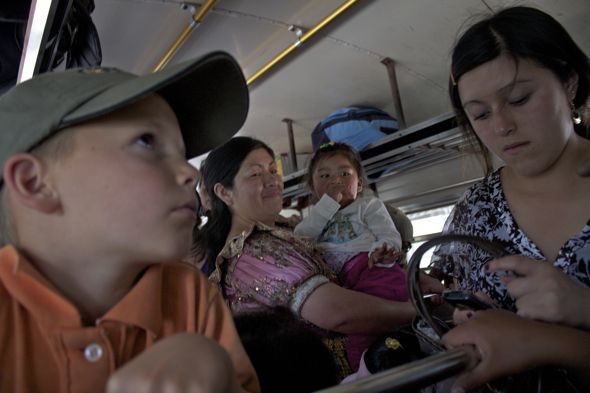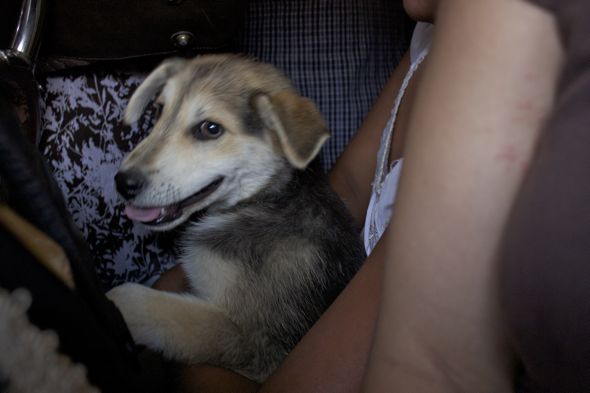 This is my seat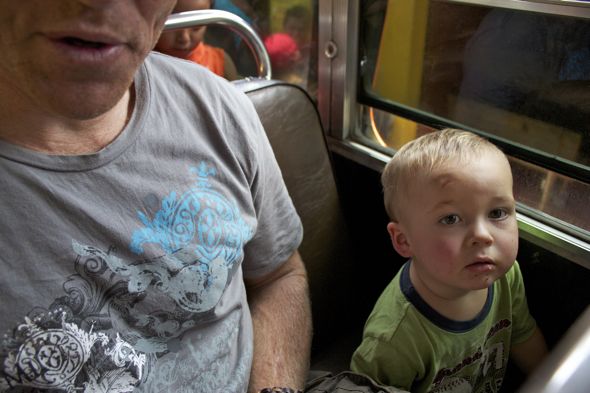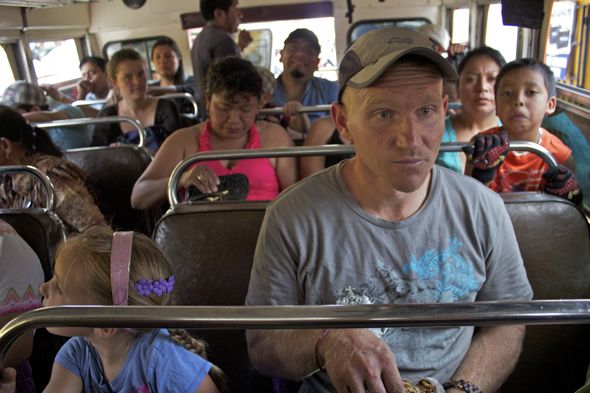 The "I love public transportation" face
 Within the hour we've made it to Antigua. Thanks to cell phones, we're able to coordinate with our friends and find each other in the gigantic market.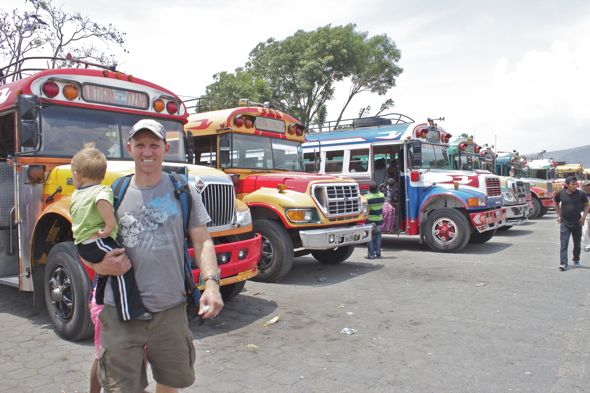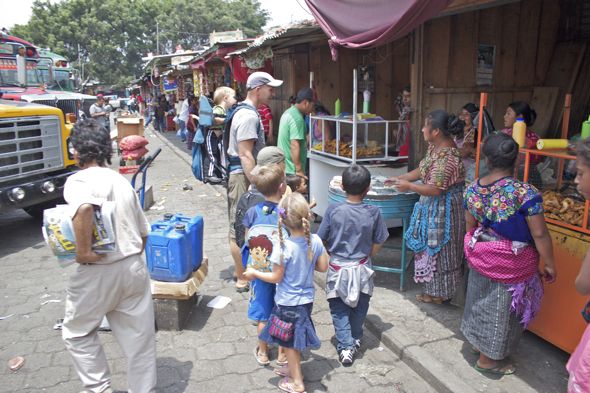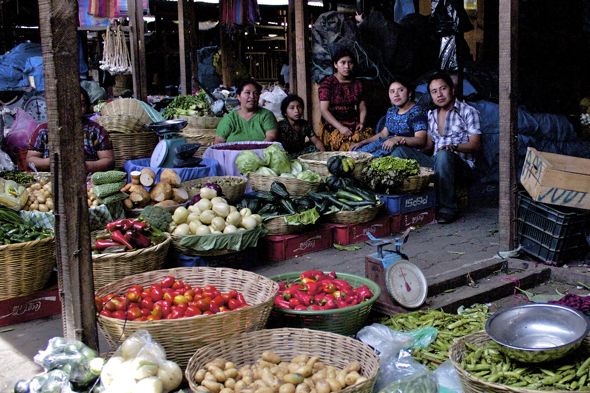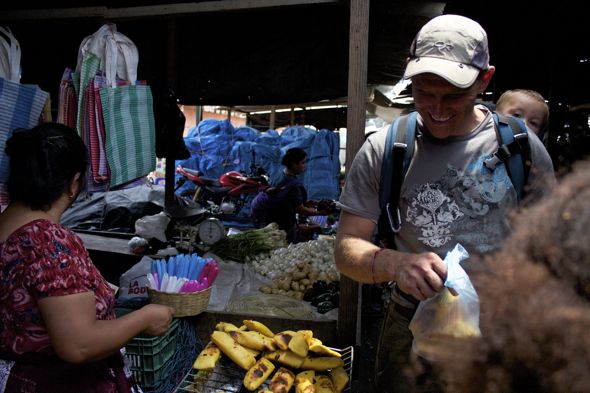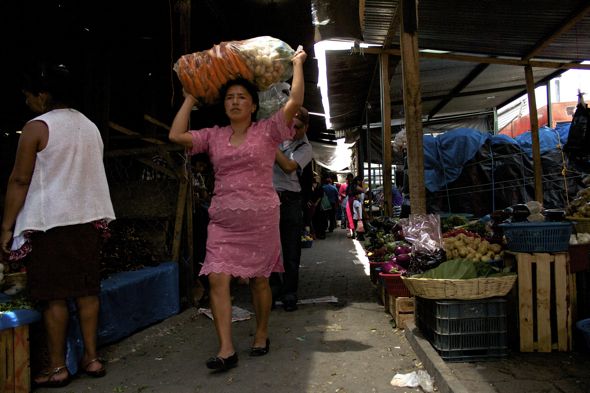 The next two days are spent exploring the picturesque, old-world style city of Antigua, enjoying the celebration of Semana Santa (click to see pictures and video), and eating lots of great street food.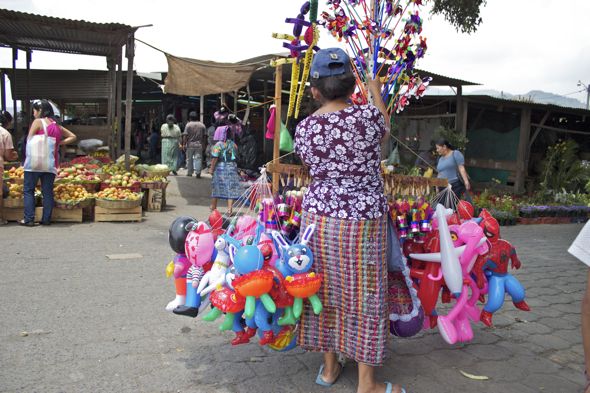 We only suffer a few mishaps - Aaliyah (5) burnt her hand on a swinging incense burner that was part of a procession, and Kimball (6) ran into the window sill that jutted out into the sidewalk, resulting in a lot of bleeding.
Too bad I left my oils in the truck. It's the last time I travel without at least a few of them in my bag!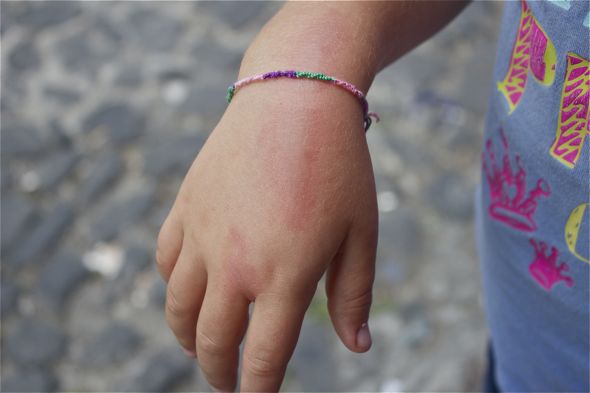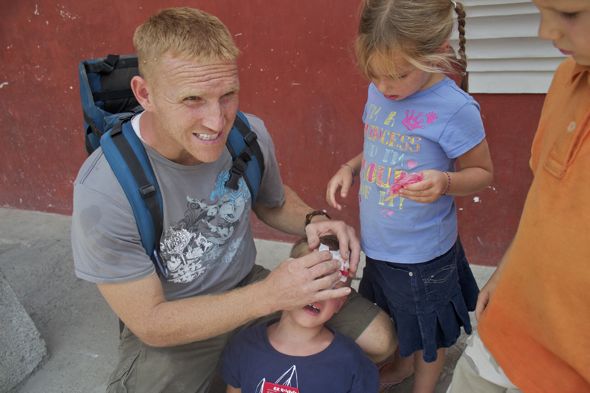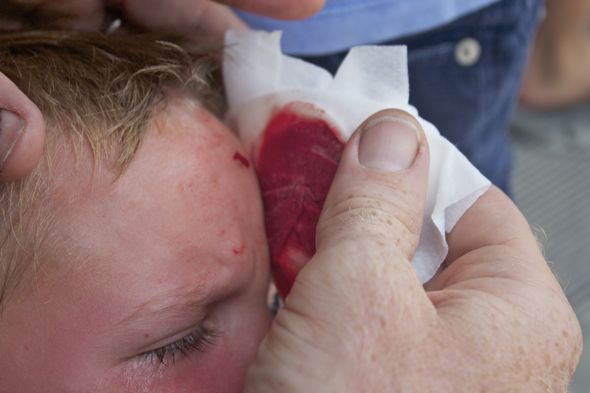 On the bus ride leaving from Antigua, we manage to secure to rows to ourselves - Kyah (9), Parker (8) and Kimball (6) in front of me, Aaliyah, Greg and Atlas (18 mos). Sweet!
But before we've left, a small, little old Mayan woman asks Kyah if she's going to move over. Kyah answers honestly - No - to which the old lady replies, "If you don't move over, I'll hit you."
The boys stand up so Kyah can scoot, and the little lady sits down, her head barely visible above the top of the seat. Soon she's also scooted more, and made room for a teenage girl to join the four of them. (We're impressed as this young girl later pays for the old women's bus fair, and lets her sleep on her shoulder. Talk about respecting your elders.)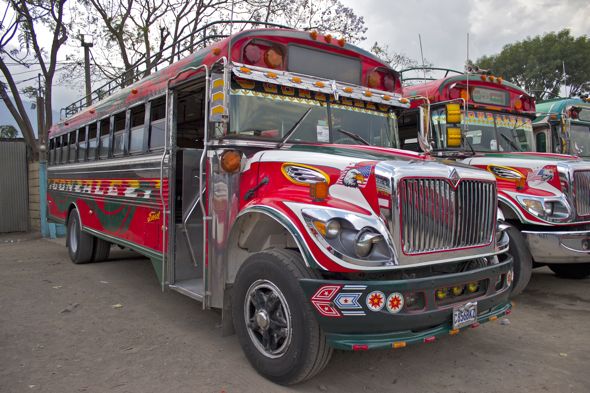 It's just the beginning of the adventures which stretch for several hours, through multiple cities and at least four bus changes.
We wait and wait for buses which don't seem to be running, due to it being a holiday (Good Friday). We pay extra for buses that we have to climb in through the back door, pushing and squashing and scrambling to get ourselves in as the bus drives away.
A drunk guy, who is proud he knows English, talks and talks and talks to Greg (who stands most the way). Friendly most of the time (but annoying), there's a few moments I feel he's going to start a fight with my husband. (My husband won't tolerate that.)
I try and keep myself from sliding off the bench, with one cheek on a seat shared with two others people, while the bus careens through windy mountain roads, and Atlas fusses and cries on my lap.
Defying all logic and laws of science, somehow they continue to add more passengers at each stop, and more people to each seat.
I consider myself lucky on bus number three, when the co-passengers on my bench reach their destination. Hurray! I actually get a window seat, and my entire butt has a place. This means less sliding and moving on each turn, since the other passengers will hold me in place. Aaliyah dozes on my lap and sleeps until the next bus change.
Bus number four is less crowded and we all have our own spot to sit. As we descend from the highlands to the shores of Lake Atitlan, Panajachel looks so beautiful nestled on the lakefront.
I'm so happy to see her, and to almost be 'home'. I'm also feeling a deeper sense of gratitude for our dilapidated truck, whom I wasn't liking very much the last few days.
How comfortable to be able to travel at our own pace, and in our own seats as we explore the countries we visit. I shouldn't be so hard on the old girl, she's given us so many great experiences.
She still sits on the side of the road where she died (we caught a glimpse of her as our bus went flying by), waiting for Guatemala to open back up for business after the holiday weekend, so we can get her repaired.
Five years ago, in 2007, we drove from the United States to Costa Rica in a brand new,  beautiful, bling bling, Nissian Armada. We never had any car problems with that thing. But we also paid $700 per month just to 'own' her. That's more than we spend on food for a month now.
Coming to terms with it all, yes, this truck has been a pain in my ______ at times. But she's ours. We own her, instead of owing on her.
We're free from indebtedness, and that is worth more to me than having a problem free vehicle.
So, we still love you, Big Red. And we'll get you 'home' to Pana.
And we won't be leaving again anytime soon. She's going to get all the bugs worked out before we attempt any more adventures. (Hopefully this will be the last 'truck broke down' story...at least for Central America??).
Read more 'truck broke down' stories:
In reality, the 'truck problems' have been few in comparison to the number of miles we've driven - about 23,000 miles in the last year. They've been simple things like fuses blowing and brakes wearing - pretty normal for the number of miles we're 'putting under our belt.'
Ironically, it seems that we only started having mechanical problems with this truck once we crossed south of the border. Since then:
Having vehicle problems doesn't mean you stop driving or going anywhere. It's just a part of life. It won't keep us from exploring, either.
Comments
comments
Powered by New Facebook Comments