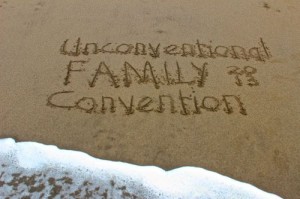 What does a 'normal' family look like?
Think about it. What image comes to your mind when you think of a 'normal', happy family?
Do they live in a house in suburbia, have 1.2 kids that go to school, parents who work and own two cars?
Well, part of our mission and purpose for the 'Unconventional Family Convention' is to redefine what's 'normal' for family life.
Normal for people with kids can include vagabonding, 'homelessness', 'unemployment' and truancy.
[message type="custom" width="100%" start_color="#FFFFFF" end_color="#FBF8FF" border ="non" color=""]Learn how to create your ridiculously awesome life. Six chapters free![/message]
"But those things sounds so 'bad'," you say.
How can your children and marriage be happy, normal, stable and solid if you're constantly wandering and experiencing change; if you have no consistent home where your kids can grow; if you can't 'hold down' a regular job; and if your children never go to school?
Well, the group of families we spent time with on the beach in Guatemala last week (after El Salvador wouldn't let us in) prove that stability comes from the strength of the family culture, and not from living a 'normal' life.
Not one of us holds a 'regular' job (in fact, we're unemployable.) Each of us has moved countless times (and some of us are official vagabonds). All of our children are skipping school. But I would say that each and every one of these families is happy, 'normal' and stable (besides being really, really cool.)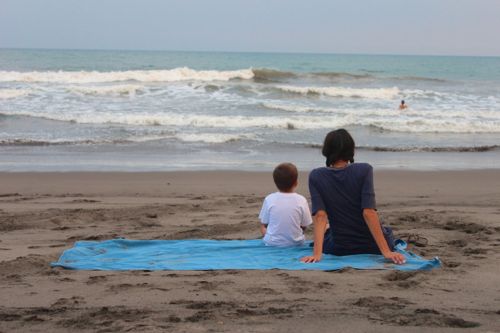 Last year for our first unofficial 'convention', we hung out with LivingOutsideoftheBox, A King's Life, Mayan Running Adventure and the Kelly family for Easter and Semana Santa in Antigua, Guatemala.
This year, we tried to hold our 2nd annual unofficial convention on the beach in El Salvador (but they wouldn't let us in their country), so we ended up (after some wandering), in a sleepy little beach town.
Located on the southern coast of Guatemala, Chapeton is very small. We did find a hotel... there's not many to choose from. Although the price was right, this was the kind of accommodations that would have given me the heebie-jeebies on our first travel adventure driving to Costa Rica in 2007.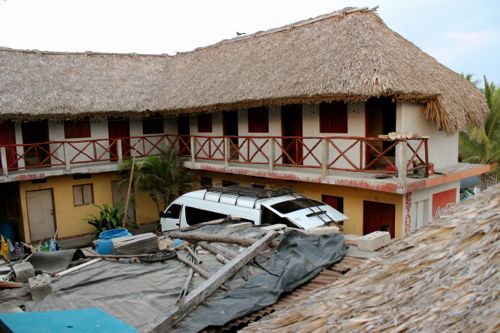 Our hosts had never had so many guests at once who stayed for so long (not to mention never having foreigners before). All together we brought 9 adults and 22 kids... not one of whom complained about the toilets without seats, the 'pipe' showers that were cold (but refreshing), or the questionable mattresses.
However 'sketchy', you couldn't beat the ambiance.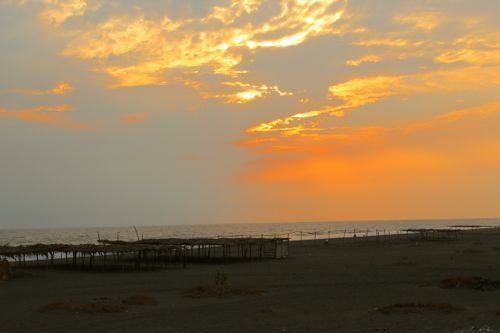 Of course, this was our accommodation as usual... nothing beats camping on the beach!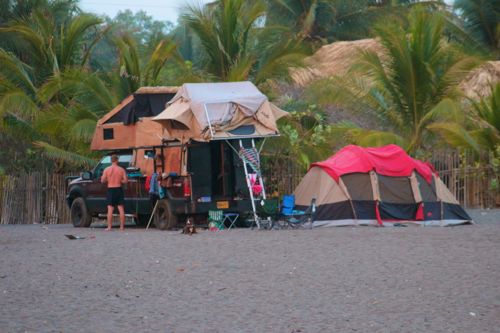 [message type="custom" width="100%" start_color="#FFFFFF" end_color="#FBF8FF" border ="non" color=""]Do you 'Like' Discover Share Inspire?

[/message]
As soon as we arrived, the kids (and Greg) jumped into the water (some of them still fully clothed) or started digging in the sand.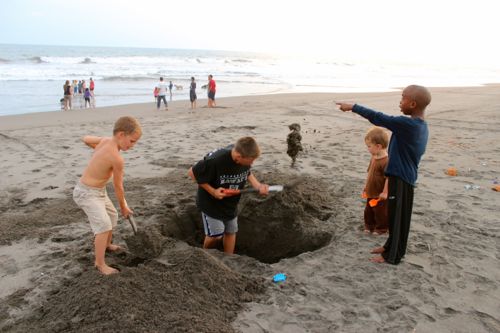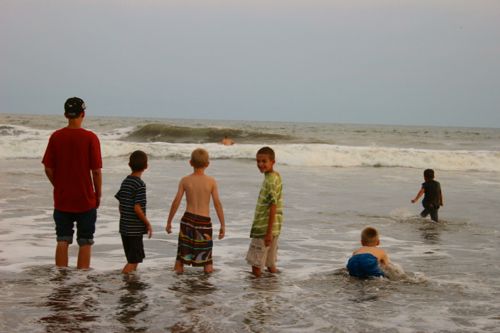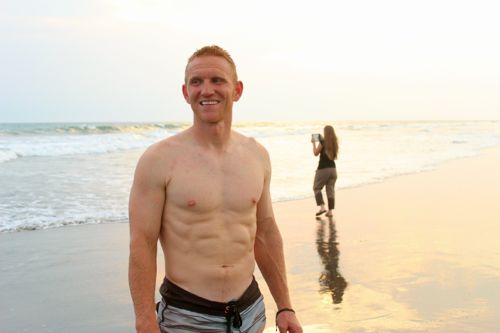 The rest of us more mature (or boring) adults simply waded and enjoyed the peaceful conditions (isn't it nice how ocean waves drown out the noisy sounds of children?)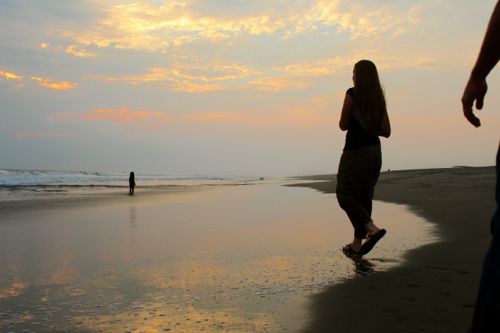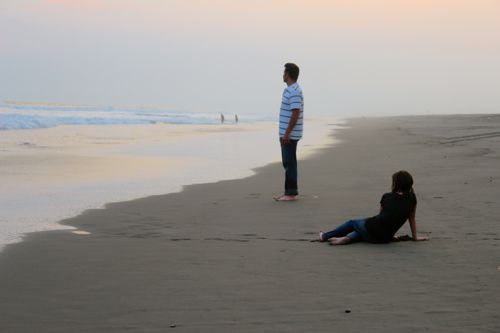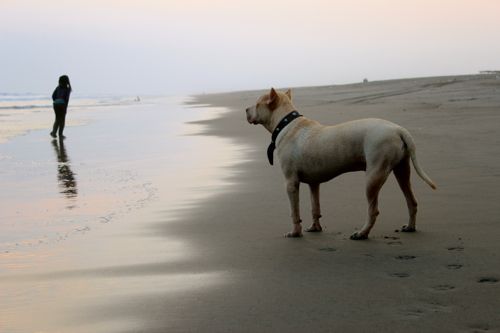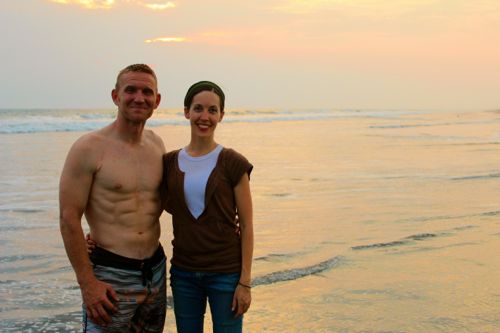 The next morning, the guys went for a run on the beach.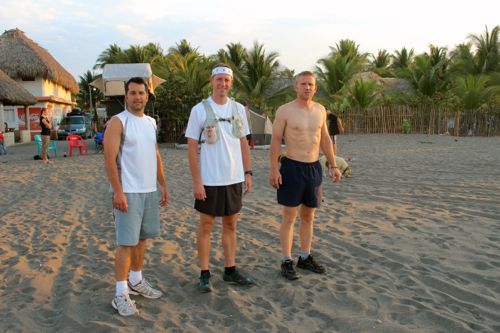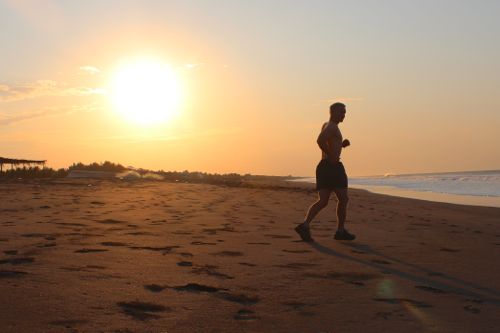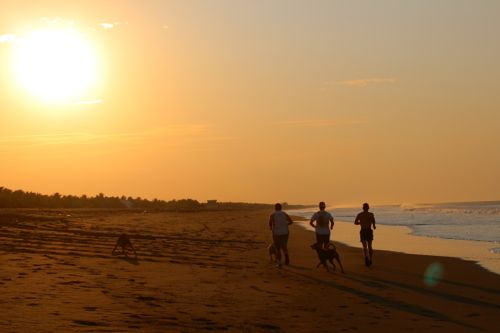 The kids had already set off at dawn on a coconut hunt, and returned victorious with breakfast (this became a daily tradition.) One day, they came back with 50+ coconuts!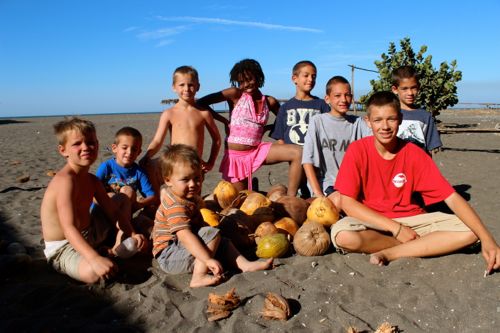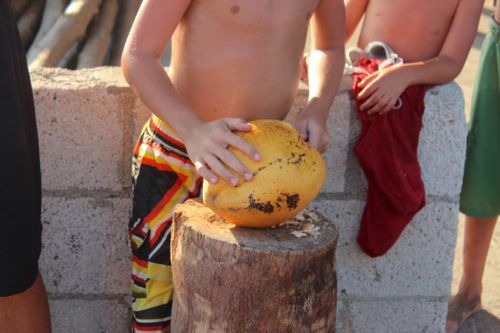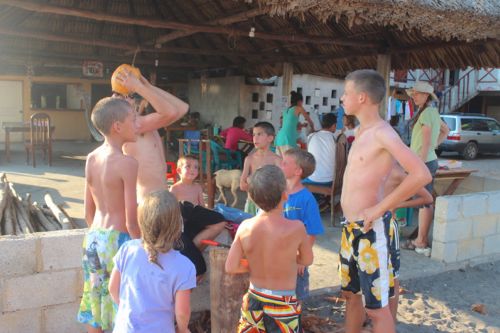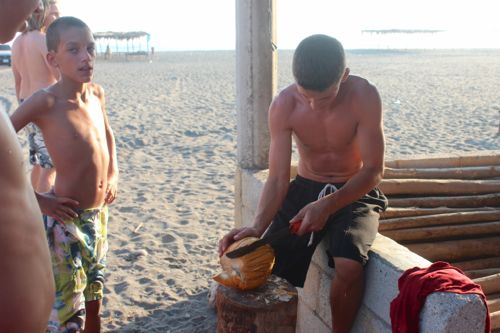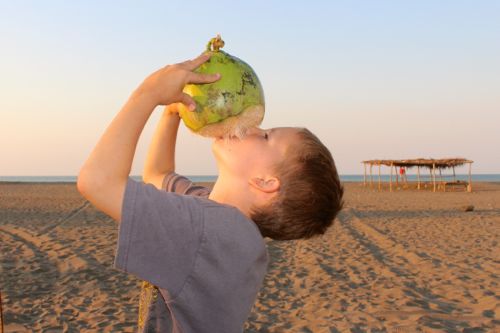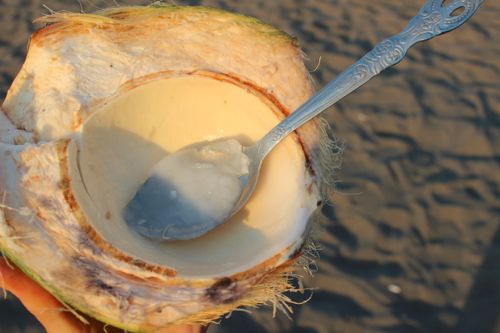 My favorite -- young coconut. You can scoop it like yogurt.
This was good for breakfast too.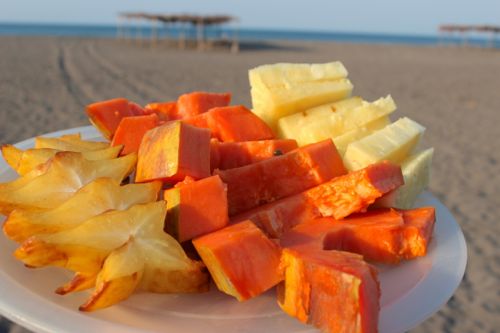 The remainder of our three days there were spent digging in the sand...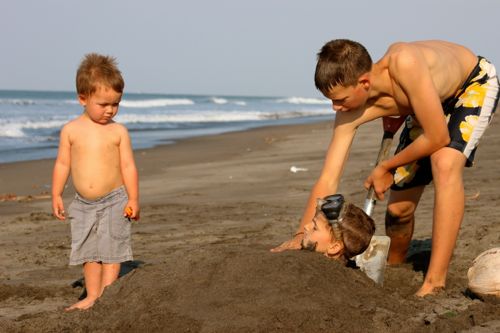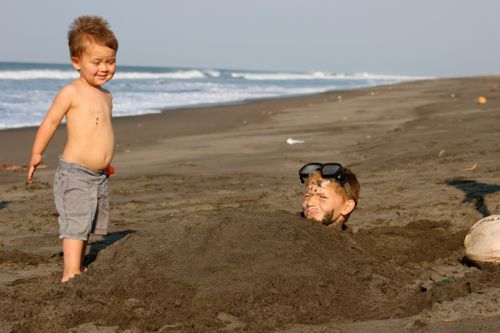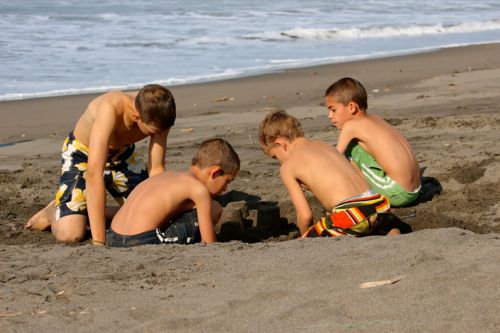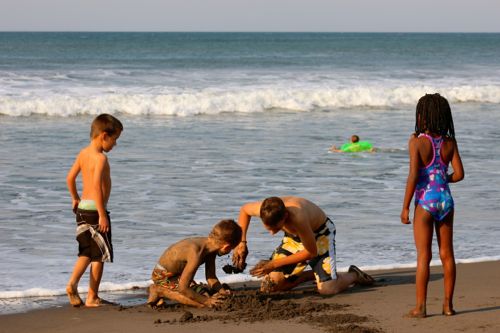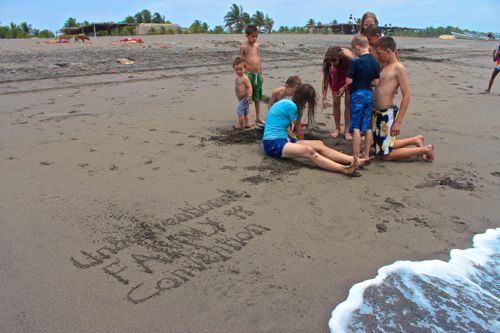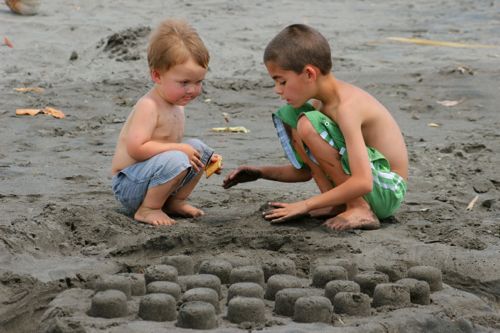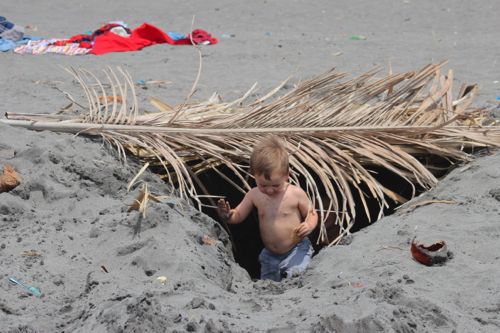 Playing in the waves...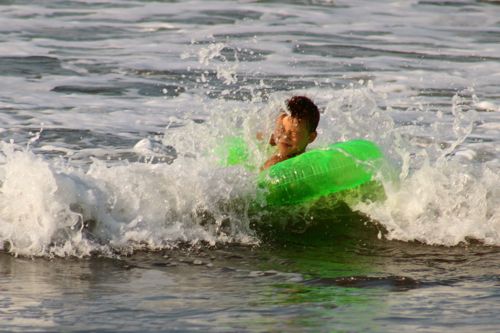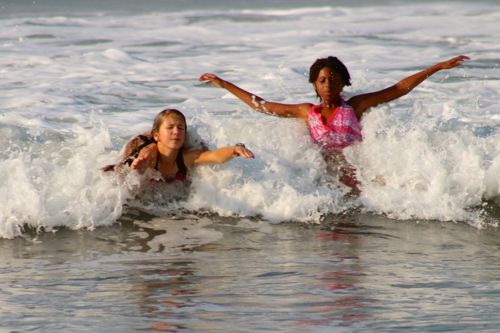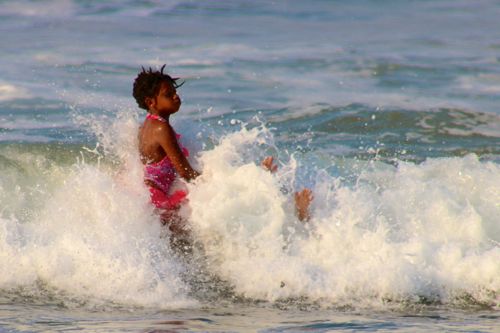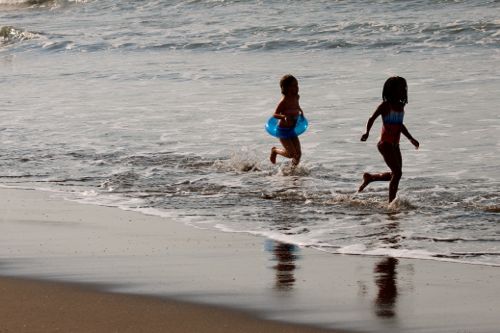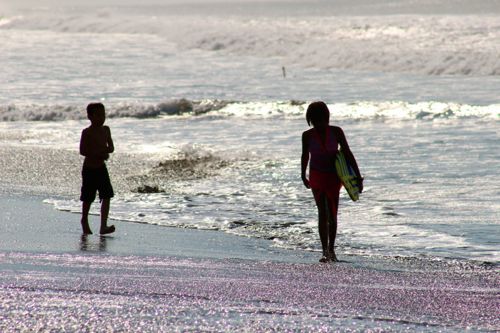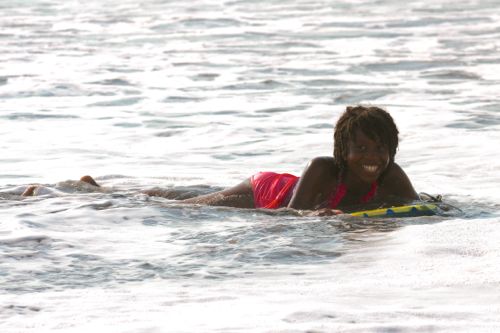 Lounging, or walking, on the beach...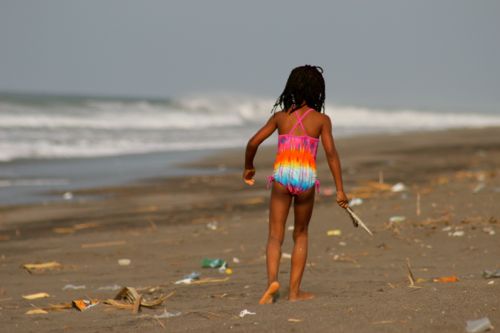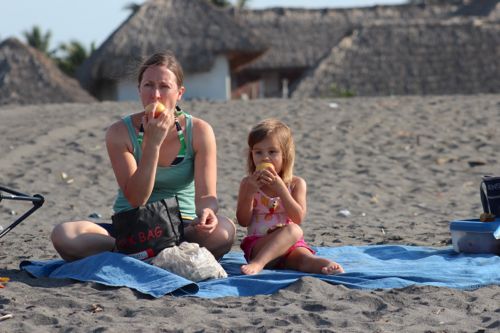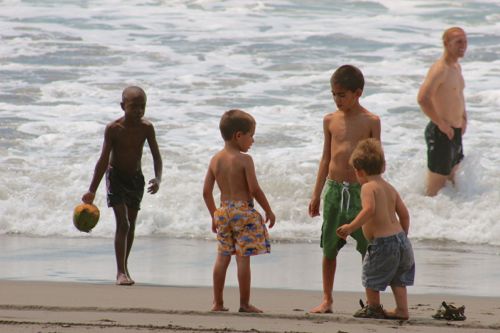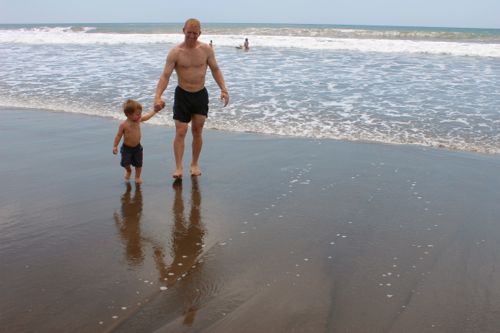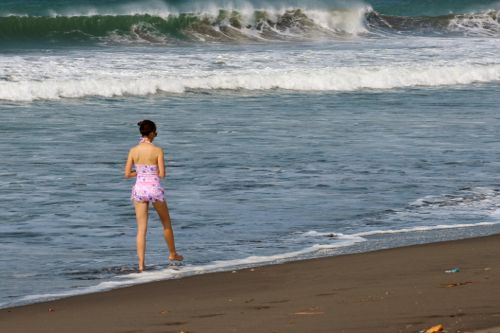 Watching and learning from the fisherman...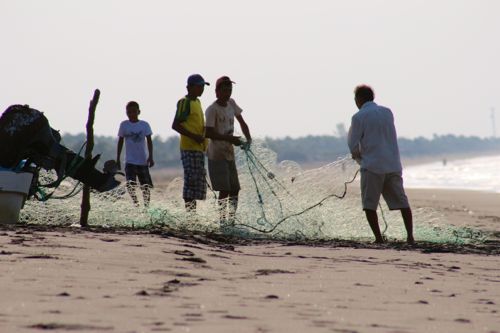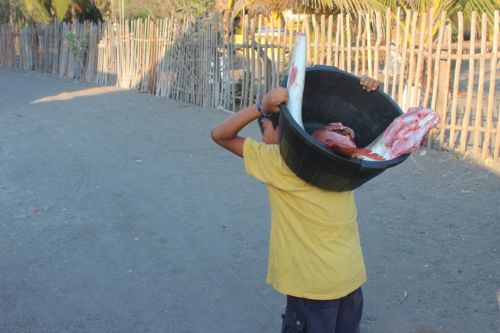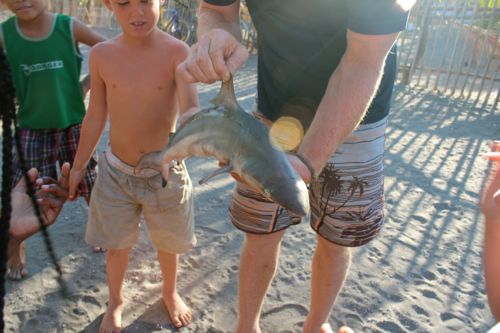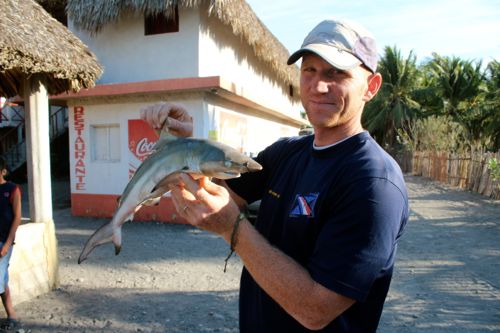 This is a baby Great White!
Practicing the ukulele...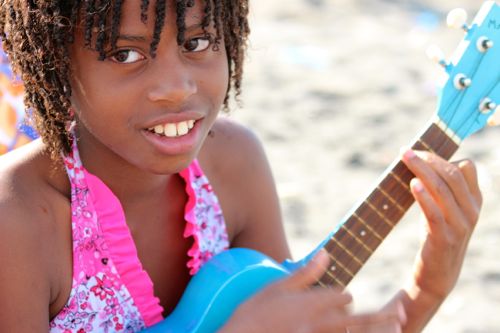 Exploring the town (that didn't take long)...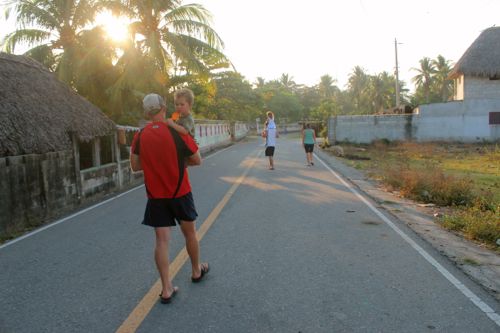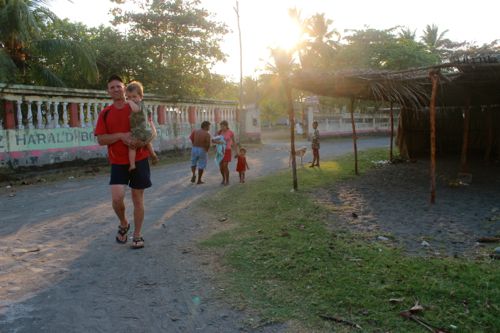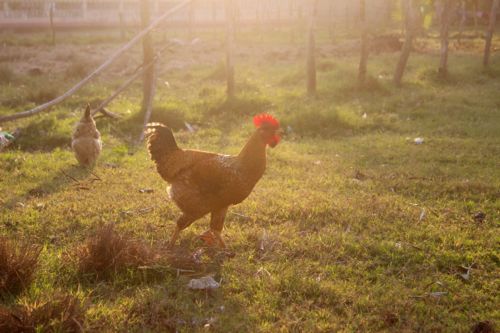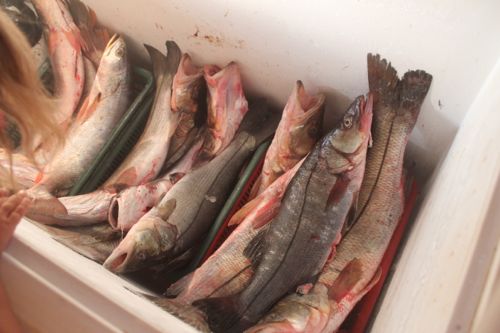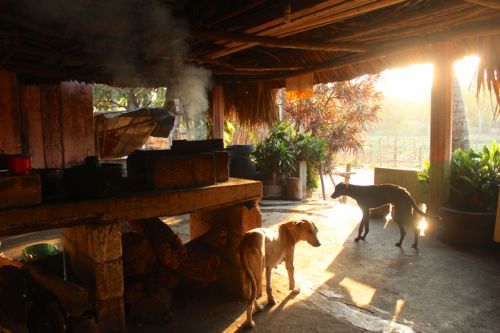 Watching the sunsets...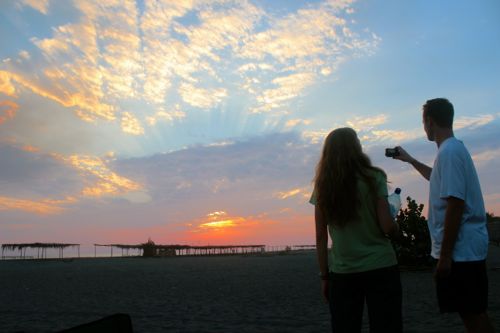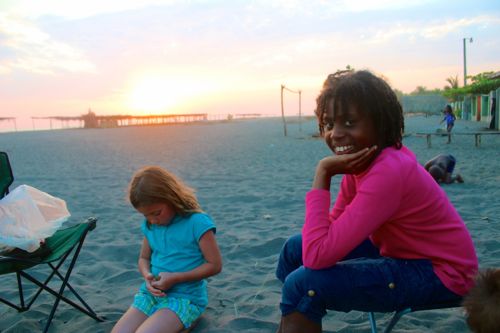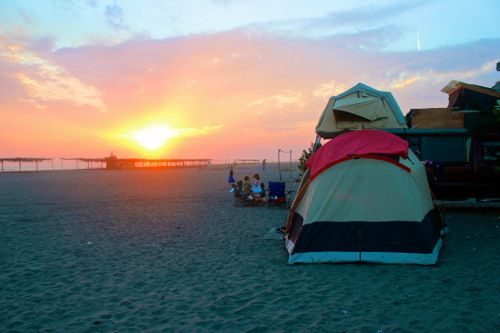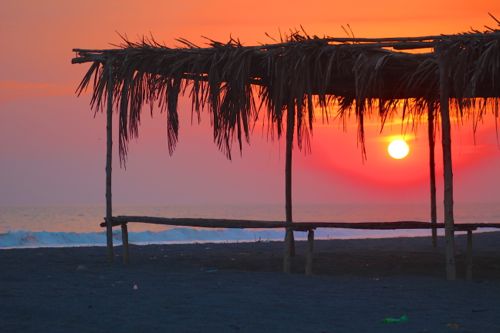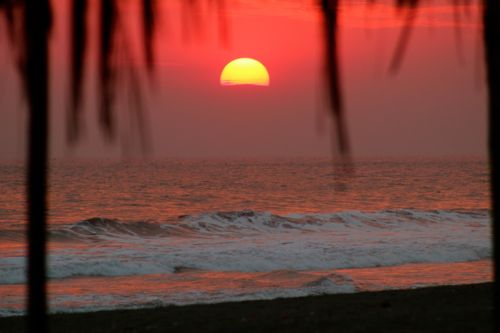 Cooking and eating, of course. (We were like a swarm of locust on any food placed on the table. Our hosts had never seen anything like it)...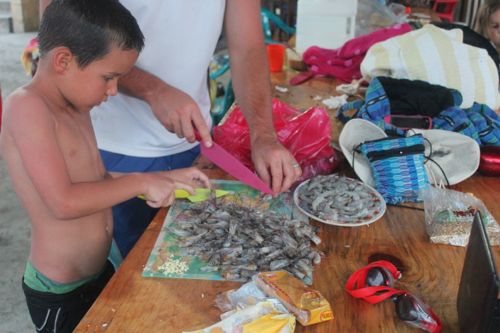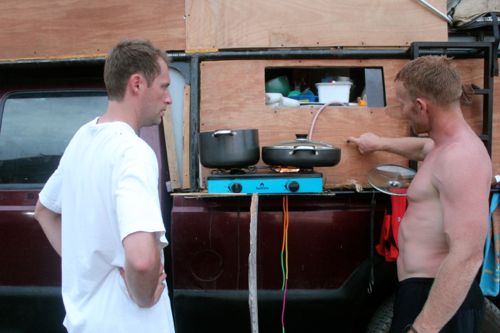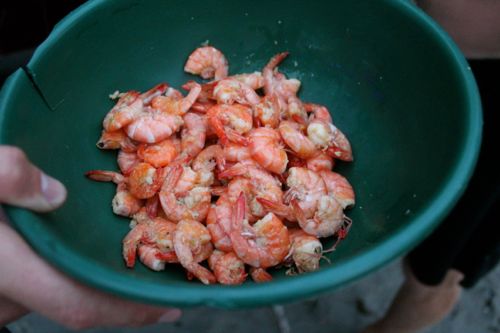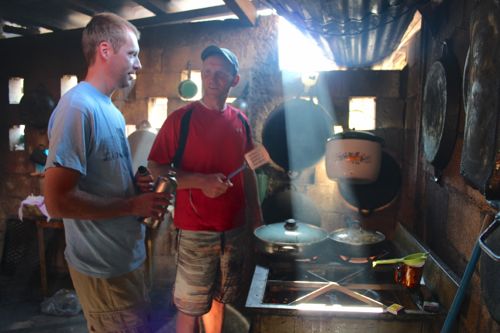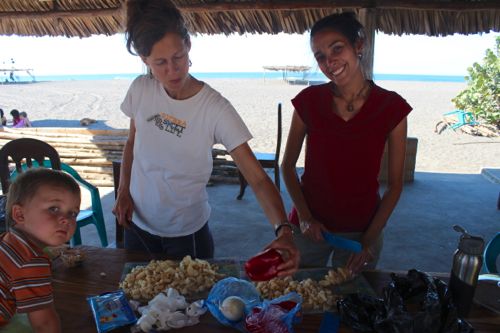 Building bonfires...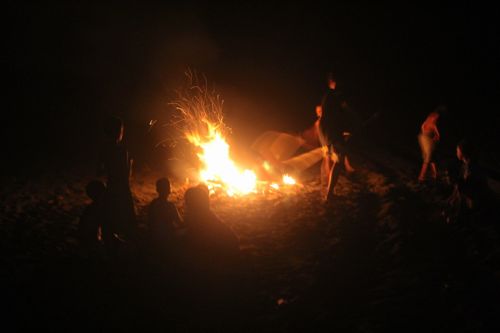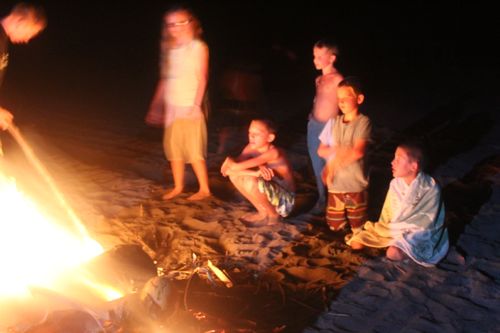 Sleeping...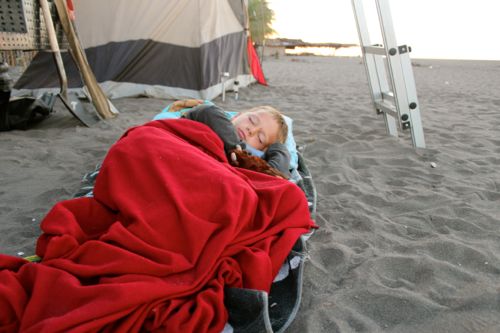 This is where Parker slept at nights, so he could get up early.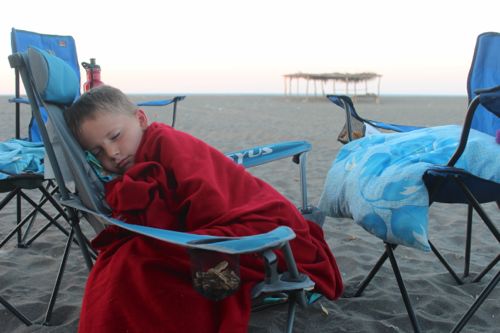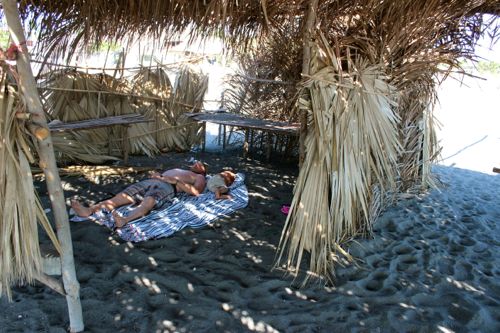 Posing...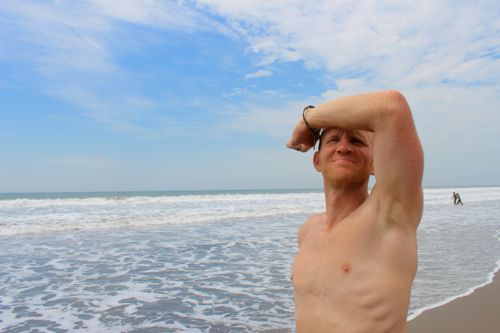 And talking...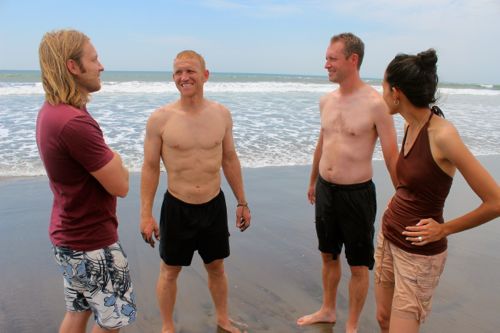 The best part?
Not only did we have an amazing time, but the best part of the entire experience was the environment of love, respect, cooperation, and a shared vision on living.
Our conversations weren't just 'chit-chat', but deep and meaningful, about the books we've read or we're reading, and how to live life deliberately.
To maintain oneself on this earth is not a hardship, but a pastime,  if we will live simply and wisely. -- Thoreau
When we faced challenges (like running out of food -- there wasn't much available in town) or money (there were no ATMs), we worked together and discovered solutions. We helped each other out.
And the children were the best examples of all. Hugging, friendly, and having fun, there were few (if any) fights, and it would be difficult for an outsider to tell who are siblings and who aren't, they share so much love for one another.
Due to a lack of formal schooling and negative peer influence (and abundant parental influence), these kids -- from 16 to 2 -- haven't learned to make fun, to judge, to mock, or to ridicule. Instead there is only respect, patience, kindness, and fun. (IMHO)
The older children and younger children are friends, playing in each others games, loving and compassionate (like the 14 year old who spends the 4 hour drive talking to the chatty 3 year old, without annoyance, only tenderness.) This is the true definition of 'socialization' -- the ability to relate and respect people of all ages. (Don't get me started on that...)
The younger children learn to be more 'mature', being a part of the activities the 'big kids' devise -- gathering and opening coconuts, building bonfires and forts. Everyone looks out for one another.
There's lots of mentoring that takes place naturally -- older children teach the youngers how to play the ukulele, make fireworks, clean up and help out. They also model the behavior that you want young children to learn, through positive peer pressure, without stigmas -- serious study and reading, meaningful conversation and discussions with adults. There's no activity avoided because it's 'not cool'. Everything is open to investigation, with curiosity as our guide.
The younger kids are devoted to the older ones, and the older children respect that devotion and respond with tenderness and friendship. This is one of the greatest 'side effects' of this lifestyle and approach to education -- there's a vacuum, created by an elimination of the things that drain time and energy, such as time-consuming jobs, school and extracurricular activities. Filling the space that is created is an abundance of time spent together, pursuit of activities of interest, fun and play and lots of love.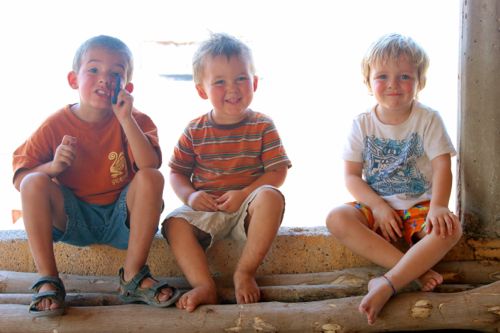 Watch how much fun we had:
Next year, we're thinking about holding an 'official' unconvention (with 'workshops' and everything.)
Where will it be held next year? Would you like to join us?
Comments
comments
Powered by New Facebook Comments