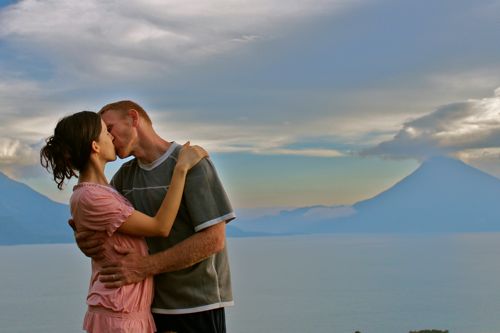 "If the essence of my being has caused a smile to have appeared upon your face or a touch of joy within your heart. Then in living - I have made my mark." - Thomas L. Odem
This is a picture of my husband and me. Kissing. With Lake Atitlan and San Pedro volcano in the background.
And I'm posting it on my blog for thousands of people to see. Along with all the other crazy stories I've contributed.
With every post I write, I'm sharing our life, exposing our family, and taking a risk. A risk that my words and stories and personal experiences might be misunderstood, misconstrued or misread. A risk that we might be ridiculed, derided or judged - viewed as 'weird', 'whacko' or 'irresponsible'.
As much as I share with you - the thrills and adventures and heartaches and defeats - it will never be the whole picture. Even if you read everything I've written, and pasted together what you thought was a really good idea of who we are, it could never be complete.
This blog can never entirely portray who we are and what we are about. Because the molecules of moments which make up a person and a family can only be fully grasped by those who live and breath them.
It's an interesting age we live in. As humans, life continues as it has for thousands of years - we're born, we grow, we marry, have children, then die. But now we share these experiences on Facebook, Twitter or our blog. No longer are these very personal experiences kept within the confines of close knit family and friends. They're exposed for the world to bestow their not-so humble opinions about how you should be dealing with the chapters of your life.
Recently I've been reading about tragic happenings in the lives of a few 'family travel' bloggers. It affects me to read about these devastating occurrences. But what is even more frightening, is the negative response these women receive, as they wear their heart on their blog page, and then face the critics who by the very nature of the medium, can't possibly know the whole story.
This is a possibility I've created for myself, in choosing to keep this blog. I'm opening my life up to public inspection. And in this moment (after spending the last few hours reading one of the aforementioned blogs), I'm not sure how I feel about it.
We all have a different outlook toward life. Some go and others stay. Some school and others unschool. Some have houses and others have none. (Sounds like Dr. Seuss.)
Despite our differences, our philosophies, our world-views - can't we all just get along? Can't we at least acknowledge, when we feel tempted to judge, that we don't know the whole story?
People grieve differently. They rejoice differently. They live differently. That doesn't make the way you do it wrong. But it doesn't give you the right to pass judgement on the way they're doing things. That's up to them to decide.
Your judgement doesn't define them, it only defines you as a person who needs to judge others.
Just to set the record straight, I enjoy sharing our life. And we hope that what I share inspires those who connect with it. But what I share is only a part of our story. And the same is true for all those who share themselves online.
When the opportunity arises to place judgement on another, remember that you haven't carried their baggage, or peddled their bike, or walked in their shoes. You don't know the full meaning of what it's like to be them. And until you do, it's best to keep your mouth closed and your heart and mind open.
That's all I have to say about it for now. I think I should go to bed now.
Comments
comments
Powered by New Facebook Comments