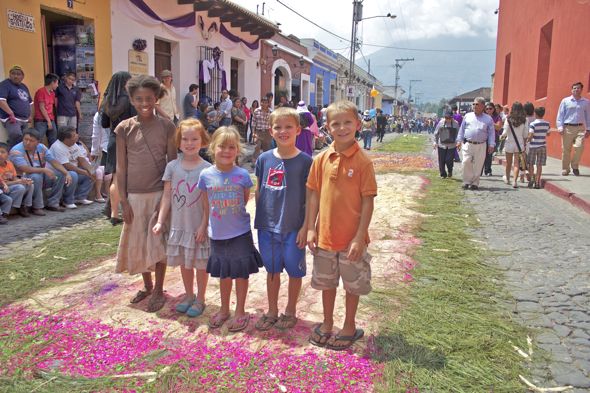 On a alfombra (carpet) in the streets of Antigua, Guatemala for Semana Santa (Holy Week)
This video Q&A is a part of a series: Our Video Responses to 55 of YOUR Questions
Make sure you get access to all the videos by signing up here.
Question: Will you ever transition back to 'normal' life? What preparations are you making to do so?
Answer: (Click here if you can't see the video.)
Will we ever go back to a career, a mortgage, maybe send our kids to school?
For us, that's just not 'normal' 🙂 We can't see ourselves ever living that life again.
Our focus is on living deliberately. For us, the life that is 'normal' for many people is not the lifestyle we want. Our deliberate lifestyle looks very different.

We do have our own 'normal' that we already do everyday. Here's what it looks like:
Creating value using our gifts and talents (with our Living Deliberately project, through this site, and through GregDenning.com)
Following our daily disciplines that help us to accomplish our long and short term goals
Studying, reading and mentoring our children on a daily basis
Developing our talents, learning new skills, developing new projects
Comments
comments
Powered by New Facebook Comments