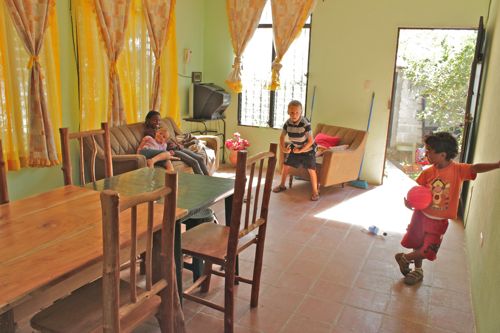 At home in Panajachel, Guatemala
This video Q&A is a part of a series: Our Video Responses to 55 of YOUR Questions, as part of our project for helping others Live Deliberately.
Make sure you get access to all the videos by signing up here.
Question: Will You Ever Decide to Call a Place Home?
Answer: (Click here if you can't see the video)
We've chosen to be 'house-less' on purpose. We love being nomadic - exploring, wandering. We love change and new adventures.
So will we ever 'settle down' and call a place 'home'?
Truly, we believe that where ever we are as a family is 'home'. The places we've stayed, and the houses we rent (like this one in Panajachel) have all been 'home' to us. We've discovered the adage - home is where your heart is - is definitely true.
But will we ever get a house? The answer is: yes. Under the right conditions.
We don't currently own a house in our home country, because we couldn't do both - have a mortgage, with all the insurance and bills, and travel. Having a house that way only became a liability - an anchor - that kept us from traveling. So we chose to travel instead.
When we can purchase land, and build a house that we own free-and-clear - a house that is actually ours and becomes an asset instead of an anchor - we're all for it! It's part of our long-term plan for sovereignty and becoming self-sufficient (critical, we believe, with the uncertainty of today's economies.)
However, for us, it will still just be a 'home base'. A place to have a garden, some chickens and rabbits, our library with our favorite books, to store some of our things - and to come back to after new travel adventures.
Where will that place be? We'll let you know when we find it 😉
Comments
comments
Powered by New Facebook Comments