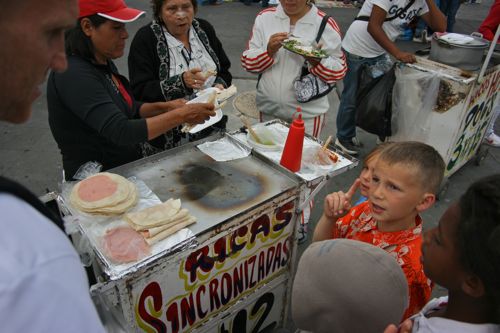 Buying street food in Mexico City
This video Q&A is a part of a series: Our Video Responses to 55 of YOUR Questions
Make sure you get access to all the videos by signing up here.
Question: How Do You Pick the Countries That You Travel To?
Answer:
Where you go, and how you go, largely depends on the type of experience you're looking for.
Interested in beach time? Norway probably isn't the best option for you.
Decide what type of experience you want to have - languages you want to learn, culture/food you want to try, weather and climate you're up for - and that will help to narrow down the choices of where to go in this big beautiful world.
Here's some of the principles we follow when deciding where to go:
What do we want to experience? What don't we want to experience? Is there a language we want to learn?
What kind of climate? What time of year will we be there?
Ask advice and recommendations from people who have actually gone.
Soon, it will start to feel right. That's how we know when we're on the right track.
How have you picked where to travel?
Comments
comments
Powered by New Facebook Comments