This continues from Part 2 of Our Story
We landed in the Puerto Plata airport - with 12 suitcases, 6 carry-ons, and 4 children - ready to make the Dominican Republic our home, site unseen.
We didn't know where we would live, only the town we wanted to live in. Hopping on a 2 hour bus ride to Samaná, our final destination was Las Galeras - a small village at the end of the road on a remote peninsula.
A taxi took us from Samaná to Las Galeras, but once we arrived, then what would we do? Where would the taxi drop us off? Where would we go? How would we carry around all of our 'crap'? How would we find a house?
As we rolled into town, we stopped one of the first people we saw - a gringo riding a motorcycle.
Asking him if he knew of any places for rent, he volunteered to take my husband to look, and his house as a hang out. His wife turned on cartoons for the kids, and kindly offered snacks.
Within an hour the two of them were back. They'd found a place and made arrangements for us to move in - a beautiful little house nestled in a coconut grove right on the beach for only US $300 a month.
That night we stayed in a rented room while they prepped our house. We'd had a fabulous day, things had worked out perfectly, but I was feeling very nervous and sick to my stomach.
Did we do the right thing, bringing our family to the DR, with just the money we had saved, and a hope for creating an income? Would we make it? I had committed to myself before leaving that we would make it work. Now I was beginning to question my capability to do that.

My emotional state wasn't helped when we realized a large chunk of cash was missing and that tap water wasn't drinkable. It was late, stores were closed, and we had four very thirsty children. So we broke out our previously unused water filter, and pumped it out of the bathroom tap. I was too skeptical to drink it myself, but we gave it to our parched kids, praying they wouldn't get sick. (We later found the chunk of cash stashed away in another location.)
The next day was our 8 year wedding anniversary. We ate a simple breakfast of fresh coconuts and coconut bread, on the porch of our rented room. Then we moved into our new house.
The following three months were what we called our 'Walden' experience.
We shared a loft bedroom with our kids in our 800 sq. foot home; lived without hot water; washed our clothes by hand; had no phone, internet or car; made all of our meals from scratch; ate LOTS of coconut; visited the beach everyday, did lots of reading and walked through the coconut grove every evening as the sun was setting.
Our days were spent together as a family. We would hike to remote beaches that looked like they were off a post card. We ate the local foods, including La' Galera' cheese, which was the best we'd ever had.
It was heaven.
But the money was running out, and the income wasn't growing without consistent internet access (my husband would walk the mile along the beach into town to use internet everyday, but it wasn't enough.)
Besides that, our heaven was becoming hellish. Giant rats would chew through the screens and come scavenging in the kitchen each night, and spiders the size of my hand would be discovered crawling across my face while I slept.
It was time to move.
After my hubby did a recon mission, we picked Sosua. It had a beautiful beach (although much busier than we were used to in quiet Las Galeras), and we found an apartment with a pool for only US$380 a month.
Now we had regular internet access. I began doing more freelance work, and we researched other sources of online income.
The kids also became proficient swimmers, visiting the pool several times per day. Their Spanish improved, having a plethora of friends to play with, and they learned to jump rope.
With the help of some friends, we orchestrated a literacy project, and were able to place over 400 books in neighboring schools, orphanages and homes.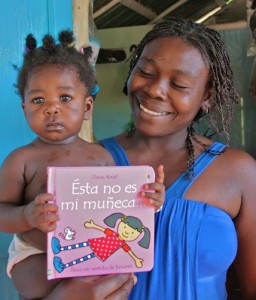 It was touching to spend time with children who had been abandoned who were longing for love. Or to visit a school that didn't have even one book for the students to read from.
We ached to continue doing work like this, but we still hadn't figured out the money problem. It was running out, when my husband had the opportunity to return to the States to do some work.
Going Back to the States
Greg went back, leaving the kids and I in our nice little apartment. It was after he left that I discovered I was unexpectedly pregnant, but then suffered a painful miscarriage.
For nearly two weeks, I lay in bed, in pain, everyday, while my children wandered around and the food ran out. My little ones resorted to eating ice to assuage their hunger. It was my first experience with being really hungry.
Finally, I regained the strength to make a trip across town to the grocery store (a job that previously belonged to my husband), leaving the kids with a neighbor. How grateful I felt to have an abundance and variety of food!
It was soon apparent the my hubby wouldn't be returning to our island paradise, so we made arrangements to reunite in the States. We picked Atlanta, Georgia as the place we wanted to recoup.
We received help from family and friends, who offered us a place to stay, a car to borrow and some financial assistance. In September 2009, after seven long weeks apart, (and a harrowing flight by myself with 4 children under age 6), we were joyously reunited.
Inwardly, I was devastated and humiliated. I'd made a commitment to 'making it work'. Yet here we were again, fodder for all the 'I told you so's (and receiving help from those who could say it). Why had God led us on this 'wild goose chase' only to fail once more? My grief was profound.
Travel was still something we wanted to do. It was a part of us now.
But we'd resigned ourselves to 'settling down' for a year or two in Georgia, while we focused on developing skills that would be employable overseas - skills that would give my husband the opportunity to take a job abroad, thus funding our travel lust.
Since Greg had some EMT training, and loved that sort of medicine, he wanted to focus on getting his paramedic. We'd noticed an abundance of well-paying paramedic positions in a few countries that caught our interest, and thought this would be a good plan for getting there.
For three months, he tried everything he could to get into a paramedic school (we'd picked Georgia for that very reason). Everywhere he turned it was a dead end, as if it was a sign telling us, "Wrong Way".
Disheartened, we didn't know what to do, or where to turn. What do we pursue? How do we find a way to travel again? Or do we stay here and buy a little house and put our dreams in the closet for awhile?
Two Roads Diverge
Within the next month, Greg was given two diverging leads.
The first was a cushy sales position. It offered a very competitive salary, a company car, laptop, cell phone plan, gas and clothing allowance. It would set us up very nicely - financially. It was his, if he wanted it.
The other position was the Assistant-Managing Director over  company operations for a non-profit working in Southern India. The pay wasn't nearly as good. But it spoke to our soul.
We'd have the chance to do work that was meaningful, and the opportunity to travel and see the other side of the world. It was the perfect job for us. It would challenge and make demands on our inner resources. It would help us to grow, and give us the experience and expertise we needed to do the kind of work we wanted to do.
There was no doubt about which path we would take. It was also miraculous to see how everything unfolded.
We began to see how all the pieces were fitting together perfectly. If we hadn't moved to the Dominican Republic, we wouldn't have picked Georgia as a place to live (we'd had a long layover there on our flight to the DR). If we hadn't moved to Georgia, we wouldn't have known about this organization.
We also saw that our experience in the DR - specifically our self-initiated literacy project - helped to qualify us for the work that they were doing in India. It added to our 'resume'.
Suddenly, we were able to see that our 'failure' was only a stepping stone to greater opportunities.
The organization was looking for a family that was willing to make a long-term commitment - five to ten years living in rural India. Having never visited before, we still mentally prepared ourselves for that obligation.
What few belongings we had accumulated, we now disposed of. We packed only books, clothes and other personal belongings.
In January 2010, we left for India. I threw up the morning that we left for the airport, and felt like throwing up during the entire 30 hours of travel from the United States, to London and then Chennai, India.
It was about 3:00 a.m. when we arrived in India. A van took us to our hotel. We marveled at novelties such as the driver sitting on the 'wrong side' of the car, and driving on the 'wrong side' of the road.
I tried to sleep off my sickness induced stupor at our hotel, but before long we were up preparing for the van that would take us the two hours to our new home and job in rural Southern India.
(And discover the real cause of my illness...)
Comments
comments
Powered by New Facebook Comments