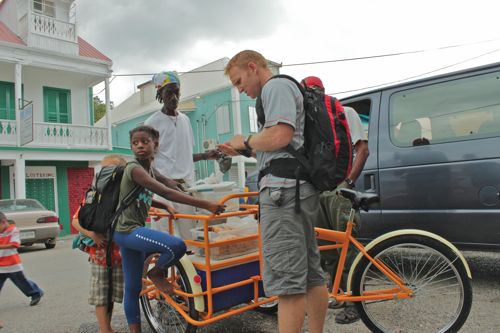 Buying meat pies in Belize City, Belize
This video Q&A is a part of a series: Our Video Responses to 55 of YOUR Questions.
Make sure you get access to all the videos by signing up here.
Question: How do you overcome the fear of traveling to countries that are so different?
Answer:
When we thought about driving (for the first time) to Costa Rica from the United States in 2007, WE WERE TERRIFIED!
We were certain we would get robbed, maybe murdered...
Was there even a road that went all the way to Costa Rica?
As we did more research, and then eventually gained the courage to try it ourselves, we learned that most of our fears were based on ignorance and a lack of viable information.
If you are afraid of visiting a place, there are few things you can do:
Analyze what your fears are, and where they come from (media, family, friends, etc.)
Analyze the source - do they have first-hand experience? Do they have another motive? (bad news sells)
Do your own research, talking to people, reading books or blogs, of people that have actually been (and have the right attitude)
Go for it. The best way to overcome fear is to do the thing you're afraid of
How have you overcome fear about traveling some place?
Comments
comments
Powered by New Facebook Comments