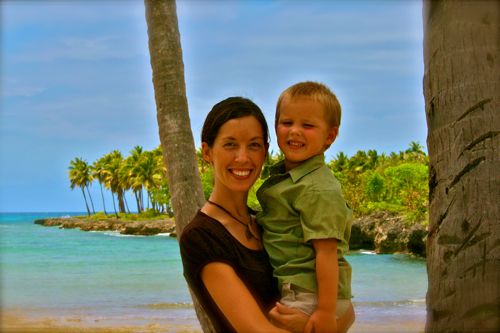 Las Galeras, Dominican Republic 2009
A: Age you went on your first international trip: I traveled to Tijuana, Mexico for the first time when I was 19 or 20. But that doesn't really count. My husband and I traveled to Playa del Carmen, Mexico for a second honeymoon while I was pregnant with our fourth child. It was the trip that sparked our move to Costa Rica - we drove there from the United States.
B: Best (foreign) beer you've had and where: Don't drink beer, sorry
C: Cuisine (favorite): I love Latin food - pretty much all of it. Some of my favorites have been Costa Rica's Caribbean side Ricenbeans - a rice and bean dish with chicken, cooked in coconut milk.
D: Destinations, favorite, least favorite and why: My favorite destinations have been Las Galeras, Dominican Republic; Samara, Costa Rica; Agua Azul, Mexico.
My least favorite was India in general, not because I don't like India, but because I was pregnant and India was hot, stinky and spicy. I'll go back one day and enjoy it, un-pregnant.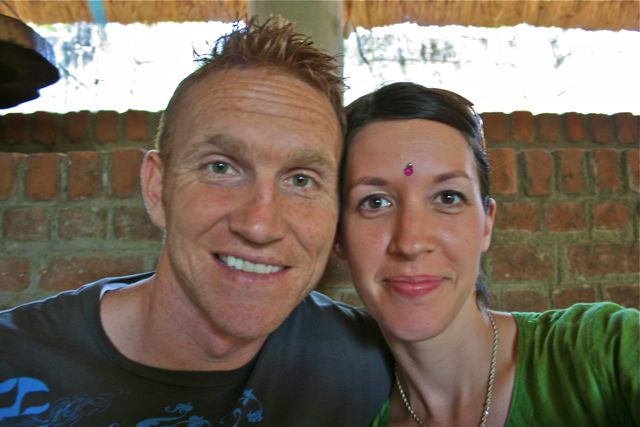 Celebrating our 9 year anniversary in India.
E: Event you experienced abroad that made you say "wow": We went out at sunset and found a school of dolphins feeding on a school of fish. We jumped in the water with goggles and got pulled behind the boat and swam along with the dolphins. I could hear them calling, and see them swimming all around me. All I could think was, "Wow, this is incredible!"
F: Favorite mode of transportation: Our own vehicle. That's why we're driving from Alaska to Argentina. We love to travel and explore, but it's so much easier (with 5 kids) when you have your own transportation. But we have fun sometimes by taking a subway, bus or taxi.
G: Greatest feeling while traveling: The feeling that your mind is expanding from a new idea, incredible view, amazing experience, or new language.
H: Hottest place you've traveled to: India by far.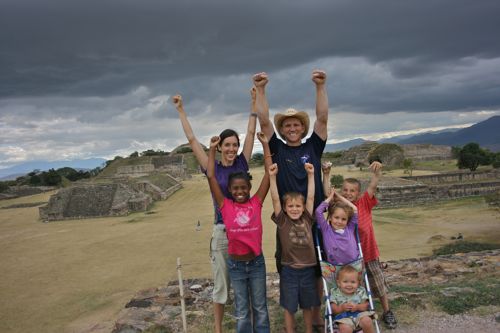 Ruins of Monte Alban, Oaxaca, Mexico
I: Incredible service you've experienced and where: Being served by the humble and poor people of India and other countries. One amazing experience was a dinner served by a simple family in their small two room home in Southern India.
J: Journey that took the longest: Our longest airplane flight was 30+ hours from Atlanta, Georgia to Chennai, India - with 4 kids!
This epic expedition is probably the longest journey though, we've already been on the road for 8+ months, and we're only in Mexico.
K: Keepsake from your travels: I have a little bag that I bought in India that is filled with some keepsakes - sea shells, neat rocks and other things. I have also saved some drawings, photos, and other gifts from friends along the road.
Besides that, my keepsakes are all the photos and video I take!
L: Let-down sight, why and where: I realized that I'm only let down by a place when I go with preconceived expectations. I've learned to just accept what a place has to offer, and enjoy it, so I don't get let down.
M: Moment where you fell in love with travel: It was sitting with my husband with a group of local Mexican people, being immersed in the language and culture. I knew it was an experience that my family needed to share. Since then we've never looked back, and love the incredible journey's we've had.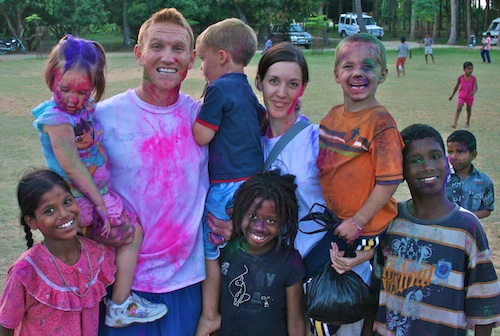 Celebrating Holi in India
N: Nicest hotel you've stayed in: The Intercontinental in San Pedro Sula, Honduras. It was the only hotel with a room available in the entire city. It was soooo nice, but very expensive.
O: Obsession—what are you obsessed with taking pictures of while traveling?: Landscapes and my family. I'm afraid to take pictures of other people - the locals, etc. though I really would like to take more, I'm afraid they'll be offended.
P: Passport stamps, how many and from where? I've now been to Canada, Mexico, Guatemala, Honduras, Nicaragua, Costa Rica, Panama, Dominican Republic, and India. We'll go to Belize in a couple of weeks.
Q: Quirkiest attraction you've visited and where: I once found a very strange museum while I was doing a morning run in Sosua, Dominican Republic. It had a lot of odd sculptures, and weird creations - like a gigantic chair, and snake post bed. It was kind of like a house, and it was very creepy - it was an odd and almost evil collection. It gave me the willies.

R: Recommended sight, event or experience: Swimming with the wild dolphins in Puerto Jiminiz, Costa Rica, and then hiking back into primary forest in Corcovado National Park.
S: Splurge; something you have no problem forking over money for while traveling: Good, cheap food. Convenience services, like having my laundry done.
T: Touristy thing you've done: Stayed at all-inclusive resorts on our first road trip to Costa Rica.
U: Unforgettable travel memory: Swimming with dolphins in Costa Rica; hiking to Playa Madama in the DR; rope swing at Agua Azul
V: Visas, how many and for where? Just one for India
W: Wine, best glass of wine while traveling and where? Don't drink wine.
X: eXcellent view and from where?: Looking out the windows from our home perched on the mountain above San Jose, Costa Rica.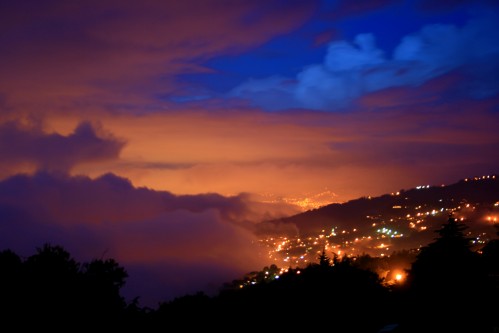 View from our balcony of San Jose, Costa Rica

Y: Years spent traveling?:  Almost 5 now.
Z: Zealous sports fans and where?:  The Dominicans are crazy about baseball.
This post is part of a travel bloggers project. I thank Nancy from Family On Bikes for nominating me.
Now I tag:
Jenn Miller from EdventureProject.com
Alisa Lybbert from LivingOutsideoftheBox.com
Clark Vandeventer from FamilyTrek.org
Comments
comments
Powered by New Facebook Comments