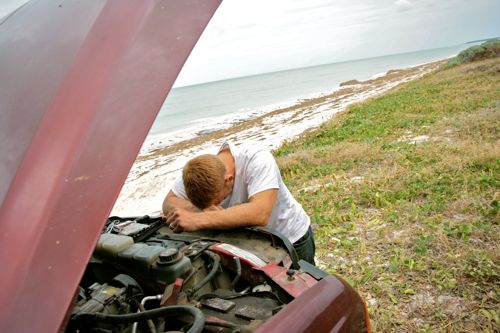 Ultimate desperation
Looking back, it was kind of like giving birth. (Continued from The Saga of Sabancuy: There Was Trouble)

I originally thought I would share the entire story with you. Every. Agonizing. Detail.
Like the ant invasion; and the attack of the no-seeums; the hiking and hitch-hiking; the diarrhea and dysentery; McGyver repairs and mental insanity.
But that's kind of like watching someone's home videos... of their baby's birth. It's more than you care to see.
And looking back now with the vignette view of hindsight, the pain starts to fade, and you begin to wonder what all the fuss was about.
In the moment, in the throes of labor, you cry and curse and make unalterable vows that certain things will never happen again.
And then you forget. And life goes one. And you realize that you are a better person for having experienced it. And it wasn't so bad after all…uh, right??
Besides, what could I tell you? The truck wouldn't work. We tried to fix it. It still wouldn't work. We tried something else. Then it almost worked, but then the battery died.
Then we jumped the truck, and it worked. Until the next morning, when it wouldn't work.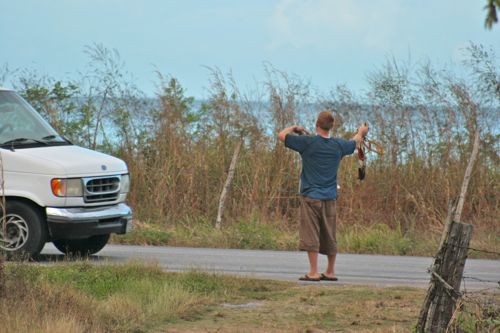 Who knows how many hours my husband stood roadside looking for help
So we tried again. It still didn't work. We hitchhiked to town. We had help from strangers. I laid in their bed sick with dysentery. Greg went back to the truck with more strangers. They jerry-rigged it, drove it to town and fixed it 'for good.'
We drove 40 km to a new town. We camped in a farmer's field. In the morning the truck wouldn't work. We were stuck for two more days in sweltering heat. I nearly go insane with the overwhelming awareness that I HAVE NO CONTROL OVER MY CIRCUMSTANCES! I am stuck in every way possible.
Greg climbs under the truck, drops the fuel tank and nearly crushes himself.  He discovers that engine oil is leaking into our diesel. We jerry-rig the truck with a bottle of diesel beneath Greg's feet. Then the battery is dead.
We beg for someone to jump us, and finally it works and we get out of the farmer's field (to his great relief, I'm sure).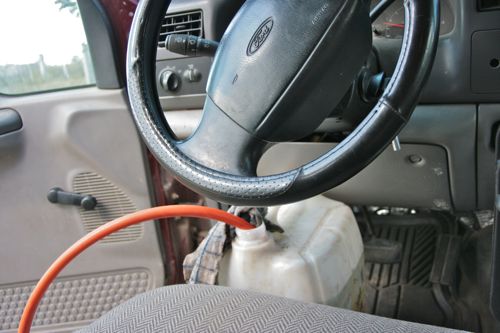 Our jerry-rigged diesel tank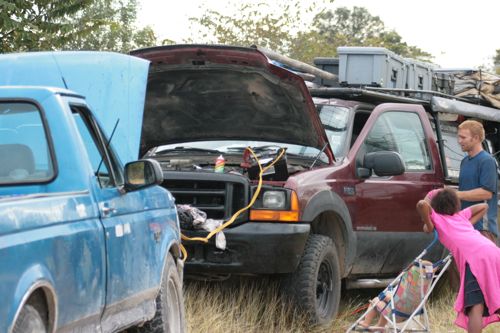 Who knows how many times we got jumped, and by how many people?
We fill up on engine oil, and drive to Tulum. The truck mostly works for the next five days. We pick up our friends at the Cancun airport (who happens to be a diesel mechanic). The truck dies on the way back to Tulum, and we discover that the truck stops working every time it runs out of engine oil (which is often, since it is leaking into the diesel tank.)
Then there was the fixing, and re-fixing, trying to find the leak. Dead truck batteries, and clothes flying down the freeway, the busted roof top tent, the stolen camera,  and nearly being homeless for Christmas.
And then I couldn't fight it anymore. And I just accepted that, "Yes, things could get worse," and if they do, I guess I'll deal with that too…life goes on, and I AM NOT IN CONTROL.
The whole saga is like trying to tell someone how difficult your labor was.
"It was really, really tough. I was crying. I didn't want to go on. I didn't think I could do it."
And they just smile and say, "That's nice. But you did it, and here you are. It wasn't so bad, was it? And look at this cute baby!"
There are some parts that are worth sharing. Like when the stranger gives hours of his time to help, and when offered money for his services simply replies, "La amistad es major que el dinero". (Friendship is more important than money.)
But those are the sweet, special moments that come after the pain, like when you hold your first born in your arms after the long delivery. They're moments that can't be fully expressed in words, but only remembered with sweetness by the participants.
So while I'd love to share with you the ups and downs, the sorrows and joys of the whole saga, in reality, I can't. Just because, you weren't there.
It was for me, and my personal growth (maybe for my husband too, though he hardly gets ruffled by such things - well, okay. He did get ruffle somewhat...).
My kids barely even know what happened. All they know is they get to play everyday. Whether that's on a beach or in a farmer's field, it's all the same to them.
And in the end, it only convinced me even more that doing what we're doing is really what I want to do.
Because even after pooping my pants; and fighting off mosquitoes and looking like I have chicken pox; and endless bathroom trips with dysentery; and having my sanctuary busted to pieces (my roof top tent); and getting my camera stolen; and almost losing my mind by a life that is out of my control - even in the midst of the insanity, when the alternatives are considered, I still would rather be out here than living in my comfy house back in the States, with all the luxuries and normalcy.
The rewards I receive in exchange are worth the awful price that has to be paid.
In reality, none of us have control of our lives. Oh, we think we do. We think we have things down to an art, and that life will continue on the way we've planned it, the way we expect it to.
But really, at any moment, life can throw us a curve ball. And unless we learn to 'roll with the punches' - to take what comes and make the most and the best of it - we're going to get pretty bruised up, and just end up black and blue.
That's part of the beauty of this entire crazy, sexy, preposterous journey.
It's totally, entirely and completely unpredictable - which is great and terrible.
I went through hell. But I came out of it, and became better and stronger for it. And that is why we're out here. That's why we do what we do, because it forces us, literally forces us to do and experience and see and learn things outside of our comfort zones. As much as we might kick and scream and hate it all the while.
I could have chosen to 'play it safe,' to stay at home and take the road more traveled. Perhaps then I could have avoided the pain. But I would also fail to reap the prize, and in the end, that's what I'm after.
Comments
comments
Powered by New Facebook Comments