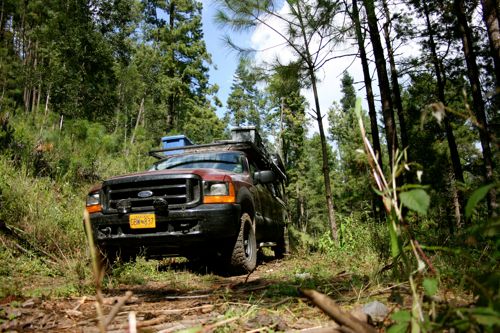 There's an old Kenny Rogers song, The Gambler, that my dearly departed dad used to listen to. It went something like this:
You've got to know when to hold them, know when to fold them, know when to walk away, know when to run.

You never count your cards, while you're sittin' at the table, they'll be time enough for countin', when the dealin's done."
Sometimes things just don't go as planned. This might be due to unrealistic expectations, inaccurate information, or from simply pushing your limits.
Travel is a constant game of adaptation - adapting to a change in plans, a change in location, a change of circumstances.
Winning the game comes from knowing when to hold your cards, and when to fold. Knowing when to walk away, and when to run. This can be fun, but also stressful, especially if you don't know your own limits.
A key ingredient to success in family travel is to have boundaries and stick to them.
Our boundaries included not trying to do 'too much' or drive 'too far' in a day, or a week; and being in camp, set up for the night by 5 or 6 p.m., as a general rule.
That way, we could hope to avoid some 'travel burnout', and provide ourselves with a respite each evening as we do our nightly routine - dinner, bedtime stories and sleep.
We'd had a fantastic day so far - a vigorous hike in the mountains, seeing the monarch butterflies up close, and then a delicious lunch in the warm sun.
After all that, and now with a full belly, I felt exhausted. I was ready for a siesta, and Greg was feeling the same way. It was time to 'fold' - set up camp and call it a day.
Our friends were continuing on to Valle del Bravo. From the description of it in their guidebook, it sounded like a place where we could collect some veggie, which we were running low on.
Should we stay, or should we go? Greg thought we should push on, so we could spend a couple of days in the area collecting (so far that's been our experience collecting veggie - you would give a restaurant advance notice, and then pick it up in a couple of days).
So we loaded up the kids and headed in that direction. The drive was impressive, through verdant, green valleys and forested mountain passes.
As the sun drifted lower in the sky, streams of sunlight pierced through the pines, dappling the forest floor. It was 'time' to set up camp, and more than one road winding into the woods looked so inviting and called to us to be home for the night.
But still we pressed on. Greg's hope was to get into the city, ask around for veggie, and then return to one of these beautiful spots.
The closer we got to our destination, the more our speed decreased, as traffic increased. Soon we were crawling along at a tortoise pace.
Greg spotted the first restaurant that looked promising for fuel collection, and pulled out of the traffic lineup onto the side of the road to park (not an uncommon practice for parking in Mexico), and incidentally onto a curb.
This attracted the attention of the policia directing traffic. He motioned to Greg to pull ahead past him and off to the side. I guess we can't park here. How nice of him to help us find a better spot.
But as Greg attempted to exit the truck, the officer informed him that he wasn't helping him park, but pulling him over. "It's illegal to park on the curb, just like it is in the U.S. and Canada," he tells us.
Great, I think. This might end up costing us.
He says he's going to have to give us a ticket, but as he asks us a few questions about what we're doing in Mexico, for some reason his heart softens and he lets us go.
Whew, what a blessing.
We can't check for veggie, but we can continue on our way, which we do, right back into the traffic congestion. Except now all we want is a way out. How do we get out of this city?
The more we drive, the narrower the roads get. Cars parked along one side, and traffic in front and behind us, we don't have much wiggle room for our gigantic rig. There's no turning to the left of the right, our truck's turning radius won't handle these tight corners.
So we carry on straight ahead, hoping this 'main road' will exit this place. But it doesn't. Instead it ends at a round about, which returns right back onto the road we came from.
Frustration levels are at a high, as the sun disappears. Children are hungry, but there is not one place to stop.
So we keep driving, and asking for directions - "How do we get out of this city?"
Finally we're directed to a road that leads us back to the road where we were pulled over, and out of town. It's dark, and we're faced with the challenge of finding a camp spot.
We drive, and drive and drive, through tiny villages, and fenced in property. Not one single turn-off road to call home for tonight. The baby is screaming, the kids are whining. Our limits have been surpassed.
We reach the end of the 'free' road and the beginning of the 'toll' road to Mexico City. This is not what we want!!! What are we going to do??
Turning around, we take the first little turnoff we see, which meanders along the edge of a hill overlooking a town, then back to some homes. We stop on the side, beneath some giant power lines, and put up the tent. We're done for tonight!
Fortunately we have some yogurt, bananas and granola for a bedtime snack. It quickly calms nerves and puts us in a better mood. It's our own fault - we created this situation. We should have known our limits.
The night passes like any other - we peacefully sleep, and awake in the morning with a new commitment to follow Kenny's advice.
When has your poor judgement resulted in an unpleasant situation?
Comments
comments
Powered by New Facebook Comments