[custom_frame_center]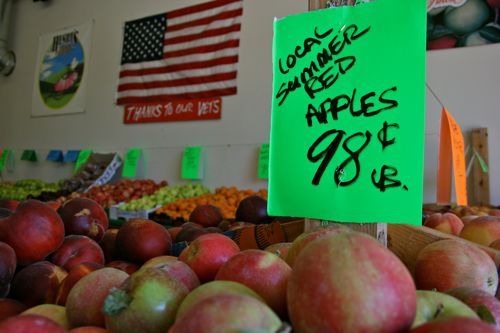 [/custom_frame_center]
Doing research on our Alaska to Argentina expedition, I discovered a family who was riding their bikes along the same route - all the way from Prudhoe Bay to Ushuaia.
Nancy, John, Daryl and David Vogel finished their journey in April/May and are now living in Boise, so we decided to take the opportunity to go see them before heading further south.
We arrived Friday afternoon, spent some time visiting, checked out the new house they're renovating, played some legos (the kids, not the adults) and made arrangements to visit the farmer's market in downtown Boise the next morning.
Saturday a.m., after the 'get ready' routine, we were on our way.
We parked the truck and walked a couple of blocks to 'the Grove' where the market was being held.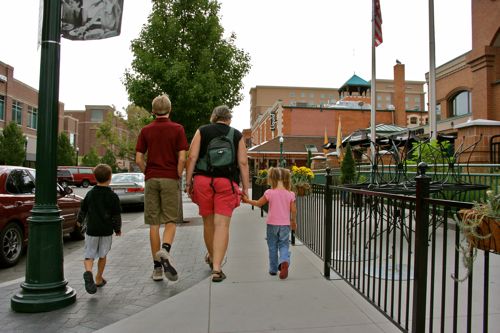 Aaliyah found a new friend.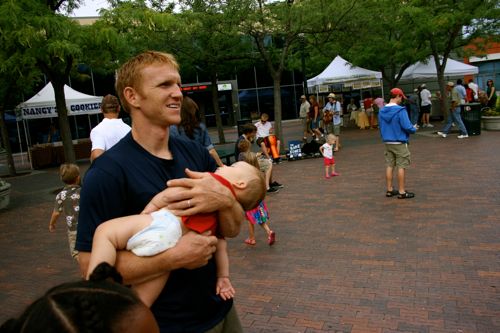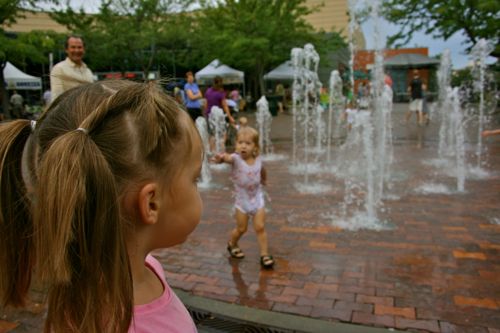 This water fountain would have been tempting on Friday - it was soooo hot. But Saturday was significantly cooler, and cloudy, so we passed on getting wet.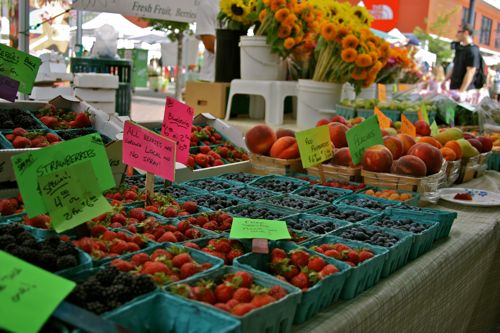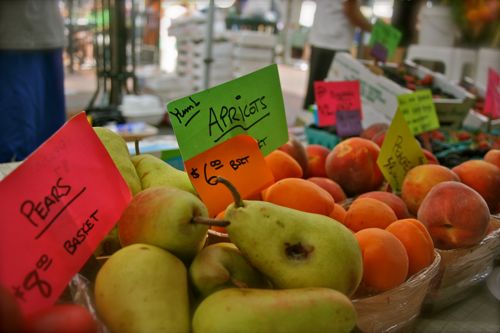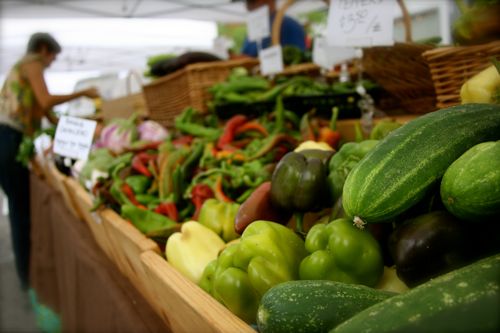 It was a normal outing- we perused the stands, bought some breakfast, tried all the free samples.
Then after we crossed the street headed toward the 'craft' section, we stopped at a booth to look at their home made products. It was then that we counted only four instead of five.
It happens so suddenly. They're there, and then they're not.
Had he gone ahead? Was he still behind? Did he cross the street with us? When was the last time we remember seeing him for sure?
The search begins. Greg runs behind, back across the street, while I hold baby Atlas and scan the crowd ahead for any sign of him.
Returning a few minutes later, Greg gives me a look through the crowd - "Do you have him?"
I shake my head.
He runs off to search in the other direction, and somehow Nancy's arranged for me to call security, so now I'm dialing the number.
"Hi, Ive lost a child. Seven year old boy. Tan shirt with stripes. Brown hair. Answers to Parker."
Greg returns, again empty handed, and looking frantic.
"I've contacted security, they're meeting me here."
"I'm going back across the street to look again, I'll meet you at the water fountain," and off he runs. Nancy goes to look too.
I wait for security, give them more details when they arrive so they can alert the police, then leave my kids in Daryl and David's care and set off to search on my own - I can't just stand here and wait.
I walk the streets, trying to walk in the shoes of a seven year old, very confident little boy. What would he be thinking? What would he do? Where would he go?
He's not one to wander off. He's too obedient for that. He might have been distracted. Or maybe he just got separated.
Nevertheless, I check the game store, and I poke my head into Jamba Juice (he'd promised before to get a free sample for his little sister who'd missed out).
I pass Greg, who is frenetically searching, and looks downright frightened.
"It will be okay," I tell him. "We'll find him."
I walk all the way to the end of the farmers market, stop, and stare across the street. What would he do? Would he leave the market area? Would he go back to the truck?
I pause, clearing my mind. It's been about 30 minutes, and he's not here, that's for certain. Praying, I realize there's a couple of options I could choose from right now:
I could freak out. I could panic, and allow these notions that are on the outskirts of my mind to take center stage - that he's been snatched, kidnapped, taken and I'll never see him again. Isn't that every parents greatest fear? Bad things do happen, and they could happen to me.
I could keep calm. I could expect the best. I can be a 'reverse paranoid' and believe that the world is out to do me good. I can believe in the goodness of people, and assume that anyone who sees my lost child will be there to help him, not harm him. Yes, bad things may happen, but more often, good things happen.
Which choice will do me more good? I choose number two. I calmly walk in the direction I came, still scanning the crowd, but confident that my little boy will be found.
I find Nancy and security - still no sign of him. The police are watching now. They want someone to stay here so they'll know where to find us. Greg has gone toward the truck to see if he headed that way.
"Why don't you go with the kids, I'll stay here to wait for the police," Nancy offers.
There's a small tear that wants to escape as I cross the street again. But I feel calm, everything will be okay.
I find the kids, who are waiting patiently.
"Did you find Parker?"
"Not yet, but we will."
Then I look up, and I spot Greg through the crowd, triumphantly carrying a tear-free Parker on his back.
Greg lets him down and I squat next to him and scoop him into my arms.
"What happened?" I ask between hugs and kisses.
"I was walking, and I turned around and I couldn't see you, and so I tried to find the truck, but I couldn't remember where it was, and some people helped me, and then daddy found me," he explained, working hard to hold back the tears.
Greg goes to tell Nancy and the police that we've found him.
I'm impressed with Parker's bravado. I asked him if he was scared, he nods his head, but otherwise he seems unshaken. Wow.
Greg and Nancy return, and we walk toward the truck like it's any old day at the farmers market, probably with a little more careful eye on where each of the kids are - though that may be an unnecessary caution at this point - they're all keeping close by.
We'll definitely be reviewing our 'what to do if you get lost' plan - but other than that, my reverse paranoia has proven true.
The world is a good place filled with good people.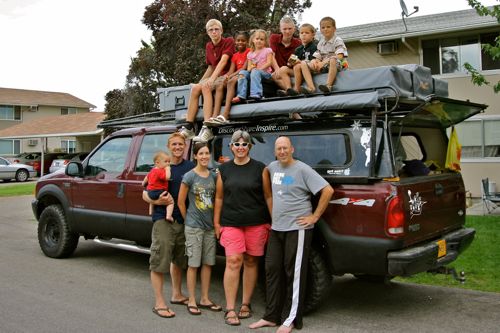 The Vogels are definitely good people.
Have you lost a child in a public place before?
Comments
comments
Powered by New Facebook Comments