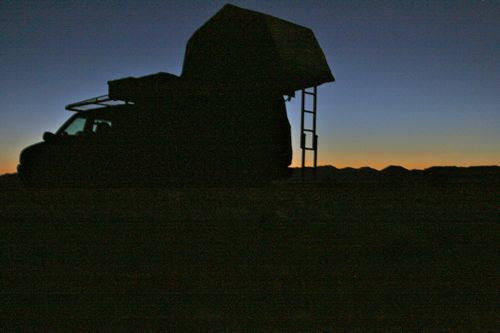 Our roof top tent in the early morning light
There's an inkling of blue and pink light over the eastern horizon when I crawl out of our roof top tent in the middle of the Nevada desert.
It's only 5:30 a.m. when I check the clock, but we've got such a long way to go to make it to our destination in Santa Cruz, California, there's no more time for sleep. Plus it was a little too chilly to be comfortable.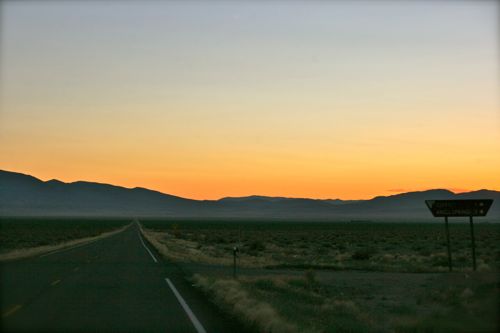 An hour later we stop to collect veggie, and I locate free wifi. Unable to call our hosts, who must be wondering where in the world we are after so many delays, I send an email to update them on our status.
I'm feeling a little anxious about them waiting for our arrival, and our extremely sluggish speed.
My anxiety isn't quelled either with the hour long breakfast break, the long-drawn-out pace of veggie-collection, and my now sleepy husband who is dozing at the wheel.
Determined to continue in our journey, I take the wheel. However, that lasts only a few moments due to my 'poor' driving on winding, narrow roads through Yosemite National Park.
My hubby is now fully awake.
But I'm still suffering from this inner turmoil.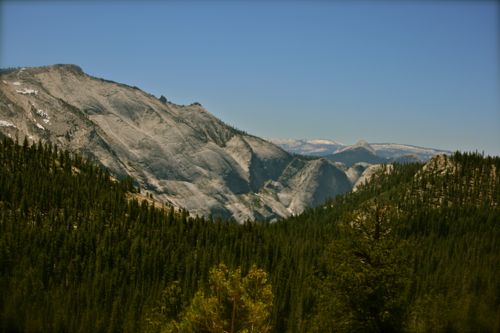 We're driving through the stunning scenery of Yosemite National Park, the temperature is perfect, the sun is shining, glistening streams curl through the pine forest - it's a perfect day.
We should be stopping to hike, appreciate the landscape and basically 'enjoy the journey.'
But we have people waiting for us. They've invited us to stay at their beach house, and they're expecting us, in fact hours ago, and here we are still hours away.
I feel like Jack Johnson's song:
I hope this old [truck] breaks down, then I could take a walk around.
See what there is to see, time is just a melody…
All the people in the street that I never get to meet, these tracks don't bend somehow.
And I got no time that I need to get to where I don't need to be.
So I…I need this old [truck] to breakdown. Oh please just let me breakdown.
I want to break on down, but I can't stop now.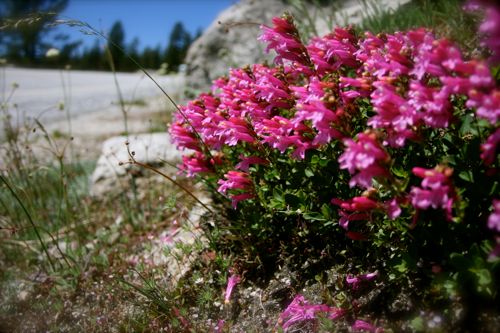 Stop and smell the flowers?
Holding an impromptu family council, we discuss the options:
Do we stop and hike, explore Yosemite?
Or do we drive straight through to the beach?
It's nearly unanimous- head to the beach, and we'll do Yosemite on our way back to Utah next week.
Feeling a little better that my compulsion to push on is supported by my kids, I check the GPS.
Five hours. We're still five hours away.
That feels like an eternity.
We've already been driving for five hours. I could easily be done traveling for now.
I don't like these long driving days. I don't like not 'stopping to smell the flowers', or to climb a rock or snap a photo.
And if the GPS says five hours, that means it will take our family more like eight, with potty breaks and veggie collection.
Well, a journey of eight more hours with kids begins with...a good attitude.
And we'll never get there if we never get going.
Read more...
Comments
comments
Powered by New Facebook Comments