I've been online friends with Jenn Miller since about 2008. At that time she and her family were biking across Europe and Africa - an awe-inspiring feat.
This last year their family spent the summer in Guatemala, beneath the shadow of a volcano on the shores of Lake Atitlan.
While we've never met in person, I know we will one day in some exotic locale around the world.
Every time I learn more about their family I gain a greater admiration for who they are and what they are about. Down-to-earth, yet wildly passionate and on purpose, the Miller family is an incredible example of a family who has designed the family lifestyle of their dreams.
As I read through their 'interview', I couldn't help think 'YES!' this is the LIFE philosophy I'm talking about.
It's not about doing what we doing, or doing what the Miller's do, or doing anything that the rest of our amazing Family Travel Masters do.
It's about living your dream!
Read on to see if you agree.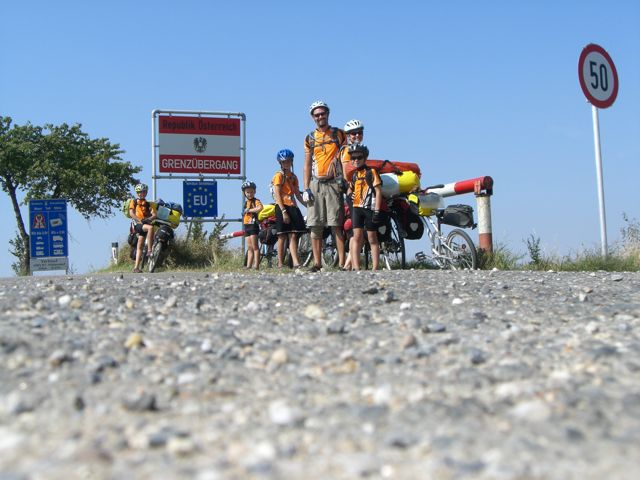 Biking in Austria
1. Who are you? (Names, ages of your family members, and something unique about you)
We're a family of second generation nomads with a passion for education and adventure.
Tony (39): Ex-Apple employee, full time Adventure Dad Extraordinaire, he's the brains behind Fahrsoft.com which allows us to live and work anywhere.  His passions include music (listening and playing) all things tech, food & family.
He reads aloud after dinner, no matter where we are, and he does voices. You should hear "Captain Ahab!"
Jenn(36): A teacher turned full time Gyspy Mama she's a freelance writer for the home education and travel markets as well as an educational consultant and curriculum designer for families who seek to educate differently.
Her passions include education, slow travel, and dreaming big dreams. She's equally likely to be found with her journal in a hammock, wading through a market with kids in tow, or hiking a really big hill with a new friend... in a skirt, of course!
Hannah (14): The oldest and only girl, she's a fiddle fanatic and a voracious reader. Hannah loves to share music and learn from anyone we meet. She's got a heart for social justice and change in the world and she's working towards a career in writing, or journalism.
She took her first backpacking trip with friends in Belize this year and came back realizing that "all she needs" is a way to make money... and she's right... so now she plays restaurants and bars for tips and is figuring out how to fund her own dreams... very soon!
Gabriel (13): Is mistaken for a girl three times a day because of the hair he hasn't cut since we were in the Czech Republic. He's got the soul of an adventurer and will try anything once. He's a budding guitar player and his afternoons include playing soccer, sword fighting with his brothers and hanging out with the backpacking crowd.
His best feature is his ability to sit down with anyone, of any age and share life. He asks great questions and makes friends everywhere he goes... who says home schooled kids lack social ability!! 🙂
Elisha (10): Is just like his Daddy, only smaller. His best features include his ability to notice things no one else sees and his knack for worming his way into the hearts of complete strangers. Elisha is the one who dives right into a new culture or language with the least inhibition and he always comes up swimming and smiling.
He's the kid that often results in complete strangers coming up and saying (often not in English) "OH... You're Elisha's parents... we met him at... what a great kid!"
Ezra (8): Thinks it's funny that so many foreigners pronounce his name "Extra" because, "I kind of AM the extra! If you lose one of them, you'll still have me!" He's the hardest headed, the toughest and by far the funniest of the bunch and he's got a million plans for the "cool stuff we'll do when THEY (meaning his siblings) leave."
He's more at home in a market than wal-mart and he detests the restrictions placed on kids in the first world. I have no idea who he'll become, but I know it's going to be fun to watch!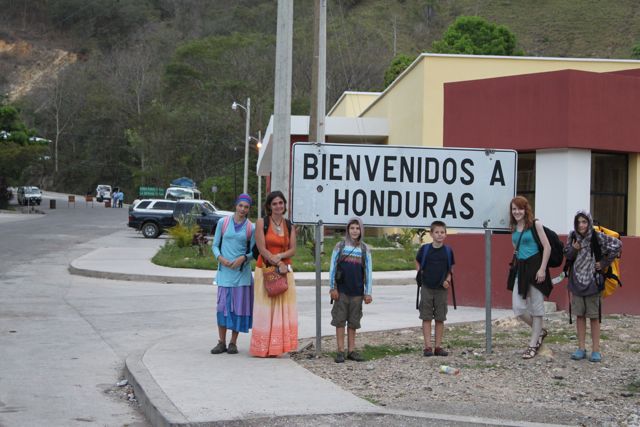 Crossing into Honduras
2.How does your family travel? What adventure are you pursuing? (Living abroad, by plane, boat, country hopping, road trip, bike trip, etc.)
There's no one answer to this question for us!  We'll travel anywhere, anyhow and we'll try anything once. We've traveled lots since our kids were babies (and before that.)
We sold our house and our "life" over three years ago (Jan. 2008) and hit the road full time. We began by cycling from London, UK to Tunisia (North Africa) and back. That took us a year. Somewhere in there our gap year became our life, we figured out how to fund the continuing adventure and we never looked back. In 2009 we took the 10,000 mile road trip through the US and Central America and in the process fell in love with Guatemala. In 2010 we returned to go "deep instead of wide" for a while and have spent six months living in the tiny pueblo of San Marcos del Lago on Lago de Atitlan in the Guatemalan highlands.
Our "next" includes a year or more in Asia with boots and backpacks, but we're going to get there via the Trans Siberian Railway... in WINTER!!  Everyone is VERY excited.
3.What is your family vision/mission? Why do you do what you do?
Great question!  The "why" is so important, regardless of what your dreams or how you choose to live life.
Our family vision includes raising global citizens who are prepared to engage their culture and their world from a place of experience and understanding.
We value family interdependence over individual independence.
We value real life learning over a surface "educational experience."
We believe that the best way for our kids to learn and grow into who they are is by preaching less and teaching them to listen to the lives of others more, which is why our dinner table is a constant parade of folks who live a myriad of different lives.
Why do we do this: because we're passionate about our kids, adventure and education.  We seek to combine these things, and that's why our blog is called The Edventure Project.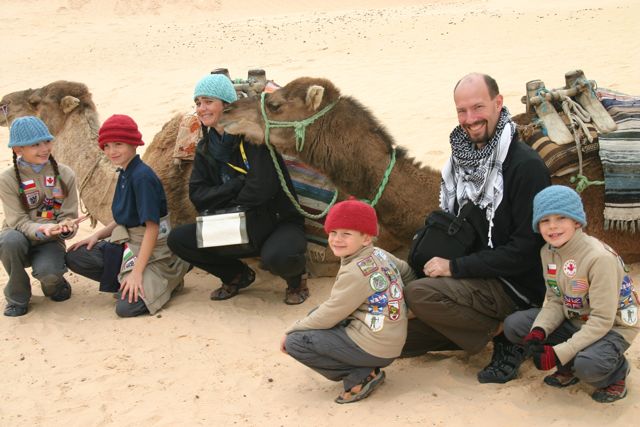 Christmas Day in Tunisia
4.What challenges have you overcome to do what you're doing?
There are always challenges, no matter how a person chooses to live life, our challenges are just more mobile, and often have to be overcome in multiple languages!
We still have to pay bills, keep a roof over head, get our kids educated, keep up with laundry and get three meals a day on the table.
We do those things without a car, an office, a washer and drier in the house, any electrical outlets in the kitchen and by carrying every single thing we purchase, including water, on our backs. Living life the way we do is a lot of things, but it's not perpetual vacation!
The challenge of initially breaking free and finding enough forward momentum to make it happen was significant.  It took two solid years of checklists and planning before we took off initially.
The challenge of social pressure is always there. There are people who think we in some way short our children by raising them in the world instead of in a neighborhood.
Once your dream and your world become big enough this becomes less significant.
My brother, also an adventurer, accurately summed it up by saying, "When 90% of people, who haven't done anything like you're attempting, think you're crazy, that's exactly where you want to be... it's when the 10% who HAVE done something out of the box think you're crazy that you might need to step back and reconsider!"
I think our biggest challenge, especially having lived on the road full time for over three years now, is just in keeping our dreams fresh and big enough.
It's difficult to resist the "been there done that" attitude that so many long time travelers become consumed by and to continue to see the world with fresh eyes, to keep that flicker of "wow!" alive in everyday experience and to continue to be open to new experience and to keep learning.
We spend a lot of time dream building, seeking to inspire each other to "the next big thing" and to keep the spark of wonder in the world alive.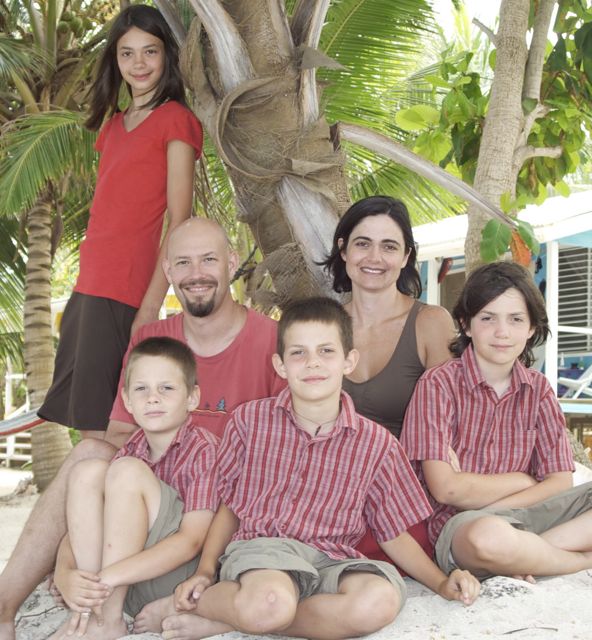 Belize
5. What would you tell others who want to live an unconventional family life?
We are each gifted with only one thing in life: time.
When we are born the clock starts ticking. It's the only thing we really have in life and how we spend it is everything.
We are firm believers that each person should live a passion driven life.
We all have different passions and different dreams, which is what makes the world such an amazing place.
Not everyone wants to travel like gypsies forever. Some people really want to dig in and build community and grow something rich and beautiful over 20 years in one tiny village and that's a beautiful thing. One choice is not better than another.
The important thing is to be sure that the life you're living grows out of your passion, not out of social pressure, or just doing "the next thing", or trying to please someone else outside of yourself, or bowing to "expectations."
Asking that "why" question you asked earlier is so important in this process and we all need to do it regularly.
If someone really wants to step out of the box and their heart yearns for "more" in some way, I'd stand on the roof tops and shout, "DO IT!!!" and do it now.
The clock is ticking, our time bank is diminishing every single day and if we waste a minute of it, we can't get it back.
Fear is always there. Everyone is afraid.  Afraid of failure in some capacity, mostly... but fear is NOT a good motivator and it's a ridiculous reason to be held back from your dreams.
We've discovered that most of our fears are irrational and the ones that really are serious can usually be planned carefully around, minimized and in most cases never materialize anyway.
The difference between those who live their dreams and those who do not almost always comes down to the ability to identify and overcome those fears.  That is the first step to living an unconventional life.
You can learn more about the Miller's on their family site -

EdventureProject.com
Jenn & Nancy Vogel (from FamilyonBikes) also encourage and empower families who want to live life differently with personal coaching at

DreamReboot.com
Comments
comments
Powered by New Facebook Comments