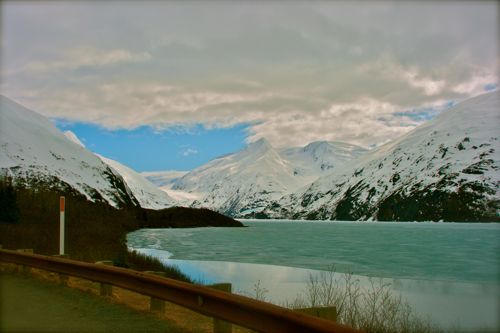 Compared to the population of 5,400 that we'd grown accustomed to while living in Homer for the last year, Anchorage was 'huge' with a population of ~275,000.
Honestly, we were a little overwhelmed and intimidated by it all. So despite original plans (and due to the cold night time conditions which were fast becoming a catalyst for increased travel speed), we spent only a day and a half in Anchorage.
Most of that time was spent driving around lost trying to accomplish necessary errands (like grocery shopping), and the other time was looking for a place to 'camp' in close proximity so that we could finish some errands in the morning.
After all the aggravation, and another cold night camping, we hightailed it out of Anchorage once the needed chores were complete.
(See more about Driving Alaska: A Pictorial Journey of the Last Frontier)
Here's what we would have done in Anchorage under different circumstances:
Portage Glacier -
We did actually visit this one. Located just south of Anchorage, it's Alaska's most viewed glacier. During the summertime, you can take a cruise to view the glacier up close. We explored the banks of the glacial lake - the 'foot print' of this massive mound of ice and snow.
View the Photo Essay of Portage Glacier
Another one we actually did. Not in Anchorage, but worth doing if you're in the Anchorage area. The cruise leaves from Seward on the Kenai Peninsula, about an hour drive from Anchorage, and well worth it.
View the Photo Essay of our Kenai Fjords Cruise.
Alaska art, history, science and Native culture, this museum offers a closer look into Alaska.
This one looked really cool and I really wanted to visit it. It has an outdoor replication of a real Native village, plus a lot more 'hands on' exhibits than a traditional museum - dances, art and culture of the Native peoples of Alaska.
The Iditarod race begins in March, and although the start in Anchorage is a 'fake' start (the real start is in Wasilla), there's quite a big 'to do' on 4th Street in Anchorage with an introduction of all the racers and their dogs. Definitely something worth doing if you're willing to brave the cold and the crowds in Anchorage in March.
Comments
comments
Powered by New Facebook Comments