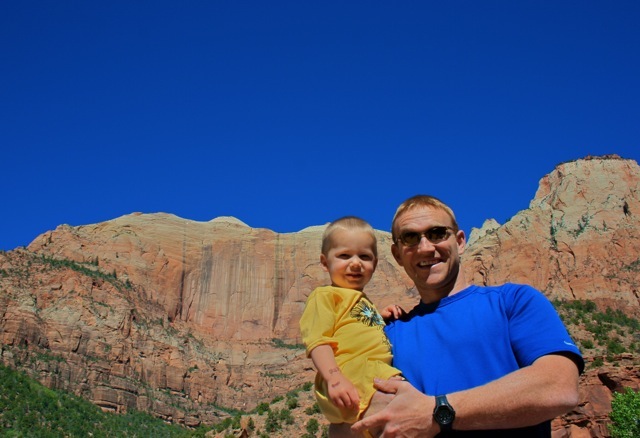 "Nothing is worth more than this day."
~Johann Wolfgang von Goethe
(This post belongs to a series that begins at 4 Incredibly Simple Steps to Doing the Impossible – Family Road Trip to Costa Rica) View the photo gallery here.
The orange sand is soft and smooth between my toes. The kids splash in the chilly water that's tempered by the warmth of the sun shining down on us.
We're at Zion's National Park, near the Arizona/Utah border, but we're not hiking Angels Landing nor exploring the Narrows. Those seem a little much for our young bunch.
Are our children holding us back from enjoying travel and seeing the sights?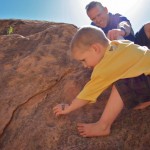 Not at all. Instead we're catching frogs, jumping off rocks and laying in the sand not far from the road by the Court of the Patriarchs, at the mouth of the park.
We're enjoying the moment, not a care in the world.
They delight in the simple pleasures.
That's how children view the world. It's a great way to approach travel.
There's no expectations, no agenda's, just pure and uncomplicated fun with our kids.
Traveling doesn't have to mean seeing the sights. Sometimes the best experiences come when they happen spontaneously, in unexpected places, and by simply enjoying what's here and now.
Tummy's growl, contentment turns to discontent and soon we're on our way again. The sun still streams through the window, we pass towering crags and cliffs, dive through tunnels and meander our way toward Arizona.
They find excitement in the ordinary.
Skimming the south western edge of Lake Powell on our way to Page, Arizona, we decide to stop.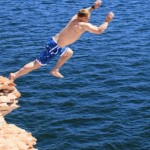 Exploring slick rock, red sand and desert flowers and creatures, in a comfortable 61 degrees F, the deep blue water beckons to my husband.
He discreetly changes into his swimsuit, scouts out the area for the best entry and exit, then inches to the edge of a cliff, and leaps into the air until gravity takes over and plunges him down, down into the frigid water.
The kids watch with delight and holler and wave at him in the water below and as he scales the sides of the cliff back to where we're waiting at the top.
Daddy is a big kid who always has a way to make the ordinary exciting.
They can't do it all in one day.
It's been a carefree day, but now the sun dips in the horizon, we've no place yet to stay, and little ones are hungry and tired. Their patience with car time is wearing thin.
We set out in search of food and lodging - the destination is Tusayan, a town within the Grand Canyon National Park boundaries.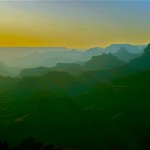 As we drive past the southern rim of the majestic Grand Canyon, we pause for a few quick snapshots.
The sun is setting, a cold north wind blows fiercely, it's 41 degrees Fahrenheit and our little kids can't think of anything but eating. Our glimpse of the Grand Canyon is too brief, but we don't have to see it all today.
Tomorrow's a new day, fresh with more adventures waiting.
We'll come back the next day, after a night in Tusayan.
But there are only 8 hotels in Tusayan, and we discover too late that reservations are recommended. No vacancies means our only option is to press through to Flagstaff for the night.
They enjoy the journey.
Our little children have really reached their limits now. We make a quick stop at Wendy's for some grub, which brings short term pacification.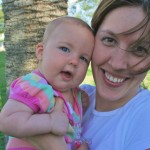 We arrive late in Flagstaff, frazzled, ready to drop and a little disappointed. We probably won't be backtracking to the Grand Canyon tomorrow, so our short sighting is all we'll get this trip.
This day was a little longer than we'd ideally like to have. The old adage 'stop while you're ahead' is especially  applicable when traveling with kids.
"Hurrying" to get to the next place does not equal a better experience. It's better to get to our destination before everyone's burnt out.
Travel is all about enjoying the journey, not just arriving at the destination.
(This post belongs to a series that begins at 4 Incredibly Simple Steps to Doing the Impossible – Family Road Trip to Costa Rica) View the photo gallery here.
All photos by Rachel Denning and may be used with permission.
Comments
comments
Powered by New Facebook Comments