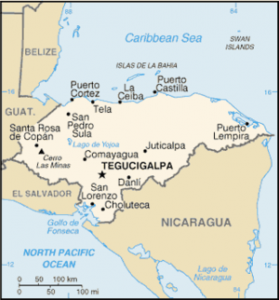 Unfortunately, El Salvador didn't have what we were looking for.
So we made the decision to move on to Nicaragua. That inevitably meant crossing through a small portion of Honduras.
Might as well do it one day, we figured. That only meant crossing TWO international borders in ONE day... with five kids and a dog.
We got this.
(A favorite quote from one of my favorite movies.)
We got an early start, knowing it could be a very long day. Leaving our little 'haven' in El Cuco, and out of food (there weren't many options in town) we stopped off in a port city - La Union, El Salvador - for breakfast and to attend church (it was a Sunday.)
Then it was off to Honduras.
The crossing was pretty straight forward and simple enough (I remember the roads were a little confusing, one direction for semis, the other for everyone else.)
But before long we were through both El Salvador and Honduras's paperwork, and driving into the country. We hadn't had time to take a deep breath before we were stopped by the Honduran police.
"License, registration, paperwork."
Greg handed him his license (one of three that he carries... just in case.)
"You're supposed to be wearing a seatbelt. We're going to have to fine you. You'll have to go back into town to pay the fine at the bank."
"This is not happening," I thought with annoyance. After a year and a half in Guatemala where the police are your 'friends' and we were rarely stopped, we were out of the habit of paying bribes to policeman... something that is illegal.
"All the banks are closed, it's Sunday," Greg replied. (I'm sure the officer was already aware of that. 😉 )
"I'll have to hold on to your license until you can go pay the fine," was his response.
Now, in reality, we really didn't care if he kept the license. Greg had three (Georgia, Alaska and Utah), and that one was expired. That's called leverage. We weren't worried about getting the license back, so we didn't feel pressured to pay a bribe (something we DO NOT do... it only perpetuates the problem of corruption.)
But STILL the guy would not let us go... so finally I just did the first thing that came to mind.
I cupped my hand over my mouth, and leaned over my seat. Then I grabbed a plastic bag and started making gagging noises.
"Mom!!! Are you okay!?" the kids exclaimed in sincere concern.
"My pregnant wife is sick!" Greg told the officer.
He handed the license back and let us go. It took everything I had not to burst out laughing before we drove out of earshot.
During the next few hours we were stopped by police or soldiers at least five times (we drove through way more than that.) ! Five times in a span of only 131 km (81 miles). Woah.
Around late afternoon we finally reached the Nicaragua border (near the same border where 6 years ago we were 'caught' without passports for three of our kids and -- after an entire day of border madness -- sent back to the embassy in Tegucigalpa, Honduras... but that's another story that I need to back post about.)
Checking out of Honduras was easy, and soon we were checking into Nica.
We'd gotten into El Salvador for free. Our entry to Honduras was cheap (about $35 for the vehicle and $3 per passport.) Now Nicaragua wanted $12 per passport to enter their country!! (That's $84 when you have seven passports... in case you were wondering.)
Okay. Well, we'll have to get money out of the ATM, we've spent most of our cash. No problem.
Until the ATM doesn't work. With any card we have. After some troubleshooting we realize that it's because this particular ATM (the only one at the border) does not accept Mastercard... the only cards we have.
"Where's the next nearest ATM?" we inquire. About 100 km away, but we'd have to get into Nicaragua first, a Catch 22.
I sit in the truck, trusting my husband will figure out a solution. (That's sooo like me. 😉 ) Soon I see him talking to some backpackers that we had passed on the road a few hours back. He strikes a deal.
Lend us some money (please!) and we'll give you a ride to León, where we'll pay you back at the first Mastercard accepting ATM we find.
Thankfully, they agree. We pay for the visas, get our vehicle permit, and we're on our way, just as it starts to get dark.
In the distance lightning is flashing. Soon it begins to rain. There's people on the roads, giant semis in front and behind, and reflections from headlights on the rain sloshed roads. I'm enjoying the conversation with our new friends, but Greg is pretty focused on driving.
At length we make it to León and stop for food at the first roadside stand we find.
Is this Nicaraguan food? I think I'm in heaven!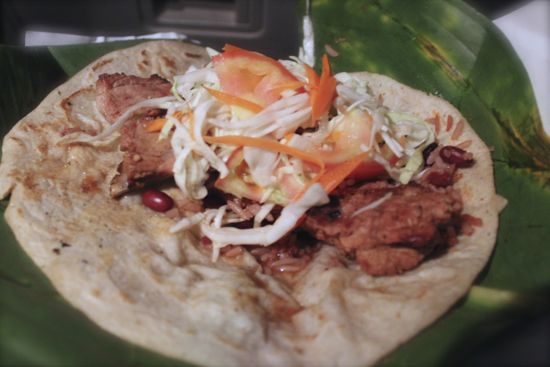 We drop off our new friends, then after driving around awhile trying to decide what to do (should we camp? or should we stay at a hostel), we finally decide on a combination. Some of stay in a hostel (that would be the pregnant wife and the two girls.) The boys sleep in the truck parked out front.
Tomorrow we'll head to the beach town of Las Peñitas, where we hope to find a house to rent.
(Note: At both borders we had no problems with our dog. If he was noticed, no paperwork, etc. was required -- we did have some vaccination information just in case. Otherwise we just kept him in the back and drove on through.)
What's the craziest border crossing you've ever experienced?
Comments
comments
Powered by New Facebook Comments