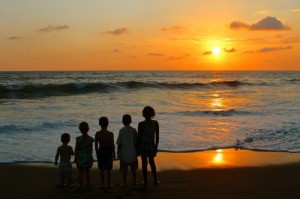 In the United States of America, today is Thanksgiving.
I'm in Nicaragua, and even though we'll be celebrating alone, we decided to still celebrate as a family.
We love celebrating holidays in the countries we visit, but it's also important to maintain family traditions and celebrate selected holidays while traveling and living abroad. It helps you to connect to where you come from and who you are.
Thanksgiving is a great holiday (one of my favorites), not just because of good food, but because it offers you a time to reflect on your blessings.
And that's something I really need to do right now. I'm struggling with some personal challenges, and 'counting my blessings' will certainly help.
So here I go. things I am thankful for.
An incredible husband. Really, he is the best. Strong, positive, optimistic, funny, sexy... he's really amazing, and I wouldn't be where I am or who I am without him.
Kyah, my oldest, she is helpful, good, and outgoing. She has helped me to become a better mother.
Parker is creative, talented, tender-hearted and obedient. He's a great son.
Kimball is off-the-wall, contrarian and passionate. He can be very thoughtful. He makes me laugh.
Aaliyah is sweet, creative, and loving. She's my little princess.
Atlas is funny, sweet and fully of energy. I can't imagine our family without him.
Saige (?) -- I don't know what she's like yet, but I can't wait to meet her.
The opportunity to have children and give birth, even though it's sometimes frightening and difficult (both giving birth and raising kids 😉 )
God who continually guides my life, despite my rebellious spirit.
My mother who has always supported our crazy lifestyle choices, and never questioned our sanity.
My father who taught me to love reading and inspired me to make healthier lifestyle choices.
My siblings who I love and miss more everyday.
My mother-in-law who would do anything in her power for us.
The many incredible friends we've met during our travels.
All of you who read and follow our blog and give me a reason to continue writing and sharing.
This big beautiful world of which I've been able to explore a small portion of.
My big dreams, which give me hope to 'keep moving forward' when the going gets tough.
For good health.
Fans to help keep me cool in the Nicaraguan heat.
Mosquito nets to protect us from those dang mosquitoes!
Great books. They bring me face to face with greatness and help me to be better, to maintain hope and to never stop dreaming.
My Mac. I love it.
My camera. I love taking pictures.
My essential oils. I'm so glad I have them.
Beautiful sunsets.
[message type="custom" width="100%" start_color="#FFFFFF" end_color="#FBF8FF" border ="non" color=""] If you'd love to travel with your family or live a more deliberate lifestyle, I encourage you to check out our 3-Part Video Series or our book -- both on creating your own ridiculously awesome life! Please don't forget to 'share the love' and inspire others.[/message]
What are you grateful for today? Please share in the comments.
Comments
comments
Powered by New Facebook Comments