[message type="custom" width="100%" start_color="#FFFFFF" end_color="#FBF8FF" border ="non" color=""]This is part of a series written by a group of family travelers. Make sure to check out their posts below.[/message]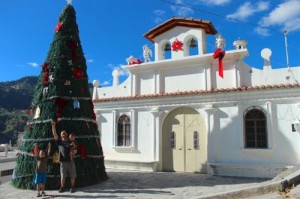 "I'll be home for Christmas... if only in my dreams."
The words float through the air as a deep baritone voice breaks out from the speakers, dripping with nostalgia and reminiscent of Christmases past -- my dad, singing his Elvis Christmas songs, forcing us to bake and decorate dozens of sugar cookies that we then pass out to our neighbors (via the all-popular doorbell ditching method).
Ahhh, traditions.

But that was long ago. Now my husband and I wander with our five kids. Every year we celebrate Christmas in a new location (how about Guatemala - 2012, Mexico - 2011, Alaska - 2010, Atlanta - 2009)
Is that the end to family holiday traditions? Do we now spend the season pining away in our tropical paradise, dreaming of a white Christmas, longing for home, the past and it's apparently important practices?
[message type="custom" width="100%" start_color="#FFFFFF" end_color="#FBF8FF" border ="non" color=""]Do you 'Like' Discover Share Inspire?

[/message]
Sigh. Home.
When we think of that word -- home -- we reflect on something comfortable and familiar, filled with people we love and who love us. Home is where the heart is -- it's the place where emotions have been shared and souls have connected. It's the place where we feel safe, and we yearn for it.
What is home really?
Is it dependent on location? Is it available in only one place? Once we leave it, or it leaves us, is 'home' gone forever?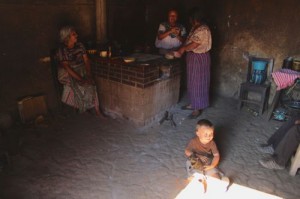 It's the feeling that is 'home'. It's not the wood, or shingles, the paint or the furniture. It's not a single locale, or preset conditions. What makes home homey is the emotions it elicits. That feeling can be engendered, no matter where in the world you are, because 'home' truly is carried in your heart.
Being 'at home' -- feeling comfortable, safe, and  loved -- anywhere in the world, is one of the greatest gifts we can give our children.
Holidays are a special time of year for many people. Like home, they're special for the feelings they bring forth.
Just like the Grinch who stole Christmas, we can realize that holidays 'mean just a little bit more' -- they come without ribbons. They come without tags. They come without packages, boxes or bags. They don't require snow, or trees or roast beast, or even 'home'.
The 'Christmas spirit' or the 'festive time of year' isn't about where we are, but who we are. It's the emotions, the compassion, the love -- it's created within and expressed through our actions.
Traveling away from 'home' doesn't mean holidays completely disappear because you can't celebrate them in your traditional way.  Being away from 'home' doesn't mean you can't still be 'home'.
Traveling has given us the opportunity to strengthen our own family traditions, as well as to experience the way others commemorate. We've also had the chance to celebrate with friends and family we wouldn't have been able to otherwise if we'd just stayed 'home'.
Home is more a feeling or a state of mind than a location.
Here are a few of the ways we keep home with us during the holidays, and throughout the year(s) (of nomadic wandering):
1. Create steadfast traditions
This 'rule' applies to family travel in general (and creating family stability while on the road) as opposed to simply creating holiday traditions.
We have morning traditions (devotional and singing), meal time traditions (sitting together to eat) and bedtime traditions (story time). This helps to keep family unity while facing continual environmental changes that come while traveling. For adults and children alike, following a regular daily routine helps you to feel at 'home' no matter where in the world you are.
This easily carries over for birthday and holiday traditions. Sometimes we have to create variations to our traditions (this year our Christmas tree is made out of paper), but we don't feel that we're missing out on anything simply because we're not 'at home'.
In fact, we are always there.
2. Reminisce and remember; Compare and appreciate
It's fun to think about what you used to do, or to remember those 'ideal' Christmases. Let your minds ponder on them and your hearts long for their familiarity. This is one of the benefits of travel -- to have experiences which contrast what we've formally known.
I always used to dream of white Christmases. Now it's more appropriate for me to wish 'Mele Kalikimaka' (well, I guess Feliz Navidad) on a bright, Guatemalan Christmas Day.
Recall with fondness those memories of yesteryear. Making cookies and drinking hot cocoa was sublime. But appreciate and embrace the here and now -- a busy, festive market and hot ponche is just as superb.
 3. Embrace new customs
Have you heard the old Christmas song, "Make new friends, but keep the old, one is silver and the other gold"?
Well, that's like family holiday traditions. Keep some of your favorite family rituals, but be eager to embrace what other cultures have to offer.
Christmas presents on Christmas morning -- great!
But how about a circle cake on Three King's Day?
Christmas carols and hot apple cider? Sounds good.
Don't forget the fireworks and atole (a hot rice drink).
Celebrating your own customs, and interweaving something foreign and fresh provides a lot of family fun, memories, and even new family traditions.
4. Do some nesting
I'm personally a fan of slow travel for families -- it works better with the rhythm of life. This is especially true around those times of the year when we like to reflect on the past and envision the future.
Whether you rent a house or apartment, or just hang out in a hotel room for awhile, it's good to take a traveling break.
Make some Christmas decorations. Hang up a Christmas tree. Light a few candles and play some carols. Make the place homey and familiar. Experience your traditions. Appreciate them.
Contemplate the past and where you've been. Imagine the future and where you'll go.
Embrace the revitalizing and renewing side of traditions, which is what holidays are really about.
Do you have any traditions or techniques for keeping home and holidays special while you travel?
Here's the experiences of other family travelers:
[custom_list style="list-10"]
[/custom_list]
Comments
comments
Powered by New Facebook Comments