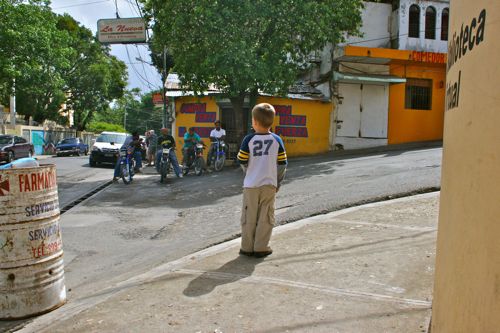 Parker (5) in the Dominican Republic
This video Q&A is a part of a series: Our Video Responses to 55 of YOUR Questions
Make sure you get access to all the videos by signing up here.
Question: Do You Have Any Fears Regarding Traveling With Your Children (Violence, Illness, Etc.)
Answer: (Click here if you can't see the video.)
Traveling to a foreign country with your children, they'll be exposed to germs, disease, filth, violence, poverty, crime.
Aren't you afraid of what might happen to them?
When we first began traveling, we used to have a lot of fears about all the 'bad' stuff that might occur. But then we learned that most fears are based on ignorance, and, as James Allen says:
Thoughts of doubt and fear can never accomplish anything. They always lead to failure. Purpose, energy, power to do, and all strong thoughts cease when doubt and fear creep in."
When we focus on what we can do to keep our children safe, instead of on being afraid of what might happen, then we are in a position of power. That's where we want to be.
Comments
comments
Powered by New Facebook Comments