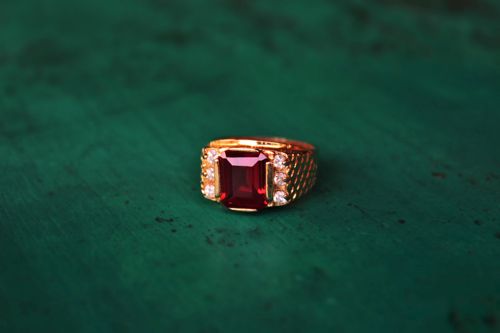 "Excuse me, do you speak English?" a classily dressed men asks my husband as we walk into the Walmart in Chetumal, Mexico.
"Yes."
Looking distraught and confused, he continues, "Sir, I'm a Baptist preacher from Illinois. I have a congregation there, where I preach, and I'm a good Christian man."
"My family and I have been traveling by bus through Mexico, and we've been separated from our luggage. It was sent to Mexico City, but my wife and children are stuck in Escarcega. All of our credit cards, passports and money are in our luggage."
"I'm came here to Chetumal to see if I could find some Americans who might be willing to help my family out. I don't speak very good Spanish. We have to get back to Mexico City to get our luggage, and we need bus fare. I can leave you my wedding ring for collateral, and pay you back via Western Union," he explains lengthily to my husband.
Meanwhile, I'm unaware of what's happening, and trying to do some shopping. It's been a long day of errands in Chetumal, and on the drive here from Bacalar our roof top tent had deployed on the freeway, (for the second time. It did once in Tulum, because the zipper on our cover broke). The poles were all bent and busted, again, as a result.
It was getting late, we still needed to fix our tent, and we only came to Walmart to kill some time (and buy some yogurt without sugar - rare in Mexico) while waiting for a key to be made for a lock on the truck
From across the aisles, I see my husband talking and talking and talking to this large, distinguished looking man. That's nothing unusual, my husband is often talking to strangers.
But as the conversation drags on, I'm getting impatient. I walk back to see if I can hurry it along so we can get on with our lives.
As I near, Greg motions me over, and explains the situation. "He needs some money to get his family back to Mexico City."
Immediately I get uncomfortable. I'm always wary of people who ask for money. Money should be earned, not given, and giving to beggars (or others) only encourages more begging instead of hard work.
The man holds out his hand to me and introduces himself. I can't really understand what his says, due to a thick accent. I eye him up and down. He has nice, black polished shoes, dark slacks, a button-down shirt and a fancy watch.
"What should we do?" Greg asks me.
"I don't know, how much money does he need?"
"Five thousand pesos (about US$400)."
Yowsers! That's a lot. That's almost 25% of what we spend in an average month.
My default in situations like this is to get away from it so that I can think and analyze without the pressure of making a snap decision.
I try to back away, slyly trying to get Greg to follow me, but he keeps returning to Mr. Preacher to get more of his story.
The kids need my attention anyway, so I start walking the aisles with them while they push their child-size carts, trying to get a clear picture on the situation and the appropriate course of action.
I'm afraid. Four hundred dollars is a lot on our limited budget. What if it's a scam, and we never see the money again?
But, on the other hand, my husband often prays that he can be led to those who need his help. What if today, this is that man?
What if he does really need help? We've been in similar situations before, where help is desperately needed, and can only be offered by complete strangers.
All the while I'm wandering and wondering, Greg continues in deep conversation.
"I can't really afford to do this," he explains to the Preacher.
"Yes, sir, I understand. The last thing I want is for your family to be in a hard place. We don't want your children to be suffering," he replies. "We are brothers in Christ. I will most definitely call down the Lord's blessings upon you if you can find it in your heart to help me out in my time of need."
In the men's clothing section, I collect my thoughts. What we really need to do, is finish our shopping and talk about it together before making a decision.
I motion to Greg from across the aisles. He excuses himself and comes over to me.
"What do you think we should do?" he asks.
"We need to walk around and talk about it together."
"He has to get back to his family though. He caught a ride with the Green Angels, and they're waiting for him at the gas station to take him back to Escarcega. We have to decide now.
"I believe him, I think we should do it," he finishes.
Fear seizes me. I make a face.
"Not all of his story makes sense," I retort.
"But you haven't heard all of it. I believe what he says."
"What if it's a scam?"
"Then God will bless us for helping someone out of the goodness of our hearts.  I'm going to do it," he concludes.
I remain silent. What can I say when it comes down to the 'goodness of our hearts." I'm basing my decision off of fear and logic. Perhaps I need a better heart.
He goes to find the ATM, and I continue wandering the store, trying to assuage my fears.
After awhile, I go in search of Greg. I find him at the jewelry count, surrounded by a chaos of children, but I get the gyst that he's having the collateral checked out, and the news isn't good.
Attempting to regain control as we herd away our herd, I finally ask, slightly in jest, "Is it a fake?"
He slowly nods his head…
At this point fear transforms to anger, which comes to a rolling boil. No 'good Christian man' would leave a fake ring as collateral with a promise to pay you back.
Five thousand pesos!!! Four hundred dollars! Gone. Lost. Scammed.
I'm mad at the corruption we've become victim to, upset at my husband for being so hasty to be 'good' and trusting of mankind, and furious that our carefully guarded funds have slipped so easily through our fingers.
I walk away to try and gain some control. Then come back and ask Greg if I can see the ring.
"This is clearly a fake, why didn't you check it out before you handed over the money?"
"I wasn't worried about collateral. I was giving him money because I sincerely wanted to help, collateral or not. And I still believe that even if he chooses to be deceitful, we'll be blessed for our charity," he affirms.
My anger has the best of me now, so I hastily retort, "Sometimes the only blessings we receive are the harsh consequences of our stupid choices, and the wisdom to not do it again!"
At this, he hands me some money and tells me to finish our shopping, I mumble something about not being able to afford it now, then he runs out of the store in a vain attempt to find our swindling preacher.
Leaving the store with our purchases just as Greg returns to look for us, it's no surprise he didn't find the hustler. I'm sure he was long gone, long ago.
The discussion gets a little heated on the way out to the truck, and finally Greg exclaims,
"It was only four hundred dollars! Get perspective. He'll receive his consequences, and we'll receive ours."
Yes. He's right.
Yes, it's only money. It can be replaced. It's only $400, and in the grand scheme of life, that's not that much.
But on the other hand, it's not the $400 that I'm upset about. It's what that money represents.
It's renewed passports for our kids (which expire in April). It's a month's worth of groceries. It's border crossing fees into Belize and Guatemala. It's two months rent at a campground or casita!
And yes, he'll receive the consequences of his deceit, somewhere, sometime. And we'll receive ours - but what if it's not consequences we want? What if we don't receive 'good blessings', just harsh repercussions? You prevent those kind by not making dumb decisions.
During the drive home in the dark I cried. And then I cried more when I remember I don't have a bed to sleep in since mine is busted.
Once we get 'home' to Camp Bacalar, I'm solemn, but my anger has subsided.
My husband patches up my bed, and then sincerely apologizes. Of course he's forgiven, how can I stay mad at someone so wonderful and good?
But forgiveness toward my husband doesn't assuage my other feelings of melancholy, fear, worry and disgust.
Over the next few days the melancholy continues, and I keep reviewing it in my mind, I can't seem to let it go. Greg and I don't discuss it, but we can feel that it's there, like the proverbial elephant in the room.
I'm indignant, cold-hearted and uncaring, which manifests the following day when our long-awaited package arrives (my new camera!). However, there's an additional $1800 pesos in customs taxes, which have been errantly applied.
I'm furious, and I don't want to pay it. The driver tells Greg that they'll take the payment from him, and fire him if we take the package without paying.
"I don't care," I resentfully tell Greg. "So what if he loses his job? Sometimes bad things happen to good people. Why should we have to be victimized again?"
But Greg's goodness wins out once more. We won't purposefully inflict pain on this man and his family.
After hours on the phone with Fedex and customs to resolve the error (which doesn't get resolved the way we want it to), the humble driver returns the next day with our package, and we pay the $1800 pesos.
By now I'm remembering the lessons learned so difficultly during our 'saga.'
Stop fighting. Surrender. Trust. Smile. Everything will be just fine.
"What irks me the most, is that someone would go to so much effort to be deceitful, when they could put that same effort into being successful at an honest profession," I finally blurt to my husband one morning.
"And to be deceitful in the name of God," he agrees.
"It's ironic," Greg continues, "that the day before it happened I was reading about loving your enemies, blessing those who curse you and praying for those you despitefully use you. So I prayed for him."
And I realized he was right. If anyone needed help, it was that man. He needed my pity, not my anger, my prayers, not my cursings.
But even more, I needed them. I needed to forgive and let go. Four hundred dollars can be replaced. Losing money isn't worth souring my soul.
Happiness and peace aren't a result of how much money you have in the bank. They come from choosing to be happy or peaceful, no matter what life brings.
With that small conversation, I accepted our lot, and I knew everything would be okay, even with $400 swindled away.
We trusted. We gave. We lost. We learned. We forgave. We moved on. Life continues. Hopefully I'm better for it.
Comments
comments
Powered by New Facebook Comments