[custom_frame_center]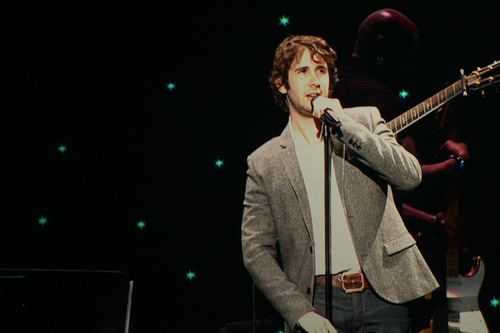 [/custom_frame_center]
What exactly does it mean to 'live a meaningful life'? Do you have to be rich, famous or talented? Do you have to be participating in some earth-shattering activity or doing something that is 'important'?
No, not necessarily.
However, in order to find meaning in your life, I do believe you need to be doing something that is important to you, something that brings you joy and fulfillment, and something that makes a positive contribution to others and to the world.
Saturday night, goose bumps crawl up my arm as a rich, baritone voice echos through the arena in Salt Lake City.
I'm feeling positive energy coursing through my body. This man inspires me! Not just because of his incredible talents at singing, piano and drums, but because here is a human being who is living on purpose!
Here is someone who had a dream, and is now living that dream. He's worked, sweated, practiced and prayed to be where he is now, uplifting thousands with his God-given gifts.
As I listen to his amazing music, I think to myself, "How has Josh Groban created such an incredible life for himself?" And how can I?
Here are some conclusions:
1. Do What You Love
Josh Groban loves to sing. Can anyone doubt that? Would he be doing it if he didn't love it?
But what came first, the chicken… oh wait, different story. What came first? Did he start singing after someone said they would pay him to do it, and make him famous?
Or did he start singing long before anyone ever knew who the heck he was?
I think you can answer that.
He did it, everyday, because he loved it. And that's what brought meaning to his life, and later, huge success.
2. Surround Yourself with Talented and Passionate People
While Josh was singing, I also noticed the talented and passionate members of his band in the 'background'.
Here were a group of people that share his enthusiasm for music, entertainment and art.
He probably doesn't have anyone in that intimate group that says - "This is ridiculous. What a waste of time. Why do we spend all our days singing and playing instruments?"
No, he's surrounded by people who share his dream for inspiring others through music, and support him in it's fulfillment.
3. Love What You Do
Watching Josh and everyone of his band on stage, you didn't see anyone who was going through the motions.
Even though they may have given the same concert every night this week in a different city, they played it as though it was the first time.
They moved and grooved and got into the music. They had fun, laughed and smiled.
They weren't just doing what they loved, but they were loving what they do.
4. Be Yourself
Josh doesn't pretend to be anything that he's not. He's a single, thirty-something, 'weird' (that was his word) guy who likes to sing and play music.
And he plays music that is uniquely his - folky-classic style that might be in Italian Portuguese, Spanish or English.
His concert attire was jeans, tennis shoes and a white t-shirt - very unpretentious for a young millionaire.
Throughout the night, he cracked jokes, laughed, interacted with the audience, and generally, just had a good time.
5. Be Grateful and Give Back
Josh didn't fail to recognize and give thanks to his band, his mentors and the audience for being there. He recognized others who helped to get him where he is in his life.
He's also started a foundation that supports art programs in school districts throughout the nation.
Watching him sing and perform, and had this burning desire within to do more, be more, and contribute more - to live my life in such a way that I'm overflowing with gratitude and opportunities to be a force for good!
Who inspires you to live on purpose?
Comments
comments
Powered by New Facebook Comments