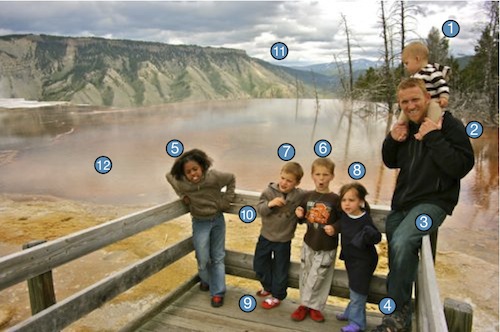 Mammoth Hot Springs, Yellowstone National Park
What does a nomadic, world traveling family look like as they wander the globe (currently in a veggie powered truck from Alaska to Argentina)?
Youngest child is riding on daddy's shoulders as usual. (There's usually always one or two children being carried by daddy). Umbrella stroller isn't much help for 'off-roading', and one of those nice strollers with the big wheels is way to big to fit in our truck. Daddy could have brought the baby back pack from the truck, but he's too much of a man for that. Baby is watching his siblings with great interest.
Daddy's jacket which he picked up...???? Who knows, a gift, a hand me down? It's a nice jacket though, except for the tear in the back and the snot on the front.
Prada jeans - thrashed - purchased in India with a suggested retail price of US$198. We bought them for about 600 rupees (roughly US$12). Since this photo was taken, the jeans have not survived. They are now frayed Prada cut-off shorts...
Daddy's trail-running sandals which mom thinks are uber-ugly, but they get the job done. Daddy is usually in is $100 REI flip flops, which have surprisingly lasted for several years and several countries (with only one repair done in Southern India.)
Oldest child wondering how much longer we'll be hiking around here, how soon we can go back to the truck, and when we're going to have our next meal.
Second oldest child just being himself - easy going and funny.
Third oldest child surprisingly in the photo - but uninterested as usual.
Fourth oldest child wearing mommy's shirt because she was cold, and will soon have a turn being carried by daddy after she lies down on the boardwalk refusing to take another step. (She did break her femur last year, so she gets tired more easily.)
Inexpensive shoes purchased after the flip-flops broke. Can be worn in the water as well, an important option for my children when they choose to have their shoes on (which isn't very often).
Hand-me-down and inexpensive clothing purchased in India and at thrift stores in Alaska.
Beautiful scenery - something we get the privilege of enjoying often
No mom in the photo - she's behind the camera as usual.
Here's a snapshot of more family travel masters:
View the list at VagabondFamily.org or see them below:
[custom_list style="list-10"]
[/custom_list]
Comments
comments
Powered by New Facebook Comments