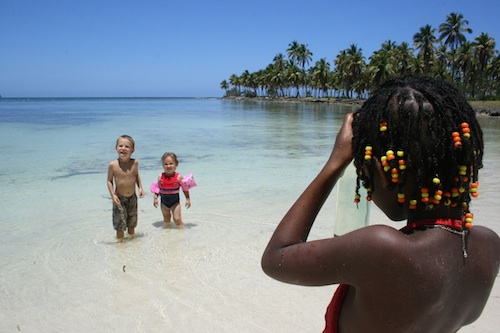 Las Galeras, Dominican Republic
Sunning myself on a white sand beach in the Dominican Republic, my four children play contentedly in the waveless, turquoise blue sea.
Further down the beach, dozens of European tourists are also enjoying the sun's rays. Most are childless, as though testament to the 'it's too expensive to travel with children' philosophy.
But a few family travelers have ventured to bring along one or two little tots.
Parents and childless alike are staying at an all-inclusive resort which is nestled among the palm trees. The nightly rate for their rooms are around $100-$200 per person. For a family of four, that's between $400-$800 per night!
Comparatively, my family of six is renting a cottage within walking distance that costs us only $300 per month.
We're visiting the same beach, enjoying the same warm water, the same rays of the sun, the exact same sand, yet our family pays less per month what these tourists are paying per night.
Many people say they would love to travel with their children, but they can't afford it. It costs too much to take their kids.
Travel doesn't have to be costly, you just have to approach it in unconventional ways.
If you're idea of traveling includes all-inclusive stays at resorts, then you may not be able to afford it with your family.
But if you get creative, then traveling with your children may not be out of your reach.
Here are some  ideas:
1. Eliminate 'Travel Expenses'
We used to believe that in order to travel we had to earn more and save more so we could afford the additional travel expenses.
Once we learned that we could combine our 'living' and 'travel' expenses into one, it opened up a world of possibilities.
One great way to 'travel' as a family is to live abroad. Living abroad simply transfers your regular living expenses to another location.
For example, if you have to have an accommodations expense, instead of rent or a mortgage in your home country, why not have it be for a beach cottage in Costa Rica, or an apartment in Thailand?
Or it could cover your hotel or hostel costs as you travel from place to place to place.
You'll have to eat food no matter where you are in the world, whether your at 'home' or abroad. In some places around the world, your grocery bill will shrink by eating the local foods, which are often less expensive.
Transportation? Instead of a car payment plus insurance, consider using those funds for plane tickets and public transportation.
Drastic? Perhaps. You have to decide how badly do you want to travel with your kids.
2. Buy One Way, Use Frequent Flyer Miles and Local Airlines
If you're open to living abroad, that decision can help to lower your cost of getting places - instead of buying round trip tickets, you can save on one-way.
Once in a country of your choice, using local airlines (and other transportation for that matter) can help you to spread out your travel wings.
Another great strategy includes becoming a frequent flyer master. Chris Guillebeau (who's goal is to travel to every country in the world) does the majority of his travel for free because of a system he's developed using frequent flyer miles. It's worth checking it out.
3. Drive
Our family of seven is fairly large, and buying plane tickets for all of us racks up a gigantic bill.
We've found that visiting places that we can drive to allows us to reduce the upfront transportation expense.
This is somewhat limiting in where you can travel, but it's worked for allowing us to journey overland everywhere from California to Georgia, Alaska to Panama, (and we'll be going all the way to Argentina).
Flying to all of those places as a family would be significantly more expensive.
3. Stay Longer
A two-week vacation in Tahiti can cost thousands. The same thousands of dollars could last for months if allocated properly.
In many ways, shorter trips are more expensive in the long run than extended stays. Extended stars are another way to combine your living and travel expenses.
If you have to pay your mortgage, bills, and buy food at home, plus pay several thousand for a vacation, things start to get pricey pretty fast.
But if you get your 'at-home' expenses covered for a few months (or eliminate them), staying longer on your 'vacation' doesn't cost anymore than you would be spending at home. You'll still have living expenses, you'll just be having them in an exotic locale around the world somewhere.
4. Rent a Place
Specifically if you're going to stay longer, you'll significantly save on accommodation expenses by renting a house or apartment once you arrive.
This is perfectly illustrated in the story above. Same beach, same sand, vastly different accommodation expenses.
Once you have a destination in mind, look online to get an idea of rental costs (on Craigslist or local papers). DON'T make pre-arrangements for accommodations!
Once you arrive in country, look in person for a place, and expect to pay significantly less than what you found advertised online.
5. Eat Local
Adapting to the local diet can help your family save hundreds of dollars in grocery expenses while traveling.
If you insist on eating the food that you're accustomed to at home, you're going to pay (a lot) for it - like $7.00 a box for your favorite cereal that's been imported into the country you're visiting.
On the other hand, produce, meats and other locally produced commodities can be dirt cheap - and really good. Like 100 oranges for only $2 or lunch for seven people that costs only $5.
Visit the local markets and restaurants. Shop where the locals shop, and you'll save a lot of money compared to visiting the expat stores.
6. Make an Upfront Investment
If traveling as a family is something you're considering doing for some time, then you'll definitely want to make some upfront investments that will help to reduce monthly expenses.
For example, our family is traveling from Alaska to Argentina, with no accommodation expense because of our roof top tent. We carry our 'home' on our back and always have a place to stay.
We also converted our diesel truck to run on vegetable oil, so our fuel expense is significantly reduced.
Purchasing a camper or motor-home gives you a home on wheels, (some people have even converted their RV's to run on veggie!) giving you freedom to wander and explore.
7. Try Alternative Approaches
Although not specifically geared toward families, Couchsurfing.org and WWOOF.org are two ways to help you get out, but have a place to stay (often with food included) for free.
Couchsurfing is a network of like minded people who are willing to open their doors to you around the world, so that you have a 'couch' to crash on while you are in their country. (Many of the couch-surfers are young and single, so you'll need to be clear that you're a traveling family)
WWOOF stands for World-Wide Opportunities on Organic Farms. Essentially, you exchange daily work on the farm for a place to stay and some meals to eat. Some WWOOFers clearly mention that they welcome families, others you will have to specifically ask.
If you're really serious about taking your family out to explore this big, beautiful world, there are ways to make it happen without it costing an arm and a leg. Be committed to finding solutions that will work for your family, and you'll soon be having your own travel adventures!
Do you have any other tips to share?
Comments
comments
Powered by New Facebook Comments