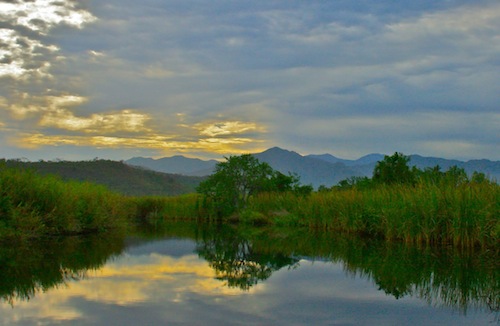 "To awaken in a strange town is one of the pleasant sensations in the world.
You are surrounded by adventure. You have no idea what is in store for you."
Freya Stark
(This post belongs to a series, "Crossing Borders"- Family Road Trip Costa Rica. View the photo gallery for this post.)
It's silent in our motel room at Casa Roxanna.
The kids still sleep, so I relish a few moments of quiet study and meditation, in a strange room, in a strange town that has altered my perception of reality.
The silence doesn't last long, waking the children so to embark on the day's adventure.
Destination: the La Tovara River. Waiting for us dockside is a lancha which we board, and have all to ourselves (the European travelers opted for their own boat after spying our rowdy half-pints- not that all Europeans are this way, but this group was).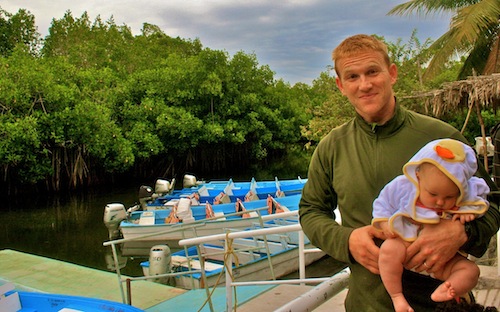 Pushing off, we glide silently atop the chocolate brown river and penetrate a deep green tunnel of mangroves.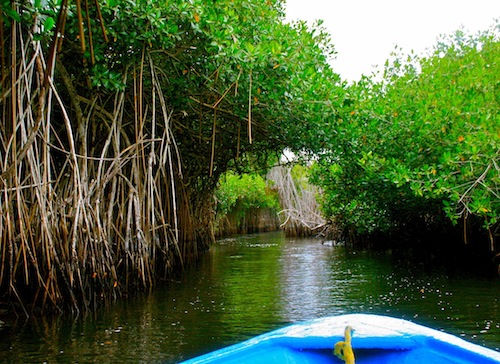 The tranquility is shattered by the cries of a child.
The boat of Europeans push past us, plainly glancing our direction with a look of disdain that shows they wished our family was on the other side of the world so we wouldn't ruin their travel experience.
Allowing their behavior to spoil my peace, I'm fretful of every noise the kids make.
But then I decide that 'kids will be kids' and it's best if we all focus on enjoying ourselves, even if we make a little more noise than a group of middle-aged, child-less sight-seekers.
My worries abate anyway, as the baby is soon asleep, and the kids are engrossed gazing at wildlife:
White Egrets sequestered in mangrove tubers, Rufous-necked Wood-Rails perched on offshoots, fresh water turtles slinking from their sunning rocks and disappearing below the dark glassy surface, blue iguanas clambering through thick, leafy branches.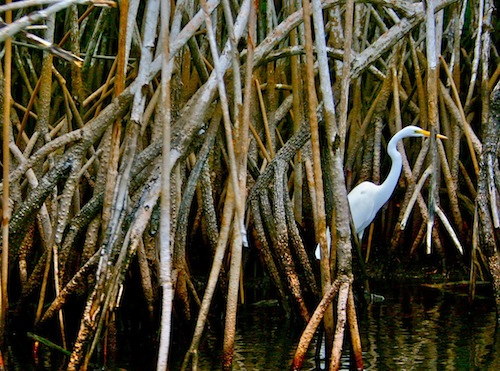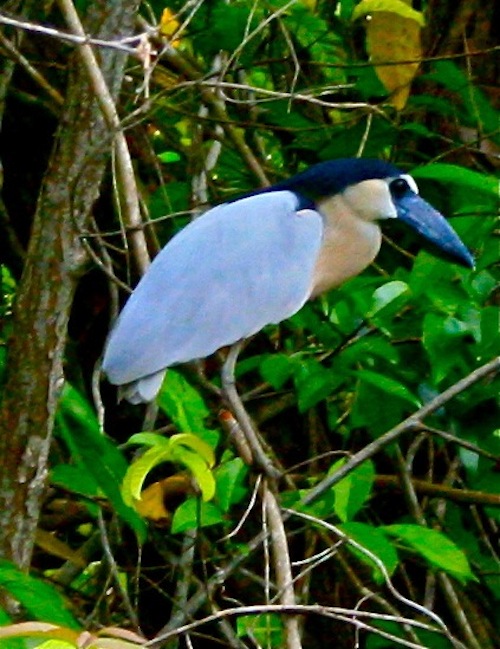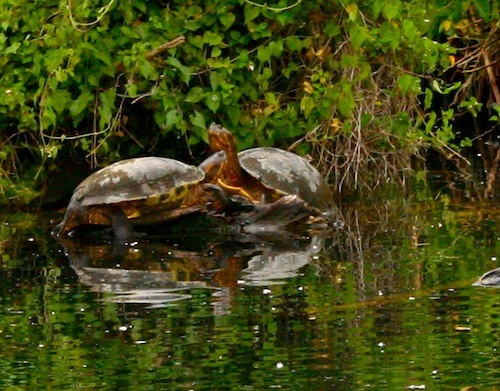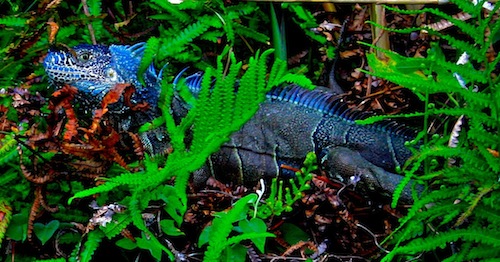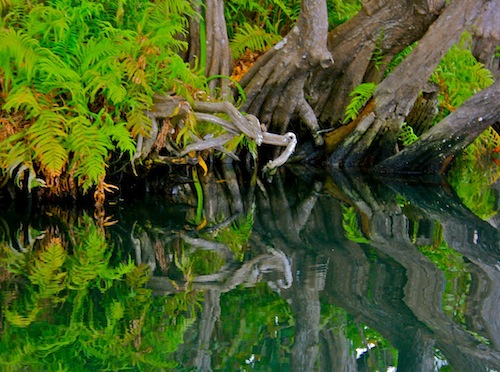 And then there's the crocodiles! Real, live, wild crocodiles!
Little boys squeal with delight as they spy the sizable reptile silently lurking just below the water's surface not ten feet from our boat.
Meandering deeper into the labyrinth of mangroves, we dead end at the Refugio de Cocodrilo.
We exit our boat at the dock, then carefully creep across the slimy, black, slippy strip of mud used as a path.
An amigo carrying 1 year old Kimball, slips and swings onto his backend, dropping our little boy into the mud.
He's more dirty and frightened than hurt. Cleaning him up and comforting him, we press on to the refuge.
Mammoth sized reptilian bathe in concrete and chain-link enclosed pools.
Handlers pass expired fish to cavernous toothy mouths through holes in the chain-link next to warning signs which provide us with a clearer grasp of the obvious:
Cuidado con los animales! (Careful with the animals!)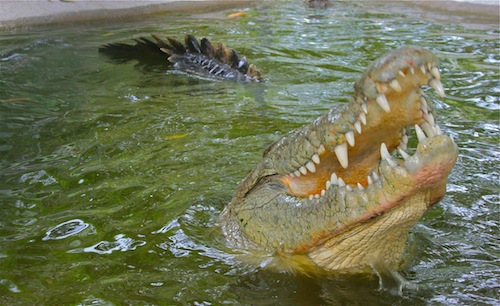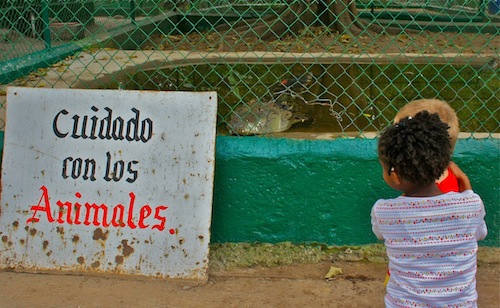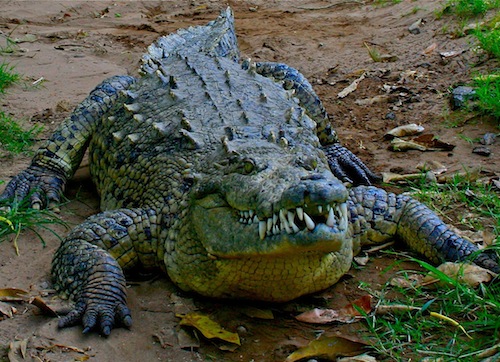 Strolling the grounds, we find enclosures that contain creatures we'd never seen or heard of-  peccaries, coatimundies, and our first ever banana tree.
Although I knew bananas grew on trees, I didn't know how. A large plum colored bud dangles like a pendant, with vivid green half-moons that reach for the sky.
It's thrilling to learn something new by seeing it first-hand.

Soon we discover several corrals of baby crocodiles, separated by age and size. The keeper clambers into the enclosure and deposits two pounds of ground beef, which the minute crocs heartily consumed.
My bold and brazen husband decides he wants to hold the mini reptile, and doesn't falter from letting the handler know it.
At first the man resists, but my husband's mastery of the Spanish language holds sway, and he's finally convinced.
Capturing a little carnivore by the tail, he's handed to my husband who gives each of us a chance caress or cuddle the cute little crocodile.
Kyah (4) ventures to hold the writhing reptile, but Parker (3) and Kimball (1) just give it a quick pat.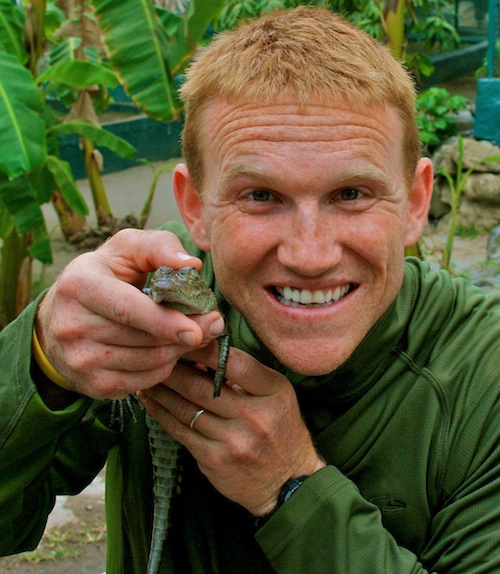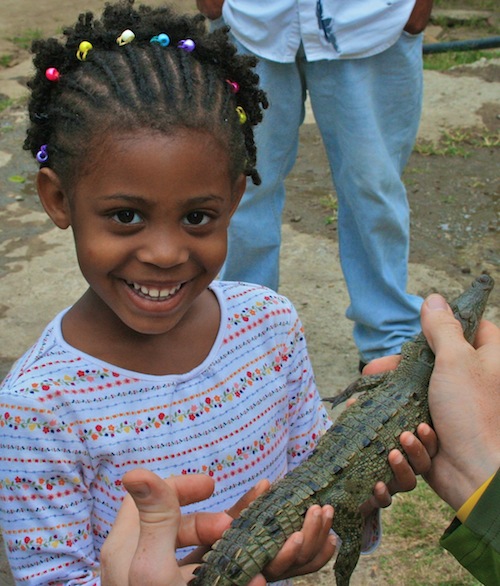 Our time is up, the infant is returned to it's watery cradle, and we meander back to our boat.
The sun begins to sink in the sky as we lazily float to the dock where are vehicle is parked.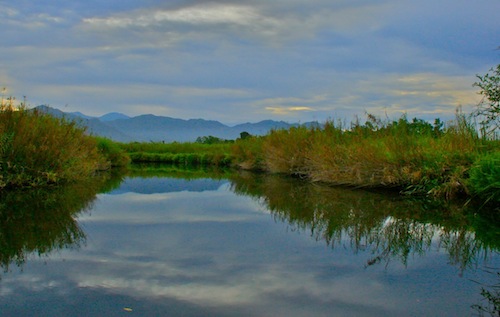 We're peacefully content with today's 'preschool' for the kids, having fully experienced Travel Maxim #5
"Experience, travel - these are as education in themselves"
Euripedes

Comments
comments
Powered by New Facebook Comments