I know why people don't travel with children.
It's annoying. Seriously annoying.
Are we there yet?"

She's touching me!"

I'm thirsty! I'm hungry!"

I want to go home."

I'm tired."

I'm bored."

Can we go home now?"
Can you believe I'm saying this?
Nomadic since 2007, when our oldest was only four (now she's nearly 13), you'd think by now that our kids would be... well, better than that.
But they're not. They're still just kids. And truthfully, they're out of practice. We slow travel. That means we do a lot of living abroad, with some traveling mixed in.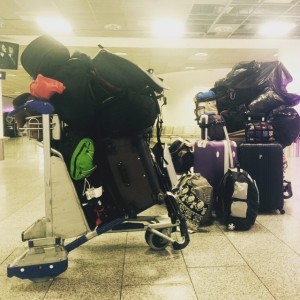 I realized just how out of practice they are on the Saturday after we arrived in Germany (they actually did really well on the 13+ hour flight from Costa Rica, of course thanks to in-flight movies and Minecraft). We'd rented a van to drive us (and our mountain of luggage) from the Frankfurt airport to the house we'd rented in Ramstein-Miesenbach, about an hour twenty away.
Since we had the van, with unlimited mileage, we decided to make use of it. Jet lag? No problem. Let's do four countries in one day! Woo hoo!
It was grand. First to France, where we explored Metz, on foot and in the rain, and ate croissants and French pastries.
Next to Luxembourg, where we tried to ride a train from the 1900's, but discovered that they only run on Sundays... so we played on some epic playgrounds instead, and ate crepes in Luxembourg City.
We had to take a little five minute detour into Belgium, just because we could. Then on to Trier, the oldest city in Germany, rife with Roman ruins and a cathedral that's the oldest in the country.
Needless to say, we did a lot of driving (about 4+ hours total), and a lot of walking... at least a lot more than we were used to living in a sleepy beach town in Costa Rica for the past 9 months.
There might have been a couple of times during all the driving and walking -- right after extended whining or complaining from our kids -- where I turned to Greg and said something like (or at least thought):
Traveling with kids is so annoying

I'd originally planned to 'do Europe' when the kids were older... maybe we should have waited

Let's just go home and never leave again!
I can be a little on the dramatic side... but after some pondering, I reconciled myself to 'how things are' and decided to be proactive, if I could.
First, I told myself that this is our first outing. Of course they're not used to it, but they'll get better with practice! That's why we're here (in Europe), right? To practice!
Next, I told the kids
You like doing this stuff, don't you? You like playing at the playgrounds and eating crepes and seeing cathedrals, right? Do you think you can just magically appear where you want to be, and then magically pop home when you're 'too tired'? That's what travel is all about. You have to take the good and the bad, the tired legs with the treats.
One of my favorite travel quotes, which bears more veracity the longer I travel, goes like this:
Travel is glamorous only in retrospect.
In real life, travel is a sore butt, sleepless hours on a plane or train or bus, whining kids, empty stomachs, and tired feet, interspersed with a few highlights, a new sensation on your tongue, a majestic view, an ancient building, a feeling of nostalgia over days gone by.
In real life, life is sleepless nights, messy houses, rushed meals, broken hearts, scraped knees and spilled milk. Reminds me of another favorite quote:
Anyone who imagines that bliss is normal is going to waste a lot of time running around shouting that he's been robbed. The fact is that most putts don't drop, most beef is tough, most children grow up to just be people, most successful marriages require a high degree of mutual toleration, most jobs are more often dull than otherwise. Life is like an old time rail journey…delays…sidetracks, smoke, dust, cinders and jolts, interspersed only occasionally by beautiful vistas and thrilling burst of speed. The trick is to thank the Lord for letting you have the ride." ― Jenkin Lloyd Jones
Pretty much goes for life. And travel.
And I am just grateful for the ride.
What about you? We love your comments. Leave them below.
P.S. You can watch the video of our road trip here.
Comments
comments
Powered by New Facebook Comments