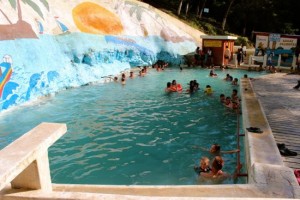 It was the perfect spot.
We discovered it after being stopped by dancing in the streets on our way to Antigua. There it was, off to the left. It sounded so appealing, how could we resist?
Fuentes caliente (hot springs).
Let's check it out!
So we did...
[message type="custom" width="100%" start_color="#FFFFFF" end_color="#FBF8FF" border ="non" color=""]Free 3-Part video series on creating your own ridiculously awesome life. Click here. [/message]
Of course, Atlas said he didn't want to swim... he was just going to watch. Until he saw the water, then he immediately wanted me to put on his swimsuit.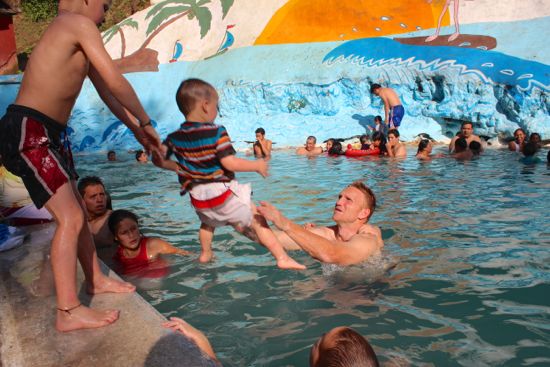 Here's a cute little video of him jumping into the water... he loves it. Why does he forget every time?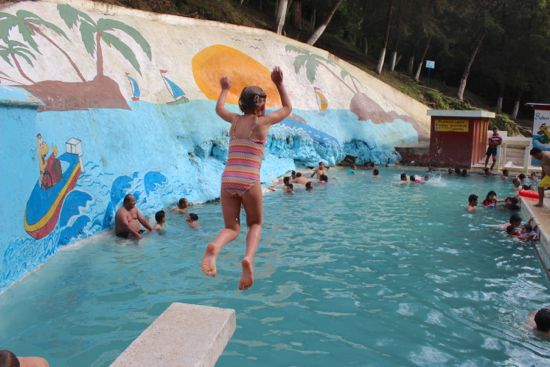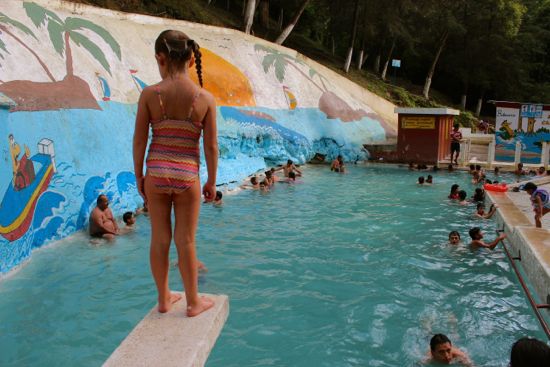 Five quets for kids, ten for adults. We were the only non-Guatemalans there. The swimming was fun. Then we had a picnic.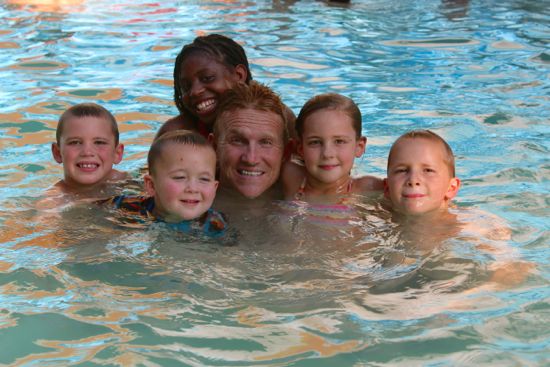 Greg talked to the guards. At closing time, everyone leaves. It's not locked up. Could we camp here for the night?
"Sure thing! Not a problem."
Sounds great.
Everyone leaves, we set up camp. The local police stop by.
"Make sure to be careful. This is campo (woods/remote)... there could be wild animals."
We'll be careful. But we can stay, right?
"Yes, you can stay here. No problem."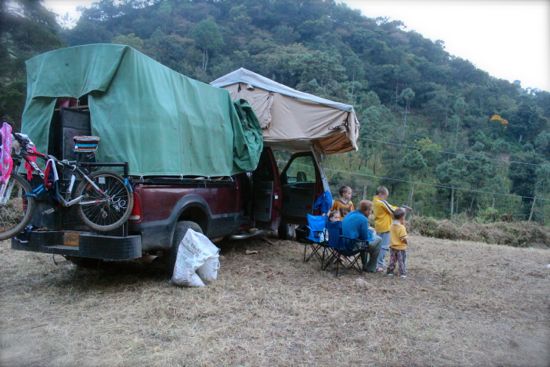 But in a few minutes they return, and write down our names, nationality, etc... 'just in case.' Then they're gone again.
It's the perfect spot. We do some reading (currently from Where the Red Fern Grows), and practice shooting targets with the AirSoft gun. Then we tuck the kids into bed as it gets dark. The quickly fall asleep and all is quiet.
It's peaceful, silent. Not a sound. Not a soul.
Greg and I lay in the roof top tent and chat. It's exciting to be back on the road, exploring, wandering.
Before long, we hear a vehicle and see headlights... are these partiers coming to crash our party?
We lay still and listen. It sounds like they're driving up to our camp spot. We wait.
Soon we hear voices, and a siren. The police? Oh, come on... Greg pokes his head out, and begins the conversation.
"Hello officer. What's the problem?"
"You have to leave. You can't camp here," they firmly state.
"But we received permission from the municipality and the local police," Greg explains.
"They're the local police. We're the national police. You can't camp here."
"But my children are all sleeping. My wife is pregnant and very tired. It will take me a long time to pack up."
"It's dangerous here. The municipality called us. They want you to leave. They don't want something to happen to you here. You're Americans. It could be bad for us if something happened to you. A man was killed here. It's dangerous," they go on and on.
"But where will we go? Where else can we camp?" Greg asks.
"You could go to the center of the next town and camp there," is their reply.
Seriously?? They think that camping in the middle of a town would be safer than being out here in the middle of nowhere? We have enough camping experience in Central America to know that's NOT the case... they must be crazy!
"We have a court order from the judge. You have to leave. We will wait until you're ready."
A court order?? Really? It could take months to get something accomplished through the court system, and they managed to get a court order in a few hours to have us removed from a camp spot? Yeah... right.

We usually don't have a problem 'arguing' with the police and talking ourselves out of bribes, or 'required action' etc... but we saw it was futile. Despite the irrationality of it, despite the pregnant wife, despite the sleeping children, they sat and waited while my husband packed up our tent, and our chairs and all our stuff. They watched while I sleepily climbed into the truck, and smashed all the kids into the seats.
Atlas, still asleep, lay on Parker's lap in the back seat. Kyah is sleeping on the bench next to them. I try waking her, so she can sit up and give them more room.
After a few minutes of talking and telling her to sit up, she asks, "Why do I have to sit up? I can't sleep like that!"
"We're not sleeping Kyah, we're driving. The police kicked us out!"
Greg starts up the truck, we drive down the dirt road leading to the main highway. We turn left toward Antigua, they turn right toward...??
We drive. I work on not being bothered by this unexpected change of plans. It's for the best, I'm sure.
It's not far until we reach the city. It's still hoppin', lots of people out.
But we're tired and don't know where we are, or where we'll stay. Driving around for awhile, Greg finally remembers reading online about overland travelers who would camp at the police station in Antigua.
Asking directions, we were led to the tourist police station, a large compound surrounded by a big stone wall. Much of the place lay in ruins, which was cool.
(Here's some photos from the next morning.)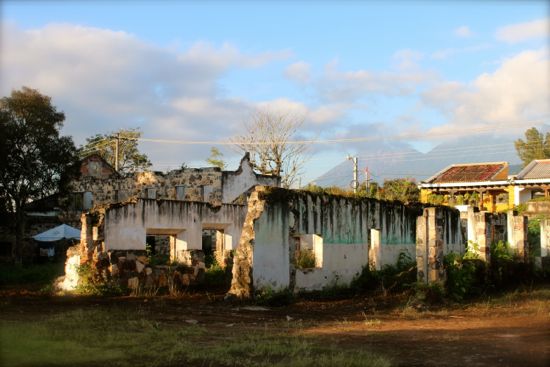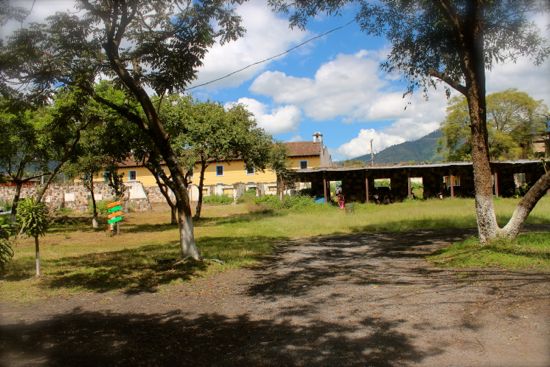 Greg set up camp for the second time that night, then the kids all went back to sleep. I was worried that it would be loud right in the middle of the city (I've been having trouble sleeping since I got pregnant, and loud noises don't help. Surprisingly, when I woke up once or twice during the night it was really quiet... quieter than many Guatemalan towns.)
Unexpectedly in Antigua, I can't wait to explore tomorrow (and meet up with friends.) We haven't been here since Semana Santa in 2012 (on my birthday!)
[message type="custom" width="100%" start_color="#FFFFFF" end_color="#FBF8FF" border ="non" color=""] If you'd love to travel with your family, I encourage you to check out our 3-Part Video Series or our book -- both on creating your own ridiculously awesome life! Please don't forget to 'share the love' and inspire others.[/message]
Have you ever had an experience like this? Have you been to Antigua, Guatemala? Tell us about it in the comments below.
Comments
comments
Powered by New Facebook Comments