How cool is this!? We've been selected as ambassadors for Post Grape Nuts "Ordinary People Doing Extraordinary Things' Facebook campaign. YOU could have the chance to win $5000! Read below.

You have a dream.
We all do.
There's something in the deepest part of our hearts that we yearn to pursue.
Here on my blog, I constantly encourage you to 'live deliberately' -- to create a life for yourself that is meaningful, on purpose and filled with adventure -- however you determine that.
But one of the biggest deterrents from living a deliberate life is financial constraints.
We all think we could do it, if only we had the money (and while I've dispelled that myth in our book, money definitely helps).
But what if you were given a 'down payment' on your dream?
What if you could get the funds to get you started?
Would that make a difference?
You might just get that chance.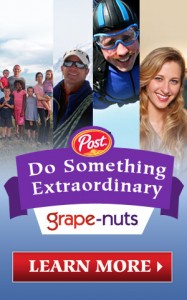 We're pleased to announce that we have been selected as ambassadors for Post Grape-Nuts "Do Something Extraordinary" contest that runs from now until February 4th -- a contest designed to help you achieve your extraordinary dreams.
When you enter to win -- by simply sharing your extraordinary dream -- you'll have a chance at $5,000 dollars -- a down payment on making your dreams come true.
By visiting Grape-Nuts' Facebook Page, you'll read the inspiring stories of ordinary people doing extraordinary things -- one of which is us! -- and have the chance to share your own dream undertaking.
We can't wait to read about your dreams!
P.S. -- As a bonus, I'll also be giving away a free digital copy of my full-length book -- Living Deliberately: How to Create a Ridiculously Awesome Life -- and a lifetime membership to our Fund Your Lifestyle Academy to one of you who enter the contest.
After entering Grape Nuts' contest above, enter my contest below.
a Rafflecopter giveaway
Comments
comments
Powered by New Facebook Comments