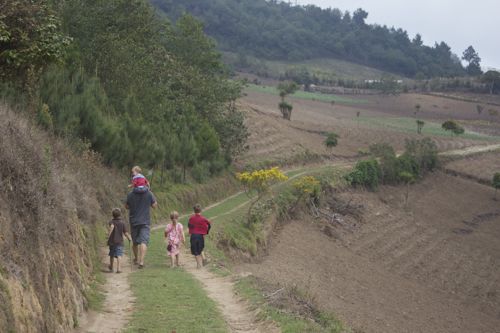 One of the first properties we looked at
Yes. You read that right. Land. You know that stuff that trees grows on. The stuff you buy when you want to plant roots and settle down.
It's true. We went looking. And actually, it wasn't the first time. We've been looking for some months now (we just haven't said anything. Maybe we felt guilty.)
I'm mean, we're nomads right? How could we own land and build a house? Isn't that kind of like sneaking chocolate when you've proclaimed yourself sugar-free? (But it's healthy chocolate..)
For whatever reason, we have been looking. Seriously. In fact very seriously. And for whatever other reason, we decided not to say anything. Until now.
We've fallen in love with the idea of building a little cabin overlooking Lake Atitlan; raising rabbits (we already have a herd, it's been a very fun project for the kids); having some chickens (we've got one of those too); growing our own vegetables; being off-grid and self sufficient; having some dogs (yep, we've got two of those as well). We're diggin' in deep.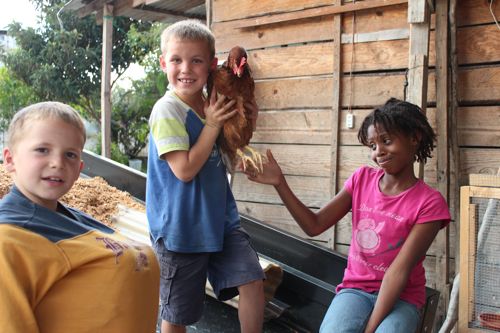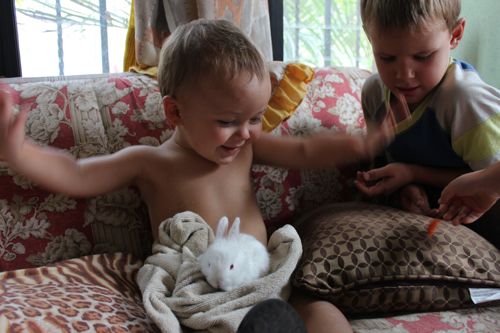 Since 'the beginning' we'd talked about having a home base somewhere in the world - a place to keep our library (we love books), a Vitamix and our king size bed. A nice homey place to come back too when we're tired of being on the road. And an 'insurance policy' for those unexpected events (like economic collapse of the currency we earn, not that anything like that could ever happen...)
We didn't know where that place would be. We never expected it might be Guatemala. But the past few months that we've been here (almost six now!) we've definitely considered it with more than a passing thought.
We visited farms and looked at property; bought the rabbits (we even got to witness the breeding process and we've had three litters of babies born, one of which survived, common with first time mamas).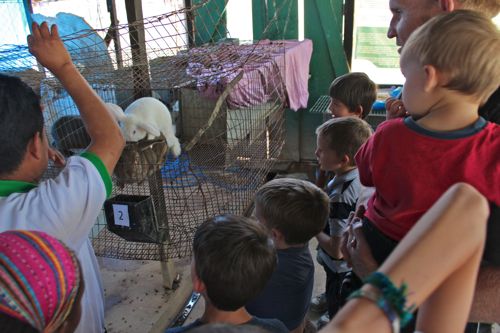 So that's how rabbits make babies!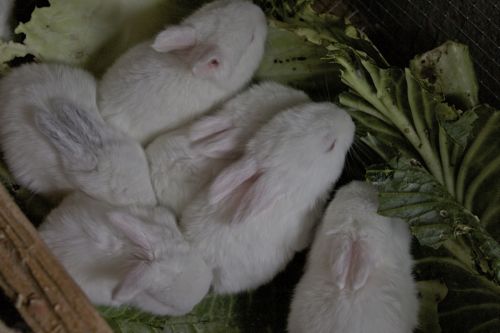 Our first litter, the one that survived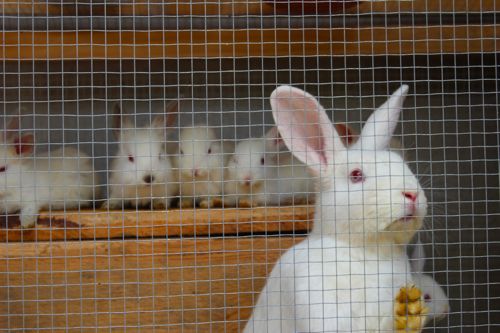 We got the chicken (her name is Angel) and the dogs (Epic and Asia). We drew the house plans using Sketchup. We've studied composting toilets and permaculture (aka ninja farming). We located some solar panels. We're sleeping on the king size bed. We even bought thousands of worms (don't ask...)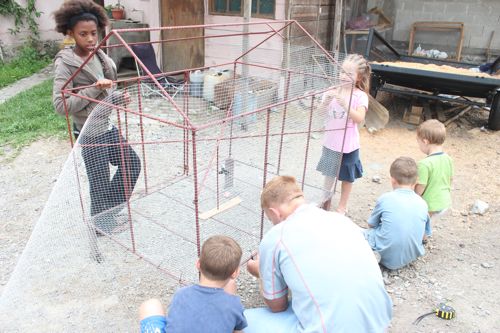 In my mind, I've been 'setting up house', decorating with tipica fabric and rustic, antique furniture.
We've been buying and collecting books for education, doing field trips and art and cooking classes and holding our weekly colloquiums (book club) with our friends here. And we LOVE it.
Our kids have been exposed to life and death and sex and drugs (medication for the animals, don't worry!). We've learned vast amounts as well about sustainability, composting, gardening, recycling and animal husbandry. It's been a wild ride, our brains on steroids.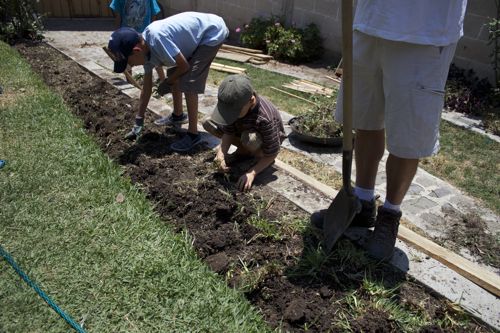 Gardening at the Jensens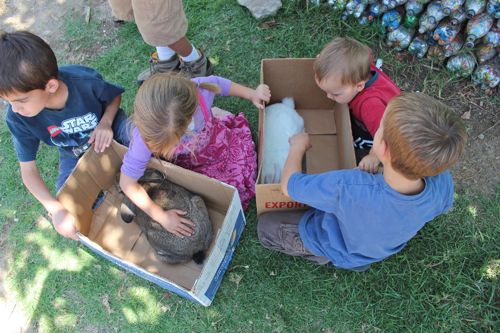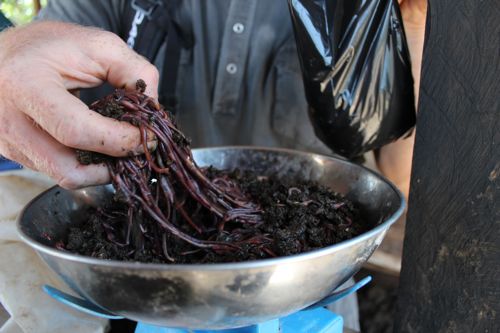 Buying worms (for vermicomposting)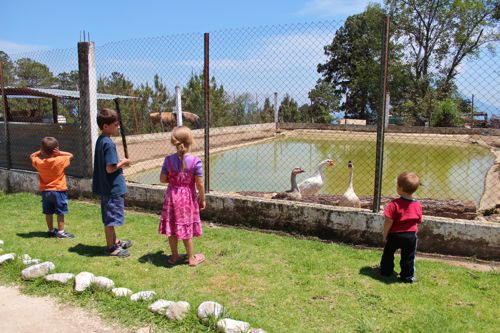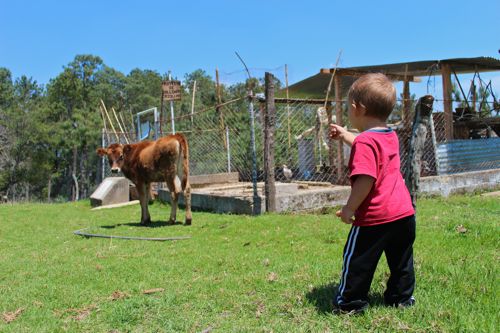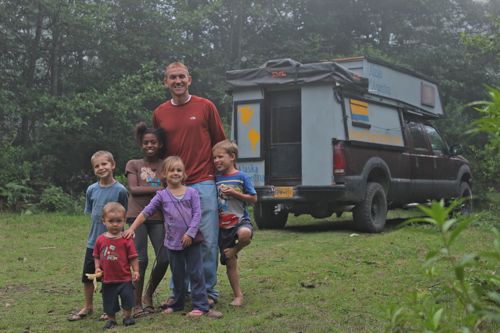 One of our favorite properties so far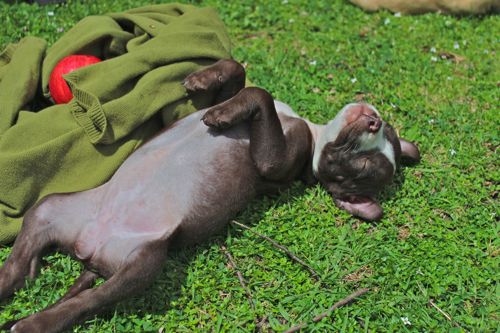 Asia likes it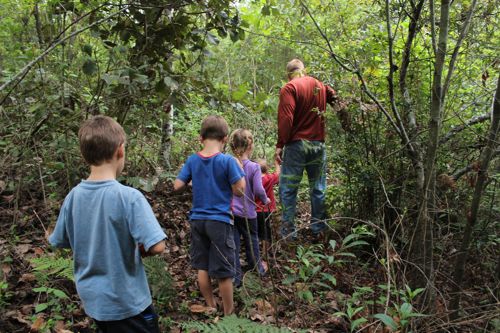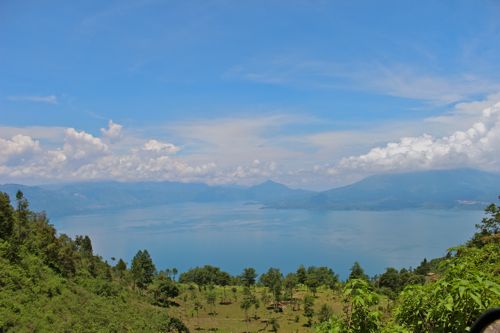 I could live with this view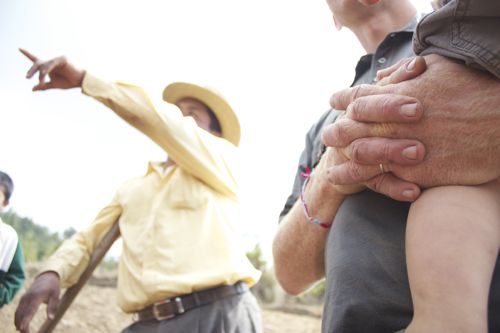 Negotiations
But after 'coming clean' and making our confession, I guess we should be completely honest.
The past four months we've been set on doing this. It hasn't been 'if' but when. We'd build our place, set it all up how we want it, keep our stuff in it, hire a caretaker, maybe rent it out, and then be on our way. That was the plan.
Until the last few weeks.
Giving up travel was never on the agenda. That's something we couldn't do. We just wanted a place to keep our belongings and to come back to if we had to.
But then I started thinking about learning Portuguese in Brazil, and French in French Guyana. And exploring the ruins of Macchu Pichu and seeing the end of the world.
Thinking about all the places we want to see, we've began wondering "How likely are the chances that we'll actually come back here, when there are so many places in the world to live?" If we want to stop traveling for a few months, won't we just rent a house in Panama or Ecuador or Brazil or somewhere else we've never been? That's more our style.
While contemplating all these questions of life, it was Parker (8) who asked me:
"Mom, if you could live anywhere in the world, not for the rest of your life, but for maybe just five years, where would it be?"
"Five years!" I exclaimed, "That's a long time."
"Okay, just a month or two then."
"I'd want to live Brazil and learn Portuguese."
"I want to live in China," was his response.
Hmmm.... and when and where would we fit a return to Guatemala? Especially once we get to the other side of the world?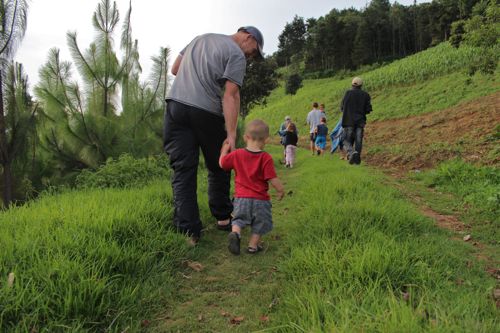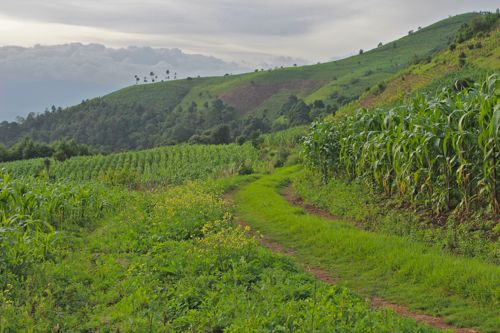 Maybe we'll be making a big mistake NOT doing it. Maybe the world will end with the Mayan calendar and we'll wish we homesteaded while we had the chance. Maybe one day we'll look back and say, "I sure wish we'd built a house there."
Maybe.
Then again, maybe not. Maybe we'd just end up with a really expensive storage unit that we won't see again for 10 years or more while we traipse through Europe and Asia.
But as I sat the other night working on a new video (it's awesome - the past 5 years of our travel life, you're going to want to see this when it's done!), we were all pumped with excitement and passion.
What incredible experiences we've had, and we can only imagine what lies ahead.
THIS is what we're about. Discover. Share. Inspire. Explore.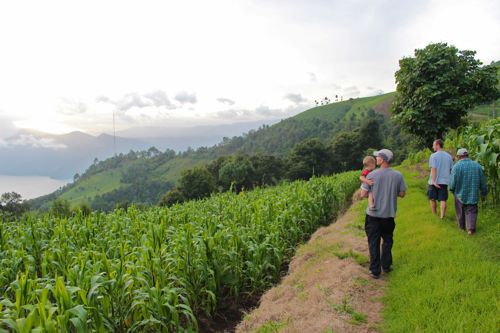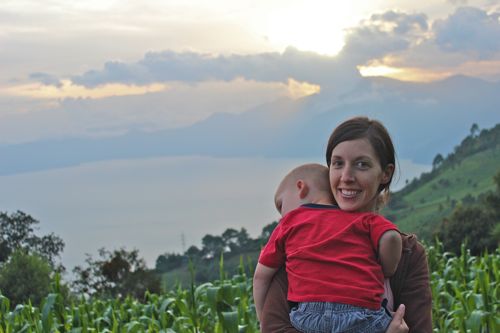 Who wouldn't want to live here?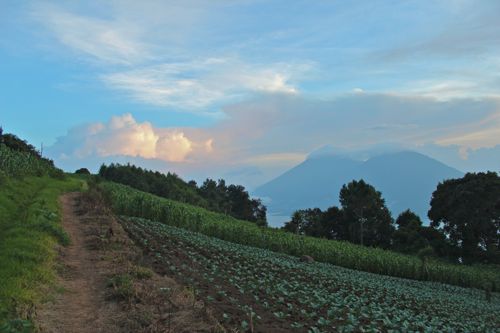 We're not packing our bags yet. We still have all the rabbits and dogs. Either way, we'll still be here for a few more months (it's much easier to work while we finish up our book and online course). And perhaps during that time we'll decide that this is an 'insurance policy' we want to own (if we do then we'll share the process with you).
But if we decide against homesteading, then we'll be working on the truck, making some improvements, adding some more comforts and luxuries (and getting a new paint job... it's so ugly now).
Finally we'll head south once more.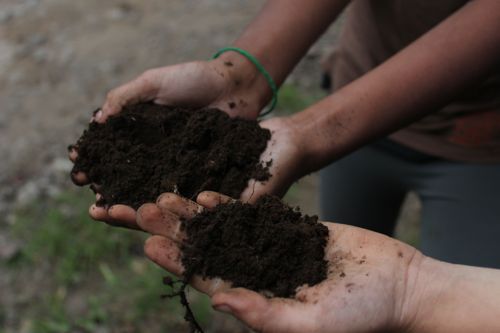 The connection to the land, growing your own food - that's one appeal of homesteading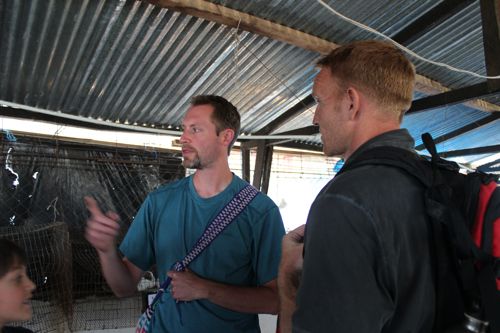 Talking rabbits again 😉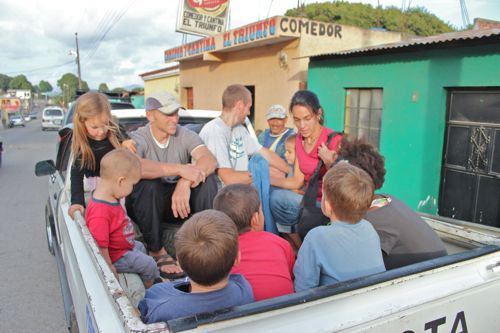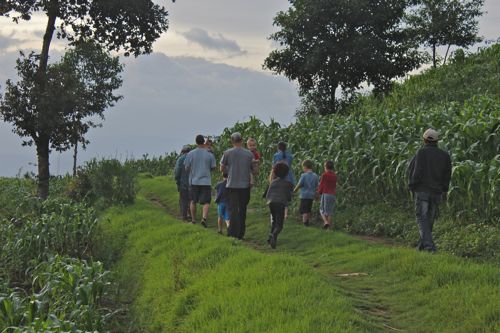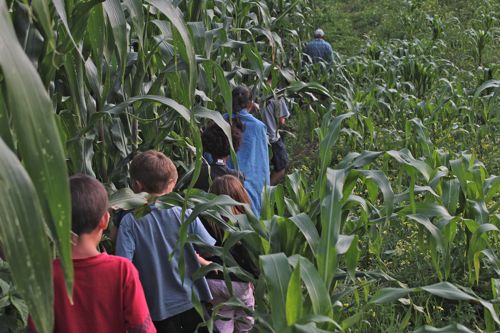 Exploring property lines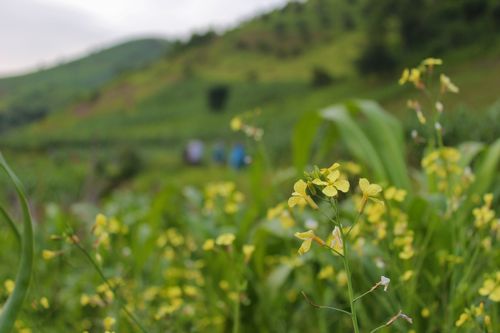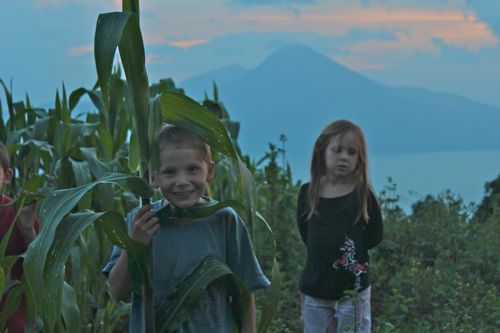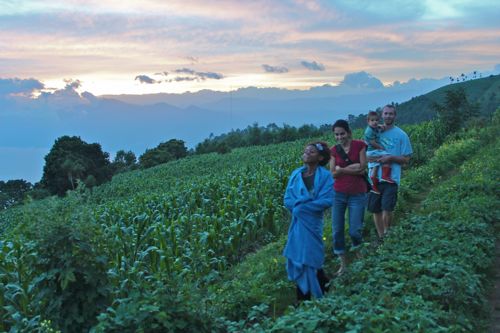 Truth be told, they are the biggest reason we don't want to leave Guatemala.
We'll miss you guys too much!
The earth is beautiful here in Guatemala. So beautiful you never want to leave. Thinking about what we'll be missing out on makes it difficult to go.
But if you never leave, then you'll never discover what else the world has to offer you.
Moving forward brings new growth.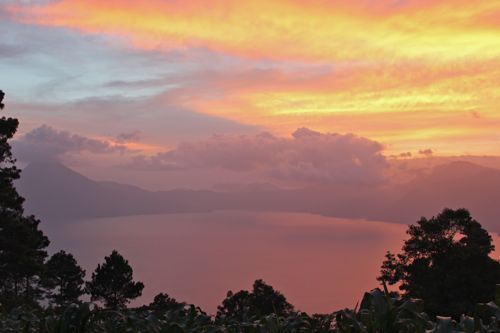 Have you every been torn between two opposing desires?
Comments
comments
Powered by New Facebook Comments